113 Views
What Color Rug Goes With A Beige Couch?
October 20th, 2022 4:37 PM
Share
We're committed to finding, researching, and recommending the best products. We earn commissions from purchases you make using links in our articles. Learn more here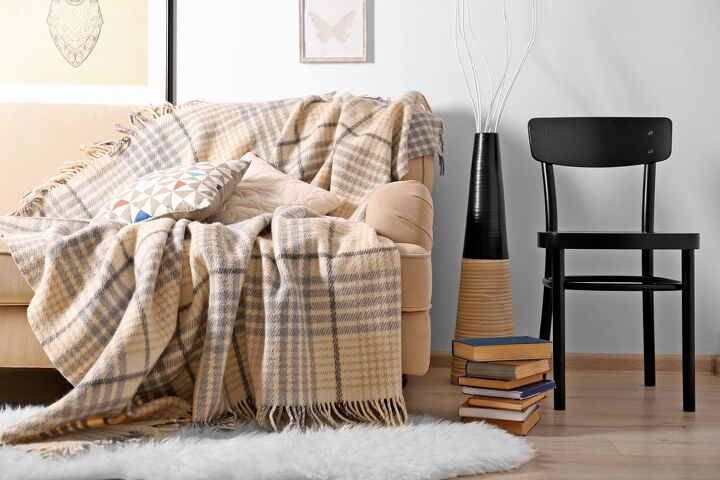 It is easier said than done to pair a rug with a beige couch. The last thing that you want to do is get a rug that clashes with your beige couch and ruins the vibe of the room. So, what color rug does with a beige couch?
Taupe, blue, white, and brown rugs go well with beige couches. Other colors such as mint green, black, and maroon are worth considering when you pair a rug with a beige couch. Warm colors like rose-red and burnt orange go well with beige, or you could simply get a beige rug for a monochromatic style.
Beige is a unique color with strange undertones that include green, orange, and even pink. This makes it easy to pair a rug of almost any shade with a beige couch even if the undertones aren't obvious at first glance. Follow along as we explore what color rug goes with a beige couch.
Best Rug Color For Beige Couch
Colors such as blue, maroon, black, and taupe go well with beige couches. There are several options to choose from, and it ultimately comes down to what aesthetic you are trying to achieve. Let's take a look at what color rug you should consider for a beige couch.
Taupe
Taupe is similar to beige, and that is why they go so well together. It is as close to gray as you can get without being pure gray. Consider a taupe rug to pair with your beige couch if you want a subtle combination.
This combination is ideal if you don't want to choose a rug that is too vibrant or too different from beige. Taupe is somewhat darker than beige, so the rug will create depth below the couch. It also won't limit your interior design throughout the rest of the room because nothing specifically clashes with taupe or beige.
Blue
A blue rug goes great with a beige couch, and there are countless options because there are so many shades to choose from. Light blue rugs, in particular, look great with beige couches because of the calm and cool tones that they add to a room. However, dark shades of blue such as navy look great when paired with a beige couch as well.
Every shade of blue is cool by nature, so the rug will calm the warmth of the beige couch no matter what. Make sure to decorate the rest of the room accordingly so that you don't clash with the blue rug or beige couch. You could either continue with cool or warm tones for the rest of the room's design so that either the couch or rug contrasts everything else.
White
Pairing white with any color that is even a little bit dark will always create a fun contrast. Beige is slightly dark on its own, but it will look much bolder with a white rug in front of it. Place a white rug in front of your beige couch and enjoy the bold contrast that it creates.
Off-white rugs, in particular, create an interesting effect when paired with a beige couch. Other shades such as eggshell white work as well, but the contrast won't be as immediately noticeable.
Brown
Brown and beige are a timeless combination because of their key similarities. Beige is essentially an extremely light shade of brown with several unique undertones. This means that your brown rug will look natural when it's in front of your beige couch.
It also doesn't hurt that there are 128 shades of brown to choose from, and 26 of them are common in furniture stores. A dark brown rug would contrast the lighter tones that you can find on a beige couch. Or, you can stick with a lighter shade of brown for your rug to stay as close to your beige couch as possible.
Mint Green
Mint green and beige may seem like an unlikely combination, but you need to see it to understand how great it is. The cool nature of the mint rug will soften the tones in your beige couch. Similarly, a beige rug looks great with a mint green couch.
Green is actually one of the undertones in beige, even if it's hard to tell when you look at it. However, you will notice a subtle complimentary effect when you place a mint green rug in front of a beige couch. You can take the theme even further if you put mint green pillows on your beige couch to compliment the rug.
Black
Black goes with every color, and that includes beige. A beige couch with a black rug is a risk-free combination that is worth your consideration. Beige isn't a particularly light color, but it will be overshadowed by the darkness of the black rug.
A black rug underneath a beige couch will create depth which can make a space feel larger. It goes especially well with light shades of beige and even khaki.
Maroon
Maroon is one of the best ways to add character to a room that has a beige couch. Beige isn't a boring color, but it isn't especially vibrant and lively. Conversely, maroon rugs are colorful and can add warmth to any room whether it features beige furniture or not.
Beige is somewhat of a warm color because it has both yellow and brown tones. The red aspects of the maroon will bring out the warmth of the yellow in the beige couch. Both the maroon rug and beige couch will look different when paired together than they would on their own.
Beige
Pair a beige rug with a beige couch if you want to make a safe bet. This is a great option if you don't necessarily want to create a contrast between your rug and couch. Many interior designers encourage a monochromatic color scheme because it creates continuity throughout a room.
You could continue with this theme if you decorate the room with more beige furniture and decorations. The monochromatic design has come back in style, but it doesn't mean that the whole room has to be one color. Use as much beige as you want in a room without feeling that the entire space has to be.
Burnt Orange
Burnt orange is a timeless, rustic color that doesn't always work with every shade. However, a burnt orange rug goes great with a beige couch, especially if you can tie the combination into the room as a whole. Add touches of gray and dark blue throughout the room to complement the beige couch and burnt orange rug.
Otherwise, you can stick with burnt orange and beige in the room to commit to a rustic theme. You have endless possibilities with this color combination, and you can always calm it with a cool shade such as teal.
Rose Red
Rose-red is yet another warm color that goes well with beige. Nothing can add warmth to a beige couch quite as well as a rose-red rug in front of it. You can easily find a rose-red rug at many stores, through interior designers, or online.
If you want, you can stick with the warm theme and add more reds, oranges, and yellows throughout the room. Rose-red is a great option if your room is otherwise lacking bold colors and you want to add character to the space.
What Undertones Does Beige Have?
Beige has a wide range of undertones including everything from pink to green. It also features peach and orange undertones, even if it's not immediately noticeable when you look at beige furniture. Different shades of beige will display one undertone more than another in many cases.
Most people would consider beige to be an interesting mix of gray and tan. While this is true, that doesn't do anything to explain the undertones that it contains. All of the undertones that make up beige explain why is a naturally warm color.
The wide range of tones that you will find in beige is ultimately why it goes with so many colors. Otherwise, colors such as blue and maroon likely wouldn't go well with a beige couch.
Summing it Up
Consider a mint green, burnt orange, rose-red, or maroon rug to pair with your beige couch. These colors are less obvious than standards like white, but they will make the room more vibrant. Safe options include brown, taupe, and black because there is no risk of clashing with the rest of your room's décor.
White and black can create a contrast to your beige couch without throwing off the rest of your room's design. Otherwise, you can pair a beige rug with your beige couch to create a monochromatic and safe aesthetic. Each of these options will let you tie in your aesthetic throughout the rest of the room with matching decorations, art, and furniture.
Related Guides

Nick Durante
Nick Durante is a professional writer with a primary focus on home improvement. When he is not writing about home improvement or taking on projects around the house, he likes to read and create art. He is always looking towards the newest trends in home improvement.
More by Nick Durante
Published October 20th, 2022 4:37 PM