38 Views
What Color Rugs Go With Red Couches? (Find Out Now!)
January 7th, 2022 8:21 PM
Share
We're committed to finding, researching, and recommending the best products. We earn commissions from purchases you make using links in our articles. Learn more here
Red couches are a popular addition to any living room. They're comfortable (because, hello, couches?) and they also happen to feature one of the warmest colors on the planet. Red's a color that most of us associate with warmth, welcoming, and maybe a little bit of passion. If you have a fire-colored couch in your home, it's good to choose a rug that works with the boldness of this color. Are you interested in hearing what the best rug color picks are?
A color as bold as red typically needs a neutral color or a pattern to help balance out the striking shade it offers. This is why most of the rug colors that go with red couches include:
Beige 
Grey 
Black 
Red
Yellow
Persian
Are you ready to get a better rug for that rouge-hued couch? We'll help you look like a professional designer when you hit the carpet store. Just keep reading our guide.
Do You Need an Interior Decorator?
Get free, zero-commitment quotes from pro contractors near you.
What Color Rug Goes Best With a Red Sofa?
When choosing your next rug's color, it's important to keep an eye on your couch's undertones. Warm undertones go with warmer colors, while cool undertones tend to go with neutrals. Now that we've added that little tip, we can start talking about colors. Here's our top picks:
Beige
Beige is a great pick for almost any color, especially if it's on the lighter side. Here, we see a beige and cream carpet that is placed underneath a red leather couch. The beige doesn't clash with the couch, but it still tones it down. The end result is a red couch that doesn't overwhelm with its bold color, but remains a focal point of the room.
This color is an excellent choice if you want to make your room look modern, or if you want to brighten up the room. If you aren't sure what color to choose, beige remains a safe, homey option, too.
Grey
Grey is beige's close cousin, especially when it comes to the effects it offers with red couches. Here, we see a home that's been decked out in red, blue, and a light grey. Light grey works to mellow out bold or dark colors that have cool (blue) undertones, such as the red couch and navy chair here.
Darker greys are good for adding a moody, sophisticated touch to a modern setup. In some cases, it can also amplify the color of the red. Most of the time, grey is strictly used for modern or industrial settings, simply because it has that gritty vibe to it. Of course, there are always exceptions to the rule.
Black
Do you like the look of a bold, high-contrast rug and couch combo? If so, go for black. Black is the neutral that goes with everything, but still makes a striking statement wherever you find it. The designer used a small black rug for a light beige table and a soft red couch. While the black is still bold, it's not overwhelming.
People can use a black carpet any time they want to have a "rockstar chic" edge to their red couch. It's a neutral that livens up a room. To make sure it's not overly goth or gloomy, pair your red and black with white-blonde woods or whites.
Red
Red on red is a classic look that always makes a serious statement. This designer definitely took the red to the next level, but don't be intimidated by this option. If you want to emphasize the fiery warmth that a red couch can offer, having a red carpet is a good way to do it. This can also help increase the overall flow of your home.
If you want to make sure that your red doesn't overwhelm you, choose a rug or carpet with a white pattern on it. Here, the red adds flair while the white opens up the room. Together, the red and white make a neat balancing act that makes the couch look amazing.
Yellow
Yellow and red were the chosen colors of many restaurant chains for a reason. This dynamic duo kicks up the warm vibes of a room exponentially when together. Yellow has a sunny tone that brings out the warmth of most reds, especially if they're a rusty red. Though they complement each other, they still offer a nice contrast in most shades.
The golden tones that you see in this combo tend to work best with modern, contemporary, traditional, or Mediterranean styles. However, they can work well with anything, really. The only thing you want to avoid is choosing two super-bright renditions of the colors. That mistake will turn an elegant room into a McDonald's!
Persian Carpeting
Persian rugs are some of the most popular traditional rug choices on the market, not to mention some of the only rugs to retain value over the years. These rugs are famous for their rich, detailed patterns as well as the wide range of different colors they feature. Unsurprisingly, these all-around awesome rugs also tend to work well with red couches.
Believe it or not, pairing red couches with Persian rugs is a decoration method that's centuries old. It was popular in the Victorian ages, and also gained a lot of popularity among the upper class in Asia. People today can rely on this time-tested technique when they want to make the most of their elegance. After all, nothing screams "old money" like a Persian rug!
Brown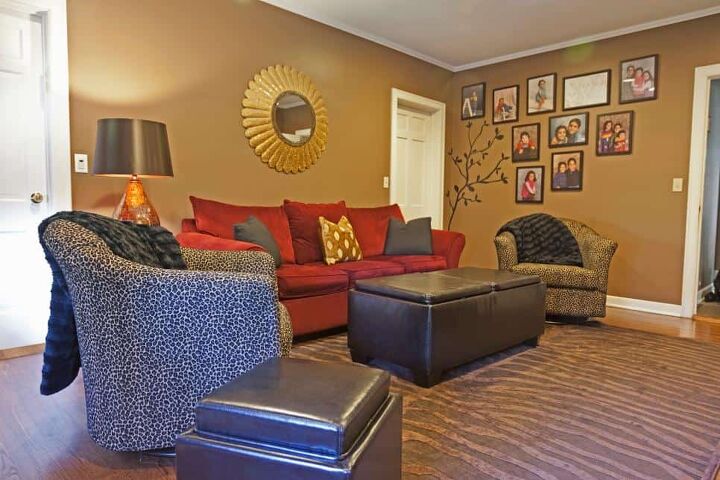 Brown is another option that you can consider for a home with a red couch. The designers here decided to add a zebra stripe pattern on a muted brown rug, which works with all the animal prints in the room. However, you don't need to opt for animal prints to enjoy this color. Much like other complementary colors, brown works with the warmth of red but still keeps it all toned down.
If you love the idea of outfitting a living room with fall colors and want to turn your room into a cozy little nook of your own, give a brown carpet a chance. You might be surprised at how charming it can look.
Cream
Cream is a great color for almost any type of couch, but it's particularly good when you're working with a faded red couch. The reason why is pretty simple. Cream helps brighten out a certain richness in bright colors, often in a way that most beige carpets can't. Cream is extra light in color, which means that it brightens up the colors around it.
Another reason why you'll love having a cream rug is the way it makes your floor layout look. As you might already know, light colors reflect light better. This gives you an overall lighter, more open appearance to your home.
Are Red Couches Popular?
When it comes to the color of a couch, you might be surprised to find out what the most popular colors are. Blue, brown, and black are the most popular colors. Red is close to the top five, but it's not as popular as you might be led to believe. Part of the reason for this is the brightness and boldness of red.
If you were hoping to have a red couch that everyone in the neighborhood has, you're out of luck. Red couches are more of a statement couch than anything else. This means that most people aren't going to look at the couch and assume it's "just another part of the furniture." It's the head-turner in the room, and that's totally cool.
Does The Rug Color Matter When You Have A Red Couch?
Yes. In fact, the color of the rug tends to matter more with bolder colors than it would with a neutral color. Neutrals can work with almost any carpet color, so they're easy to arrange furniture around. When you've got a color as bold as red, choosing the wrong color can make your home look like an eyesore.
Do You Need an Interior Decorator?
Get free, zero-commitment quotes from pro contractors near you.
---
Related Questions
What color goes well with bright red?
If you're the owner of bright red furniture, it's best to stick to warm colors or neutrals. Top picks include browns, golds, oranges, and deep yellows. Beige and tans also work, though they are better off as secondary colors. The one pick you want to avoid is a bright yellow…unless Ronald McDonald is your interior designer. That's never a good look.
What color pillows go with a red couch?
If you want to make a big statement, accessorize your red couch with pillows in contrasting colors and various geometric shapes. Specifically, bright purple, yellow, and green accent pillows can create a nice color-blocking them for your red couch.Depending on the décor in the rest of the room, you could also try some animal print pillows, such as white zebra or leopard print. For modern spaces with clean lines, consider pillows with a striped pattern to offer a more uniform look. Otherwise, stick to neutral colors for a more muted style.
What color walls go with a red leather sofa?
The key to determining the right wall paint color to pair with your red leather sofa is to choose a theme. If you want to go with a Southwestern style that involves rich hues and colors, you should keep the color of the walls neutral. Whereas, if you prefer a more modern, contemporary theme for the space, blacks, greys, and whites will help maintain a clean look overall.
How can I tone down a red couch?
If your goal is to tone down the vibrancy of a bright red couch, opt for beige, tan, gold, cream, and other more neutral shades. In general, steer clear of bold colors in the same room to avoid visual conflict.

Ossiana Tepfenhart
Ossiana Tepfenhart is an expert writer, focusing on interior design and general home tips. Writing is her life, and it's what she does best. Her interests include art and real estate investments.
More by Ossiana Tepfenhart
Published April 21st, 2021 10:26 AM