281 Views
What Color Curtains Go With A Beige Couch?
March 4th, 2022 9:55 AM
Share
We're committed to finding, researching, and recommending the best products. We earn commissions from purchases you make using links in our articles. Learn more here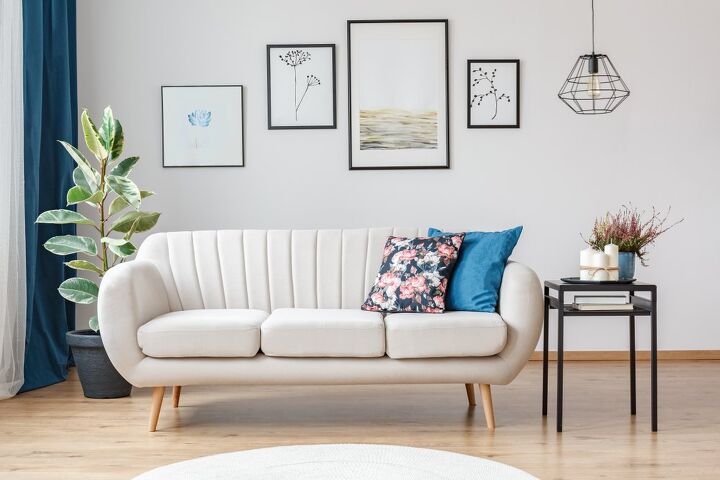 When you're working with neutral colors like beige, you end up with quite a few choices for complementary colors. It can become overwhelming if you're trying to pick out what color curtains go with a beige couch. Many different colors can work well with neutrals, but you still want to fit your personal design aesthetic.
The best color curtains for a beige couch are bright white, blues, yellows, greens, and reds. Using various prints and patterns that feature a combination of colors can also work against a neutral beige sofa. It's important to also consider the wall colors and other accents in the room when deciding on your curtain colors.
Decorating your home can be a lot of fun and a lot of stress at the same time. The reason is there are so many choices, so when choosing curtain colors for a beige sofa, the sky is really the limit. So, you might just need a little inspiration, and that's exactly what we have for you here.
Do You Need an Interior Decorator?
Get free, zero-commitment quotes from pro contractors near you.
The Best Color Curtains For A Beige Couch
Opting for a beige sofa in your living room is a great way to anchor your space with a neutral color. The sofa is often the largest piece of furniture in the room. Therefore, choosing an overly trendy color can become a design challenge.
Plus, sofas are often one of the most expensive pieces in a room. So it makes sense to go with a neutral shade. After all, using a neutral color further solidifies that your piece will stay timeless.
Furthermore, you can always change out your design scheme or colors by swapping out accessories. It's much more cost-effective and easier to change out things like pillows, curtains, and artwork, than getting a brand new sofa.
Selecting the best color curtains for your beige couch can really help bring the whole room together. But, if you're not careful, a beige sofa can be boring. It's important to choose other items in your space that work well with the couch.
Here are a few color ideas for what color curtains go with a beige couch.
1. Bright White Curtains Go Well With A Beige Couch
So, you might think using white and beige will make things bland, but not the case. If done properly, pairing bright whites with beige furniture can create a clean, bright, crisp look. It can give your whole space an overall fresh feel with a calm vibe.
If using bright white curtains with your beige couch, consider keeping the rest of the space light and bright. This will help give your space a more cohesive, airy look. Incorporating too many different colors can become a bit much.
If you do want to add some color to the space, do so in small doses, like the rug or throw pillows. Or, if you want to go for a bit more dramatic flair, paint your walls a darker color like gray or navy.
The white curtains will really pop, and the beige couch will keep things grounded. Plus, you can incorporate the wall color into a few key accents. This way the whole room will come together and look seamless.
2. Green Color Curtains Go With A Beige Couch
Green can go really well with beige, and pairing green curtains with a beige couch is no exception. Plus, you can choose from a variety of different shades of green, ranging from light to dark.
Olive green works particularly well with a beige sofa. If your couch is on the brighter side of beige, then a brighter green can look particularly sharp.
3. Blue Works Well With Beige
Different blues also work well with beige. You can pair light blue or dark blue curtains with a beige couch and achieve great results.
Sky blue against a light, neutral wall can work with your beige sofa to make the whole room calm and breezy. Royal or cobalt blues can create a lush, dramatic look. Navy blue lends a more nautical feel to the space.
4. Shades Of Red Can Work With A Beige Couch
Many people tend to shy away from red when it comes to design because they assume it's such a powerful color. But the truth is, there are so many shades of red, you can end up with a lot of different results.
If you go with red curtains with your beige couch, it can be quite an impressive look. And, let's face it, curtains aren't a major commitment (unless you need some crazy custom job). So, if you end up not loving it you can swap them out.
But, deep reds can provide a rich, lush feel. A bright scarlet can fill the room with energy.
5. Yellow Color Curtains Go With A Beige Couch
Yellow is another color that can work well with beige if you pick the right shade. Personally, I find brighter or darker tones of yellow work best against beige instead of soft pastel yellows.
A vibrant yellow curtain against a gray wall with a beige couch looks especially nice. The overall combination of gray, yellow, and white or beige is a design favorite.
6. Use Patterns And Prints
Of course, curtains aren't all just solid colors. Many curtains feature various floral prints, animal prints, or geometric prints. Other curtains showcase classic patterns like horizontal or vertical stripes, chevron stripes, quatrefoils, gingham check, and plaid.
Some patterns incorporate several colors, while others use one color mixed with a neutral like white or gray. Using prints is a great way to add some visual interest to a space. And when you're working with a beige couch, you have many options to choose from.
Just make sure the colors in the pattern work well with your color beige. Then, pull some of the colors from the curtain print and place them elsewhere in the room.
For example, pretend your curtains have olive green and muted red shades in a stripe pattern. You might have some solid olive green and red throw pillows. Additionally, the rug might feature an olive green background with some red shapes woven into it.
Tips For Matching Your Couch To Your Curtains
So, obviously, you don't want to buy ten different curtains to see which works best with your beige sofa. However, the idea of testing things out before you commit is a good one.
See if where you buy your curtains offers fabric swatches that you can bring home and lay on your beige couch. This will help you visualize how the colors, prints, etc. work with your specific sofa.
This process will at least help you narrow down your options to a top three or four. Look at how the colors work under different lighting and seek the opinions of trusted friends.
Put the color swatches against your walls as well; after all, that's what the curtains will be hanging against. Now, you should be able to knock your choices down to a top two or three.
What If I Can't Get Fabric Swatches?
If the fabric swatches are not available, hit up your local paint store. Grab some paint swatches that match the colors in the curtains. Use these to see how the colors work with the beige sofa.
Live with these choices for a couple of days before choosing your final one. If the paint swatches idea doesn't work for some reason, your next option is your trusty smartphone.
Take pictures of the curtains in the store. Or you can use an app to scan the fabric into your phone.
Make sure the lighting is right, and the picture is as true as possible to the color. It won't be perfect, but it should be enough to give you an idea of how the colors look with your beige couch.
Test Out The Runners Up
If you get down to a top two and can't decide with swatches, ask about the store's return policy. You likely will have a certain number of days to return the curtains as long as they have tags, etc.
Buy both and hang both and see which one speaks to you the most after a few days. Return the one that doesn't make the cut, and you're done.
If you are getting custom curtains made, the person making your curtains might offer some minimal design services. They should be able to bring large swathes of material to your home when they come to measure. You can hang these over your curtain rods to make your final choice with the guided opinion of an expert.
Do You Need an Interior Decorator?
Get free, zero-commitment quotes from pro contractors near you.
---
Related Questions
What color rug goes well with a beige couch?
Neutral, textured rugs like sisal work really well with a beige sofa. Any of the above colors for curtains can also work with a rug, but you need to look at the big picture. You can have a lot of fun with a rug since it isn't a permanent piece in the room. So, go ahead and try a rug with some vivid and bold colors and prints. Muted multi-color tones also look great, and animal prints can be another excellent option.A rug is also a great way to introduce texture and warmth to the space. Therefore, don't just look at color, but also consider the material and feel of the rug.
What color walls work well with a beige sofa?
Since beige is neutral, your options for wall color are almost endless. You probably want to steer clear of beige or cream, that would be too bland. But gray walls look really great as a backdrop to beige, as do bolder colors like dark blue or teal. The key is, whatever wall colors you choose, make sure to balance the whole room with the other color choices you make. 

Stacy Randall
Stacy Randall is a wife, mother, and freelance writer from NOLA that has always had a love for DIY projects, home organization, and making spaces beautiful. Together with her husband, she has been spending the last several years lovingly renovating her grandparent's former home, making it their own and learning a lot about life along the way.
More by Stacy Randall
Published January 5th, 2022 5:47 PM