200 Views
What Can I Use To Cover My Garage Windows? (We Have The Answer!)
March 2nd, 2022 3:40 PM
Share
We're committed to finding, researching, and recommending the best products. We earn commissions from purchases you make using links in our articles. Learn more here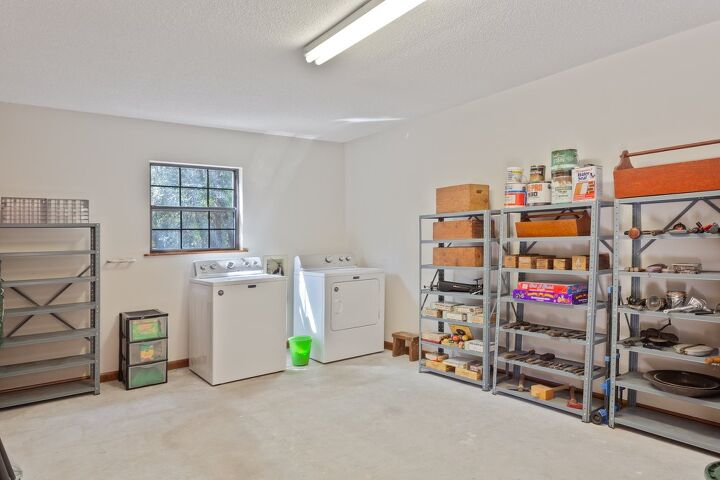 Having windows in your garage is a great way to brighten your space and make it look more attractive, too. That said, it can also pose privacy issues, especially once the sun goes down.
Luckily, there are countless ways you can cover all your garage windows, so you can still take advantage of the natural light during the day, enjoy your privacy at night, and enhance your home's aesthetic at all times. Some of these options include interior shutters, vertical blinds, wrought-iron grills, and frosted windows.
Read on to learn a bit more about each of these garage window cover options, so you can choose the best fit to meet your wants and needs for your garage.
Do You Need Window Blind and Shade Installers?
Get free, zero-commitment quotes from pro contractors near you.
Garage Window Cover Options
As we said, there are many different options from which you can choose to cover garage windows. And the best news is there isn't a right or wrong answer when it comes to choosing one for yourself. The decision is ultimately based around your personal preferences for your space. Here are a handful of the most popular cover options out there.
Interior Shutters
Shutters are fitted to the window frame to provide a stable and long-lasting fit. They are low-maintenance and versatile, which means you can choose a style to match any type of home aesthetic.
There are many different types of shutters that can be installed on window frames. To top it off, they are partitioned into different sections, so you can control lighting and ventilation to the greatest degree depending on which ones you open and close.
When it comes to installing shutters for your garage, we recommend going with vinyl over other materials. Not only is it one of the most affordable options, but it's also highly durable and easy to clean, too.
Vertical Blinds
Blinds also offer a great amount of privacy and light control. You can either attach these inside or above the window recess instead of to the window itself. When it comes to choosing blinds, there are so many color and style options out there, so you can truly complement your space.
They provide a softer aesthetic than shutters, but they usually require more maintenance and don't last as long either. That said, they can really bring the room together, which can be nice if you use your garage as a recreational space and not just storage.
Tableaux Grills
A wrought-iron tableaux can look great on the interior or exterior of your garage windows. Depending on the intricacy of the design, you can obscure any line of sight into your garage while still letting light filter through. Plus, these decorative grills will enhance your curb appeal, too.
Frosted Glass Windows
Instead of installing anything over your windows, simply have them installed with frosted glass. While these will reduce your visibility from the inside, they will still let natural light filter through to illuminate your space.
You can also choose how transparent or opaque you want them to be, so you can still maintain partial visibility if that's what you want. Frosted glass is another option that will add a unique style to your home's exterior, too.
Common Window Types in Garages
Since your garage is different than any other room in your home, they have specific requirements in terms of lighting and ventilation. While you can essentially install any type of window in your garage, there are a few that stand out among the rest.
Casement Windows
Casement windows are one of the most popular window options for garages because they offer amazing ventilation and let a large amount of light into the space. These types of windows are hinged at the side and can swing open to a full 90 degrees, so they can easily catch cross breezes.
If you have a garage that fits two or more cars, casement windows will be the best choice. This is because they will let in a decent amount of natural light and fresh air that is suitable for the entire space. That said, they're also ideal for smaller garages depending on your style preferences.
Awning Windows
Awning windows are another popular choice in garages. They are hinged at the top and swing outward to let fresh air into the garage. Awning windows are smaller than most standard windows, so you can install them in tight spaces.
Plus, they can stay propped open even when it rains, so you can enjoy the great smells and soothing sound of rain. These types of windows are ideal for one-car garages since they are so much smaller. That said, you can easily install them with other windows for good cross ventilation and lighting.
Fixed Windows
When it comes to garage door windows, they will almost always be fixed panels that cannot open and close. However, they are still effective when it comes to letting natural light into your space.
Fixed windows come in all shapes and sizes, so you can complement the rest of the windows around your home. They're great to use in tandem with other windows around your garage. That way, you can still enjoy proper ventilation throughout your space.
---
Related Questions
How much does it cost to install windows in a garage?
It can cost between $800 and $1,500 to install a window in your garage depending on the type of window and the material of the window, too.
What are some other common options for ventilating a garage?
There are a few other ventilation options for your garage other than installing windows. These include installing wall vents, garage door vents, exhaust fans, and air conditioning.
Do You Need Window Blind and Shade Installers?
Get free, zero-commitment quotes from pro contractors near you.
Final Thoughts
Covering your garage windows is the best way to ensure your interior is safe from prying eyes. That's why it's great that there are so many options for the windows throughout your space.
You may choose to add something to cover the windows or install frosted glass, so the windows are opaque already. Either way, you'll be able to enjoy the benefits of natural light, fresh and the privacy you need.

Kerry Souder
I am a copywriter and editor based in the Las Vegas area with nearly a decade of experience under my belt writing landing pages, cost guides, blog posts, newsletters, case studies, and social media content. I have a degree in Strategic Communication and experience working in both the account and creative spheres. My goal is to always be discovering new interests and bettering myself as a writer and editor along the way.
More by Kerry Souder
Published December 6th, 2021 11:58 AM