271 Views
What's The Best Ring Doorbell Angle Mount?
August 8th, 2021 10:30 AM
Share
We're committed to finding, researching, and recommending the best products. We earn commissions from purchases you make using links in our articles. Learn more here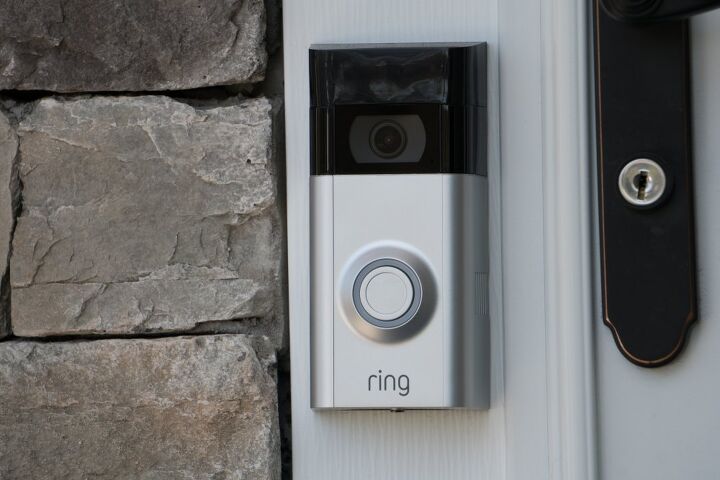 Ring has become one of the most popular smart home security devices of the decade, and rightfully so. Ring doorbells give people the chance to see what goes on outside their home when they're not around, record strange happenings, and even talk to people while they're outside the house.
Ring has a lot to offer a typical homeowner, especially if you are concerned about safety or keeping deliveries safe. The best Ring doorbell angle mount will allow you to have full visibility, have a wide range of adjustable angles, and be rainproof. We have found that the best angle mount for your Ring doorbell is the Homono Waterproof Angle Mount after extensive research. This product provides all of the previously mentioned features and more!
This guide will take you through four of our top picks for the Ring doorbell angle mount and their different features. We'll also explain why it's necessary to have an angle mount and how to choose what's best for your circumstance.
Our Top 4 Selections For The Best Ring Doorbell Angle Mount
Here is a list of the top 4 Ring doorbell angle mounts that we've decided to share with you.
Below, we will take you through each product to answer any questions you may have before purchasing an angle mount for your Ring doorbell.
One of the more highly-rated third-party wall mount retailers that try to tackle the rain and water issue is HOMONO. They do it by adding a waterproofing coating to their take on the Ring's wall mount, and it works beautifully. If you're looking for a way to get keep your Ring doorbell safe by the sea, this is the best pick for you.
Waterproof
Homono waterproofs their angle mount by adding sealing silicone plates to their mechanism. While most front doors have an awning or a porch cover, this model accounts for those that don't. Also, if you live in an area where the sea breeze affects your home, this model would be great to choose for its waterproof features.
Great Visibility
This mount allows you to turn the Ring camera 30 to 55 degrees to the right or left. The angle capabilities give you a better option for viewing angles than other wall mounts. The only downside to this feature is that it does not work for the Ring Doorbell Pro. However, for any other potential buyer, this product is perfect for you!
Easy Installation
For installation, if you have the Ring Doorbell original or the second edition, you can use the existing screwholes to mount this to your wall. But, even if you don't, there's no need to worry. The mount comes with an installation kit with detailed instructions. When followed correctly, the installation process should take you about 10 to 15 minutes in total.
Most of the angle mounts you'll find on the market are the spitting image of the traditional Wedge Kit, and this one is considered to be one of the best. The build is almost identical to what you would find in a standard Wall Kit, with a couple of visually appealing tweaks.
The setup for the Ring Pro is easy as it can be and comes with simple instructions. The zinc-made casing is adjustable, comes with stainless steel screws, and is backed by a 100 percent satisfaction guarantee. If you have a Ring Pro, you won't be able to find a better match.
Best Angle Options
The choices for angle options are endless with this fantastic Pro Angle Mount. Usually, when you install a Ring doorbell, you'll have a blind spot where some people may stand. The ability to turn your mount any which way by 50 degrees provides you with many types of viewing angles to customize your viewing.
Resistant To Corrosion
The properties of the Ring Pro Angle Mount were created to be corrosion resistant. So, regardless if you have constant water blow-back or inclement weather, it will not damage the mount.
Furthermore, the inner workings of this mount are resistant to normal wear and tear. Some mounts, when moved too much, will end up wearing out at the joints. This mount was designed so you can move it at any angle as much as you want, without wearing down the mechanism.
QIBOX has an angled mount for almost every Ring bell that's hit the market. If you want to make the most of your angle adjustments, it's easy to do. You can even see what angle you're working with at the top of the doorbell's mount!
High Compatibility
The QIBOX it compatible with the following models:
Ring Video Doorbell (2nd Generation)
Standard Ring Wi-Fi Enabled Doorbell (1st Generation)
Because of the design, the QIBOX will fit most models. However, it's a good idea for you to check the photos before you purchase to ensure that it will hold your particular model.
High-Quality Materials
This product doesn't slack when it comes to materials. This mount is created from PA/ABS material, which strengthens the product, and prevents corrosion. Since this product isn't made from ordinary plastic, it's more durable and less flimsy. This means fewer accidents for you!
If you're not a fan of QIBOX's design and want to get something that looks a little smoother, don't worry. Other options are available, including a very respectable angled Ring mount from POPMAS, a third-party retailer with a keen eye for good design.
Exclusive Design
This POPMAS Doorbell mount was created to be compatible with the Ring Wi-Fi Enabled Video Doorbell. In addition, it will fit almost any Ring doorbell that is on the market. The angle adjustment allows you 90 degrees of rotation total from left to right, which helps keep the visibility open.
Ease Of Installation
Installation for this mount will take you just 10 to 15 minutes to complete. POPMAS includes all the necessary components for you so that you don't need to purchase any additional equipment. Furthermore, they include a detailed instruction sheet so they can take you step by step to install your mount correctly.
Why Is An Angle Mount Necessary For Your Ring Doorbell?
Ring's big draw is that it allows homeowners to see who's at their door and what they're doing. However, there's an issue that makes Ring's visibility suffer. The Ring doorbell works well if your front door is angled directly out towards the street, but not if your door faces a corner.
If your doorbell has a corner mount, then much of the visibility that Ring promises get wasted on walls. To make the most of your Ring doorbell's visibility, you're going to need to be able to push your doorbell's angle away from the wall. This requires a specialized mount.
How Much Of An Angle Do Ring Doorbells Need?
If you have a home that has a doorbell that faces the street and is unobscured, you'll be perfectly fine without an angled mount. The more significant issue comes when you want to have a doorbell placed in a corner or in an area that might make it hard for Ring's camera to see the full span of its surroundings.
It's generally assumed that Ring doorbells are best installed at a 30 to 55-degree angle, though some can see significant improvements with as little as a 10-degree tilt. This gives the doorbell enough of a shift to capture faces clearly and concisely and makes it easy enough to scan the surrounding area.
Wedge Kit vs. Corner Kit: Which Should I Choose?
People who want a vertical angle adjustment should look at the Wedge Kit, and it's relatively popular among Ring users. It's designed to be very easy to install while keeping things affordable. The big draw with the Wedge Kit is that you can expect it to fit your Ring doorbell perfectly because it's actually made by the folks at Ring.
The Corner Kit is a little bit different. This kit still has all the adjustable perks that you would expect with a top-tier wall mount, but this mount focuses on angling your doorbell on a horizontal axis instead.
Can I Install My Ring Doorbell With Both A Wedge And Corner Kit?
Yes, in theory, it's possible. However, you would be installing a mounting plate on top of a mounting plate. Installation can be tricky at the very least. In most cases, getting this amount of angling won't be necessary. However, if you have a unique layout for your home's front patio, you can very well install both of the kits.
Can I Get A Standard Ring Kit Instead?
You absolutely can. If you go to a direct retailer, then you will probably find them to be affordable and relatively reliable. Of course, there is a drawback when it comes to getting the official kits.
The issue that many Ring owners find is their scarcity. Wedge Kits are surprisingly high in demand, so getting them can be difficult. Moreover, other models out there are equally effective—if not better—than the standard Ring Kit.
Alternatives To Get Around The Angle Issue With Ring
One of the easiest ways to fix the visibility issue is by installing a mounted camera connected to your Ring doorbell. Ring sells these, though they aren't necessarily the cheapest thing you can buy. If you decide to go with this route, the best product you can get is the Ring Floodlight Camera.
This smart floodlight camera is best installed at an angle facing your home's doors and can be linked up to your Ring smart system in a pinch. When the camera senses any sort of motion, the floodlights turn on, and you get alerted to the movement. If you want, you can use its two-way talk function to address whoever's outside.
How To Ensure You Purchase The Best Mount For Your Ring Doorbell
What's best for you isn't going to be what's best for everyone else. You first need to understand your goals and needs. Some questions to think about when shopping for a Ring Doorbell mount are:
How much inclement weather I have? Do I need something waterproof or corrosion-resistant?
What is my front patio like? How much of an angled view do I need?
What mounts are compatible with my Ring Doorbell?
By understanding your needs better, you can choose the correct model that's best for you and your situation.
---
Related Questions
Does Ring come with it's own doorbell mount?
If you have an official Ring doorbell, you probably remember getting a wall mount as part of your doorbell's package. This is to be expected since Ring always tries to give clients everything they need to enjoy basic functionality.
The problem is, Ring doesn't actually have a standard included mount that comes with it that gives you that angle. In order to get the best possible angle for your doorbell, you're going to have to get one on your own. This can be done as an add-on or by using a third-party accessory.
Why doesn't Ring have its own angle mount?
They do! They have two. Ring currently offers two angled wall mounts for their smart doorbells: the Wedge Kit and the Corner Kit. Each kit is designed for its own specific uses and comes in every "size" of the doorbell's line.
Because Ring already comes with a standard wall mount, getting specialized adjustable support will cost extra. Even so, most homeowners will find it to be money well-spent.
Our Final Take
Ring's visibility was groundbreaking, but only if it's got the right system to help bring out the full view of a home's surroundings. Thankfully, there are plenty of wall mounts designed to help angle your Ring with ease. If a regular wall mount doesn't work, you can always rely on a Ring Floodlight to give you the added security and visibility your home deserves.

Upgraded Home Team
We are a team of passionate homeowners, home improvement pros, and DIY enthusiasts who enjoy sharing home improvement, housekeeping, decorating, and more with other homeowners! Whether you're looking for a step-by-step guide on fixing an appliance or the cost of installing a fence, we've here to help.
More by Upgraded Home Team
Published June 26th, 2020 5:41 PM