341 Views
Standard Gas Grill Dimensions (with Drawings)
June 12th, 2021 7:24 PM
Share
We're committed to finding, researching, and recommending the best products. We earn commissions from purchases you make using links in our articles. Learn more here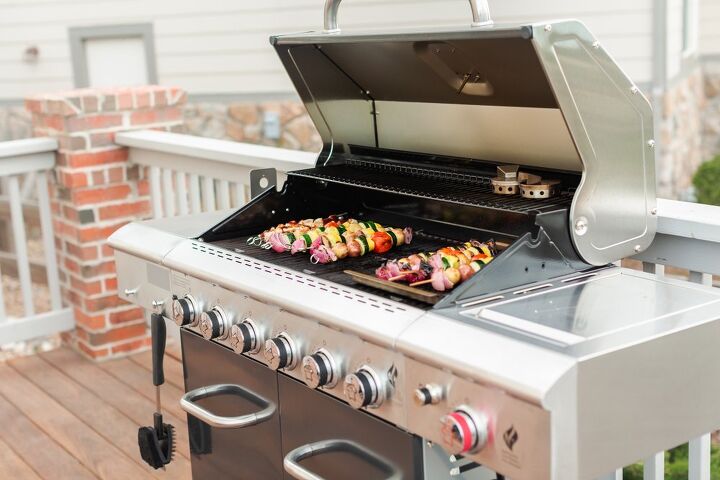 If you enjoy entertaining, you know the importance of having the right grill to make the most appetizing meals. A proper-sized grill can help you host the best backyard barbecues and contribute to many summertime memories. Use this as a guide to choose the best grill for you and your grilling needs.
You measure grills in terms of the available cooking area. Gas grills typically measure between 400 to 500 square inches of cooking area for the average family. For those with bigger families, larger gas grills measure 600 square inches of cooking area.
What Is the Average Size of a Gas Grill?
An average-sized gas grill has about 360 square inches of cooking area, 24 inches wide by 15 inches deep. Larger-size grills can have as much as 1,200 square inches of cooking area, 48 inches wide by 26 inches deep.
The number of burners on the grill is an important factor when considering the size. A three-burner gas grill has about 450 to 500 square inches of cooking area, enough space for the average household. Five or six-burner gas grills have 550 to 650 square inches of cooking area, perfect for those who like to entertain.
How to Choose the Right Size Gas Grill
When choosing the right size grill, you need to take several things into consideration. First, how many people do you plan to cook for at one time. Also, how many dishes do you want to prepare?
And, of course, you also need to consider the practical aspects of where you plan to place your grill. Your answer to these questions will contribute to your grill size, so it's essential to know this early on. Start with determining your ideal grill size based on how many people you plan to cook for at once.
For each person you plan to cook for, allow 72 square inches of grilling space. Therefore, cooking for three people requires 216 square inches, and cooking for four people requires 288 square inches. If you're cooking for five people, you need 360 square inches, and for six people, 432 square inches.
Typically people will round up to the next hundred square inches to make sure they have enough cooking space. If your grill is overcrowded, it can lead to overcooked or underdone dishes, which becomes an overall hassle.
So, figure out your estimated cooking area and round up to ensure you have the appropriate grill size. Once you've determined the best size grill, you can start looking at your options.
Small Gas Grill
A small gas grill like the Napoleon Rogue 365 is an excellent option for those only cooking for their household. The grill is portable, so it's easy to put into storage with space for a propane tank and grilling tools. The Napoleon Rogue 365 is 48 inches tall, has a width of 48 inches, and a depth of 25 inches.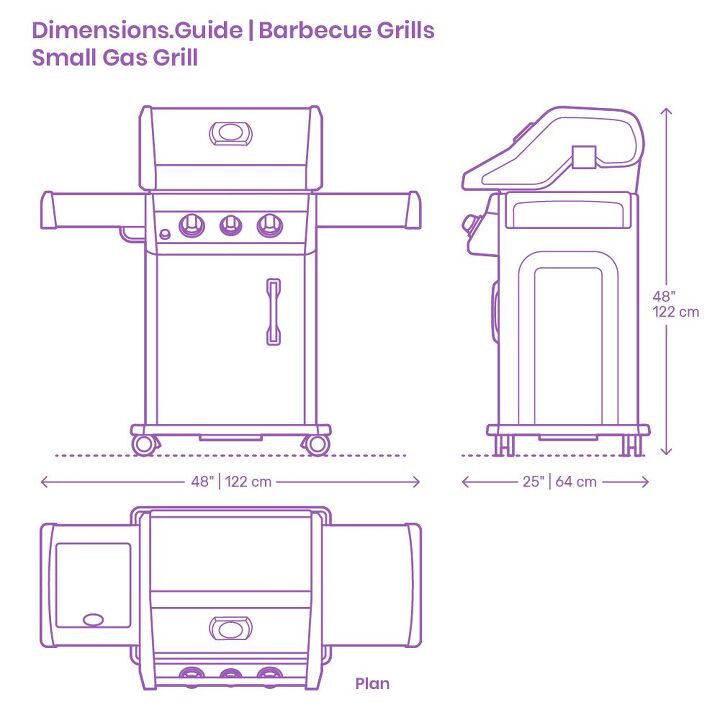 If you combine the main grilling area and the warming rack, the grill has a total of 460 square inches. It also has an additional range burner for cooking side dishes.
Medium-Size Gas Grill
The Napoleon Prestige 500 is a good option for a medium-size gas grill when cooking for a crowd. It can grill up to 30 4-inch burgers at one time with 500 square inches of grilling area. The warming rack has an additional 260 square inches of space.
The Napoleon Prestige 500 gas grill has an overall height of 50.25 inches. Additionally, it has a width of 64.25 inches and a depth of 26.25 inches. This grill weighs about 254 pounds, so it is much more challenging to move around.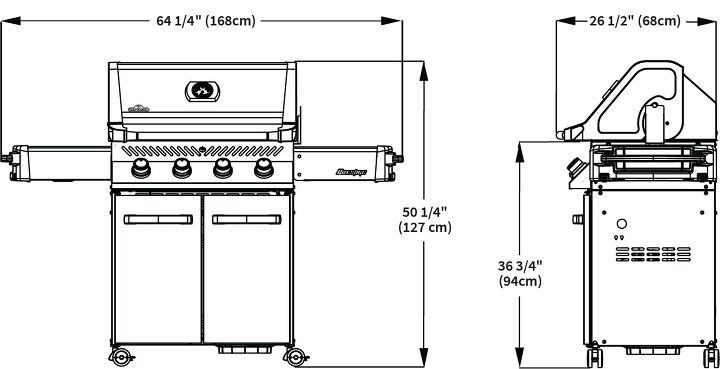 Large Gas Grill
A large gas grill like the Napoleon Prestige Pro 825 is a great option when you're serving a large group. It has 825 square inches of cooking area plus 420 square inches of warming area, overall 1,245 square inches. The grill also has two additional side burners for extra dishes.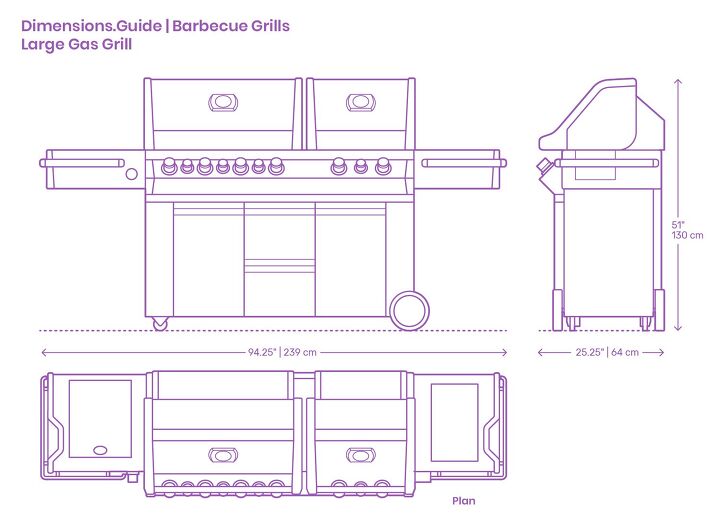 The Napoleon Prestige Pro 825 has a height of 51 inches when closed and 56 inches when open. It has a width of 94.25 inches and a depth of 25.5 inches. This grill is a whopping 469 pounds, so it definitely can't be moved around easily.
Types of Gas Grills
Gas grills are the most common type of grill used across the United States. Gas grills are convenient, efficient, and versatile, as most feature additional features and burners. They are easy to use for the beginner griller or the expert.
There are several different types of gas grills.
Propane Grill
You can fuel gas grills with propane or natural gas. Propane comes in portable tanks, and you can purchase them at most supermarkets. While you will need to refill your tank occasionally, they're easier to use.
The average size propane tank is 20 pounds. It has a height of 18 inches and a diameter of about 12 inches. A 20-pound propane tank can provide 25 hours of grilling time.
Natural Gas Grill
If your home has a built-in natural gas line, a natural gas grill is for you. Natural gas grills are a common choice for built-in grills, and they eliminate the need to buy fuel.
You'll also find these grills as patio-mount grills, like this one. When open, the grill has a height of 59 inches, a width of 26 inches, and a depth of 18.5 inches.
When closed, the grill has a height of 48.5 inches, a width of 51 inches, and a depth of 24 ¾ inches. From the ground to the top shelf, the grill is 37 inches high.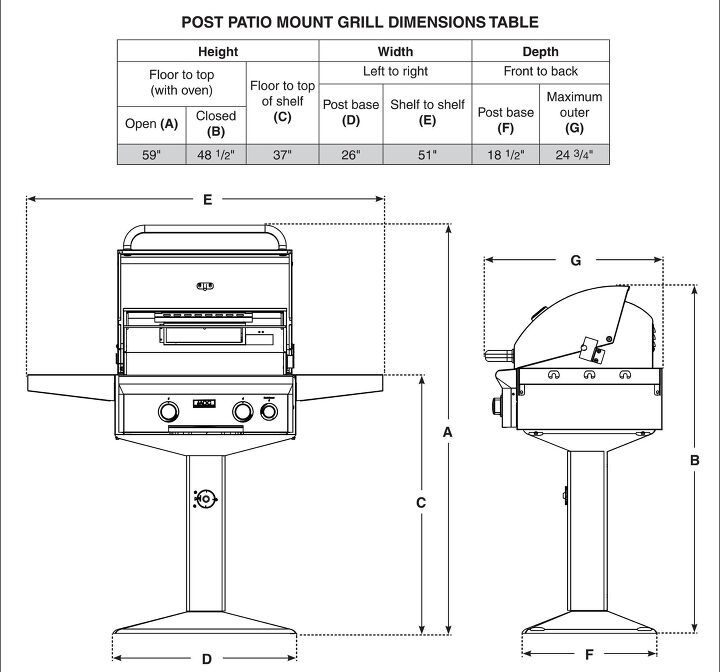 Infrared Gas Grill
You can fuel infrared gas grills with propane or natural gas. The infrared technology can spread heat evenly over the grilling surface and prevents the flames from reaching the grates. They are known for not having flare-ups and providing even temperatures.
The most common infrared gas grill is a three-burner grill. They are about 23 inches long, 57 inches wide, and 46 inches tall.
Flat Top Gas Grill
Flat top gas grills are flat griddle surfaces fueled by propane. You can use flat top grills for a variety of different dishes, from burgers to breakfast. Flat top grills tend to make food juicier as the dripping can't drip below the grates.
Flat top gas grills come in different sizes. Small to medium-size flat top grills usually have a cooking surface area of 150 to 300 square inches. Large flat top grills have about 500 square inches of cooking area.
Freestanding Gas Grill
Freestanding gas grills come with the added benefit of portability. They aren't attached to anything, so you can move them around easily as needed. Freestanding gas grills get their power from propane or natural gas.
Built-In Gas Grill
Built-in gas grills are built into permanent structures like an outdoor cabinet or cooking island. These are high-end grills often found in outdoor kitchens, which can elevate the look of your backyard. There is no standard size built-in grill, but they usually range from 34 to 40 inches wide.
Gas Grill Safety Tips to Remember
When you purchase a new grill, always read the manual so that you become acquainted with how to operate it safely. All natural gas and propane grills should be operated outside, in well-ventilated areas. Don't screen in your outdoor kitchen, and ensure you maintain proper clearances around the grill area.
Manufacturers suggest that there needs to be 20 inches of clearance to the rear of the grill. There should be 7 inches of clearance on each side and 24 inches of clearance between the grill and vinyl siding. Grills should also be at least three feet away from house walls and 10 feet away from anything flammable.
Before you cover your grill, make sure that it has completely cooled to prevent fire. When lighting your gas grill, keep the lid open. This will prevent gas from pooling under the lid.
After grilling, always make sure you turn off all the burners. Then, turn off the gas tank or your natural gas. There should be a shut-off near the grill.
---
Related Questions
How do you clean rust off of a grill?
When clearing rust off a grill, use soap, warm water, and a light detergent to scrub the grill. You should avoid steel wire or wool and opt for a cloth or sponge instead. Clean the grill, then continue to the next step. After cleaning the grill with soap and water, make a paste out of vinegar and baking soda. Apply the paste to the grill using a sponge or cloth and let it sit for 20 to 30 minutes. Remove the paste, and the rust should come with it. Soda is another rust removal solution. Place all rusted pieces in a bucket that can comfortably fit. Fill the bucket with soda, let it sit overnight, and rinse and scrub the rust away in the morning.
Should I smell gas from my gas grill?
If you ever smell gas, you should be concerned. A propane leak will release bubbles. To check for gas leaks, use a small basting brush and bowl of soapy water. Brush the soapy water over the hoses and connection when the tank's full and the valve's in the on position. If you see any bubbles start to form, there is a gas leak. If you ever smell gas while cooking, immediately step away from the grill and call the fire department.

Stacy Randall
Stacy Randall is a wife, mother, and freelance writer from NOLA that has always had a love for DIY projects, home organization, and making spaces beautiful. Together with her husband, she has been spending the last several years lovingly renovating her grandparent's former home, making it their own and learning a lot about life along the way.
More by Stacy Randall
Published June 12th, 2021 7:24 PM