114 Views
Outdoor Grill Dimensions (with Drawings)
June 10th, 2021 5:20 PM
Share
We're committed to finding, researching, and recommending the best products. We earn commissions from purchases you make using links in our articles. Learn more here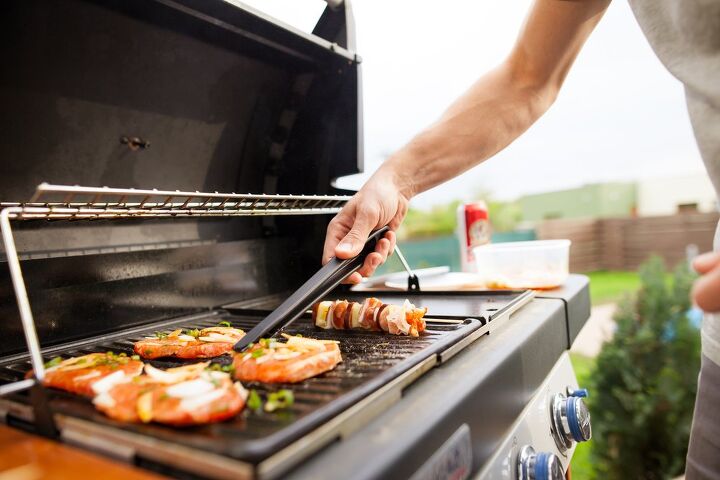 Hosting a barbeque with friends can be fun, but it can become a challenge with the wrong size grill. Many people choose a smaller grill than they need, leaving their friends impatient and hungry. Use this as a guide to select the right size and style outdoor grill for your next barbecue.
A standard size outdoor grill is about 400 square inches. Larger model outdoor grills can be more than 1,200 square inches. An outdoor grill used on the weekends should be at least 360 square inches, 24 inches wide, and 15 inches deep.
What Is the Average Size of an Outdoor Grill?
You typically measure the cooking area for outdoor grills in square inches. This includes cooktop areas as well as the warming rack. If you are buying an outdoor grill for the first time, 450 square inches is a good starting point.
Grills can be a variety of sizes, but the average size outdoor grill is between 400 to 500 square inches. However, outdoor grills can be as large as 1,200 square inches. If you want to host a small weekend party, you need an outdoor grill of at least 360 square inches. This equates to 24 inches wide by 15 inches deep. However, if you're hosting a big party or have a larger family, choose a grill at least 600 square inches.
A 450 square inch outdoor grill is great for small parties and can accommodate about 20 hamburgers at a time. When considering a gas grill, two burners are standard, but four burners are ideal. If you have a large family or enjoy entertaining large crowds, you'll want 5 to 6 burners.
How to Choose the Right Size Outdoor Grill
Choosing the right outdoor grill depends on the buyer's specific needs. To determine how much grilling space is needed, consider the number of people you typically cook for.
For example, 200 square inches of cooking area is usually sufficient for 1 to 2 people. This is the size of small portable grills. However, 450 to 500 square inches is adequate for families of 4 to 5 people. Then, 550 to 650 square inches of cooking space is best for large families and those that entertain often.
Types of Outdoor Grills
There are several types of grills with different specifications. When buying an outdoor grill, choose a model that best suits your cooking needs.
Charcoal Grill
Charcoal grills, also known as kettle grills, are powered by charcoal briquettes. These grills are great for camping as well as tailgating. They distribute heat, producing a hot zone in the center and indirect heat on the outside of the grill.
Cooking on a charcoal grill is more expensive and can be more time-consuming. However, most people prefer the charred flavor that a charcoal grill provides.
The Weber 22-inch Charcoal Grill features a steel grate, a porcelain-enameled bowl and lid, and a bottom wire rack. The Weber grill has an overall height of 39.5 inches, a width of 25 inches, and a depth of 22.5 inches. Basic charcoal grills start at about $100, and a quality charcoal grill can cost $150 to $250. Higher-end models can cost upwards of $2,000.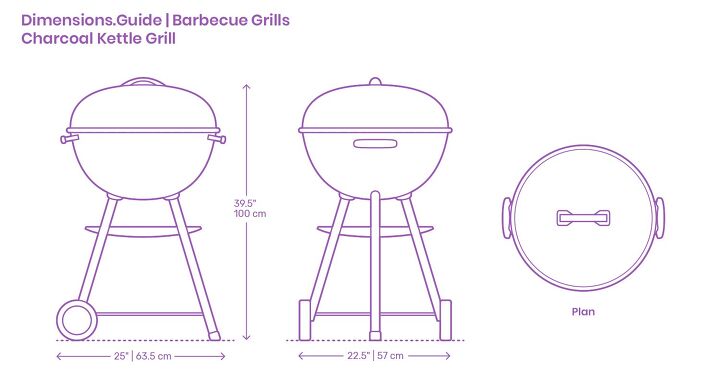 Gas Grill
Gas grills are the most common types of outdoor grills, and you can often find these at backyard parties. You can fuel them with natural gas or propane; a 20-pound propane tank can provide 25 hours of grilling time. Natural gas is less expensive, but you do need a gas line installed in your home.
The Napoleon Prestige Pro 825 gas grill can serve many people for a large gathering. It has an overall height of 51 inches, a width of 94.25 inches, and a depth of 25.25 inches.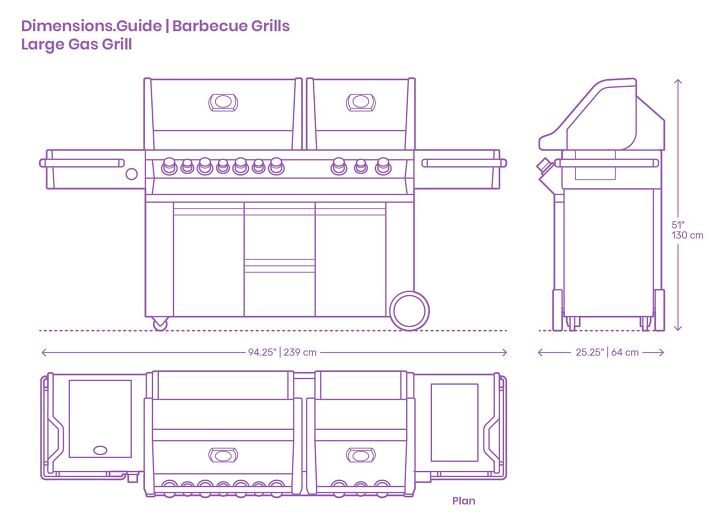 Portable Gas Grill
Portable gas grills are smaller in size and typically more lightweight. In addition, they come with wheels, so they are easy to move from one place to another. A portable gas grill is a good option for those camping or tailgating.
You can power portable gas grills with propane or charcoal, but you can also find some that run on electricity. You can find a portable outdoor grill for as little as $30, but they are not usually durable. Higher-end models that are better quality and have more features can cost as much as $200.
A popular portable gas grill is the Napoleon TravelQ 285X with all-terrain wheels, compact storage, and easy folding ability. This portable gas grill has a height of 38.75 inches, a width of 44.25 inches, and a depth of 20.25 inches.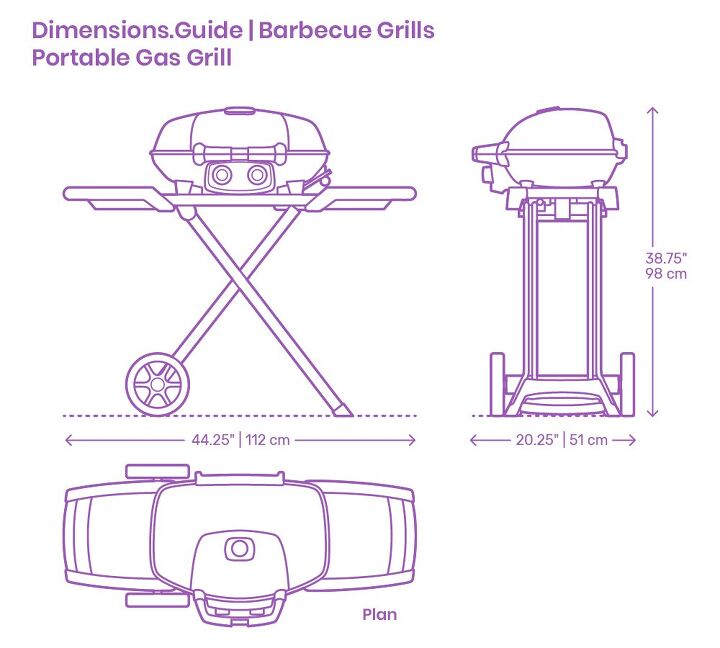 Patio Mount Grill
Patio mount grills are the perfect addition to most outdoor kitchens. They come in a variety of sizes and shapes.
When open, the grill has a height of 59 inches, a width of 26 inches, and a depth of 18.5 inches. When closed, the grill has a height of 48.5 inches, a width of 51 inches, and a depth of 24 ¾ inches. From the ground to the top shelf, the grill is 37 inches high.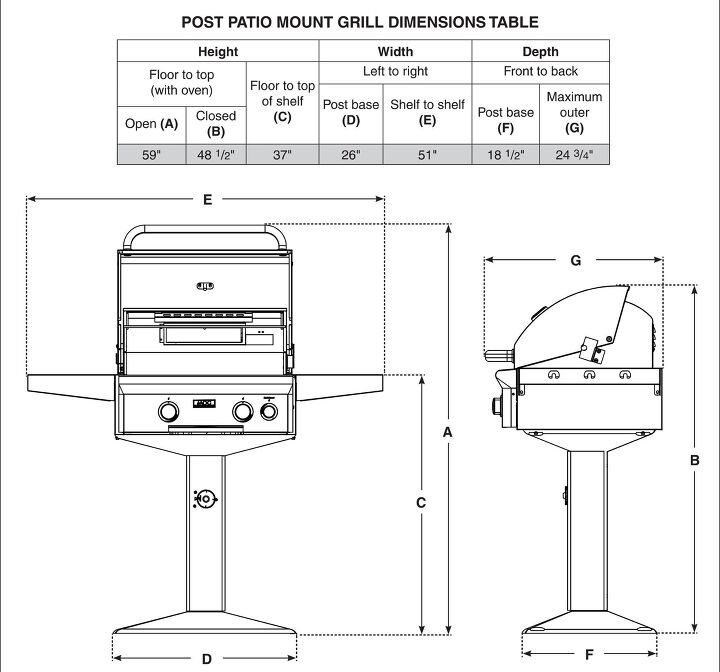 Electric Grills
Electric grills are composed of grill plates that use electricity for cooking food without the need for fire. This is a good choice for apartments, condos, or where gas or charcoal grills aren't permitted. Electric grills are usually small in size, and the most popular are table-top models.
This Weber electric grill has a cooking area of about 280 square inches. When open, the grill is 26 inches high, 31.5 inches wide, and 25.1 inches deep. When closed, the grill is 14.5 inches tall, 31.5 inches wide, and 19.5 inches deep.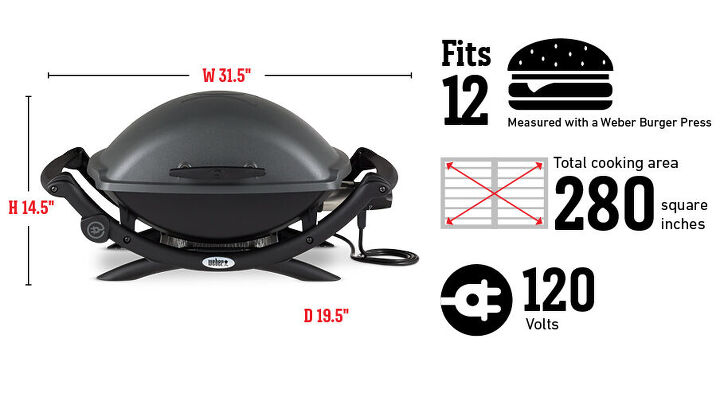 Electric grills are affordable and cost less than $100, on average. However, if you want more features and accessories, some models can cost as much as $500.
Other Considerations When Choosing an Outdoor Grill
When choosing an outdoor grill, there are other considerations you should keep in mind. How many burners as well as the grilling area are essential when deciding how large of a grill you need. Heat diffusion and lid design will also affect how food cooks.
Burner Lineup and Heat Diffusion
Burners that line up from front to back are usually easier to use when creating specific heat zones. Grills also have a heat diffuser over the burners, which can allow heat to distribute more evenly. In addition, some grills have metal heat diffusers that protect the burners from drips.
Lid Closure and Headspace
Keep in mind how well the lid of your grill closes and what amount of headspace is inside the grill. If the grill's lid doesn't have a good seal, heat can escape while you're trying to cook. This can cause the temperature to fluctuate and leave your food overdone or undercooked.
When choosing an outdoor grill, look for a lid that opens easily but stays tightly closed for the best experience.
If you want to cook larger foods like a whole chicken or entire turkey, you'll need to consider the amount of headspace. Smaller grills have little room on top, so you'll need to determine what is important to you. Generally speaking, you should choose a grill with at least 12 inches of headspace.
If your grill has warming racks on the inside, make sure they are removable as they can cut into headspace, too.
Grill Footprint
In addition to burners and headspace, consider the other features of the grill. Many grills have side tables for prep or cooling space or additional burners. You'll want to keep a few feet on either side of the grill to prevent anything from overheating.
Some grills may have the perfect amount of space for your grilling needs, but the grill footprint is too large. Always consider the area you plan to use the grill and if that is enough space. For example, if you have a smaller patio but enjoy entertaining, you may need a larger grill without exterior features.
---
Related Questions
How much clearance does a grill need?
Each grill manufacturer has its own guidelines. Typically the grill should be at least three feet away from house walls. In addition, you should place the grill at least 10 feet away from anything flammable and could catch fire.
How often should I clean my grill?
If you grill frequently, or at least once a week, you should thoroughly clean the grill grates every two months. Every six months, you should do a thorough cleaning, and if you grill often, you should do a deep clean. A deep clean involves disassembling the grill, inspecting the gas flow, and checking your grill grates for rust.If you don't clean your grill, you can expose fresh meat to old debris and gunk. Plus, leftover grease, fats, and pieces of meat near the bottom of the grill can cause grease fires. It can also leave your food tasting less than fresh.
What is the average cost to build an outdoor kitchen?
An outdoor grill is a good option when looking to add value to your home or a space for family gatherings. Outdoor kitchens can range from $4,000 to $20,000. This is about $300 to $750 per square foot. On average, outdoor kitchens cost $13,000. For larger, higher-end outdoor kitchens, costs can reach upwards of $30,000.

Stacy Randall
Stacy Randall is a wife, mother, and freelance writer from NOLA that has always had a love for DIY projects, home organization, and making spaces beautiful. Together with her husband, she has been spending the last several years lovingly renovating her grandparent's former home, making it their own and learning a lot about life along the way.
More by Stacy Randall
Published June 10th, 2021 5:20 PM