506 Views
Standard Stove Dimensions (with Drawings)
February 21st, 2022 11:04 AM
Share
We're committed to finding, researching, and recommending the best products. We earn commissions from purchases you make using links in our articles. Learn more here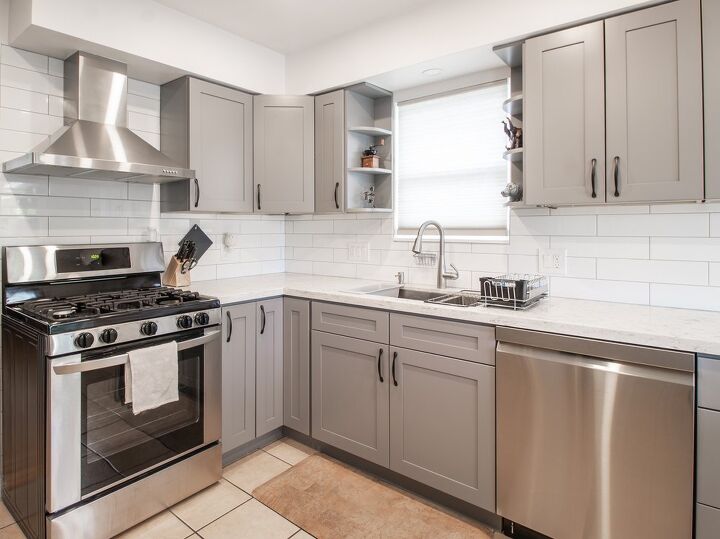 Maybe you're redoing your kitchen, but the old stove doesn't quite fit that farmhouse vibe that you're going for. Or maybe you just need an upgrade from the same stove you've been using for the past twenty years. Either way, you need to make sure your new appliance will fit, so it's important to understand stove dimensions.
Most regular stoves are 30" wide and 25" to 27" deep without the handles, which can add another two inches. But stoves can vary between 24" to 30″ deep, and 24" to 36″ wide. Ranges (stove-oven combos) are 36" to 37″ tall from floor to stovetop. If it has a clock on the top, the total height will be about 47".
The perfect stove won't exactly be perfect if it doesn't fit in the space you have. Before you go stove shopping, you'll need to know the exact dimensions of the space available. On top of this, you'll need to consider other measurements, such as appliance clearances and the overhead ventilation hood placement.
Taking Measurements For Stove Dimensions
Taking measurements of the space available for a stove is pretty straightforward. If the space lies between two sections of counter, then your stove's width must be slightly smaller than the space's width. If the space is at the end of a counter, then you'll have more freedom in choosing a larger stove.
You will also need to measure the space around the stovetop. Also, you need to know how far the closest side wall is to the stovetop and how high the ventilation hood will be. Measure how close the nearest appliances will be to the stove as well.
Range Stove Dimensions
Range stoves come in a few different varieties, and with these varieties come size differences. Standard range stove dimensions have a 30" width and a 25" to 27" depth, not counting oven door handles. Ranges have a height of 36" to 37", matching the height of a standard countertop.
If you're debating between colors for your range and countertops, read more about options and tips here.
Freestanding vs. Slide-in Range Stove Dimensions
While their dimensions are similar, there are differences. You can place freestanding ranges anywhere in a kitchen. However, slide-in ranges specifically fit between counter runs and have unfinished sides.
The stovetop of a slide-in range may be 1" to 2" wider than a freestanding range's width. This is designed so that the slide-in stovetop will seamlessly cover the gap between the range and the countertop.
The placement of the control panel and clock also affects the total height of the range. Slide-in ranges have their knob panel and clock on the front face above the oven door, adding no extra height. Many freestanding ranges have knobs and clocks on the stovetop, making their total height 47".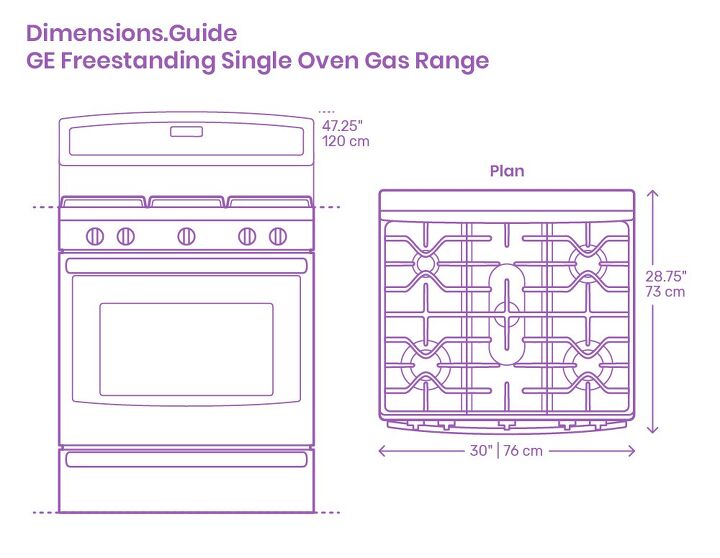 Double Oven Range Dimensions
Double oven ranges have little to no difference in dimensions compared with single oven ranges. They typically measure 37.25" from floor to stovetop.
However, a double oven range will often have its knob panel and clock on the top of the stove. This makes the total height of most double oven ranges 47".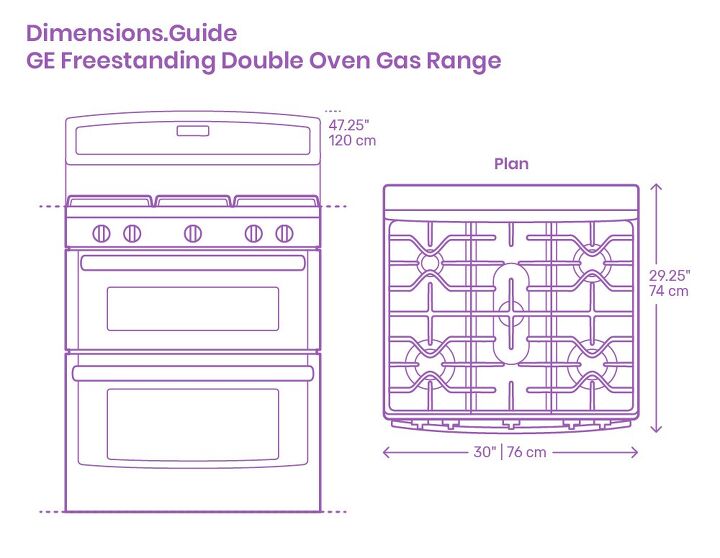 Cooktop Stove Dimensions
While it is common for a house's kitchen stove to be combined with the oven, that isn't always the case. If you have a stove that is completely separate from an oven, it's known as a cooktop stove.
Since cooktops don't have an oven below, they can be more versatile in size. Options for these products include 2 burner, 4 burner, and 5 burner cooktops, each with varying dimensions.
A standard cooktop is 30″ wide across the front and back, just like that of a range. However, cooktops can vary from anywhere between 15" to 36″ in width. The most common widths are 24", 30", and 36″. A cooktop's height will be small and will vary with each product.
2 burner width: 12" to 15″ in width
4 and 5 burner widths: 24" to 36″ in width
Cooktop Cutouts
Another important dimension consideration for cooktops is the cutouts. Cutouts are the spaces in the countertop that the cooktop will sit in.
Generally, the stovetop itself will be slightly wider than the cutout so that it will appear more seamless with the counter. The underlying body of the cooktop will rest inside the cutout.
There are no general dimensions for cutouts, as they are specific to each type of cooktop body. You will need to read the appliance's instructions to get the exact dimensions for the cutout needed for your cooktop.
Ventilation Hood Dimensions
The ventilation hood is another crucial part of your stove. While these aren't required with a stove, most people prefer to have one.
They need to fit in the space between the cabinets above the stove. This space often matches the width of the opening in the counter space below.
The range hood width will be the same width as the stove, usually 30″ wide. The hood will extend between 18" and 21″ from the wall out above the stovetop. The height of the hood will vary based on the product itself and the path of the exhaust duct.
Backsplash Dimensions
Backsplashes are not a requirement for stoves, but many people prefer to have them to keep their stove area clean. Dimensions for a backsplash completely depend on what's around the stove and your preferences.
In general, the larger the backsplash is, the more effective it will catch grease spray and spill. Backsplash height depends on what you have above your stove if you want to fill the whole space above the stove.
If you have just cabinets above, the backsplash will be around 30″. If you have a ventilation hood, the backsplash will have a height of 24″. If you have an over-the-range microwave above, the backsplash will be about 13″ in height.
Width is also mainly up to you and the space available. Many backsplashes match the exact width of the stove, usually about 30″.
However, you may want to extend that width anywhere from 2" to 6″ or even more past the width of the stove. This will ensure more grease catch and make the backsplash better at its job.
Clearances For Stove Dimensions
Clearances for stoves or ranges are nearly just as important as the appliances' dimensions. Physically fitting into the space is only one part of the consideration when putting in a stove. You will want to make sure the stove or range has proper clearance around it for functionality and safety.
Stove Clearance For Space Above The Stovetop
There should be 30″ of clearance from the stovetop to any cabinet or material above it. Placing anything unprotected closer to the stovetop could result in heat damage or fire.
If your stove has a ventilation hood above it, the hood should have 24″ of clearance above the stovetop. This will allow the exhaust fan to be effective while also giving you enough space to work over the stove.
Stove Clearance For Microwaves
Over-the-range:
You may have or intend to install an over-the-range microwave above the stovetop. If so, it is recommended that the base of the microwave is at least 66″ from the kitchen floor. This will give you about a 13" gap between the stovetop and the microwave.
That being said, some over-the-range microwaves may need more or less clearance than others. Be sure to read the manufacturer's instructions before installing.
Freestanding:
Freestanding microwaves are not made with stove heat exposure in mind. You should place freestanding microwaves no closer than 2 feet to the stovetop.
Stove Clearance For Refrigerators
Refrigerators are not made of heat-durable material, so you will need some space between it and the stovetop. It's recommended that you have at least 15″ of space between the stove and your refrigerator. This will also protect your refrigerator from grease and food splatter.
Dishwasher Clearance
If you're wondering about dishwasher to range clearance, we've covered it in this previous article.
Oven Door Clearance
If you have a range with an oven, you need to consider the oven door clearance. You'll want enough space to open the door and to work within its space comfortably and safely.
The minimum amount of open space you want to have in front of your oven door is 40" to 60″. This will allow you to have the door swung all the way down and give you space to work comfortably in front of it.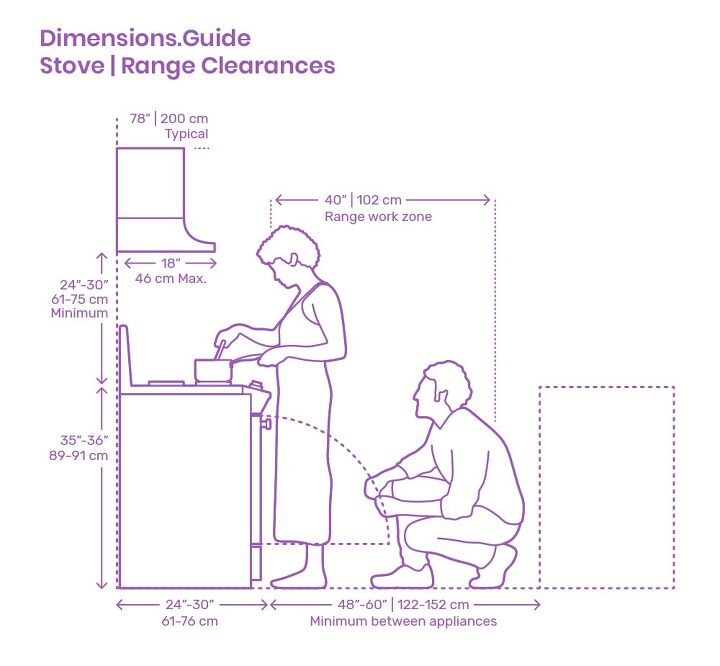 Electric vs. Gas Clearances And Considerations
A very important thing to know before upgrading your range is whether you're getting a gas or electric stove. It's generally cheaper to stick with the type you already have, but a switch is certainly possible. There are some clearance and measurement differences between them too.
Remember to always read the manufacturer's instructions as well to see if it includes additional clearances. The clearances listed here apply to most stoves and ranges, but it's always best to read the instructions to be sure.
Gas Stove Connection And Clearances
If you want a gas stove, you'll need to add a gas line hookup in your stove area. If you have a natural gas line in your home but no connection in the kitchen, you can add one. This won't be too difficult but could be expensive.
Depending on where you live, natural gas or propane may be a cheaper option for you rather than running your range on electricity. However, be mindful of potential hazards if you introduce gas into your home.
If your gas range is a slide-in, there should be a 2" clearance behind the range to make space for the valve. If it is freestanding, whether gas or electric, it can slide all the way back to the wall. The stove or range should not be more than 6′ from the gas valve.
You will need more clearance for a gas stovetop than you will for an electric one. There should be a minimum of 6" clearance above the countertops between the stovetop and the nearest side wall.
The open flame of a gas stove makes its surroundings more susceptible to possible fire or heat damage. The more space you can give it, the better.
Electric Stove Connection and Clearances
Going electric may be more simple than switching to gas. Electric stoves plug into an outlet and are ready to go. Additionally, electricity can be more costly to use for heating than gas, depending on where you live.
Electric stoves have several advantages. They are easily cleaned, don't require gas lines, and are generally safer than gas ranges. Their biggest con compared to gas stoves is that they typically have a higher price tag.
Electric stoves require only a 220-volt outlet for power and heat. Unlike a gas stove, generally, there is no minimum clearance for an electric stove to the nearest side wall above the counter height. However, 6" is highly recommended to avoid heat damage or fire.
Stove Dimensions: In Summary
Before making any sort of purchase for a stove or range, make sure you have the space for it. You should know the precise measurements of the space you have and the exact dimensions of the appliance you plan to put in it.
Generally, a standard stove's width will be between 24" to 36", and its depth into the counter will be 28" to 30". A cooktop's height will be small but dependent on the product. If your stove is on a range, the range will be up to 37" in height from the floor. A clock on the top of the range may add to a total height of 47".
In addition to these dimensions, be sure to observe all clearances to minimize any risk of damage or accidents related to your stove. We hope this will help you find the stove that is (literally) the right fit for you.

Stacy Randall
Stacy Randall is a wife, mother, and freelance writer from NOLA that has always had a love for DIY projects, home organization, and making spaces beautiful. Together with her husband, she has been spending the last several years lovingly renovating her grandparent's former home, making it their own and learning a lot about life along the way.
More by Stacy Randall
Published February 21st, 2022 11:04 AM