1.7K Views
Does Lowe's Cut Glass? (To Size, Custom, Mirrors & More)
January 6th, 2022 9:30 PM
Share
We're committed to finding, researching, and recommending the best products. We earn commissions from purchases you make using links in our articles. Learn more here
Cutting glass is a challenge that you definitely don't want to take on at home. This may leave you wondering if you can take your glass to a place like Lowe's to have it cut. Follow along as we explore how Lowe's can help you with cutting glass.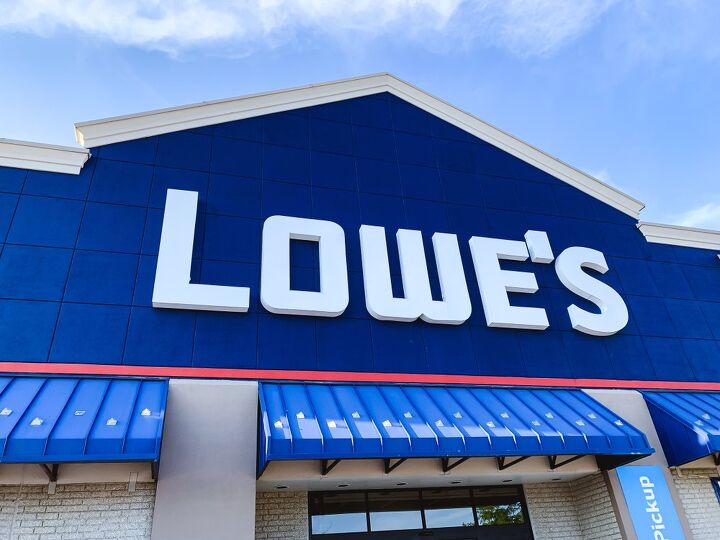 Although many customers likely know that Lowe's sells glass and glass products, both large and small, customers may wonder if Lowe's or other home improvement stores cut glass. The answer is that yes, Lowe's does cut glass for a variety of their customer's needs.
As long as you purchase the glass at Lowe's, they will custom cut all types of glass, including glass shelves, glass tile, glass for table tops, glass for frames, and mirrors. They charge $5 for cutting glass, but it's usually free if it's a simple cut. However, be aware that Lowe's cannot cut circles or ovals.
What happens if the new glass you choose does not come in the size you need when you find the perfect style or type of glass? Discussing the needs with the salesperson is the first step to getting the ideal size glass and the ideal type of glass for your needs.
Related Content: How To Cut Glass With A Dremel | Does Home Depot Cut Glass In Store? | How Much Do Smart Glass Windows Cost?
Does Lowes Cut All Types Of Glass?
When you select the perfect type of glass that you need for your project, no matter how large or small, what happens when it is not the ideal size? Lowe's will cut glass of practically any size and shape, except for circles and ovals.
Lowe's understands that customers may not know the best type of glass for their specific needs. If this sounds like you, then discuss your needs for the glass you want to purchase, and the store associate can help you choose the best types of glass for you.
Does Lowe's Cut Window Glass?
Lowe's website explains that window glass replacements are a common need for their customers. Lowe's employees can help a customer select sheets in 3/32 inch or 1/8-inch thickness, which are usually available at all Lowe's stores. These two options for window glass can be cut to fit a variety of different modern to antique style windows.
The company stocks replacement window glass in several different dimensions, widths, and finishes. Lowe's can help with cutting glass to the ideal size when you need glass cut for your project.
Does Lowe's Cut Custom Glass?
Lowe's can employ skilled glass cutting and smoothing tools to create the exact custom size for you, even if the job demands glass in an unusual form.
If the size or form you need for your project or renovation isn't available in Lowe's glass inventory, you can have it custom-cut at the store's glass cutting station. Lowe's would gladly cut any glass sheets to your precise measurements.
However, keep in mind that Lowe's can only make straight cuts on your glass items, not rounded corners or circular shapes. This means that any glass project must have some sort of angle.
Does Lowe's Cut Glass Shelves?
Since glass shelves are mainly made of tempered glass, Lowe's can definitely assist you with cutting your glass shelves.
However, make sure you choose the correct thickness as Lowe's cannot alter the thickness for you. Customers often forget the thickness factor and then report that Lowe's refused to cut the glass shelves.
Also, it's important that you know Lowe's can not cut circles in store, so if you want a circle, you will need to do this at home.
Does Lowe's Cut Glass Tile?
In addition to regular glass, Lowe's also cuts glass type as well as other types of type as long as it was purchased from Lowe's. If you need your glass tile cut, find an associate that will assist you with cutting.
Then, when you purchase the tile, bring it on over to them so they can get started. Also, make sure you present any measurements to them as this helps them better assist you.
Does Lowe's Cut Glass for Table Tops?
Lowe's does, in fact, cut glass for tabletops. Lowe's can measure and cut your tabletop sheet to the exact size you need because glass tabletops are often constructed of tempered or frosted glass.
This is particularly useful for anyone wishing to make their own patio tables or other DIY glass furniture, as heat-treated glass kinds such as tempered glass sheets are notoriously difficult to cut.
However, before you purchase your glass in the first place, ask an associate to help you choose the right thickness for your tabletop as these tend to be thicker and different locations have limits on how thick of glass they can cut.
Does Lowe's Cut Glass for Frames?
If you're looking to replace the glass for your picture frame, Lowe's can cut your frame glass to size. Just make sure you know the size of frame that you're trying to fit the glass into.
However, you might run into problems if the frame is circle-shaped, as you need to make sure you have some sort of angle in your glass to ensure that Lowe's is able to cut it for you. Otherwise, you will need to cut it yourself at home.
Does Lowe's Cut Glass Mirrors?
Lowe's will cut your glass mirrors with no problem to any custom size that you want. They have many different professional cutting, measuring, and polishing tools available at their disposal.
Lowe's can assist you, whether it's mirrors or mirrored glass that you're looking to have customized. Again, all they need are your exact specifications, so they know the size and shape to cut your mirror. If you have a frame for your mirror, you're welcome to bring that in so they can measure it for you.
Lowes Glass Cutting Services vs. Competitors
| | | |
| --- | --- | --- |
| Store | Type of Glass Cutting Services Offered | Price |
| Lowe's | Assisted and DIY stations | $ 0 to $5- depends on the complexity |
| Home Depot | At-Home Kits- DIY only | $12.99 to $24.99 |
| Ace Hardware | | $2 per cut |
| Local Glass Cutting Companies | Assisted only | $2 to $25 per square foot |
Does Lowe's Cut Glass for Free?
Now that you know the types of glass Lowe's cuts, you might be wondering, does Lowe's charge to cut glass? It depends; most locations will trim your glass for free if it's a simple cut, while others may charge $5 for a more difficult job.
To be specific, contact your local Lowe's and request a price quote as well as clarification of your needs. Professional glass cutting is more expensive than doing it yourself, but Lowe's has affordable options.
It's also important to note that not all Lowe's locations offer glass-cutting services. Therefore, check with your local Lowe's before purchasing the glass there, as most Lowe's does not allow you to bring your town glass for cutting.
Can You Cut Glass At Lowes Yourself?
Some individuals may think that there is little if any, difficulty in cutting the perfect size piece of glass. All it takes is measuring and cutting, right? There are probably many customers who spent more money buying a second replacement or new glass and relied on the Lowe's associate to cut the glass the second time.
Although Lowe's offers a DIY on cutting glass, you may want to rely on someone with experience in cutting glass if you have not done it before. This is also true if you just do not feel confident in your ability to cut the glass to the exact size needed for the project.
Remember, Lowe's does cut glass and will cut nearly any type of glass into the proper size and the required shape for your replacement glass and new construction and DIY hobby or project needs.
Can You Return Cut Glass to Lowe's?
Lowe's does not accept cut glass returns due to a possible lack of demand. Or, in other words, there's no for sure guarantee that the particular piece of custom glass will sell.
This could cause the company to lose out on hundreds of thousands of dollars if each location allowed cut glass returns. So make sure that you're getting the glass and the cut that you want.
It's always a good idea to measure the area you want your glass installed. Always measure twice to avoid any mistakes. That way, you won't be left with a piece of glass that you can't use or return.
What Types Of Glass Does Lowes Sell?
Lowe's has a wide variety of different styles of glass available for the different needs of customers. Lowe's suggests different types of glass such as beveled or mirrored glass, frosted glass, or glass blocks for customers that want to consider something other than just a clear piece of glass.
Consider these options whether you are replacing a broken piece of glass, doing new construction, or simply updating an existing style for a fresh, new look.
Foam PVC sheets, polycarbonate and acrylic glass sheets, or frosted glass are some other available options that a customer may want to consider when choosing the right glass for their replacement or new construction needs.
Related Guides

Upgraded Home Team
We are a team of passionate homeowners, home improvement pros, and DIY enthusiasts who enjoy sharing home improvement, housekeeping, decorating, and more with other homeowners! Whether you're looking for a step-by-step guide on fixing an appliance or the cost of installing a fence, we've here to help.
More by Upgraded Home Team
Published February 21st, 2021 8:03 PM