66 Views
Are Oak Kitchen Cabinets Outdated? (Plus Other Alternatives)
August 18th, 2021 11:23 PM
Share
A homeowner can follow many different trends throughout the years. In the '80s and '90s, oak kitchen cabinets were a popular option to choose when building a home. As everyone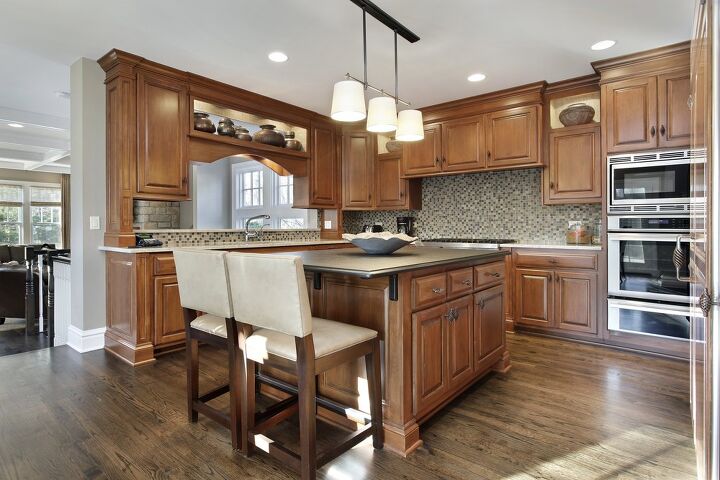 A homeowner can follow many different trends throughout the years. In the '80s and '90s, oak kitchen cabinets were a popular option to choose when building a home.
As everyone knows, however, trends can change by the season.
Oak kitchen cabinets are considered to be outdated. Given they were popular in the 80s and 90s and have since then decreased in popularity. If you are wondering what to do with outdated oak kitchen cabinets, you can either replace, repaint, install under cabinet lighting, remove the doors, or add crown molding.
At one time, oak was seen as the premier choice due to its hardiness and durability. Although some people love the natural look of oak, many people now prefer the bright look of white or gray kitchen cabinets. Oak tends to darken a room, while the more neutral colors open a kitchen up.
Do You Need to Hire Cabinet Installers?
Get free, zero-commitment quotes from pro contractors near you.
Alternatives to Oak Cabinets
Within the wood family, oak is far from being the only option to choose from. Homeowners and builders also have the choice of cherry, pine, alder, maple, mahogany, birch, hickory, or walnut. Wood cabinets are known for being expensive and often take up a big portion of a kitchen's remodeling budget.
When people update their old oak cabinets, they tend to spend on average $6,650 for the project. However, the more custom a cabinet project is, the more expensive it will be. In order to save money, people now consider different materials for their cabinets.
Back before other materials were created for cabinetry, wood was the only option to choose from. Now, there are many other materials available for homeowners to fit their overall design scheme and style.
Plywood, laminate, metal, melamine, and thermofoil are all different types of cabinets that people can use in their kitchen. While each have their own pros and cons, they all offer a different look than traditional oak cabinets.
Options of Cabinets to Choose From
Did you know there are only three different types of cabinet styles?
Custom. This option is completely based off of your preferences and created for your kitchen specifically. They often have a unique combo of dimensions, color, and finishes that you won't be able to easily find elsewhere.
Semi-Custom. These cabinets start off as a stock design but allow you to add some personalized touches to make it your own. Different finishes or even dimensions can be chosen from the stock base.
Stock. This is a solid option for anyone looking for cabinets that they know will fit perfectly in their kitchen already. There is no guess work, and this option typically comes completely ready to be installed.
Within these options, the price point can vary widely. For stock cabinets, homeowners can expect to pay from $100 to $300 per linear foot, while custom cabinets could range from $500 all the way up to $1,200 per linear foot. Semi-custom cabinets are usually somewhere in between custom and stock options in terms of a price point.
*If you are unsure of how to calculate linear feet for kitchen cabinets, this is a good resource to follow.
Choosing which option is best for your kitchen is completely up to you. If you choose to replace your oak with new cabinetry, we recommend basing your decision on your style, budget, and long term needs.
Where Can I Find Kitchen Cabinets?
Remodeling your kitchen yourself has never been easier. With the use of the internet, kitchen cabinets are now just a few clicks and a Google search away! Demand for kitchen cabinets is expected to grow 5.9% every year as more people are interested in updating their kitchens ( Source).
When picking a company to order through, you want to use someone that has a lot of options without a compromise on quality. For large distributors, we tend to recommend Lowes, Home Depot, and Cabinets.com. Lowes and Home Depot have the added benefit of having both online and in-store options. Many people start by looking in the store for ideas and then finish their order online.
Cabinets.com, on the other hand, is completely online. For those that dislike combing through options in-person (which can often be tedious), this is a good option. Filter through hundreds of options with one click and shop based completely off of your budget. If you are looking for a different website to comb through, you might also try cabinetstogo.com.
However, we also love supporting local! Local businesses often have the best craftsmanship and offer custom designs you wouldn't be able to find from big box stores. When searching through your local cabinetry businesses, be sure to read up on reviews and testimonials to ensure you're picking a quality company.
5 Ways to Update Kitchen Cabinets by Yourself
If you have oak cabinets, you may be looking for ways to update them. In order to cut costs of a typical expensive remodel, many people look for DIY solutions. Here are some of our top picks for updating:
Repaint. When replacing your oak cabinets is not an option, repainting can be a much cheaper DIY choice. Not to mention, you also get your pick of whatever color you want!
Replace hardware. While you might not think that this would change the way a space looks, you would be surprised! Even a small change can make all the difference.
Remove all the doors. In doing so, your kitchen will feel bigger and more modern, with the added benefit of not having to replace any hardware.
Install undercabinet lighting. If you can't replace your dark oak, add in some light to brighten the space back up.
Add crown molding. For a basic oak look, this is a must. Crown molding can take your old cabinets and transform them into a beautiful custom cabinet feel. We have a great article on how to do it yourself here!
Do You Need to Hire Cabinet Installers?
Get free, zero-commitment quotes from pro contractors near you.
Frequently Asked Questions
Can I just paint over my oak cabinets?
Absolutely! Painting is often a great way to totally change a space with a limited budget. Before you paint your cabinets, make sure you do the necessary prep work beforehand: Cleaning, sanding them down, and priming them are all steps you need to take for a beautiful finish.
I love my oak cabinets – should I really change them?
This is completely up to you. If you are in your forever home and enjoy the traditional look of your oak cabinets, there is nothing that will force you to change them! However, if you decide to move from the home you might see what potential buyers are looking for in their kitchen – and if it's not oak, you might consider updating.
What is more important – countertops or cabinets?
What a hard choice! Each of them go hand in hand when designing a kitchen, and we would say that they have almost equal weight in value. In total, people often spend around $19,000 to remodel their kitchen – so creating a cohesive design throughout is crucial.
Will oak cabinets come back in style?
It's hard to determine what exactly will make a comeback. With vintage clothing and aspects of the '80s and '90s resurfacing in consumer buying trends, there is a possibility! However, there is almost always a twist to watch out for when trends reemerge (hardware is different, trim is different, etc.) that makes it quite a bit different.

Upgraded Home Team
We are a team of passionate homeowners, home improvement pros, and DIY enthusiasts who enjoy sharing home improvement, housekeeping, decorating, and more with other homeowners! Whether you're looking for a step-by-step guide on fixing an appliance or the cost of installing a fence, we've here to help.
More by Upgraded Home Team
Published July 1st, 2020 3:10 PM