311 Views
14 Inviting Front Door Colors For A Yellow House
February 1st, 2022 6:47 PM
Share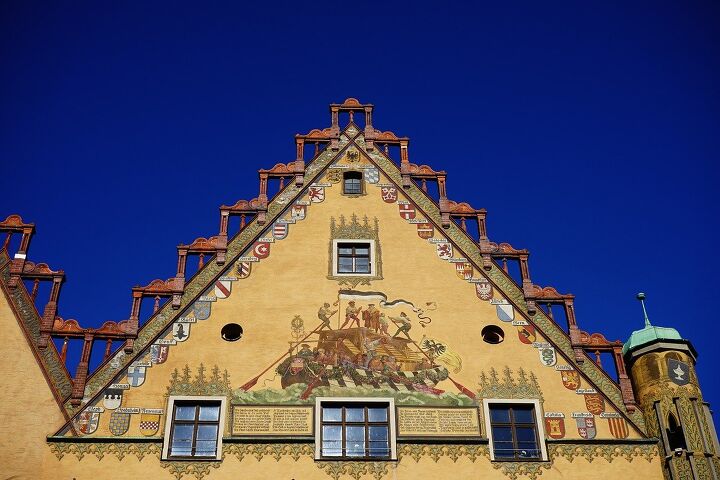 The color of your front door should not be an afterthought. After all, it isn't just about your home. It's about you and how you would like the world to view you. Aside from your house's color, your front door is the first thing that your visitors are going to see. Therefore, your front door has some big shoes to fill! You want it to serve as a warm and inviting beacon that greets your guests. Additionally, it sends a message to all who enter and sets the tone for the rest of your house.
The most inviting front door colors for a yellow house include red, forest green, black, and pale blue. If your home is painted any tint of yellow, you've already welcomed the sun to surround you and your visitors. In fact, historically, butterscotch hues interpret a regality that is popular among homeowners.
It can be challenging to find the perfect front door color to complement your home and be just as appealing as the exterior color itself. Finding the best pairing can help you achieve that beloved classic cottage charm or emulate a seaside dream. This article will take you through each of the colors and explain how and why it pairs lovely with your yellow home. This way, you can choose the best pair of shades for you!
Do You Need Exterior Home Paint or Stain Services?
Get free, zero-commitment quotes from pro contractors near you.
1. Bright Red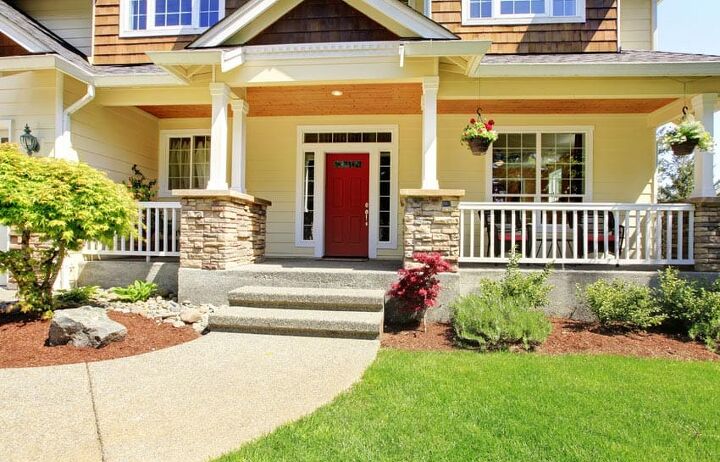 Believe it or not, red is one of the most common front door colors. You can't go wrong with choosing any shade, especially since traditionally, red doors signaled a hospitable home. Luckily, nowadays, red front doors still mean, "Welcome!"
This particular pigment of bright red is coordinated beautifully with this home's mellow yellow exterior. Also, notice how these homeowners added some accents of red by planting red flowers in their pots. This helps to tie the entryway further together and create a welcoming atmosphere for visitors.
Additionally, the wooden siding on the top and the stone pillars on the front porch helps tie the red into the home. The brown hues match with both the yellow and red, bringing everything nicely together.
2. Forest Green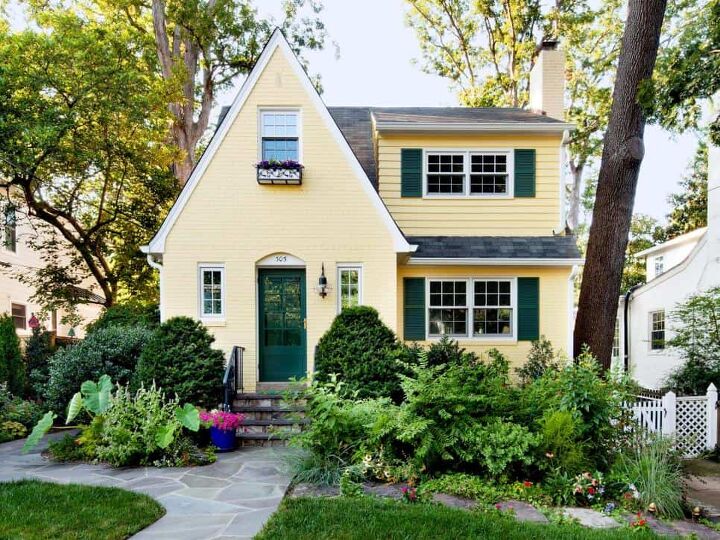 Take a look at the surroundings of your home when deciding on the proper color palette. In this case, the lush foliage blends seamlessly with the bold, green door and coordinating shutters. Add some yellow roses or some daffodils and buttercups; it would help complete the look even more.
In Britain, green is one of the best-selling front door colors. Traditionally, a green paint color signifies wealth and prosperity. However, the more natural appeal displayed in this home shows peacefulness and serenity.
3. Pale Blue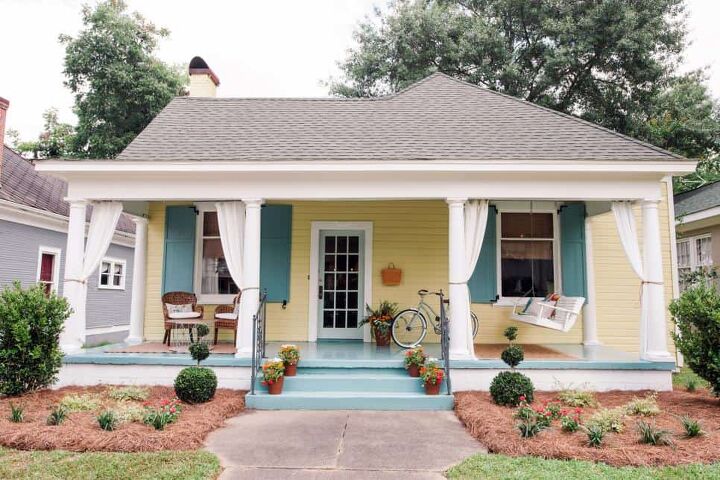 A pale blue door and stunning teal shutters set a chic coastal tone for the exterior of this home. Coordinated well with the buttermilk shade, even the ocean-hued porch makes your guests long for a seaside vacation. Additionally, you could paint the gutter a pale blue as well to really draw in the whole paint theme.
4. Black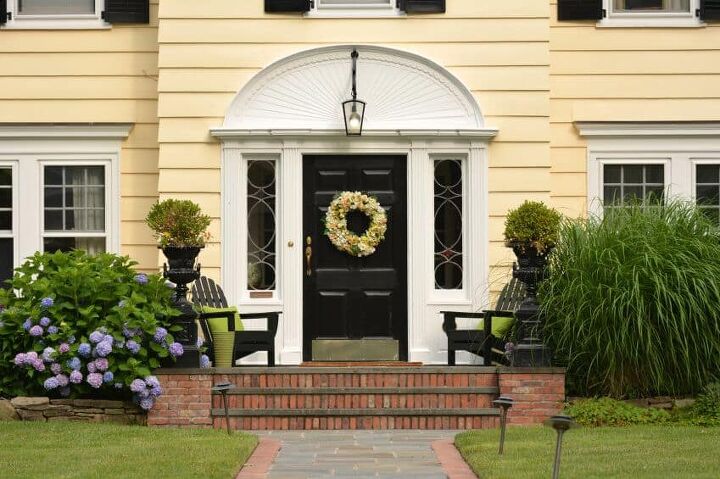 For a more classic look, consider painting your front door a deep shade of black. Black front doors radiate class and sophistication, pairing well with just about any tint of yellow home.
Painting your front door black can even increase your home's value. According to Realtor.com, a black door gives home buyers the impression that your house is a safe, serious, and elegant choice.
5. Classic White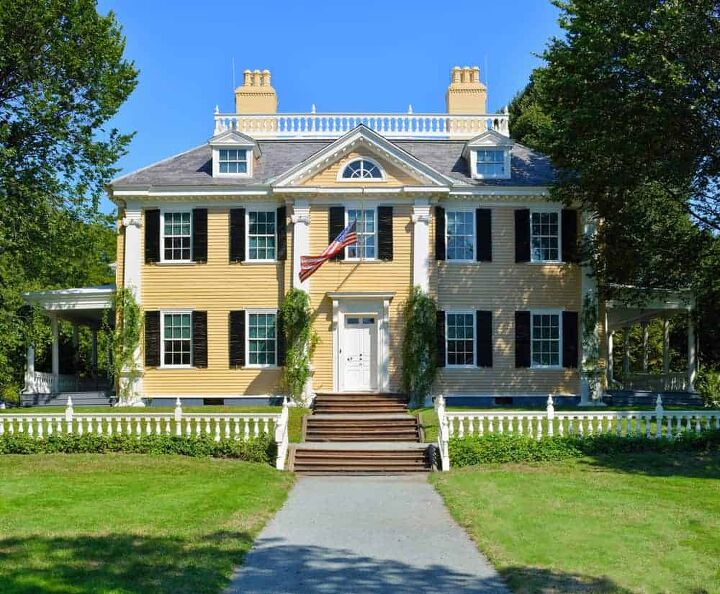 If you're not feeling incredibly daring, painting your front door, the most common of all front door colors, is an option. Though it may not seem very exciting, the classic white color can still be welcoming. Pair it with white trim and a white picket fence, and you're set!
This neutral choice helps to accentuate the overall warmth of the home itself. In fact, color researchers believe that yellow can increase self-esteem and strengthen your overall health and well-being.
6. Flamingo Orange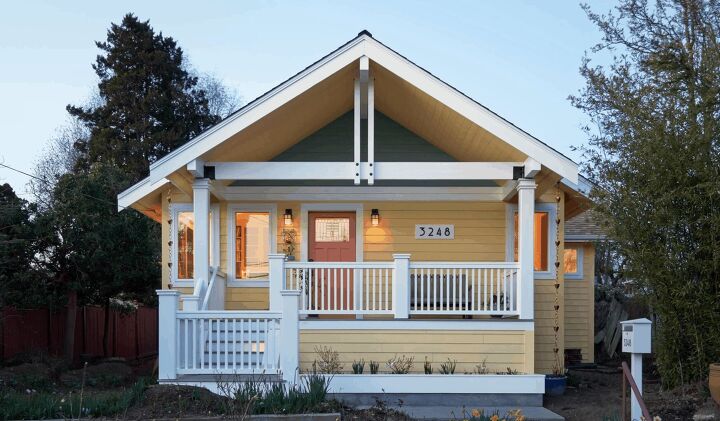 The front door of this home is painted in Benjamin Moore's Flamingo Orange. A bold choice and definitely a non-conventional shade. However, it creates a warm and inviting exterior reminiscent of sunshine and summertime.
Also, painting your front door orange can express positivity to your neighbors. Since this color has very high visibility, there's a high chance that it will draw people to your home.
7. Warm Blood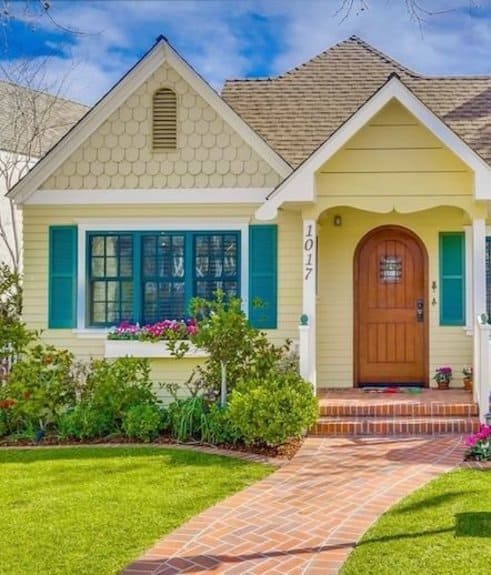 The warm, rustic wooden front door and arched shape successfully achieve the classic cottage feel for this home. Although these homeowners chose a more basic front door hue, it creates a retro look and exudes charm. It's very much 'in your face' and risky, but it pairs so well with the yellow and the greens of the shrubs and lawn.
Opting for a wooden front door can be a great choice since there are numerous options of wood to choose from. You can have everything from traditional oak or mahogany, a rustic cedar, pine, or even a more modern bamboo. Customizing the finish of your door with stain or paint allows you to tailor it to your yellow home perfectly.
8. Deep Red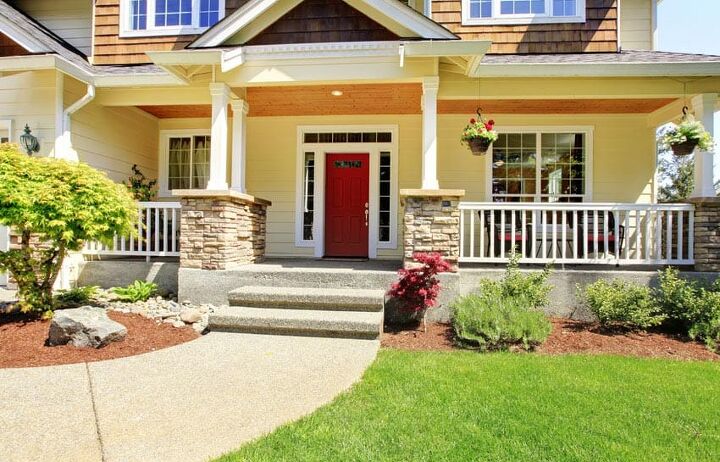 A yellow house that features a dark red front door and white trims is a picture-perfect palette to achieve that cottage feel. When you combine the intensity of red with the radiant yellow exterior, you create a cozy feeling right at the front door.
Another thing you can do is add some dark brown, amber-tinted mulch to your garden bed. The brown hues will pull help to bring the yellow and red together even more.
9. Cobalt Blue
Homebuyers love a freshly painted front door, and blue is considered one of the best options that sell! A blue front door with a yellow house is one of the most perfectly coordinated color palettes. The pairing is adored among homeowners.
This cobalt blue door adds a contrasting yet enchanting touch to the pale-yellow exterior. Also, by matching the flowers in the garden to the front door, these homeowners beautifully tied everything together. This gives the home a touch of '70s retro and ties it into a more modern style.
10. Mint Green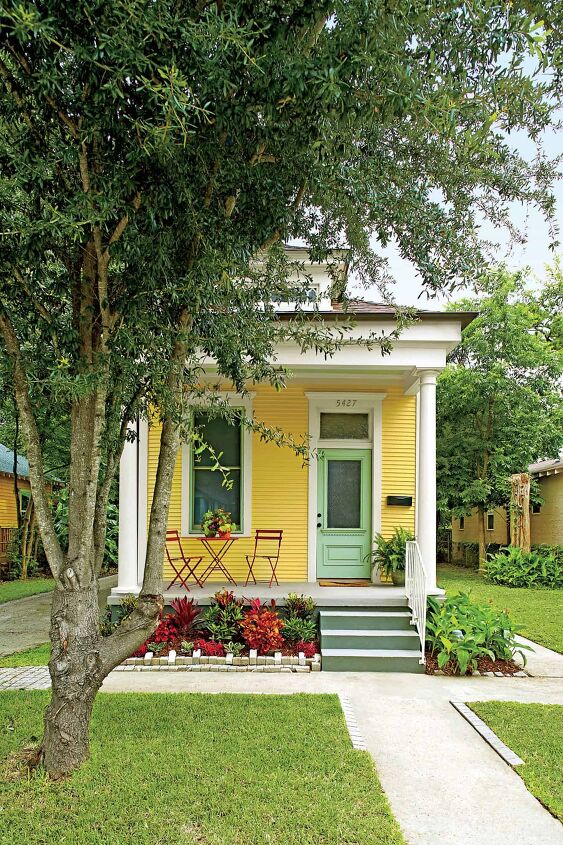 If you want to make a modest-sized home pop, try painting the front door a vivid color. In this case, the green hue holds its own amid a field of bright yellow. This home is a quintessential New Orleans house style, but the chosen color palette will most certainly stand out and welcome your guests regardless of location.
The mint green brings your style back to the '60s when homes were conservatively artistic. The colors were humble, yet they were beautiful. The mint green and yellow create a combination that you can't replicate through any other type of green. It gives you a very cozy feel for your house.
11. Velvet Red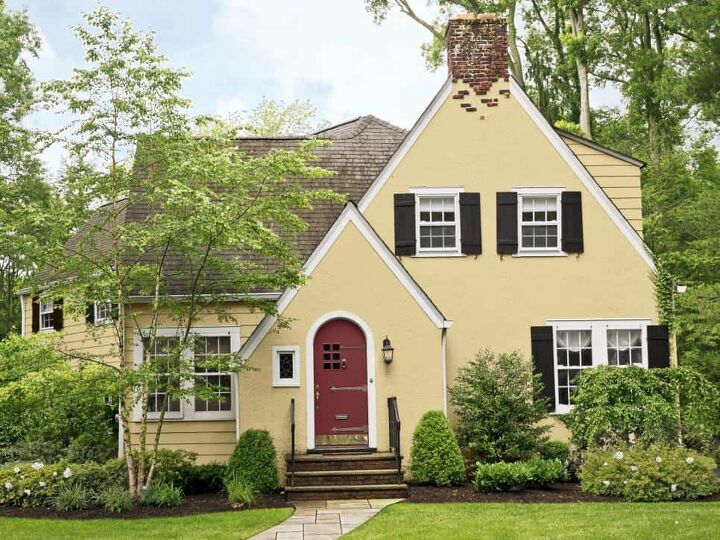 This red velvet or burgundy color is an excellent choice to create visual interest and curb appeal without committing to the intensity of a really vibrant red. It still draws your eye to the front door without distracting from the overall warmth of the exterior.
You don't really need to add any other types of red or brown to your home with the burgundy. This color is perfect for standing alone as it blends into the cement and greenery around the house.
12. Vivid Turquoise
Your front door can reveal a lot more about you than you think. Turquoise is said to portray calmness and trust. Combined with the sunshine yellow siding, this single-family cottage displays a full-on vacation mode aura.
The varying shades of blue that pair flawlessly with a yellow home are endless. It all depends on the type of environment you want to create.
13. Pink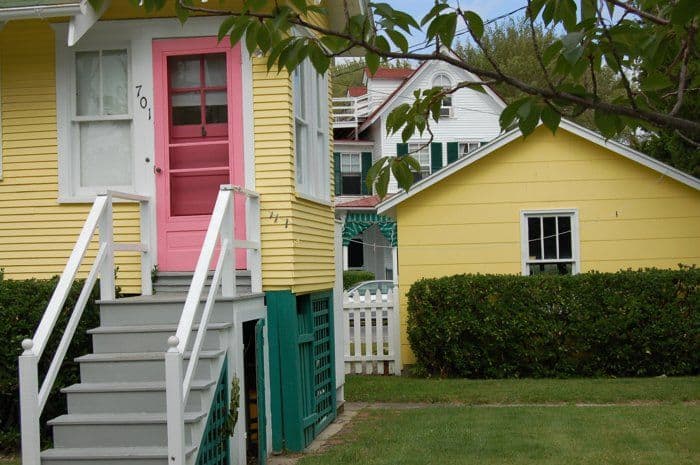 Decorating with pink doesn't have to be reserved for a young girl's bedroom. This home features a splash of pink, drawing attention to the entry against a very muted yellow backdrop. Since modern society depicts pink as the hue for affection and nurturing, you can expect this same message to be shown to your guests.
14. Purple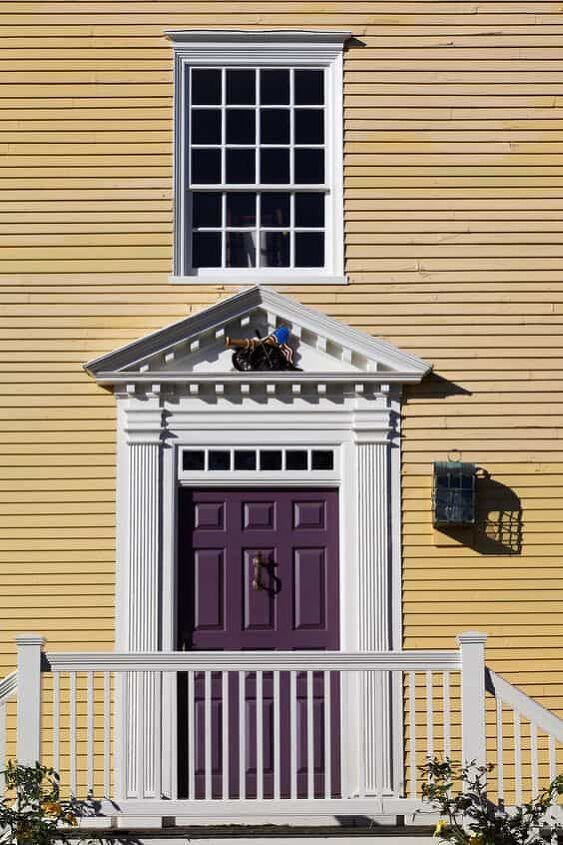 Of course, we can't forget yellow's complementary color, purple. This home gets a jolt of sophistication with its dark purple door. The deep shade balances effortlessly with the muted yellow exterior.
Shades of violet are said to be linked to elegance and prosperity. Not necessarily wealth, but your guests will feel like you are rich in your quality of life.
Do You Need Exterior Home Paint or Stain Services?
Get free, zero-commitment quotes from pro contractors near you.
Wrapping it Up
First impressions are very important, and you want to convey the perfect message to your guests before they enter. Therefore, selecting your front door color can be a challenging decision, especially if you own a yellow home. It's imperative to pick a color that will complement the already cheery exterior.
Choosing the right color contrast can significantly increase a home's curb appeal. Doors painted in bright complementary colors that contrast nicely with yellow creates more visual interest. This draws the eyes of your guests, producing an inviting atmosphere before they even step inside.
Whereas deciding on a more neutral front door color helps emphasize and enhance the home's overall warmth. Yellow is a highly adaptable color and can harmonize well with many color combinations. Ultimately, the choice is up to you.
Related Guides

Upgraded Home Team
We are a team of passionate homeowners, home improvement pros, and DIY enthusiasts who enjoy sharing home improvement, housekeeping, decorating, and more with other homeowners! Whether you're looking for a step-by-step guide on fixing an appliance or the cost of installing a fence, we've here to help.
More by Upgraded Home Team
Published June 25th, 2020 3:14 PM