766 Views
My TV Is Above The Fireplace: Where Do I Put The Cable Box?
December 1st, 2021 9:34 PM
Share
We're committed to finding, researching, and recommending the best products. We earn commissions from purchases you make using links in our articles. Learn more here
Cable box placement in a house is almost as vital as choosing where to place your TV. If your TV is above a fireplace, however, then you are limited in your options. Follow along as we explore the safest and easiest placement for a cable box if your TV is above the fireplace.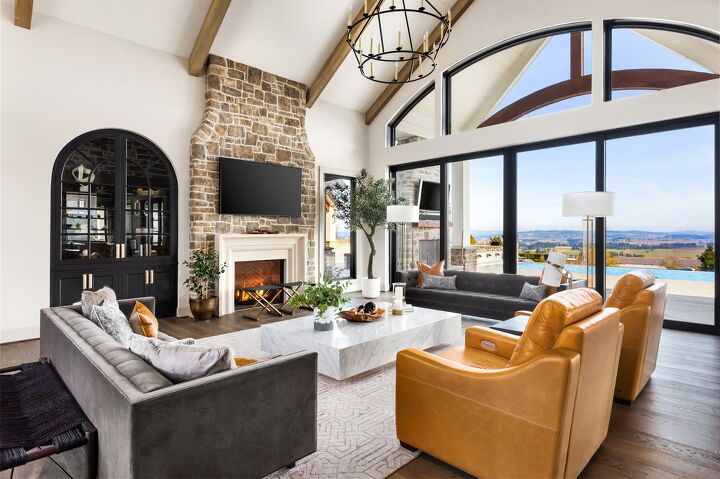 Something is relaxing about having a room in your home that is designed to give people a way to lounge around and watch something. During the winter, it's hard to beat the coziness that comes with watching a crackling fire in a living room fireplace. In the summer, your TV room is probably your go-to place. If you have a fireplace in your living room, the chances are that you've considered placing a TV above your fireplace, but where do you put your cable box?
Your cable box is going to need a place to sit when you install your TV above your fireplace. You can place it on the mantle if it's wide enough. However, if there's not enough room, you can also have the cables run to a box in another room. Another thing that works is building a shelf just for your cable box. However, you could also ditch your cable and subscribe to a streaming service instead.
There's always a snag, though. In this case, it's a question of: Where does the cable box go? Putting your cable box under your TV or on the floor isn't always doable in situations where you have a fireplace. In fact, if you try the old-fashioned route of placing it on the floor, you might burn it. In this guide, we'll go through the options to give you several ideas for what you can do.
Related Content: How To Connect Two TVs To One Cable Box | Fireplace Mantel Height | Floating Shelves That Hold A Lot Of Weight | Sling vs. Roku
Do You Need a Wall Mount Installation Service?
Get free, zero-commitment quotes from pro contractors near you.
Want to Hide Your Cable Box? We Have Some Ideas
Let's face it; cable boxes aren't exactly fashionable or stylish. In fact, they're pretty ugly. So, the question starts to become more of an issue of hiding and placing the darn thing. Aggravating, right? Like with many aspects of home design, there are a couple of ways you can handle it. This list can help you make the best decision for your home.
Several Ideas On Cable Box Placement
Each idea for placing your cable box will ultimately rely on the layout of your fireplace mantle. For instance, if your mantle is not large enough, then this method won't work for you. Furthermore, if you do not have a way of running cables to another room, then that one won't work for you either.
Choosing a method really comes down to your particular layout. So, it's a good idea for you to browse through these before selecting a few that you want to try.
Put It On Your Mantle
If you're lucky enough to have a fireplace that has a wide mantle, it could be possible to put the cable box right underneath your television. However, the vast majority of fireplaces don't have this option. So, don't feel bad if yours isn't that large.
If you have a narrow mantle, you can look into purchasing a cable box stand. This will let your set the cable box up vertically, and the stand usually has a way to screw to the wall. So this way, it's on the mantle, but the stand keeps your cable box from falling over.
Run Your Cables To Another Room
Many houses split the use of one cable box through multiple rooms. Running cables into another room, such as an AV closet, can be an excellent way to go about it. The best way to make the cable clutter minimal is to tie them together and have them run down the mantle, along the corner of the room, to the cable box.
Among cable installers and interior designers, this is known as a "home run" solution. While it may not look the best, it does the job! You could even run some year-round garland or ribbon around the cables. That way, it's pleasing to the eye but still bringing your favorite television shows into your living room.
Tie Your Cable Box To The Back Of Your Television Set
If you are good with tools and are okay with having your TV protrude a little, this can be a viable option. This is a brilliant move if you are using a swivel wall mount for your TV. It's worth noting that this only works if you have a coaxial feed at the TV or if you happen to have a much smaller than average cable box.
You can use zip ties to hold the box in place. Check the back of your TV for a loop that you can feed the zip tie through. Or, you can also dangle the box by the cables and zip tie the cables together. However, you don't want to do this if your box is large; otherwise, it will damage the cables over time.
Use A Nearby Shelf Or Build One
Though this isn't the most aesthetic look, it's usually the easiest. Just install a shelf next to your television and plop the cable box there. Tada, you got a new cable shelf. This makes accessing your cable box easy but might make your room look a little cluttered.
You can also choose some nice oak wood to build the shelf out of to make it a bit more elegant. Then, set some flowers on each side of the cable box, or some use some decorations. This will help take the focus off of the box and back onto the room.
Hide Your Box Behind Some Decorations
Love the idea of having your cable box close to your TV, but hate the idea of actually seeing the box? We get it. It happens. That's why it might make sense to hide it behind some decorations like a painting or photo. However, you will want to make sure that the surface you're setting it on is large enough to hold your cable box and the painting or photo too.
You can also purchase a little basket of fake flowers and hide your cable box behind them. Choose a darker colored flower since most boxes are black; that way, it blends in a little better.
Invest In An RF Transmitter For Your Cable
Most people don't realize this, but products out there make it possible to enjoy cable and convert a wired cable box into a wireless one. You need to install an RF transmitter and receiver onto your box and TV, respectively. You can purchase one, usually at Best Buy or even on Amazon.
This device will help to draw the cable signal into your TV without the use of any cords. That way, you don't have to figure out where to hide your cable box or deal with building and adding shelving that you don't want around your mantle.
Choose Wireless Cable
We all know that cable tends to cause, well, cable clutter. It's in the name. What you might not be aware of is that there are wireless cable boxes out there. If you have one of these, then figuring out where to put the cable box isn't going to be an issue since you could put it anywhere you want.
The other awesome fact about wireless cable is that you don't have to purchase an expensive RF transmitter. In fact, the cable company might give you one and work that into your monthly payment. That way, you're all set to go, and you don't have to worry about where you're going to set your cable box.
Subscribe To A Streaming Service
Streaming services have grown increasingly common as they're cheaper than cable, and you have access to so many different shows. Some of those shows aren't even offered on cable and are only privy to that particular streaming service that you choose to subscribe to.
In addition, there are no boxes. You can simply download and install the streaming app directly to your TV (as long as you have a smart TV). If you don't have a smart TV, you will need to purchase a FireBox or a Roku so that you can access your streaming platform. However, these boxes are tiny, and they're pretty neat looking, so there's no need to hide them.
Streaming services like Hulu, Netflix, or even Amazon Video are a thing. Streaming isn't the way it used to be, where you had to stick with just having "a la carte" shows. You can, in fact, subscribe to cable and live TV through them.
Do You Need a Wall Mount Installation Service?
Get free, zero-commitment quotes from pro contractors near you.
What Did We Learn?
Cable boxes can be a nuisance. Furthermore, they are unsightly, and they take up room, which is why most people want to try their best to hide them away from view. There are several ways that you can do this, but whatever way works best for you depends on the layout of your fireplace and also the layout of your home.
Perhaps the best piece of advice we can give you is to ditch your cable and opt for a streaming service. That way, you don't have to worry about figuring out where to put your ugly cable box. If you don't have a Smart TV, then you can purchase a Roku or a Firebox so that you're able to access your streaming services and also your cable!
Related Guides

Upgraded Home Team
We are a team of passionate homeowners, home improvement pros, and DIY enthusiasts who enjoy sharing home improvement, housekeeping, decorating, and more with other homeowners! Whether you're looking for a step-by-step guide on fixing an appliance or the cost of installing a fence, we've here to help.
More by Upgraded Home Team
Published June 20th, 2020 6:16 AM