101 Views
54+ Woodworking Projects That Sell Well (with Photos)
January 24th, 2022 11:45 AM
Share
We're committed to finding, researching, and recommending the best products. We earn commissions from purchases you make using links in our articles. Learn more here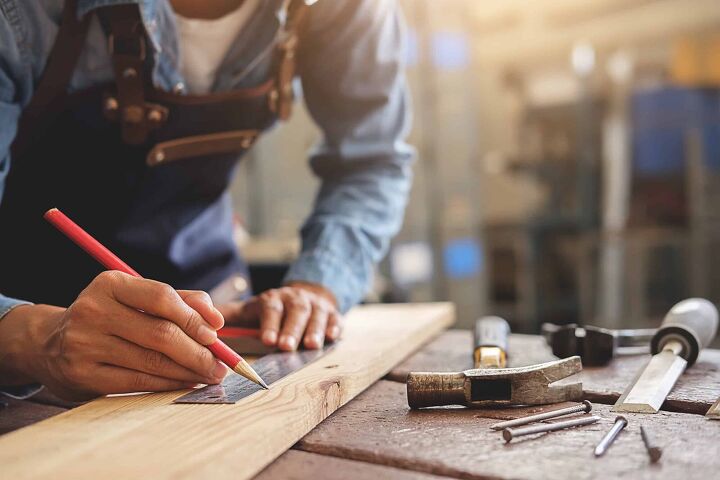 Not only is woodworking an exciting and stimulating hobby, but it can also be used to make some extra money at the same time. If you're passionate about woodworking, why not put your creative outlet to good use? With a little knowledge and some tools, you can have some additional cash flowing in by focusing your attention on producing woodworking projects that sell.
So long as you learn your target niche, market effectively, produce quality projects, and know-how to sell online, you can turn your rewarding hobby into a side hustle. It's even possible to earn a full-time living by solely selling wood projects. Regardless, a little extra income on the side can make a world of a difference in most people's lives.
Woodworking Projects That Sell
Consumers love to buy products that are going to last and wood just so happens to be a material that is solid, has a long lifespan, and doesn't break easily. Not to mention, wood items are exceptionally popular right now in achieving that industrial rustic or farmhouse aesthetic in the home.
Additionally, many consumers try to seek out woodworking projects that are handcrafted, rather than mass-produced in a factory. That's where you come in! However, it's important to produce a product that will actually make a profit. From planter boxes, mug racks, and lamps to rings, phone cases, and children's toys, the options are endless!
To help get your creative juices flowing and inspire you, here is our list of 54 woodworking projects that sell.
1. Wine Rack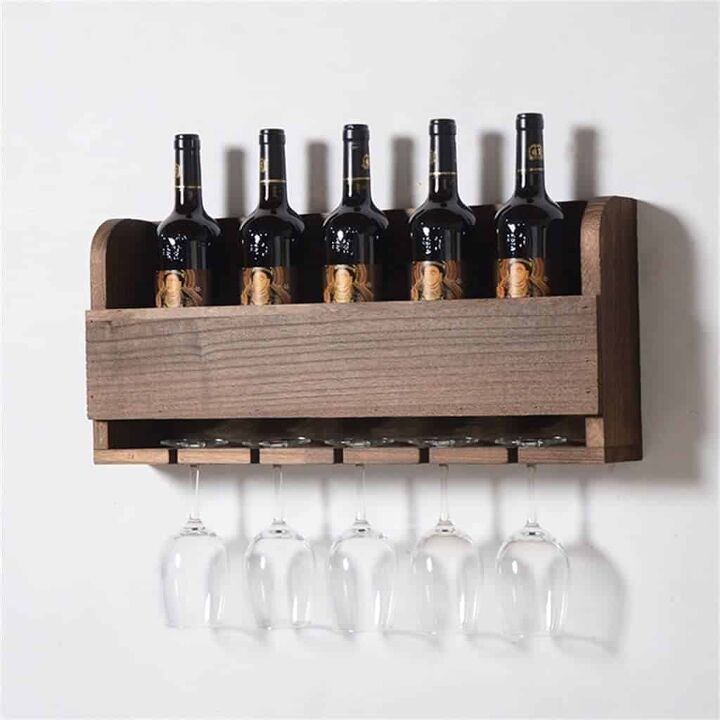 Who doesn't love an aesthetically pleasing way to store their wine bottles and glassware? This woodworking project is relatively easy and doesn't require advanced skills or specialized tools. All you need to make a wine rack worth selling is some scrap wood, fasteners, and a saw. This project can make an excellent wedding or housewarming gift!
2. Jewelry Box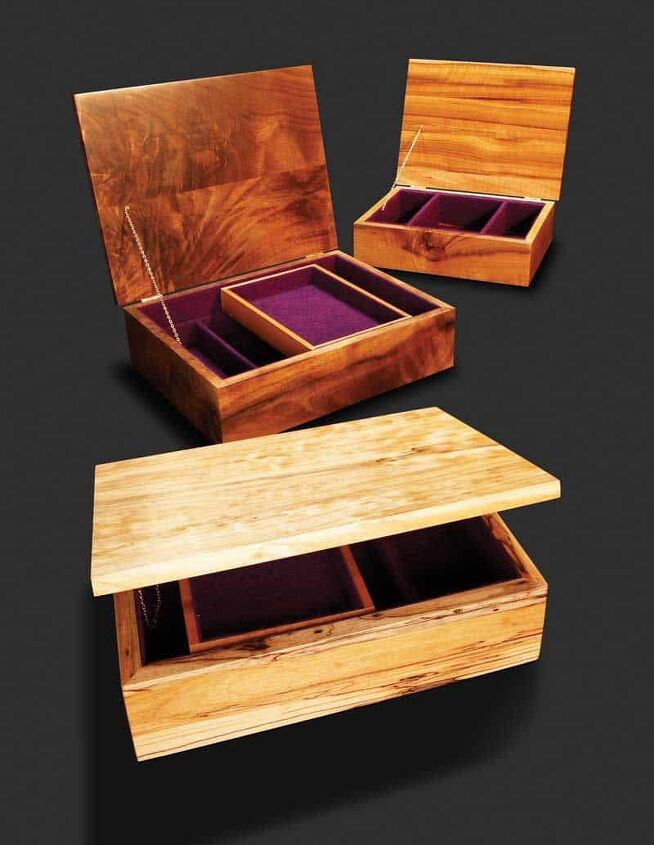 A wooden jewelry box is a great gift for the girlfriend, wife, or daughter. Since this woodworking project is ideal for different age ranges, it's a very practical and profitable item to sell. In addition to selling well, wooden jewelry boxes are pretty simple to make.
They can be built using some pallet wood found at your local hardware store, a variety of hand tools, and some wood glue. You can also get really creative with this project and customize it to your customer's liking.
3. Serving Tray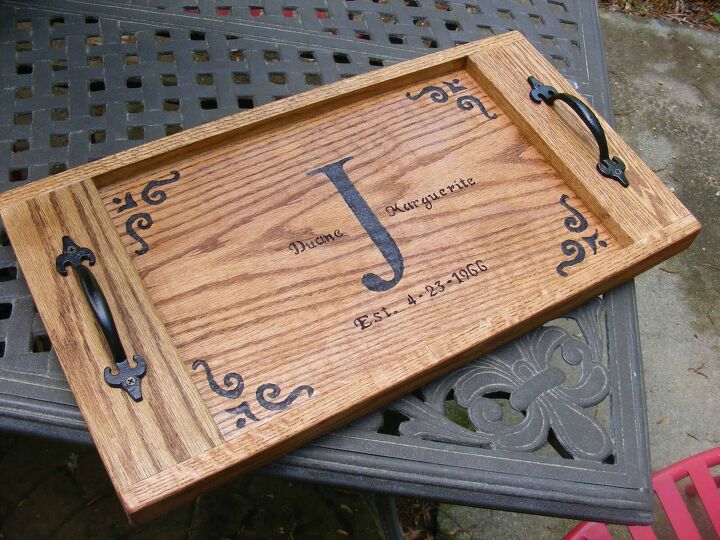 Like many other woodworking items, a flat serving tray is highly customizable. You can create a unique pattern on the surface or incorporate rounded edges for a distinctive look. The options are endless and feel free to add your own dash of creativity to make the item sell. You may even consider stamping your own design or the name of your customer onto the serving tray.
4. Wooden Cutting Board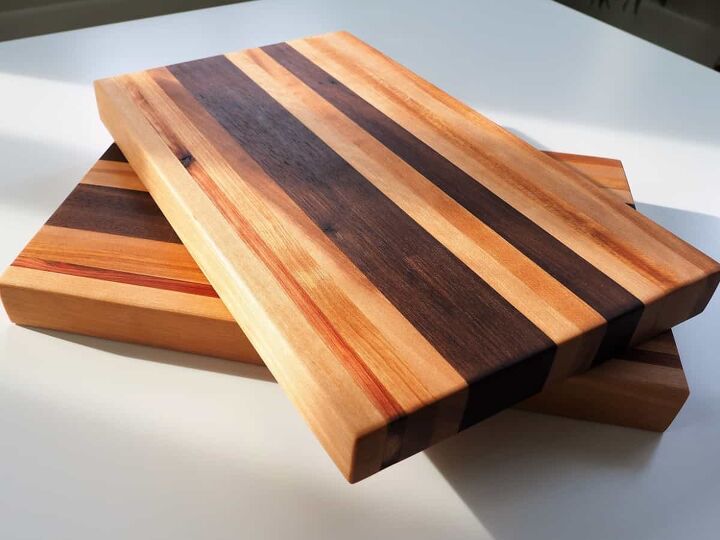 This is likely one of the simplest options on our list, but also the most practical. Of all, wooden cutting boards are the easiest to make. A well-shaped piece of wood and your own ideas are all that you need to create an excellent wooden cutting board that will sell.
Many love to give custom cutting boards as gifts, especially for those who love to cook. You can even personalize them with wood-burning or laser engraving to create a fully customized piece.
5. Storage Box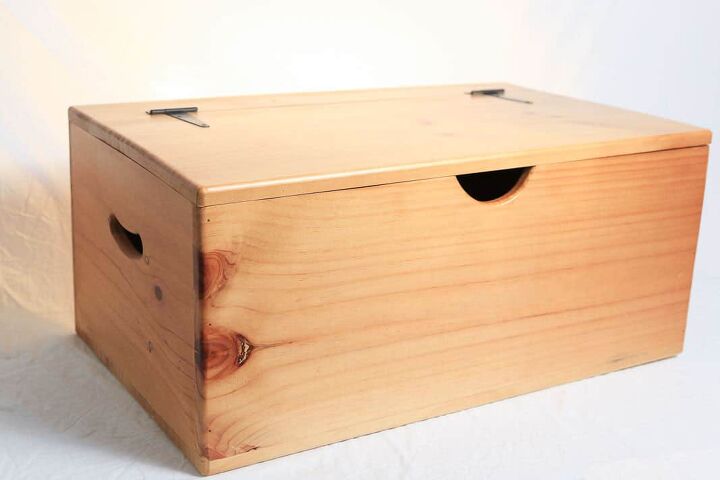 Storage boxes are incredibly useful and depending on the style of the box you produce, you may be able to demand a higher price tag. Start by learning how to make a basic storage box and then you can use the technique to craft larger projects such as toy chests, cubbies, and even a coffee table.
6. Candle Holder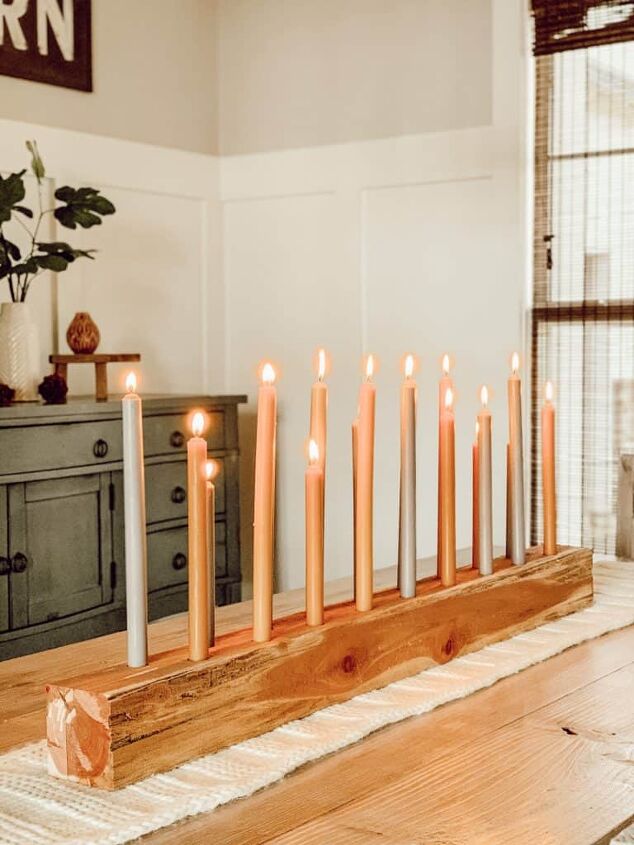 Although it may seem counterintuitive to use wood in the construction of something that is going to hold fire, it is completely safe when done right. You just need to apply a fire-retardant shellac to prevent the candle holder from catching fire. Use your creativity to craft a candle holder, like the one above, and simply carve out a divot to place a votive candle.
7. Picture Frame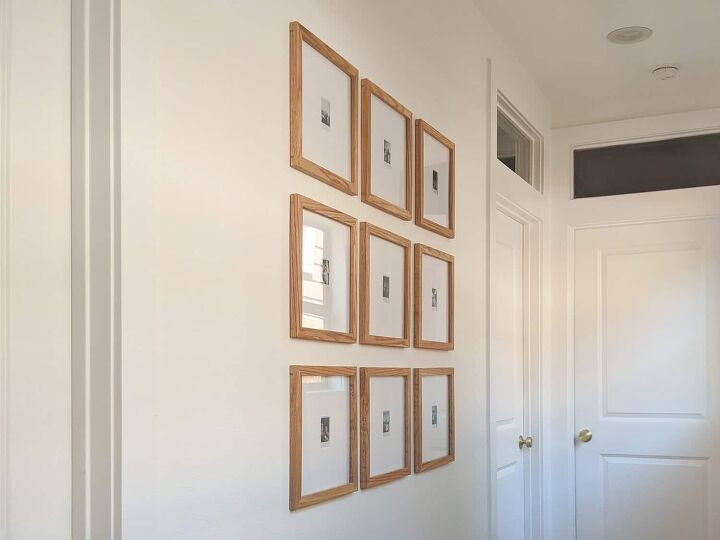 Since the rustic, farmhouse style is very popular right now, you can capitalize on the popularity by creating a simple woodworking project like a picture frame. This is a very beginner-friendly, DIY option as you only need a few tools. Picture frames exist in nearly everyone's homes and a wooden version will sell exceptionally well due to their diversity.
8. Wooden Bathtub Caddy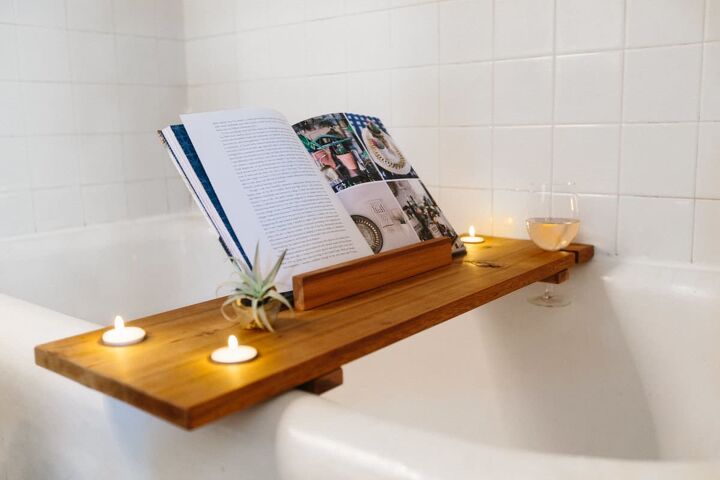 This is one of my favorites on the list! A wooden bathtub caddy sells well because it offers a service that people love – convenience. They are used to hold all the items you like to enjoy while soaking in the bath such as candles, a glass of wine, a good book, or even snacks! This woodworking project also makes a great gift.
9. Chessboard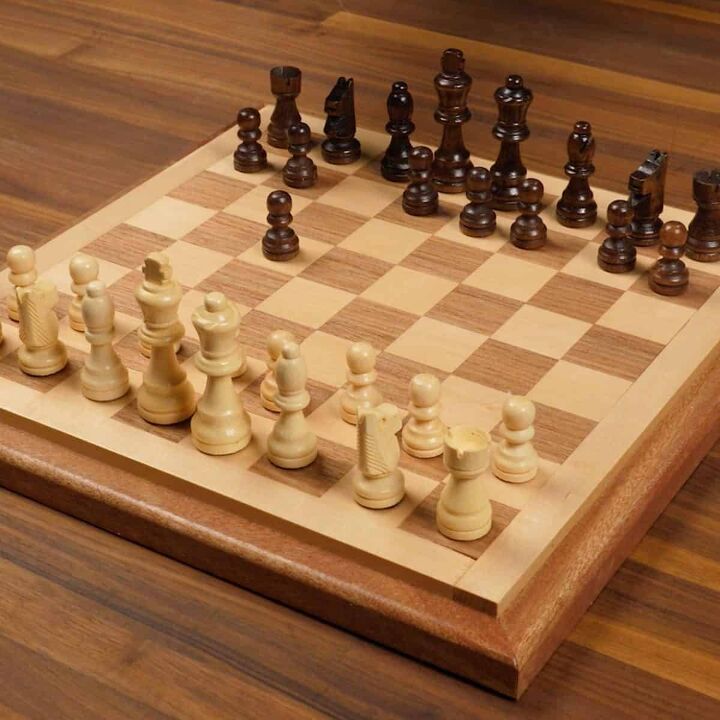 Although handcrafting and carving all of the individual pieces that come with a chessboard can take a lot of skill and time, you can place a hefty price tag on this project. It will also sell really well online. Consider producing fully customized chessboards and you could easily sell them for $150 or more!
10. Box Shelves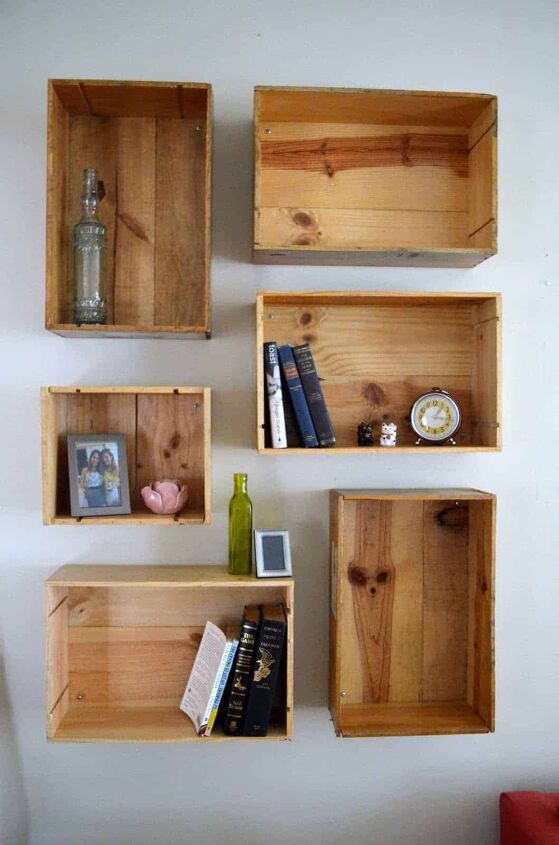 You'd be surprised how many woodworking projects you can make by following a simple square design. Box shelves are inexpensive to make, can be produced in a range of sizes, and are incredibly versatile. You can create your own unique checkered design and when made well, it's very easy to make money off of box shelves.
11. Wooden Utensils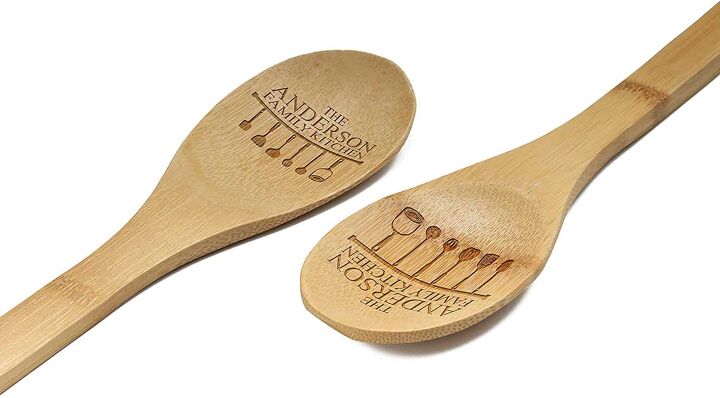 Odds are that you already have wooden utensils sitting in your kitchen's cutlery drawer. Whether it's salad tongs or wooden spoons, wooden utensils are necessary. They can also be customized and given as a wedding gift for that one couple that already has everything. You can craft them using a few basic hand tools, or purchase pre-made wooden utensils in bulk and focus on the personalization.
12. Tissue Holder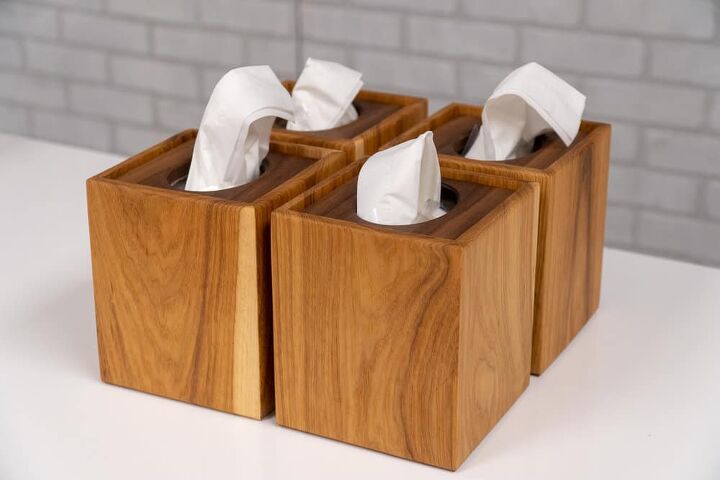 Like storage boxes, tissue holders are simple to make and will be easy to market and sell. They are essentially a wooden box with a hole on the top and no bottom. You can sand the wood and stain or paint it to your liking. Or, consider free-handing a design or using a stencil to give it your own personal touch.
13. Benches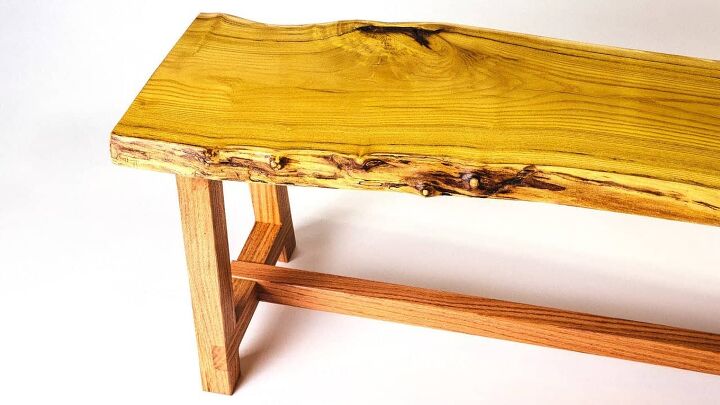 A simple wooden bench can be an incredibly profitable woodworking project. In fact, many people prefer a more raw-edged look so you don't even have to spend too much time on the finish. Just don't forget to sand it down to avoid splinters!
14. Planter Boxes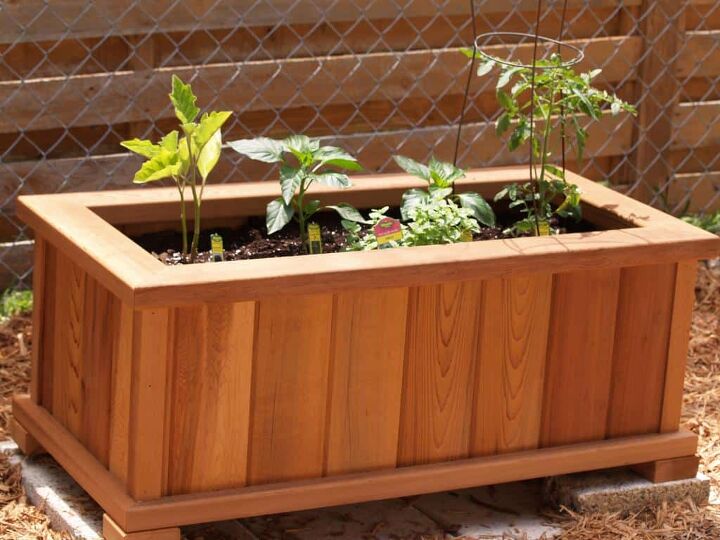 In the midst of the pandemic, it seems as though nearly everyone become plant parents. This means that a project as simple as a planter box is sure to sell well! You can craft simple wooden boxes for holding plants, or add your own unique touch by staining, painting, or stenciling the sides. The only thing different from a planter box and a regular wooden box is that you'll need to drill some drainage holes into the bottom.
15. Wall Art
If you're particularly artistic, creating your own wall art might be the way to go. These pieces can be as simple as attaching a bunch of scrap pieces of wood together and then placing two back supports. Or, you can use your own creativity to create a one-of-a-kind masterpiece.
Though these types of woodworking projects require a bit more imagination, they sell very well on online marketplaces like Etsy.
16. Christmas Ornaments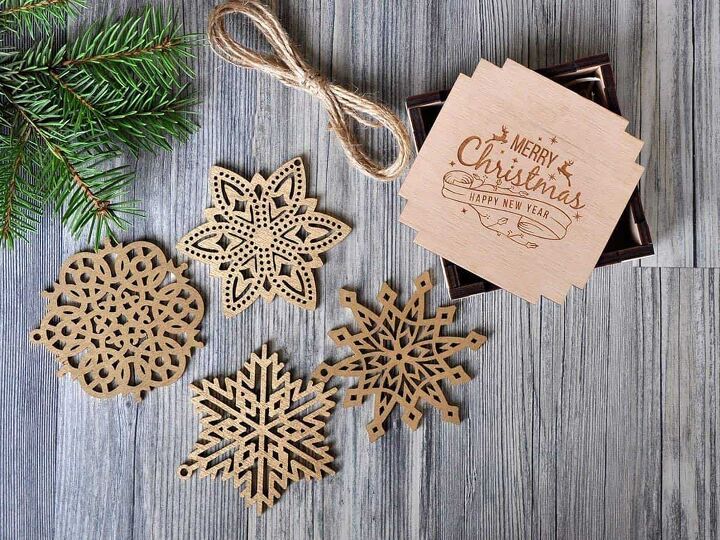 Who doesn't love handmade Christmas ornaments? The options are endless when it comes to this type of woodworking project. And, if you want to take your side-hustle to the next level, consider investing in an engraver or laser cutter.
This will make it much easier to personalize your wooden Christmas ornaments with engravings like "Our First Christmas" or "Our New Home" with names and a date. As far as laser cutting goes, it'll allow you to create custom shapes and add little details to your woodworking.
17. Cornhole Set
Cornhole is a popular lawn and beach game that are relatively easy to construct. The sets consist of two wooden platforms that feature pivoting legs with a hole cut in the center of the boards. They can also be customized with vinyl or stencils, to create an excellent product for selling at craft fairs or even wedding expos.
18. Coffee Table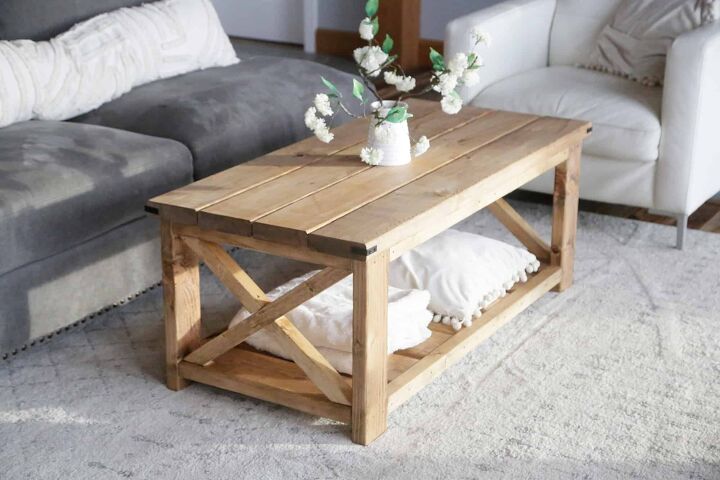 For those with a bit more experience in woodworking, you might consider earning money from producing furniture for the home. Start with making coffee tables, as they tend to be some of the easiest pieces of furniture to build. They can be as intricate as you like, or as simple as four table legs and a flat wooden surface. In fact, a coffee table and other small furniture items tend to be big-ticket woodworking items to sell!
19. Wooden Coasters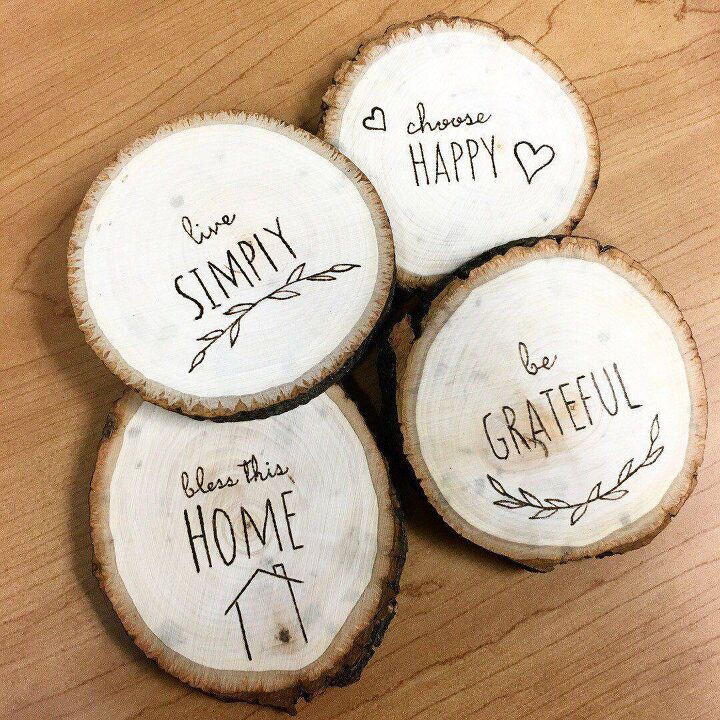 Coasters are a very practical woodworking project, as everyone needs them to keep their furniture protected against glass rings. Fortunately, they are also very easy to make and will sell well! You can even customize the wooden coasters for your customers by engraving, laser cutting, or wood burning them.
20. Floating Shelves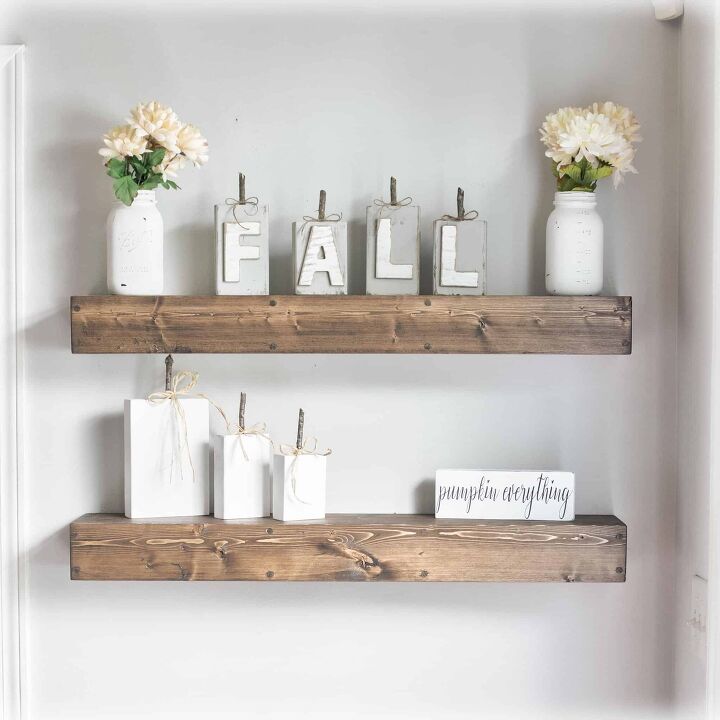 A floating shelf is a type of shelf that is secured to the wall and is only made of a single wood plank. They take up very little wall space and appear to "float" – hence the name. Floating shelves don't serve as a major focal point, meaning they will complement virtually any style of décor.
Additionally, since they are made from a few slabs, or a single slab, of wood they are easy to make, sell, and can be placed anywhere in the home.
21. Wooden Doormat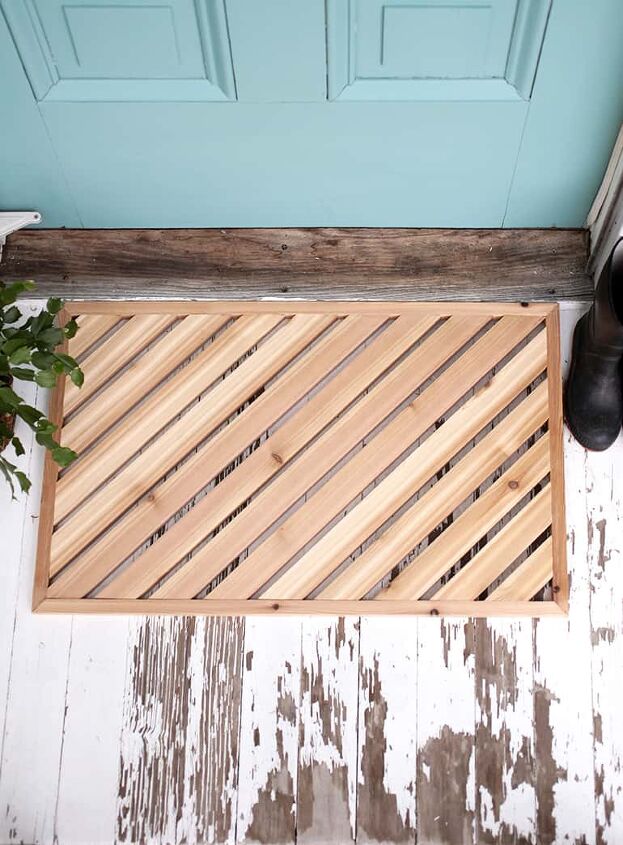 A woodworking project doesn't only have to be placed on your walls or a table, they can also be décor for the floor. You can make a wooden welcome mat out of a single chunk of wood or multiple different scrap planks and pallets.
They are similar to wooden wall art – just on the floor instead of the wall. Press, stencil, chisel, or wood burn your own design or words into the doormat or leave it plain and simple for a rustic look.
22. Key Holder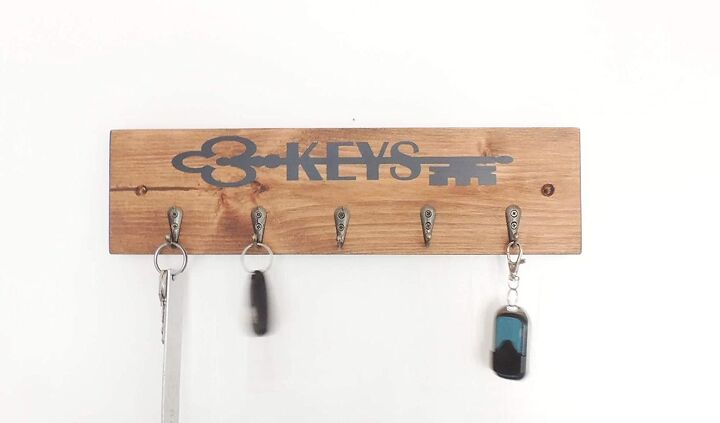 A wooden key holder is easy to make and a surprisingly useful item to have in the home. If you're anything like me, you find yourself frequently misplacing your keys. This is exactly why a customized wood key holder will sell very well. They can be as basic as a single block of wood and some hooks or can be handcrafted into a unique shape or design.
23. Garden Bench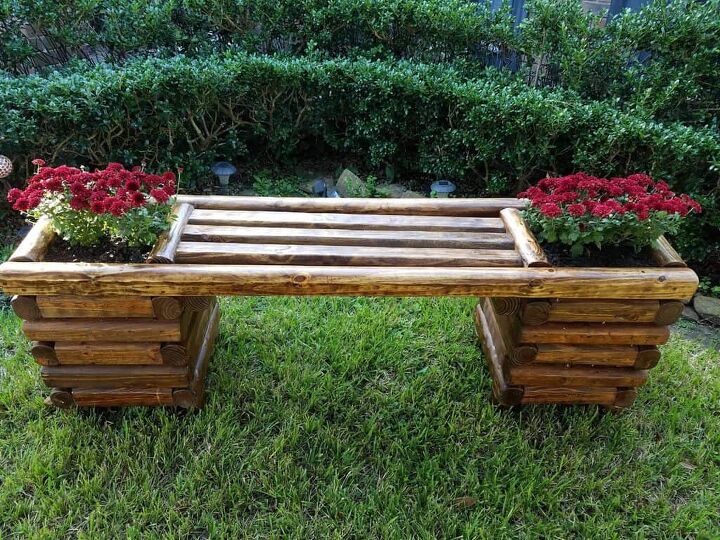 A garden bench will require a bit more effort than some of the other options on this list, but you can generally hike up the price as a result. Outdoor woodworking projects are always exciting, but don't have to be as intricate or complex as a cornhole set. They can be as basic as a bench.
Wooden benches come in a variety of sizes, shapes, and colors. The key to making these types of projects sell is the customization you offer. Allow your customers to etch their names into the wood or create one that is unique to anything that already exists online.
24. Wooden Letters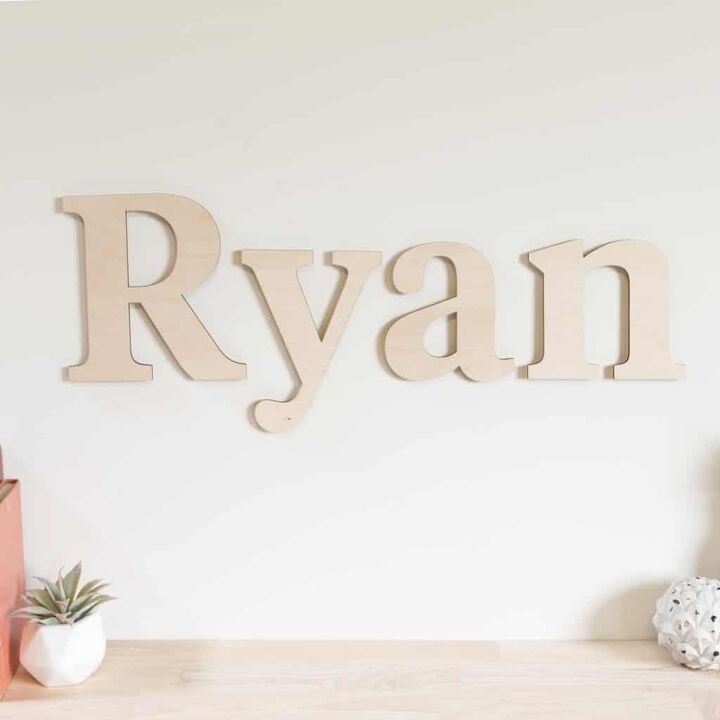 It's not uncommon to find children's, or even adult's, rooms with wooden letters on the wall spelling out their names or a particularly meaningful word on sentence. Creating wooden letters that spell out something impactful for your customers is very easy to do and can also make you a lot of money.
25. Personalized Signs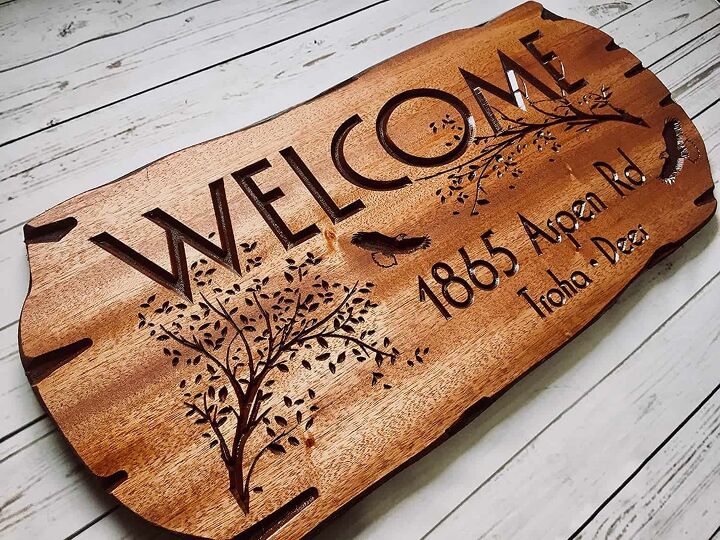 If you haven't noticed by now, customization is a major factor in a woodworking project selling well. More specifically, a personalized wooden sign can be an incredibly top seller. You can also get really creative with this project, as the word and phrase options to include on the sign are endless.
26. Birdhouse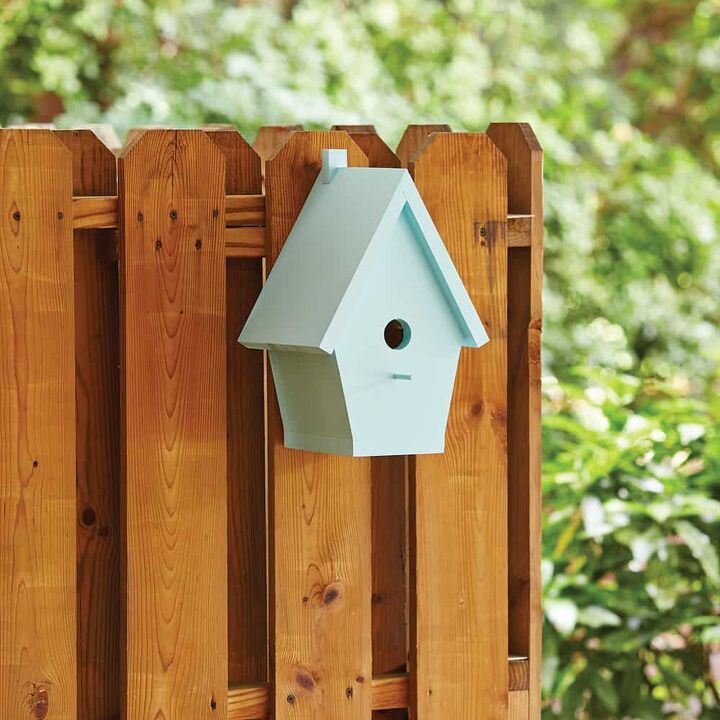 When we talk about building a wood project to sell, a birdhouse or bird feeder is often the first thing that comes to many people's minds. While they aren't the easiest thing to make, you can tailor the design based on your skill level. You can choose to craft an entire house or a basic hanging seed feeder with a tiny perch – the choice is yours!
27. Toy Building Blocks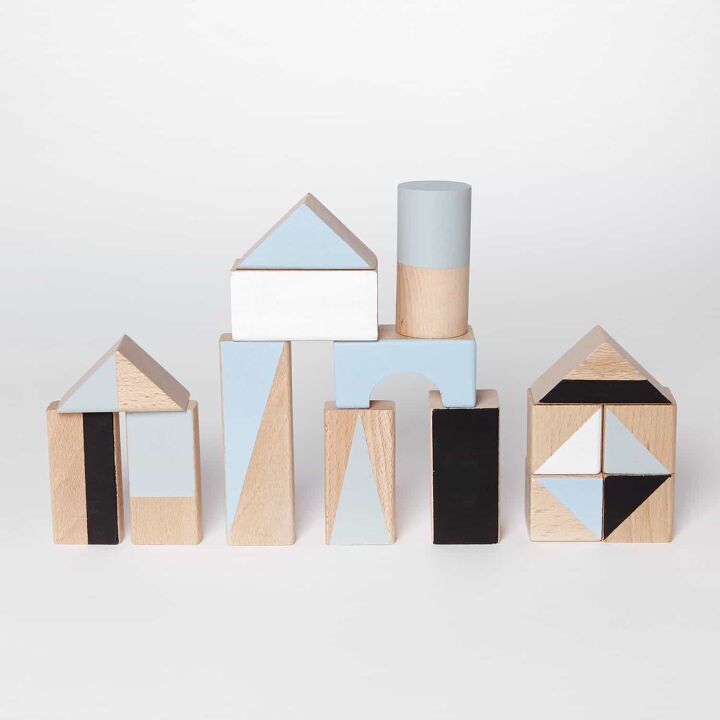 Building blocks are the fundamental toys that kids use to build spatial, cognitive, and motor awareness. Why not put your woodworking skills to the test and create toy building blocks to sell! However, don't just limit yourself with basic wooden blocks. You can create ducks, cars, figurines, and many other types of children's toys out of wood.
28. Phone Docking Station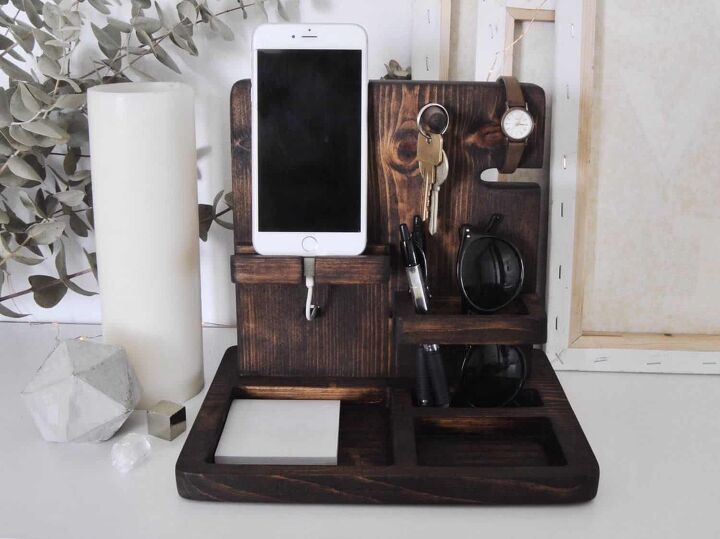 For most people in the world, their cellphone is glued to their side for much of the day. However, these same people would love a docking station or phone stand to hold and charge their device when they're not using it.
If you add in a unique element, your wooden phone docking station may even be able to compete with the big boys. Whether it's a rustic design, a customized name tag, or an appealing stand detail, this woodworking project will sell.
29. Drink Caddy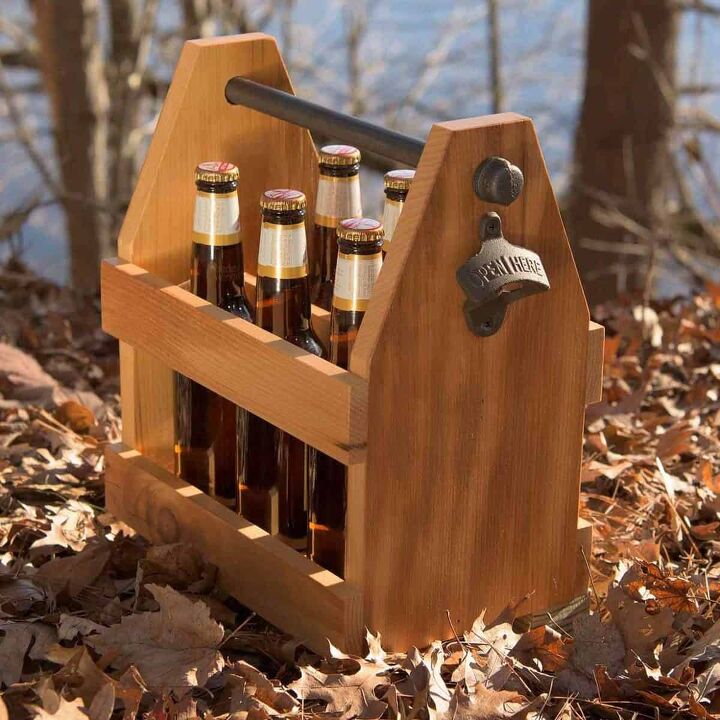 If, instead of wine, beer is more your thing, why not make a wooden beverage caddy? These are an ideal gift for the man in your life or as a groomsmen's gift. They are also very easy to make, only requiring a wooden box and simple handle to create a rugged look.
30. Baby Gym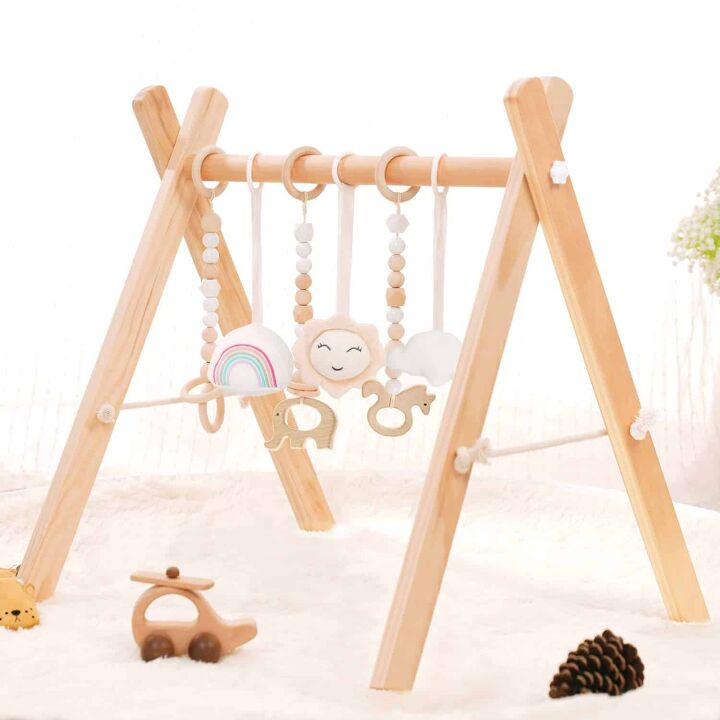 These wooden baby gyms are incredibly popular and considered to be an excellent non-toxic activity for babies. As opposed to purchasing a plastic baby gym from the store, many parents prefer to opt for one that is made out of non-toxic building materials. This is especially true since babies tend to get up very close to their toys – and are known to even putting baby gym toys in their mouths.
If you choose to make a wooden baby gym to sell, just make sure that you sand it well and that any finish or paints are food grade.
31. Wooden Sandbox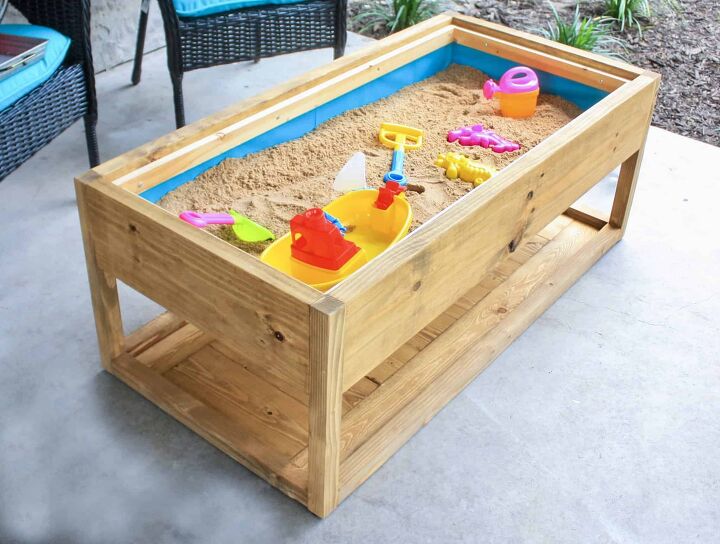 A wooden sandbox is an excellent gift for toddlers and even older children. With a sand box plan that is designed solid and sturdily, you can create and sell a woodworking project that will last a long time. When you have a product that is made to last, you'll have no trouble attracting buying customers.
32. Treasure Chest Toy Box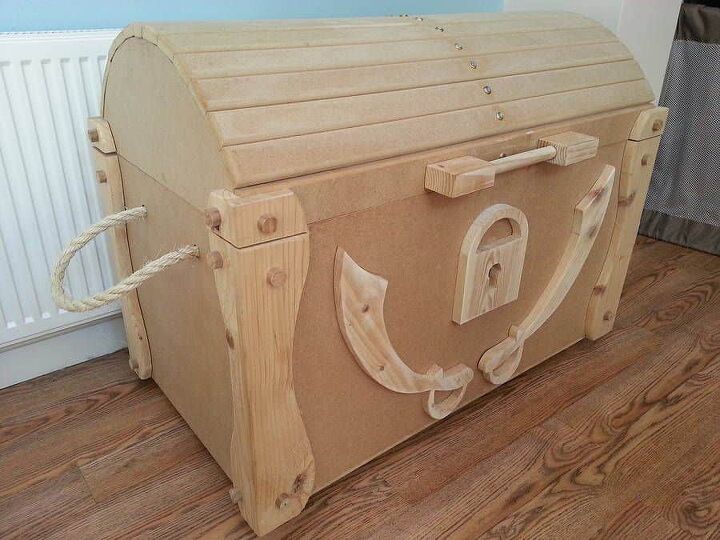 A really fun and unique idea for a children's toy box is to handcraft one that resembles a toy chest. Gifts and items like this that are designed specifically for children are often a very successful business model. When parents find good-quality, fun gifts for their kids, they are more likely to come back for more!
33. Wooden Play Kitchen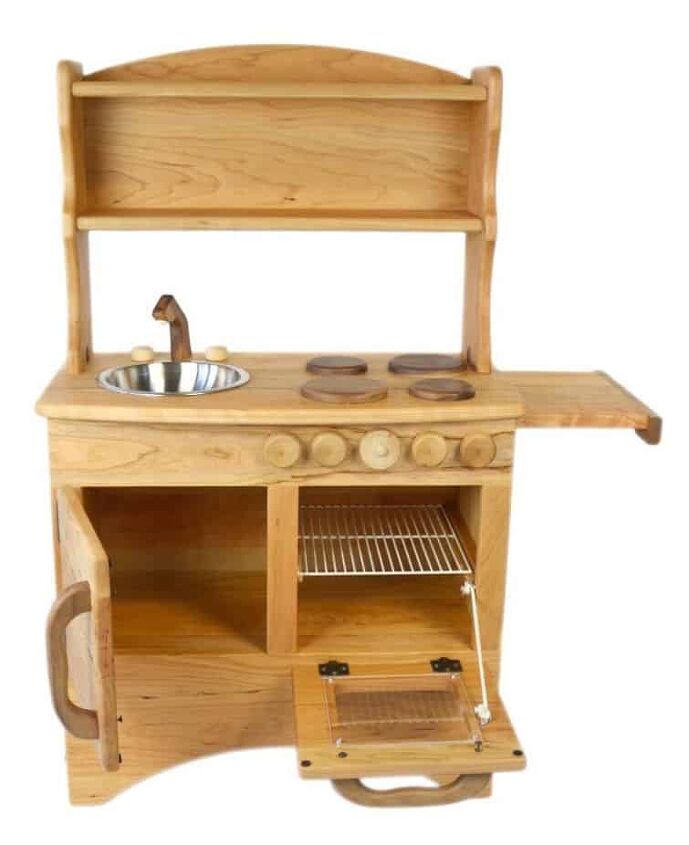 Another woodworking project that makes an excellent gift for children is a play kitchen. There's no denying that kids absolutely love these things, and they make really great gifts. As a result, it's very likely that your wooden play kitchen will sell well.
However, like most other projects on this list, try to find a way that will make your particular design stand out among the project. That's what's really going to help you make a profit!
34. Backgammon Set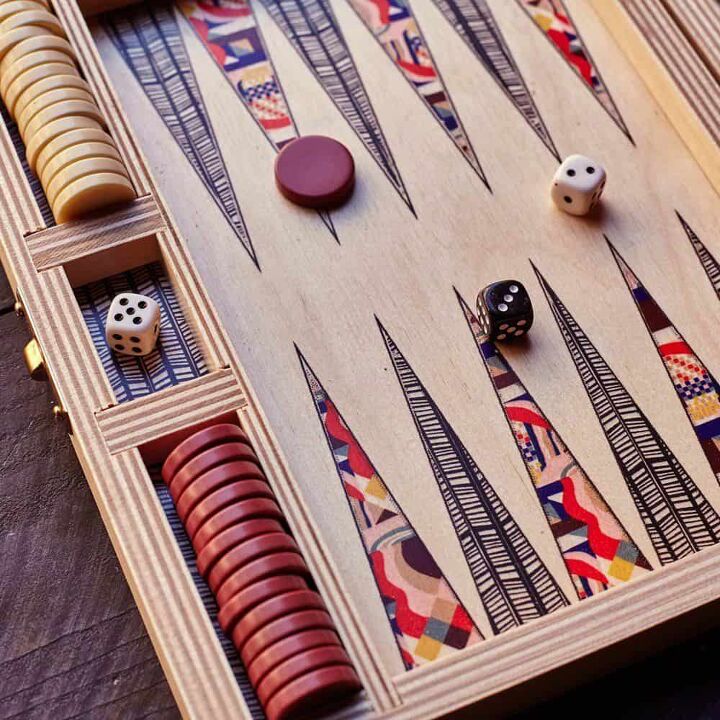 Believe it or not, a quality backgammon set can sell for quite a bit of money on online craft stores. Even if you don't know how to play the game, this can be an excellent woodworking project to sell.
35. Desktop Organizer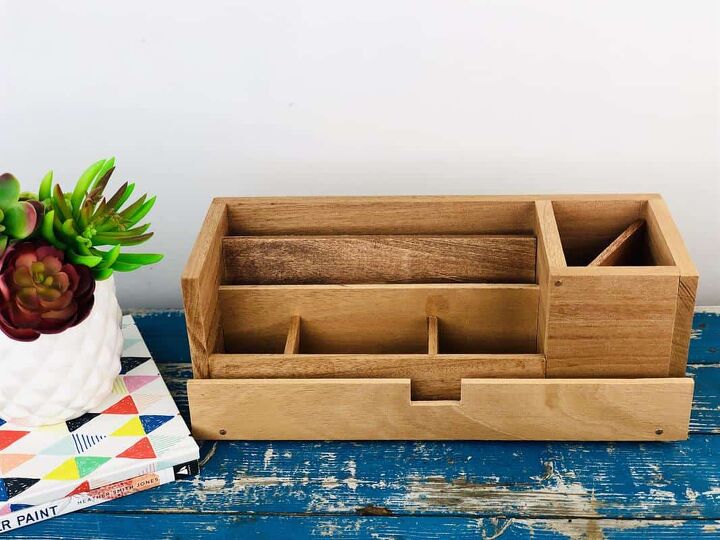 A wooden desktop organizer is essentially a storage box with drawers. However, when built right, this product will make a huge difference on someone's desk or countertop. It's a great way for folks to help keep their desk organized and with so many people working from home nowadays, a wooden desktop organizer will sell.
36. Blanket or Clothing Rack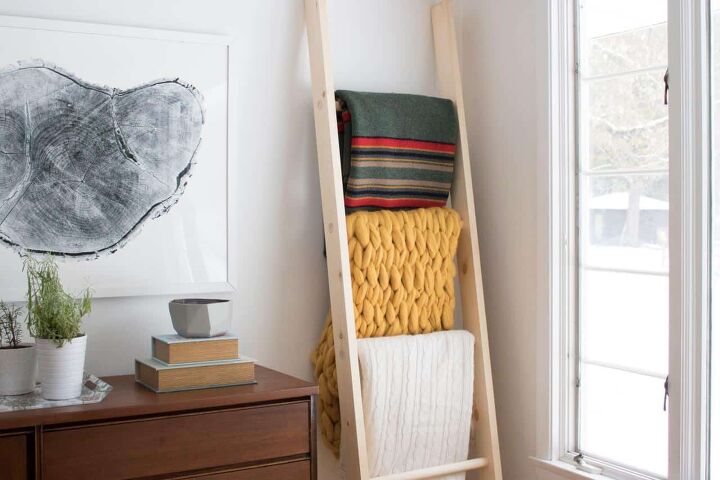 Whether you choose to make a basic ladder blanket or quilt rack out of wood, or an intricate clothing drying rack, these make very useful products. And, any product that serves a specific function or makes your customer's lives easier is sure to sell.
37. Personalized Bottle Opener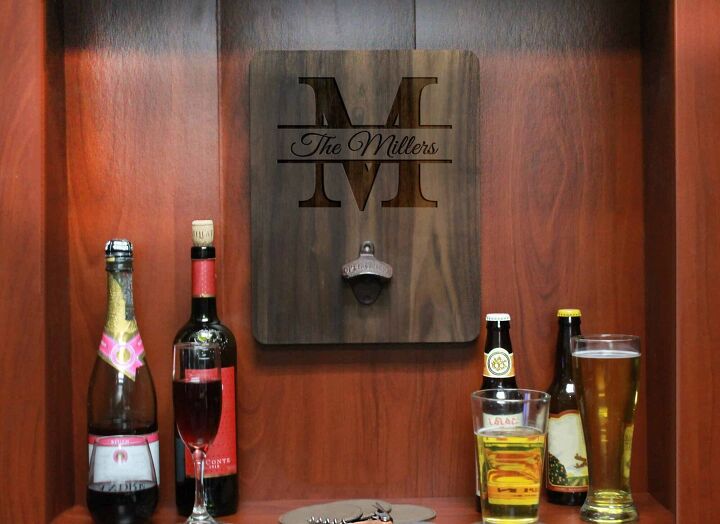 Take a metal bottle opener and a basic plank of wood and you have a woodworking product that will sell. You can also take it to the next level and include a small box or magnet at the bottom that will catch all of the caps. Get creative by etching custom phrases, team logos, or allow your customers to carve their names and you just might increase your chances of a sale.
38. Bookmarks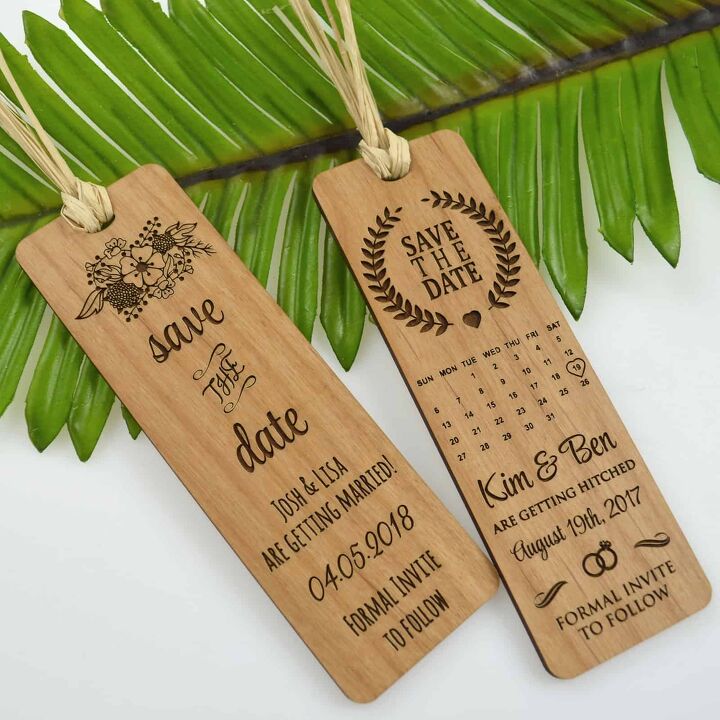 With access to a laser engraver, you have endless options when it comes to woodworking projects. Create a simple bookmark out of a thin piece of wood and drill a hole at the top for a small strap. Then, use your laser engraver to customize the bookmark with famous quotes and they're sure to sell!
39. Guestbooks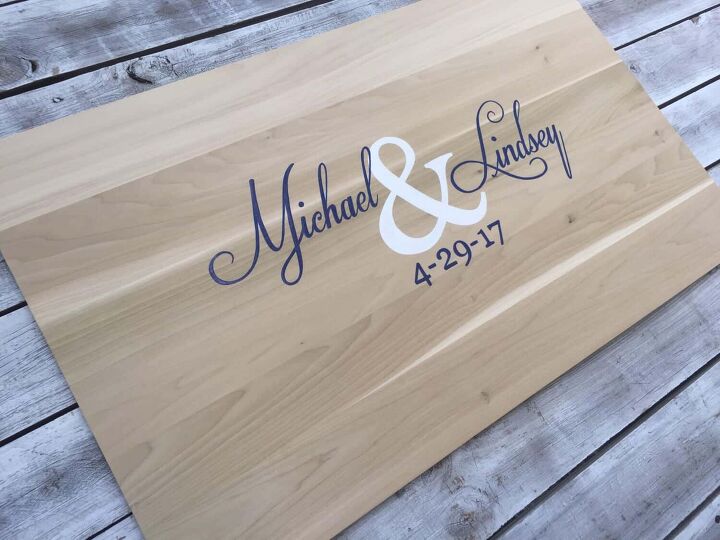 When it comes to weddings, the more custom and unique an item is, the more likely a bride is going to buy it. If you're exceptionally skilled at woodworking, you can create a custom design that features the couple's name and wedding date. These make stunning mementos to later display in the home after the day is over to reflect on one of the best days of their lives.
40. Walking Sticks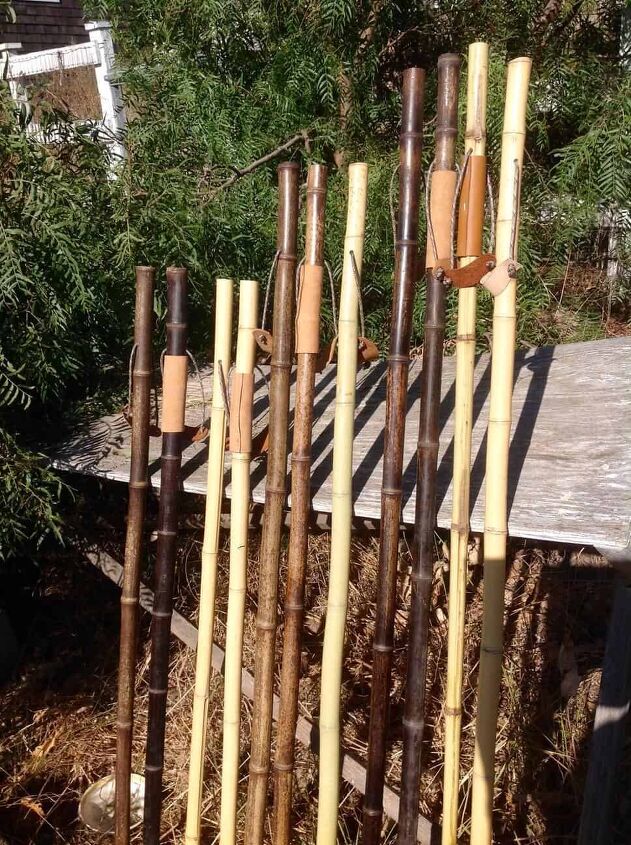 Though very practical in use, you can create walking sticks out of virtually any wood out there. This is a great opportunity to put your creativity to use and carve the top into a lion or snake head, or feature any sort of ornamentation you wish. Turn a basic walking stick into a gorgeous piece of art and you'll surely have a woodworking project that sells!
41. Necklaces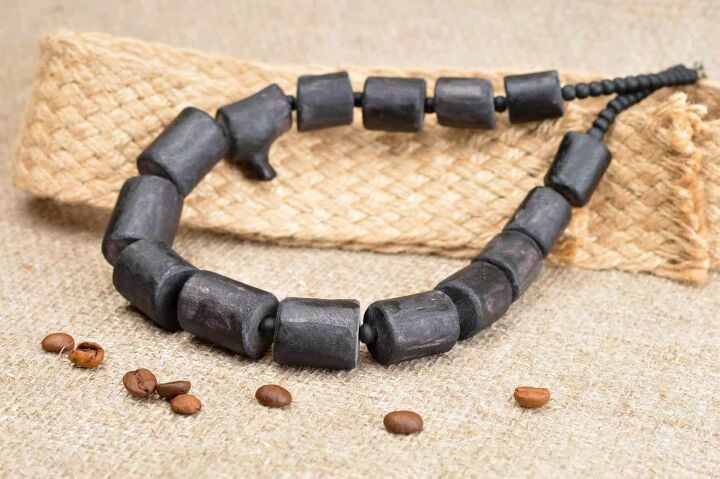 Get your hands on some thin, small pieces of wood that still have the bark attached and you can use them to create some unique necklaces. Add in some dried flowers or combine resin and glitter to add some color to the piece. This type of woodworking project is a gorgeous, custom option that will have many people flocking to your shop.
42. Earrings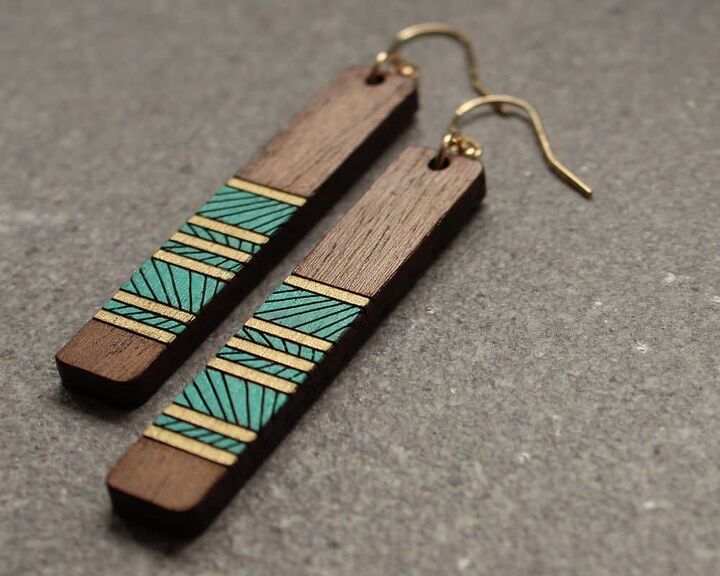 Again, when you have a laser cutter, the options are endless. This is especially true in making wooden earrings. Use your creativity to design some unique earrings, cut them out with a laser, and install the fasteners. Like wooden necklaces, folks will love the customized nature of these pieces. Not to mention, they are a great eco-friendly alternative to conventional jewelry.
43. Pallet Table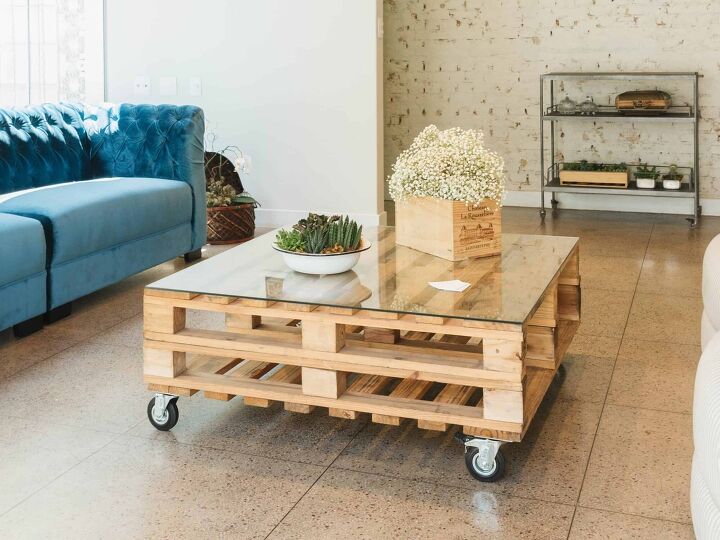 If you're looking for a woodworking project that is inexpensive to produce and has a high return, consider crafting a table made out of upcycled wood pallets. You can purchase wooden pallets for cheap, or hunt down ones for free! Once you find some, all you need to do is reinforce their structure, sand, stain, and add some legs.
Install some hairpin legs or casters for a rustic industrial aesthetic – a style that is wildly popular right now and will definitely sell!
44. Trivets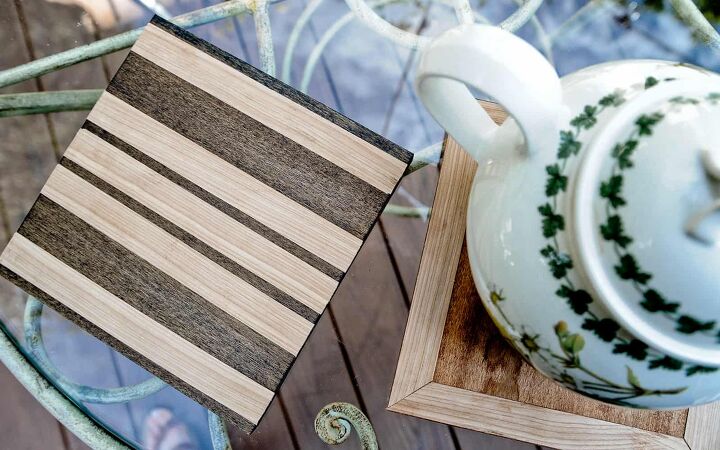 Trivets are designed to protect your surfaces from hot dishes when serving. They are incredibly practical, make an excellent gift, are easy to make, and will be highly profitable. Making wooden trivets are even easier to make as they are just one piece of wood that is sanded and stained to achieve the desired finished product.
45. Record Holder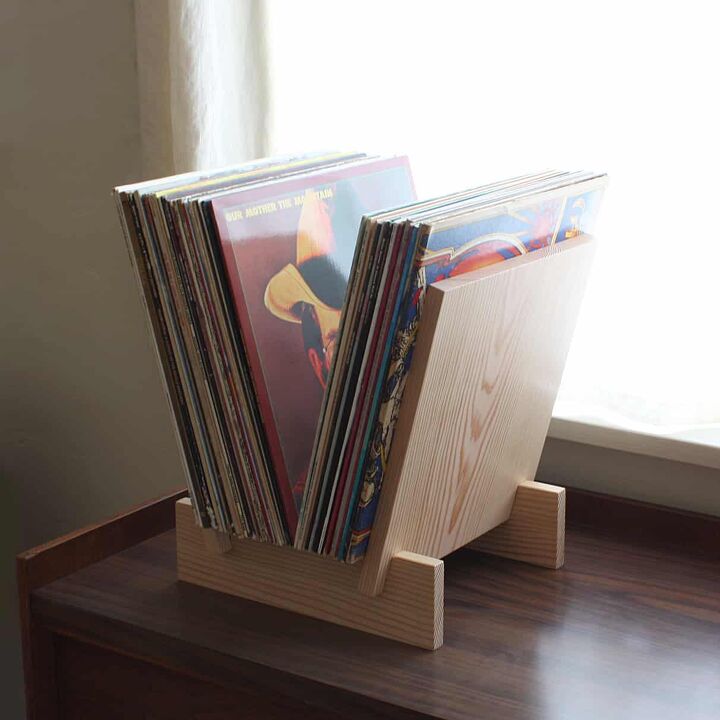 Instead of using an old milk crate to store records, your customers will definitely prefer a custom-built record holder. As of late, record collecting has seen a bit of a resurgence. What better way to store your prized collection of records than in a simple, but stunning, stand? These can be easily constructed using a few pieces of wood and very minimal tools.
46. Step Stool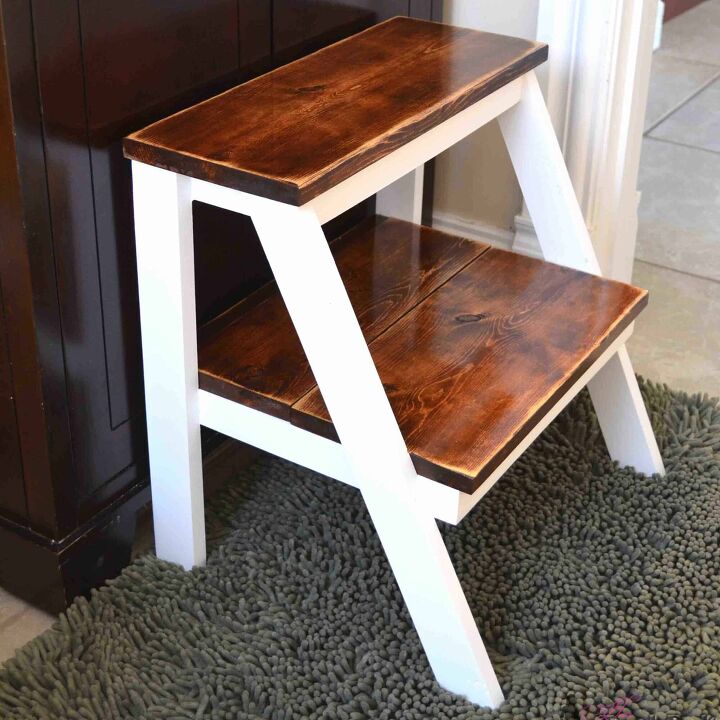 Step stools are an excellent item to sell at craft fairs. After all, unless you're blessed with height, everyone needs a step stool to access those hard to reach areas in their home. Fortunately, this woodworking project is simple to make and can be churned out rather quickly with the right tools.
All you need is some wood, a nail gun, wood glue, and a saw. Folks with a farmhouse aesthetic in their home will love placing a handcrafted wooden step stool in their kitchens or bathrooms.
47. Fishing Pole Rack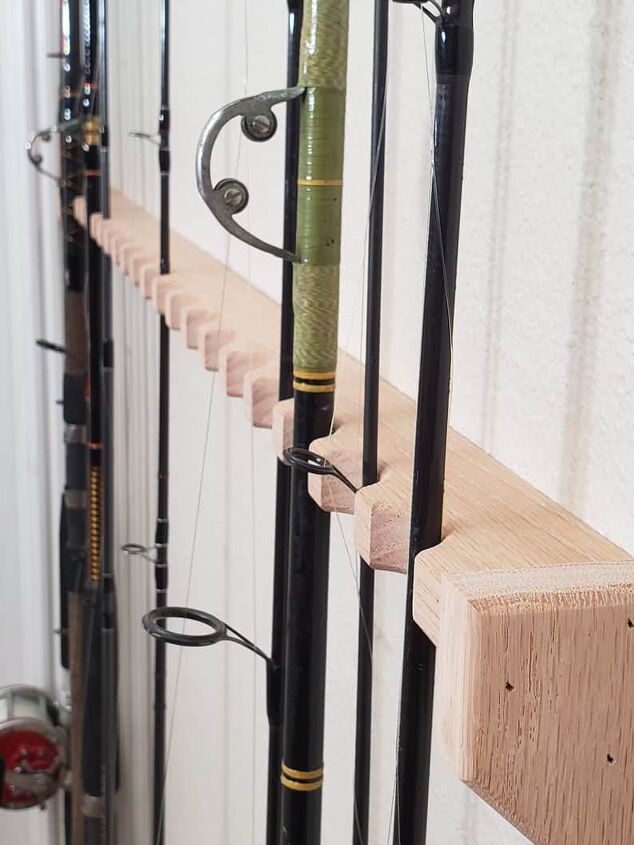 With access to quality wood, you can make a relatively simple fishing pole rack structure for little to no cost. Or, you can get creative and craft a free-standing rack with intricate details. Regardless of the design, this type of woodworking project is sure to sell – especially for those who live on water or in warmer climates. With that said, be sure to market your wooden fishing pole rack creation accordingly to increase sales.
48. Golf Club Rack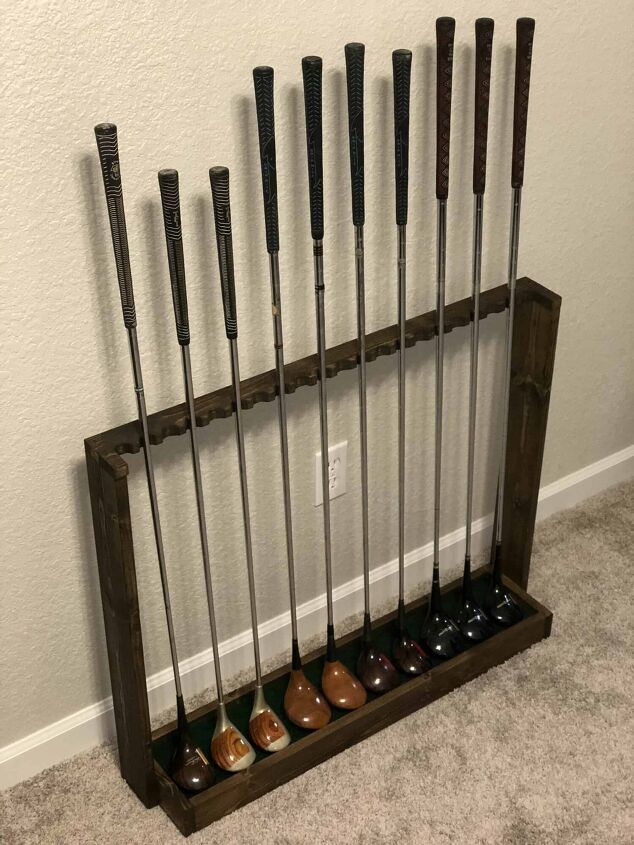 This option is relatively similar to the fishing pole rack, but obviously for housing golf clubs instead. It is ideal for the golf lover's man cave and relatively simple to make. Simply design it so it has a wider base for the golf club heads to rest in, and a lip to hold them up. Then, at the top of the rack, make evenly spaced holes for keeping the handles in place.
49. Wood Covered Journals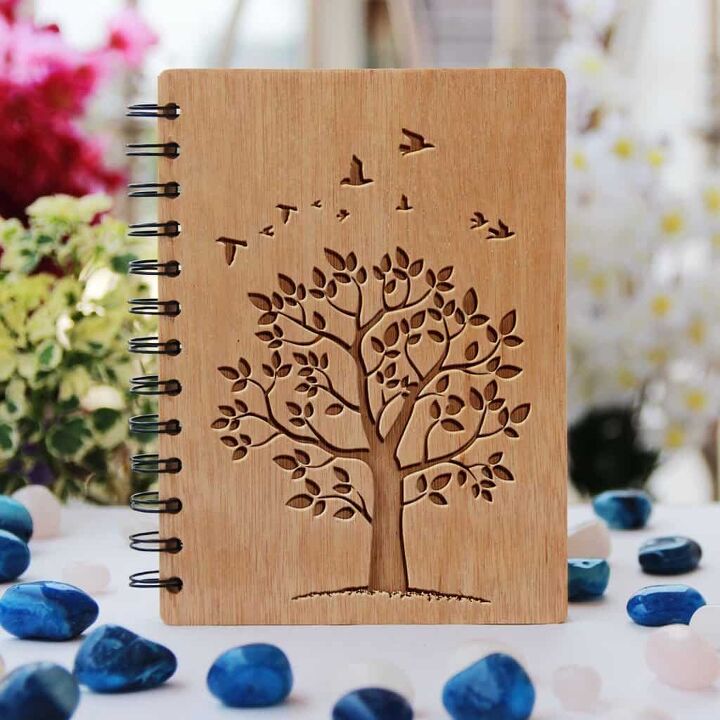 With two, very inexpensive, thin sheets of plywood you can craft a gorgeous custom journal to sell. Simply purchase cheap journals in bulk, take off the covers, and replace them with your own custom creation. Implement a laser cutting, engraving, or wood-burning technique to the front. This woodworking project can be a stunning work of art for writers and artists to fill with their own artwork.
50. Custom Wooden Photo Plaque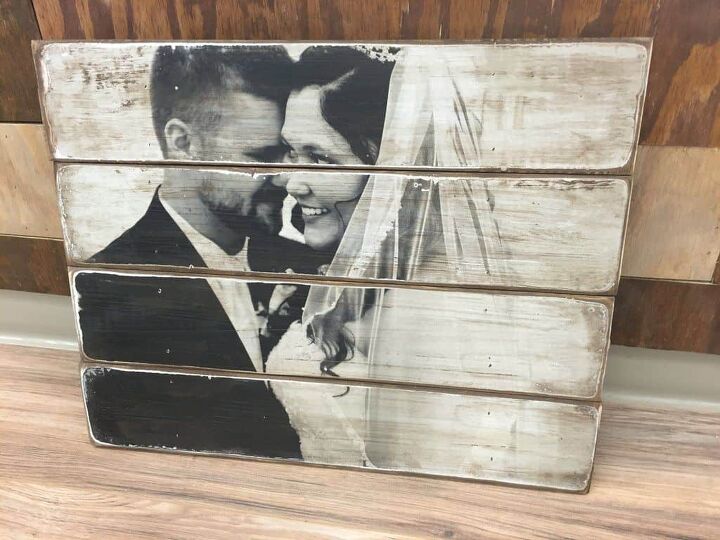 If you're looking to produce personalized or custom woodworking items (and you should be if you want to make a profit), consider producing a product that takes people's photographs and transfers them to a piece of wood. This business has very low overhead, and will only require you to create a few samples to be displayed.
This woodworking project is also very easy to create, and DIY friendly. Just print out the photograph using an inkjet printer, coat it in Mod Podge, and lay it out flat onto the wood surface. Apply more Mod Podge and wait about 24 hours. Then, wet the paper, scrape it off, and you'll be left with an image transferred onto wood. Just apply a sealant and it's ready to sell!
51. Personalized Name Puzzle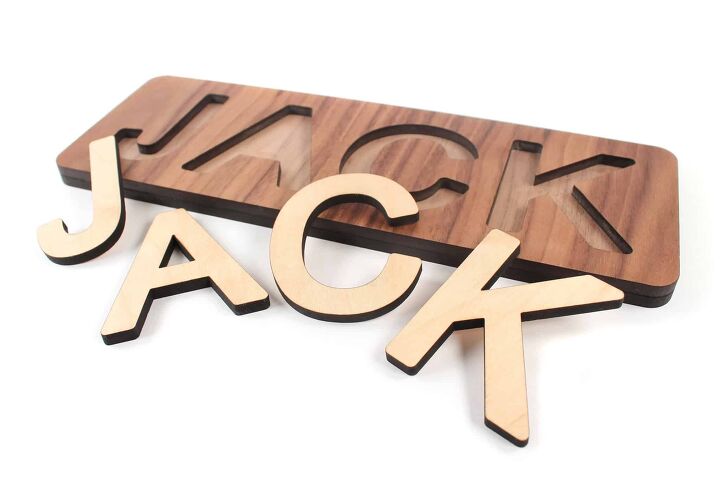 Custom wooden name puzzles make great gifts for young children. They can also make you quite a bit of money if you offer full personalization. For best results, allow your customers to customize the colors, size, name, and any other little details. This woodworking project is a great way for babies to learn their names, develop motor skills, and just have fun playing with their parents.
52. Custom Wood Guitar Picks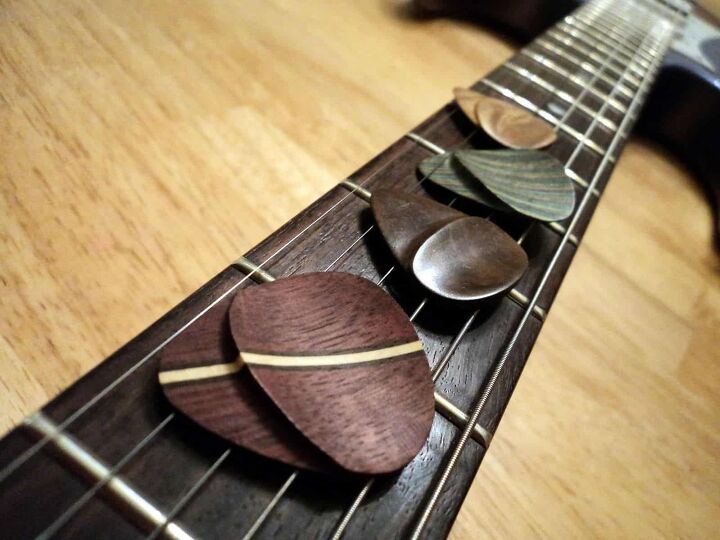 Guitar picks are often an overlooked essential piece of gear that nearly all guitarists need. A handcrafted wooden guitar pick can make an excellent gift for any guitar enthusiast or turned into a really unique piece of jewelry. All you need to make this woodworking project is a block of wood, saw, sandpaper, and a guitar pick to trace the shape. When selling your wooden guitar picks, consider offering a personalization option to further drive sales.
53. Laptop Stand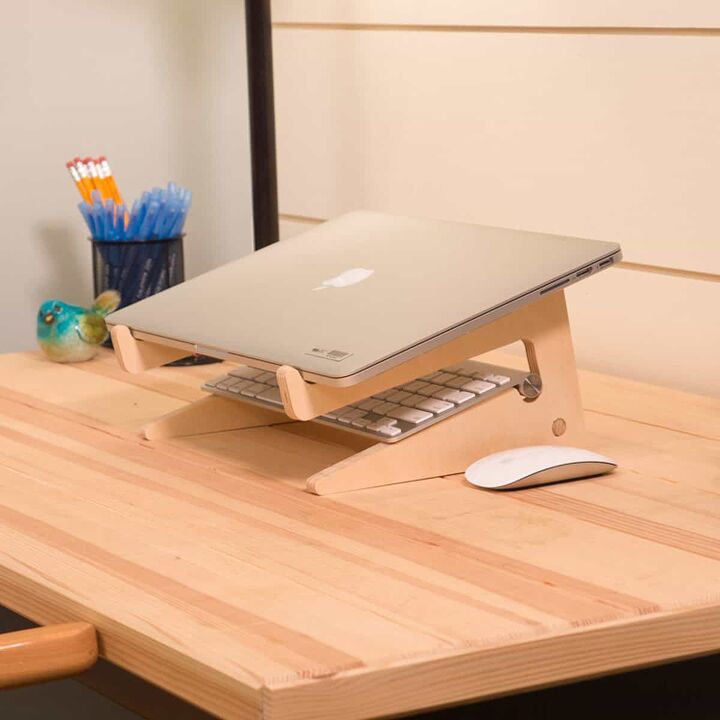 Another great product for those working from home during the pandemic is a wooden laptop stand. The best way to craft one of your own to sell is take inspiration from other stands online. They are simple to make and require very little materials. You can create a laptop stand that is fixed, or one that collapses for added convenience and portability.
54. Star Map On Wood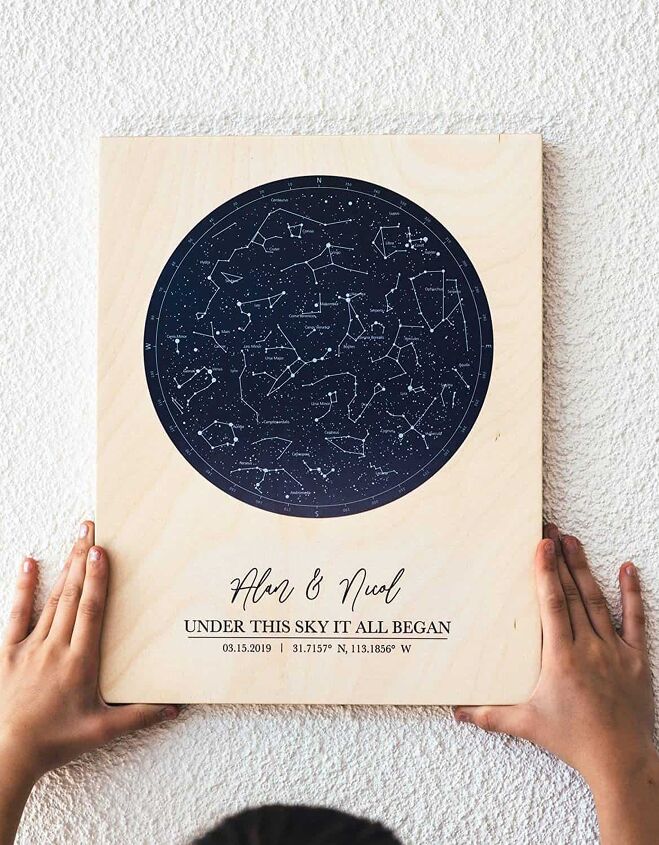 This is a very unique gift that is very popular right now, especially due to the rise in interest in astrology. It's also fully customized to your customer's desired date, which makes for a very personalized piece of art. On your end, all you need is a good quality piece of wood. Then, follow the technique outlined above for transferring a photo to wood and you have an excellent woodworking project to sell!

Jessica Stone
Jessica considers herself a home improvement and design enthusiast. She grew up surrounded by constant home improvement projects and owes most of what she knows to helping her dad renovate her childhood home. Being a Los Angeles resident, Jessica spends a lot of her time looking for her next DIY project and sharing her love for home design.
More by Jessica Stone
Published February 11th, 2021 12:40 AM