232 Views
How Much Is Truck Rental At Lowe's? (and Other Alternatives)
December 20th, 2021 11:54 AM
Share
We're committed to finding, researching, and recommending the best products. We earn commissions from purchases you make using links in our articles. Learn more here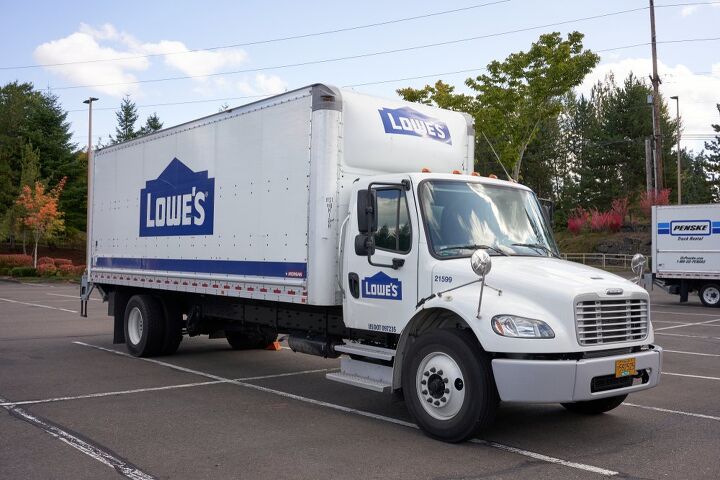 Using your car for a small move can be downright messy, dangerous; take several trips. Additionally, it may not be cost-effective. In this guide, we'll break down Lowe's truck rental's pricing and actual rates.
From moving mulch to furniture, the Chevy Silverado 1500 offered by Lowe's can haul almost anything. With an 8 foot bed and a standard cab, you can haul up to one ton with one of their pickup trucks. Roadside assistance is also included but may cost extra.
If you decide to rent a truck with Lowes, expect to pay at least $19 for the first 90 minutes and $5 for every 15 minutes after that. On average, people using this service spend at least $75 (when you factor in insurance and gas costs).
Before driving to your local Lowe's to sign up for a rental, consider how many items you have to move and how much space they'll take. If you have two bedrooms' worth of stuff, using a pickup truck will take several trips.
Instead, consider renting a box truck from Uhaul, Budget, or Penske (at least a 10′ or 15′ long). Although you'll have to spend more money on the rental, you're likely to complete your move in just one or two trips.
Do You Need to Hire Movers?
Get free, zero-commitment quotes from pro contractors near you.
Lowes Truck Rental
The average price for a local moving truck rental can range anywhere from $19.99 to $499 and will be based on the truck's size and duration of the rental.
Lowe's offers truck rentals at affordable rates at the following standard option:
$19 for 90 minutes (plus $5 every 15 minutes after that)
Unlimited miles (one flat rate)
All-day rental for $89
What Is The Actual Cost To Rent A Lowes Truck?
As mentioned above, Lowe's charges $19 for 90 minutes plus $5 every 15 minutes. A studio or a one-bedroom move typically takes between 2-3 hours. If you take 3 hours, expect to pay around $49, plus your insurance and fuel costs.
If you're moving to a two-bedroom apartment, expect it to take you around 5 hours, with the truck rental rate going up to $89. Simply based on logic, if you need a truck for more than 5 hours, you might as well sign up for a full-day rental.
What Should I Know Before Renting A Truck At Lowes?
Logistics matter. Whether you are moving from place to place or just hauling a golf cart to Mar-A-Lago, these are the paramount factors:
Budget
Distance
Length of Time
Although most of the rates offered by the major companies are Even-Stevens, ultimately, it will come down to the last two factors.
Lowes Rental Process
Over the years, Lowe's has streamlined its rental service into three easy steps.
"Pick Up & Go." Call your local Lowe's as only certain ones carry trucks. First-come-first-served basis. Pick it up and drop it off at Lowe's
Right papers! Make sure you got the essentials: driver's license, proof of insurance, and credit card.
Return with a full tank of gas.
Lowe's offers a standard model with their standard-size offer. If you hate math and do not want to calculate the best fit for a right-arm sofa, then ditch it.
A super important factor to consider before renting is insurance. If Lowe's offers insurance with a truck rental, use theirs. If you use your insurance and get into an accident, you may be liable for thousands of dollars in damage out of pocket.
Benefits Of Renting A Truck From Lowes
Chevy Silverado 1500
8-ft bed and standard cab
Moving Capacity: 1 ton
Standard safety features
Roadside assistance
FREE delivery should you buy a dishwasher, washing machine, or other appliance. You need to read the fine print on this.
But what rate do the other companies offer for the whole day should you need an entire day for moving? Read on.
With so many companies, sizes and rates, you need to hone in on the perfect one. It is more than about getting more bang for your buck. Moving is a challenging process, and the last thing you want is your shipment outsizing your truck.
How To Choose The Right Size Rental Truck
Availability: The great thing about Lowe's is they have a  first-come-first-serve basis policy For U-Haul since you have to call in advance. Penske's availability depends on locations. Both offer reservations; U-Haul guarantees it.
Size: Lowe's offers an 8-footer with a flatbed. Their loading capacity is 1 ton or 2000 lbs, roughly the weight of a mid-sized rhino.
Cost: Lowe's offers standard rates.
How Can I Ensure I Get The Right Size Truck For My Move?
You need to carefully consider the three dimensions of moving that will help you better prepare for the upcoming move.
Size Of The Room
What volume of shipment will you be transporting? Bigger rooms require larger trucks. Of course! But what exactly is your room size?
The classes under each will fall 1-, 2- or 3-bedroom apartments. So for a 2-bedroom apartment, you should think about a giant truck. Lowe's will not cut it given such a short return time unless you choose to rent it for a whole day.
Distance To Move
How far will you be moving? Lowe's may not be the best bet if your new apartment is 10 miles away in a different city. It is only excellent for single trips but a poor investment for multiple rounds.
You will need their whole day plan, which is overkill.
Also… what happens when you rent the truck from a location near your home, but the destination is far away? Yup, you will need to make a trip back to return it!
Carrying Capacity Of The Truck
You do not want to rent an 8-footer; show up at your doorstep and realize that all of your garden pot plants will take up half the space. And vice versa. A 26-footer will be a poor choice for quick shipping. As a rule of thumb:
Carrying capacity = Size of your room: Size of your truck
And the cost of gas and distance play well into this. Make sure you sort it out with the folks at the checkout, be it you rent from U-Haul or Lowe's. This is perhaps the most salient factor in your logistical pre-planning.
What Are Some Alternatives To Renting At Lowes?
Let's face it. Lowe's does not always pop up as the first choice when you think of moving. Let's take a look at how they compare to Uhaul, Budget, and Penske.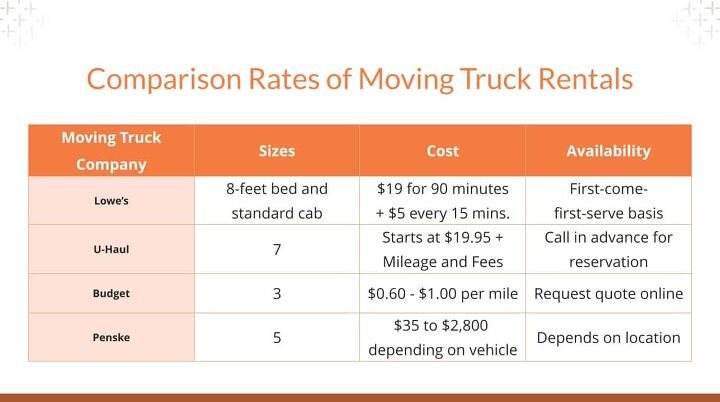 U-Haul
The tried and the truth. It has been in business for a long time and carries the brand name to back it up—the go-to choice for moving.
Offers 7-different sizes
Locations in all 50 states
U-Haul rental trucks start at 10-foot cargo space for only $19.95. Their largest one is a 26-foot cargo space starting at $39.95. Both are only for in-town moving.
These prices will need to be adjusted when you bring gas, mileage, and frills like tie-downs and dollies into play.
All U-Haul trucks above the 10-footers come with a built-in ramp for loading.
Budget
The budget has slowly topped up the charts with cheap offers yet still provides quality value.
Three sizes
Affordable (Well, the name says it all!)
Budget gives you a quote after filling out a reservation online.
They do not offer unlimited miles.
Their price per day for 1-2 bedrooms ranges from $20-35.
Penske
Penske is another new kid in town who has become well-known.
Penske is a big name in moving truck rentals, and they have locations throughout the continental U.S.
Offers 5-different sizes
Get a quote from an online reservation.
Enterprise, Ryder, and Home Depot are honorable mentions.
GoShare App
Thanks to this app, your minimalism journey just got easier. Now you can easily collapse your life into neat little cardboard boxes, shelve them aside in storage and start your digital nomad journey.
GoShare is a Lowe's truck rental alternative.
Find Your Delivery Pro: Get a free estimate from their app. Set up a time of pickup and location. Find a pro.
"Get Movin'": The pros at GoShare promises to load, secure, transport, and unload all your goods.
Track & Pay in the App: Track the progress of your delivery and make a payment. Tip!
Do You Need to Hire Movers?
Get free, zero-commitment quotes from pro contractors near you.
What Did We Learn?
The cost of renting a truck at Lowe's or another store will depend on many factors; What are you moving? Where are you moving to? And, how would you like to accomplish it?
Once you figure out this simple math, the rest of the equation is pretty straightforward. Zoom in on the task's requirements and sign up for an app (either Lowe's or GoShare). Alternatively, head to your local U-Haul should your delivery be a sizable shipment from Ikea.
As for the ranking, here are the top-rated truck rental providers in order:
U-Haul: The Complete Package
Budget Truck Rental: The Obvious Budget Choice
Lowe's: Another Cost-Efficient Option for Small Moves
Penske: Most Ideal for Long Distance Moves
Now that you hopefully have a better idea, all that remains is to select the date, location of the company, and the right truck for the "getaway" job with a smile.
Related Guides

Upgraded Home Team
We are a team of passionate homeowners, home improvement pros, and DIY enthusiasts who enjoy sharing home improvement, housekeeping, decorating, and more with other homeowners! Whether you're looking for a step-by-step guide on fixing an appliance or the cost of installing a fence, we've here to help.
More by Upgraded Home Team
Published June 21st, 2020 9:34 PM