319 Views
Klearvue Cabinetry Review: Is There Quality Behind Their Products?
October 7th, 2021 8:28 AM
Share
We're committed to finding, researching, and recommending the best products. We earn commissions from purchases you make using links in our articles. Learn more here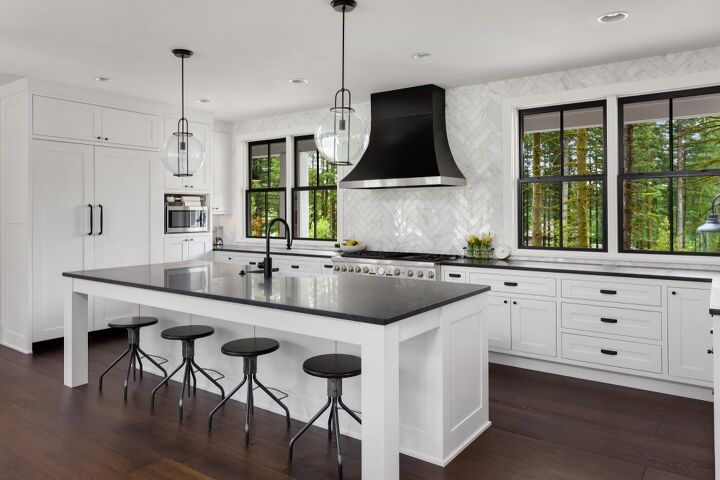 Finding cabinetry that is as durable as it is affordable can be tricky. Of all of the options ranging from Ikea to Kraftmaid and more, many homeowners choose Klëarvūe Cabinetry.
Exclusive to Menards, Klëarvūe Cabinetry provides a high quality and cost-effective option for getting great cabinets. Klëarvūe began with kitchen cabinetry, but now supplies cabinets for any room of the house and the garage.
Klëarvūe's garage, closet, kitchen, and bathroom cabinets are available at Menards stores or on the Menards website. The cabinets come ready to be assembled easily with clear directions.
You can find Klëarvūe cabinets in countless styles and finishes such as Ivory, Golden Oak, Auburn, Hazel and more. Klëarvūe's accessories, such as drawer dividers and interior cabinet lighting are made with the same care as the cabinets.
There are more than 40 different cabinet box sizes and shapes available from Klëarvūe for some models. With Klearvue cabinets, you are the one designing it. By combing doors, drawers, and accessories with the cabinet box, you create your dream cabinet.
In fact, Klëarvūe has more than 250 different possibilities for how you can set your cabinet up. Let's take a closer look into Klëarvūe Cabinetry and see some of the best options they have are.
Do You Need to Hire Cabinet Installers?
Get free, zero-commitment quotes from pro contractors near you.
Quality Comes First
Quality is the most important thing to Klëarvūe, and that is reflected in their durable construction. The base of each of their cabinets is a box. Each box is durable and roomy with wall cabinets even reaching 14" deep.
As with all of Klëarvūe's cabinets, there are several different styles to choose from, including:
Diamond plate
Slab
Stained
Shaker
Paint
If you want a simple and timeless cabinet, Klëarvūe's shaker cabinets may be right for you. Or perhaps sleek and contemporary is more you style and you could use their slab style cabinets.
The style of Klearvue's cabinets also differ going room to room. For instance, you can get workshop style garage cabinets perfect for storing tools and gear. For the kitchen you could choose a modern slab with your choice of colors evoking rustic vibes or modern style.
The possibilities for style and appearance of Klëarvūe cabinets is endless. No matter the style, finish, or room the cabinet is going in, a Klëarvūe cabinet can add character.
You Create It
Klearvue sets itself apart from Ikea and others because they put control in the customer's hands. On their website, Klearvue provides a tool called U Create to help you choose and design your cabinet.
The U Create function lets you see how your cabinets will look in a real time 3D space when they are assembled. You can cycle through the countless options shape designs to get a visual to choose the style that you want for your kitchen.
There are several shapes that you can choose from and visualize using U Create, such as:
Bump out
L-shape
Galley
Notch
U-shape
Many more cabinet shapes are available that can accommodate any kitchen layout. Some Klearvue cabinet series have more shape options and door sizes than others.
Kitchen Cabinets
Kitchen cabinets are where Klëarvūe Cabinetry got their start. Each one of Klearvue's kitchen cabinet offerings have different options sizes and drawer sizes.
As with all of their cabinets, Klearvue kitchen cabinets can be paired with endless accessories and doors. Here are some of the most impressive and popular Klëarvūe kitchen cabinet models to start with.
Linsell Ivory Series
Klearvue's Linsell Ivory series is one of their most popular. You can choose between 30 different sizes of this classy and classic style kitchen cabinet.
The Linsell Ivory series is painted white ivory. Its distinct look comes from the brown glazing that is perfectly brushed over the cabinets as a finish. Each Linsell Ivory cabinet has a 5-piece panel style door.
You get 15 different drawer size options for the Linsell Ivory series. One of the many cabinet door options in the Linsell Ivory series is Klearvue's glass cabinet door. It comes with just as many drawer options as any other cabinet door.
Trävik Series
The Trävik series is another staple kitchen cabinet option from Klëarvūe. Classic hickory style, the Trävik series creates makes you feel at home and creates a classic, mild outdoors flare in the kitchen.
No matter which of the 30 box sizes and shapes you choose, the Trävik series will add character to the most important room in the house.
Bathroom Cabinets
You can use any of their cabinets in the bathroom, but Klëarvūe and their customers have a style that they recommend for the bathroom.
Malmö Series
The Malmö series looks great anywhere in the house, but the dark Mocha color is common in bathrooms. The frame is made out of birch and it is exceptionally durable.
You aren't limited to the bathroom with the Malmö series. In fact, the Malmö cabinets look great in walk in closets and kitchens as well. The dark tones of the natural birch combined with the mocha style creates a mellow environment.
You don't need to worry about the Malmö series clashing with whatever room it is in. It's mocha finish is a neutral tone which compliments almost any color scheme.
Garage Cabinets
Klëarvūe's garage cabinets are just as impressive as any other room of the house.
Diamond Red
Klëarvūe's Diamond Red cabinets are durable, stylish and turn the garage into a workshop. Diamond Red cabinets are modular and customizable just like all Klëarvūe options.
Diamond plated; the cabinet doors can hold up to the elements. The bold red finish is eye catching and up close, the Diamond Red cabinets have a unique texture.
Interior Cabinet Lighting
One of the best accessories Klëarvūe offers is their interior cabinet drawer light. Compatible with 15" wide drawers, Patriot Lighting drawer light is a bright LED.
The Patriot drawer light works by way of a signal that reacts when you open the drawer. Having a drawer light is a huge help in the kitchen, closet or even bedroom, especially at night.
It is one of many Klëarvūe accessories amongst push-to-open latches and draw dividers, but the Patriot cabinet light is the best one.
Do You Need to Hire Cabinet Installers?
Get free, zero-commitment quotes from pro contractors near you.
Cabinets Made With Care
Klëarvūe makes it extremely clear that they put all of their effort into their cabinets. The sheer number of drawer, door, and cabinet box combinations that they offer alone is proof that they value customer satisfaction.
Take advantage of the U Create tool on their website. It is a great way to visualize the Klëarvūe cabinets and choose between one of many possibilities that they offer.
Depending on how creative you want to get, you can let your imagination run wild with Klëarvūe cabinets. Not even Ikea or American Woodmark provide the level of customization and craftsmanship as Klëarvūe Cabinetry does.
Klëarvūe makes installation as easy as can be with the easy to follow instructions. Even people that are not mechanically inclined and avoid assembly at all costs can put together a Klëarvūe cabinet easily.
In fact, Klëarvūe provides step by step, comprehensive installation tutorial videos on their website that make it so any layman can assemble one of their cabinets.
Choosing cabinetry for any room of the house is easier because of Klëarvūe. No matter what rooms needs cabinets, you can expect a great selection from Klëarvūe.
Related Guides
Kitchen Cabinet Alternatives (With Photos)

Upgraded Home Team
We are a team of passionate homeowners, home improvement pros, and DIY enthusiasts who enjoy sharing home improvement, housekeeping, decorating, and more with other homeowners! Whether you're looking for a step-by-step guide on fixing an appliance or the cost of installing a fence, we've here to help.
More by Upgraded Home Team
Published June 26th, 2020 11:28 AM