38 Views
Should Kitchen Cabinets Be Lighter Or Darker Than Walls?
April 25th, 2021 12:40 PM
Share
We're committed to finding, researching, and recommending the best products. We earn commissions from purchases you make using links in our articles. Learn more here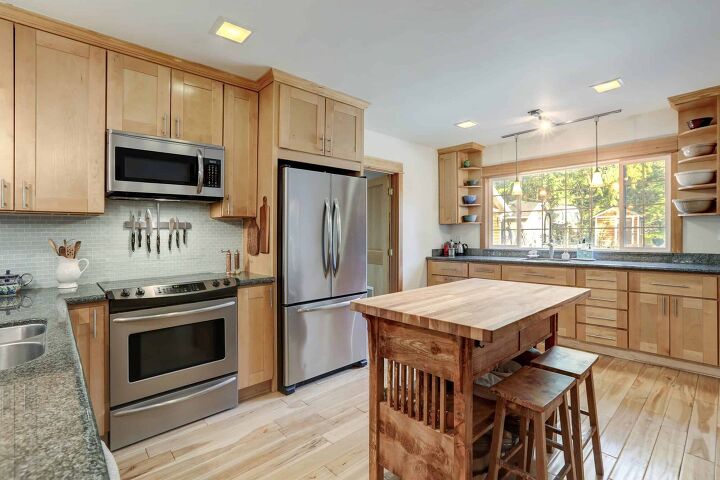 Kitchen cabinets are one of the biggest decisions any homeowner has to make during a home remodel. Choosing the wrong cabinetry may result in needing repairs later on, or having a kitchen that doesn't quite look stellar. That's why coloration is such a huge deal, and why there's an ongoing debate about matching the cabinets to one's wall color. So, what's the better pick? Lighter or darker cabinetry?
The color you choose for your cabinetry should depend on the overall benefits that you want your cabinet styling to offer. Lighter colors are more modern and give your kitchen an open ambiance. Darker cabinets offer drama and contrast, and can even serve as a focal point. For a smooth look, just try to match your cabinets within a shade of the walls.
Interior designers seem to be evenly split over the cabinet color caper. If you aren't sure whether or not your cabinets should be open or dramatic, keep reading. We've got the answers to the questions that you've been dying to ask.
Do You Need to Hire Cabinet Installers?
Get free, zero-commitment quotes from pro contractors near you.
Why Choose Lighter Cabinets?
Light cabinet colors are so in right now. If you take a quick look through any interior design magazine, then you will see page after page of kitchen designs that have white or off-white cabinets. There's good reason for this, too. Most people who have small kitchens choose lighter cabinets as a way to balance the close spaces.
Light cabinets offer the following design benefits to homeowners:
An Open Appearance. If you need your kitchen to feel a little larger, then you want to get lighter cabinets. The light colors play a trick on your eyes that make rooms look bigger.
Trendiness. We'd be lying if we didn't say that light cabinets aren't trendy.
Matching. If you have a table or countertop with a marble cover, then the light colors will work with one another well.
Safety. Light colors go with almost every kitchen setup. That's why white cabinets are considered to be a "safe choice" for designers.
Why Choose Darker Cabinets?
Darker cabinets are known for being a little more old school, and for being able to serve a function as a focal point. However, they have a drawback of making a home look less spacious than it really is. That's why most people who are happy with darker cabinets tend to have larger kitchens where a compressed look won't be a big deal.
If you're looking for statement cabinetry, then darker cabinets are going to be a great choice. They also carry a nice array of different benefits, including:
Definition. Definition means that you don't have your cabinets looking bland or "washed out" in dimly lit areas.
Drama. The dramatic look of black and mahogany cabinets make them a quick way to add a splash of provocative style to your home. It makes a statement that is hard to ignore.
Opulence. Dark cabinets with uba tuba granite might look dated, but we'd by lying if we said that we didn't understand why it was so popular. It looks rich. You can thank the richness of a good, dark wood finish.
Balancing. If you have too much white and pale colors, your kitchen may look a little bland. To balance everything out, consider getting darker cabinetry.
Stain Hiding. Do you get messy in the kitchen? Maybe you splash food a little bit? If so, you'll love dark cabinets because they can hide stains better.
Why Match Your Cabinet Color To Your Walls?
If you are looking for a unique way to add a little unity to your kitchen design, then you should consider getting cabinets that are just a couple of shades off from your wall colors. This can be hard to do, since there are only so many colors that regular cabinets can come in. You might even need to paint them yourself!
The entire pull of matching your cabinets to your walls is that unity and coordination it offers. This choice is great if you love a heavily-coordinated look that's easy on the eyes. Since you may have to deal with more colors to make this happen, you can expect to get more compliments on your design.
Choosing Your Cabinet Colors
Your cabinet color choices are going to have a huge impact on your overall look, but actually coming to a conclusion doesn't have to be nerve-wracking. These methods can help lead you to the right color palette for your kitchen remodeling project.
Benefits-Based Decisions
The fastest way to figure out what you should do with your cabinets is to look at the perks of each cabinetry style. People who are short on space, for example, often choose lighter colors as a way to give their place a more expansive look. Those who are in the mood for a dramatic and opulent kitchen usually go for darker cabinets. If your primary goal is a unified look, you need to match your cabinet colors.
Seeing A Mockup
Believe it or not, there are now home improvement apps that let you see what your projects will look like once they're completed. If you're a visual person who needs to see it to know which is best, download an app and give each cabinet color a spin. Once you've arranged both color schemes, compare the two images you get side by side and pick the one you feel looks best.
Talk To A Kitchen Designer
If you go into any Home Depot, Lowes, or IKEA, you'll see a nice display where a staff member has a bunch of cabinetry samples. It's usually called a "design center" and will be found in the kitchen area. That area houses workers who understand how to put together a nice kitchen, and who have professional-grade design tools to help them do it. Go there, and ask them for cabinetry advice.
What usually will happen is that they'll show you how each cabinet color scheme will look. You may get pushed to order cabinets from them, but it's important to note that there's no obligation to buy anything. They are literally there as a courtesy, and that makes it a perfect way to get some free advice.
Another option would be to discuss matters with a professional interior designer. However, these guys may actually charge you for their services. So if you are not willing or able to pay extra, don't go for an independent designer.
Popular Kitchen Cabinet Colors You Can Choose From
Don't know what color to go with when you're choosing your kitchen cabinets? No need to worry! We've included some of the colors here as well as some design ideas so you can take your cabinets one step further.
Some of the most popular cabinet colors include:
Blues
Whites
Grays
Natural wood
Two-toned
What you choose will depend on the color theme you have going on in your home, as well as whether or not you're going lighter or darker.
Surface Choices
Along with the color of your cabinets, you will need to choose the type of surface you want. These choices include:
Wood grain
Glossy
Chalk
Matte
Each of these types of trends is expected to last over the next several years. However, even if they go out of style, history always repeats itself! So while the colors and surfaces are up to the latest and greatest style now, if that trend fades, you'll still have a unique style.
Cabinet Design
The color and finish you choose for your cabinets will also depend on the design you have. For instance, people have many different types of designs including:
Open shelves
Open frame
Shaker cabinets
Slab doors
Transitional
Some of these styles will look great with certain colors and finishes, while others won't. For example, the slab doors would be wonderful with a lighter color and glossy finish as it'll compliment the shine that already exists. On the other hand, the open frame style is great for wood grain finishes or natural wood colors.
What it all really comes down to is your preferences. There are so many neat things you can do with your kitchen space, and the coloring of your cabinets to make your kitchen space one of a kind. When in doubt, call an interior designer for suggestions and help!
Do You Need to Hire Cabinet Installers?
Get free, zero-commitment quotes from pro contractors near you.
Our Final Take
If you were hoping to get a cut-and-dry answer about your kitchen cabinet colors, we're sorry to disappoint you. There's no universal answer to this, and the best answer for you will vary depending on the style of your home. So, you're going to have to think about what you want your cabinets to do in terms of aesthetics.
Having a hard time picking by benefits alone is quite common, but you don't need to go that route if you don't want to. You can also use some of the newer interior designs to give your kitchen a digital "test spin" or talk to a cabinetry specialist. Those options will help you get a better visual "beat" on each option presented to you.

Ossiana Tepfenhart
Ossiana Tepfenhart is an expert writer, focusing on interior design and general home tips. Writing is her life, and it's what she does best. Her interests include art and real estate investments.
More by Ossiana Tepfenhart
Published August 9th, 2020 9:51 PM