311 Views
How Much Does Home Depot Charge For Cabinet Installation?
December 19th, 2021 12:11 PM
Share
We're committed to finding, researching, and recommending the best products. We earn commissions from purchases you make using links in our articles. Learn more here
Depending on the style and type of cabinets you wish to buy at Home Depot, prices can vary quite a bit. The 'off-the-shelf' cabinets at Home Depot cost between $69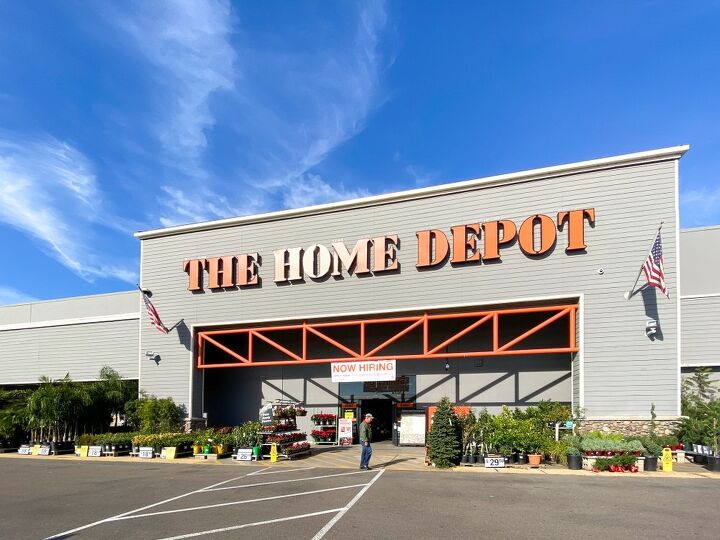 Depending on the style and type of cabinets you wish to buy at Home Depot, prices can vary quite a bit.
The 'off-the-shelf' cabinets at Home Depot cost between $69 and $119 per linear foot ( Source). If you get flat pack cabinets, which require assembly and installation, you might have to spend $150 to $250 additionally on the labor costs.
Home Depot typically charges anywhere between $7,000 and $40,000+ for cabinet installation for any in-stock, semi-custom, or custom cabinets that they carry. The cost depends on the material the cabinets are made of, as well as any customizations, additional fittings, and any accessories you choose to add to your new cabinets.
Furthermore, Home Depot offers a free blueprint of the kitchen cabinets layout after you give them the measurements or let one of their representatives visit your site for measurements. Here is a detailed guide on how Home Depot charges for the installation.
Don't want to do it yourself?
Get free, zero-commitment quotes from cabinet installers near you.
Factors That May Affect The Cost For Cabinet Installation
Several factors can affect your overall cabinet installation budget. Let's go through the primary features that you need to consider:
Number Of Cabinets: With the increase in the number of cabinets, the project's duration increases. That impacts the labor costs of the project.
Disposal/Removal Of Old Cabinets: If the work involves installing new cabinets, you might need to get the old ones disposed of or removed first. Be ready to incur additional costs for dismantling too.
Size Of The Kitchen: Depending upon the size of the cabinet boxes, the installation costs can vary.
Material: The cost of wood varies based on style, characteristics, quality, and availability. You have plenty of options ranging from Maple to Oak to Pine to Cherry for designing the cabinet boxes.
Details: Intricate details like molding and trimming of the cabinets can also impact the installation's overall price. Such processes require detailed work over the various layers, which can incur more labor costs.
Geographic Location: The average price for the installation of kitchen cabinets varies by region you reside in the U.S. If you are living in the Southern areas of the country, the installation costs might be cheaper for you.
On the other hand, Western and Northern areas of the United States have higher installation costs. For example, the complete cabinet installation by Home Depot with midrange components in Titusville, FL, might cost around $18,879. The same installation work with similar hardware and cabinets can rise to $25,820 in San Francisco, CA.
Average Cost For New Cabinet Installation Per Linear Foot
| | | | |
| --- | --- | --- | --- |
| | Stock | Semi-Custom | Custom |
| Material | $50-$200 | $75-$400 | $300-$750 |
| Labor Costs | $50-$100 | $75-$250 | $200-$450 |
| Total Costs | $100-$300 | $150-$650 | $500-$1,200 |
Regardless of the table above, the installation costs vary based on the geographical location of the Home Depot store.
Average Cost For Hanging Kitchen Cabinets
Based on stock or custom cabinets, Home Depot contractors can charge you from $50 to $250 per linear foot for handing kitchen cabinets.
Custom cabinets require more time and effort, so the overall price can increase based on that. The price is included in the total costs.
Average Cost For Cabinet Hardware
Hardware includes handles, hinges, and pulls that attach to cabinet doors. These cost between $2 and $50. This price is also included in the project cost. Just make sure hardware costs are highlighted separately for your reference.
Average Cost For Cabinetry Installation By Kitchen Size
The size of a kitchen, which is based on linear foot measured along the wall or longest size of the countertops, can help in calculating the average costs for the installation. Here is a tablet to show the price.
| | | |
| --- | --- | --- |
| | Square Footage | Total Cost |
| Small Kitchen | 70 sqft | $7,000-$11,000 |
| Average Kitchen | 120 sqft | $12,000-$26,000 |
| Large Kitchen | 200+ sqft | $27,000-$40,000+ |
While the installation costs are not done by square footage rates, it is possible to deduce the complete project cost based on the kitchen size.
Does Home Depot Have A Virtual Design Service?
An excellent feature that Home Depot offers its customers is a one-on-one video or telephonic chat with a professional. There, you can discuss your plans for the cabinet and get better quotes on how you want the installation work to be done.
This free session lasts anywhere between 45 minutes to 1.5 hours. Based on the discussion, the representative will have a better way of providing you with a 3D render or blueprint of the area you want to renovate.
Never miss this free consultation session that they offer, which gives you a better estimate and layout of the cabinetry you have in mind.
How Do You Measure Your Kitchen For Cabinets?
Measuring the kitchen area is required before the installation. You can save that time and effort on the DIY part by calling the local Home Depot store to send an expert to do it for you. The professional will prepare all the measurements for you, along with blueprints.
Importance Of Height In Cabinet Installation
Typically, upper cabinets need to be installed at an altitude between 18 and 20 inches above the countertop.
That way, you will have ample space to place your electrical appliances and backsplash on the kitchen counter. The height distribution is totally up to you based on the unique style and space you have for your kitchen.
How Long Can A Kitchen Cabinet Installation Process Take?
Home Depot usually takes at least a week to install custom or stock cabinets. However, for special-order or custom cabinets, the renovation work can require anywhere between 4 and 12 weeks.
Custom designs require additional time for manufacturing the boxes before the installation. Some models might also require structural kitchen remodeling to fit the cabinets efficiently. This can further incur additional architectural and engineering fees.
Consult your local Home Depot store for more information regarding the remodeling costs for the kitchen area to fit your custom cabinets beforehand.
Don't want to do it yourself?
Get free, zero-commitment quotes from cabinet installers near you.
What Other Costs Should I Consider Besides Cabinets?
Note that a kitchen layout also has plumbing and electrical work is done under the countertops, in the walls, etc.
Here is an overview covering the potential additional costs:
| | |
| --- | --- |
| Task | Costs |
| Electricals | $300+ |
| Drywall Patching | $500+ |
| Plumbing | $650-$800 |
| Painting | $350 |
These costs mentioned above can vary based on the complexity and size of the project. Usually, Home Depot takes care of it in the blueprint for your renovation project.
Furthermore, keep track of the need for any permit acquisition on your part for the installation and assembly work, though the Home Depot professionals possess all the necessary paperwork needed for such work.

Upgraded Home Team
We are a team of passionate homeowners, home improvement pros, and DIY enthusiasts who enjoy sharing home improvement, housekeeping, decorating, and more with other homeowners! Whether you're looking for a step-by-step guide on fixing an appliance or the cost of installing a fence, we've here to help.
More by Upgraded Home Team
Published June 22nd, 2020 2:14 PM