15 Views
What Are The Pros And Cons Of Living In Miami?
April 24th, 2021 4:21 PM
Share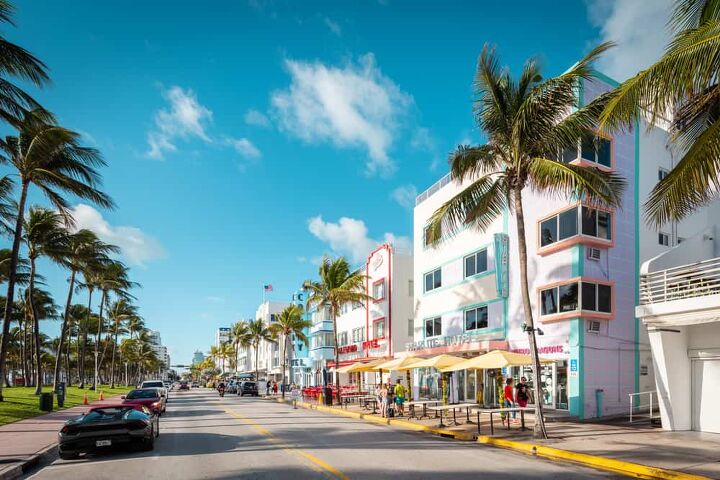 Florida is a retirement and vacation destination, but for many people it quite simply their home. The jewel of Florida is Miami, and its sandy beaches and blue waters draw crowds each year. You won't find any single city like Miami, but what are the pros and cons of living in Miami?
The low tax rates in Miami are a huge selling point, but sadly, housing prices are exorbitant. Public transportation is widespread and strong in Miami but driving a car can be tough due to packed traffic. Miami's many beaches are comfortable and gorgeous, but the great weather also attracts bugs that can be a nuisance.
You won't have trouble finding work in Miami, and the economy is strong. Of course, nowhere is perfect, but Miami tries its best to come close. Follow along as we dive into the pros and cons of living in Miami, Florida.
Do You Need to Hire Movers?
Get free, zero-commitment quotes from pro contractors near you.
Benefits of Living In Miami
Living in Miami can feel like a dream at times, and that's because the city has so much going for it. Low tax rates, strong public transportation, and gorgeous beaches are just some key benefits of living in Miami. Let's take a close look at what makes living in Miami so worth it for the 467,963 residents.
1. Low Tax Rates
The best part of the cost of living in Florida is the low tax rates, and Miami residents benefit from that. You aren't subject to state income tax when you live in Miami, and Florida is one of seven states that can say that. Sales taxes are low in Miami as well, and the current rate is 7% for purchases.
Property tax rates are below the national average in Miami, and you pay 0.97% of assessed home value. The average homeowner in Miami spends $2,610 per year on their property tax payment. That payment may sound high, but that is due to the high value of many homes in the city.
| | |
| --- | --- |
| Tax Rates | Average Rate & Cost |
| State Income Tax | 0% |
| Sales Tax | 7% |
| Property Tax | 0.97% |
| Gasoline Tax | $0.50+ Per Gallon |
| Liquor Tax | $6.50 Per Gallon |
The gasoline tax is high in Miami at just over $0.50 per gallon, but the aforementioned low rates make up for it. Miami residents are lucky to live in a city with such low tax rates, and that's a huge benefit.
2. Beaches
If there's one thing that Miami is known for, it is the wealth of gorgeous beaches available to the public. The beaches look so distinct in Miami because you get the best of the Atlantic and the Caribbean. Whether it be Sunny Isles Beach, Haulover Beach, or Bal Harbour, there is no shortage of unique beaches.
Miami is known for having white sand beaches with blue water to complement them. Perhaps the most famous beach in Miami is Miami Beach, and its boardwalk is iconic. You can't go wrong visiting any one of the many beaches in Miami, as long as you remember your sunscreen.
3. Public Transportation
You can easily get around Miami even if you don't personally own a car. That's because Miami is home to one of Florida's best public transportation systems, and many residents take advantage of it. Miami boasts 1,000 buses that can take you throughout Florida, and that includes cities like Fort Lauderdale.
There is also a light rail system in Miami known as Metrorail that is perfect for morning commuters. Trolleys are also available to the public, and many vacationers visiting Miami use them for the convenience. With over 100 bus routes, you can easily get around Miami no matter where your end destination is.
4. Strong Economy
Miami has a strong economy, and that is due in part to the booming tourist industry in the city. Even without the tourism industry, construction and commercial driving jobs are huge in Miami. When you pile on the tourism with the thriving development industry, there's no shortage of jobs.
Right now, 62.4% of Miami residents are employed, and single residents earn a median of $28,804 per year. That income may not seem high but considering that many jobs are in service and tourism it makes sense. Even low paying jobs in Miami contribute to the overall economy of the city, and the lack of state income tax makes it go further.
Construction is huge in Miami, and there are currently 13,850 residents working in that field. Working in amusement or tourist attractions is huge, and there are 30,250 attendants currently employed. And finally, landscaping work is always needed and a major job in Miami, with 75,590 current jobs filled.
Downsides of Living In Miami
Living in Miami is not always peaches and cream. The high crime rates and brutal traffic can be a major inconvenience for many residents. Now, we will explore some of the downsides of living in Miami.
1. High Crime Rate
Miami is beautiful, but it has its dark side and a big part of that is the high crime rate. Both violence and property crimes are common in Miami and traveling with a group is wise. In Miami, 1 in 162 residents faces a risk of suffering a violent crime, such as assault and robbery.
Theft and burglary are more common and occur at a rate of 1 in 27 in Miami, so keep your doors locked. The safest neighborhood in Miami is Coral Way, and residents experience truly little violence or property crime. Not all neighborhoods are so lucky, however, and places like Gladeview are dangerous for Miami residents.
| | | | |
| --- | --- | --- | --- |
| Location | Violent Crime | Property Crime | Total Crime |
| Miami | 6.16 Per 1,000 | 37.73 Per 1,000 | 43.89 Per 1,000 |
| Fort Lauderdale | 6.42 Per 1,000 | 50.44 Per 1,000 | 56.87 Per 1,000 |
| Orlando | 7.59 Per 1,000 | 50.00 Per 1,000 | 57.59 Per 1,000 |
Miami is significantly more dangerous than the state of Florida as a whole. For example, there are 52 crimes per square mile in Florida and 560 crimes per square mile in Miami. The risk of danger in Miami is not enough to ward people from visiting, just exercise caution.
2. High Housing Prices
You can find affordable houses in Miami, but they are few and far between. The median home value in Miami is $289,600, and that's much higher than the United States average. Monthly homeownership costs average $1,825 per month, and that's due to high mortgage rates in Miami.
Renting an apartment is hardly an affordable alternative due to the average of $1,328 per month. Utilities are high in Miami, and for homeowners, they can cost as much as $600 per month. Compared to places such as Cape Coral and Palm Bay, Miami is one of the most expensive Florida cities.
| | | |
| --- | --- | --- |
| Location | Median Home Value | Median Gross Rent |
| Miami | $289,600 | $1,328 |
| Orlando | $240,000 | $1,196 |
| Cape Coral | $229,400 | $1,244 |
| Palm Bay | $155,200 | $1,059 |
3. Bad Traffic
Miami has a bit of a reputation for its excruciating traffic jams, and it can cause frustration. Part of the cause of the traffic jams is due to the volume of commuters in the city. The large tourism industry plays a big role in Miami traffic as well, and it stays that way all year.
Because the weather is so desirable in Miami, millions of tourists flock there each year in search of beach fun. While tourism bolsters the economy, it also creates even more traffic and makes morning commutes miserable at times.
4. Bugs
Living in paradise isn't always exactly paradise, and Miami residents can thank the bugs for that. The summer is a literal hotbed for bugs and pests that can make living in Miami a chore. Mosquitoes can be brutal, persistent, and all over the place during the summer in Miami.
Look out for spiderwebs in Miami during the summer because they emerge from their slumber and are everywhere. Granted, good landlords and wise homeowners can opt to have their house or apartment sprayed, but that only does so much. According to a study from Orkin, Miami is the 14th worst city in America when it comes to mosquitoes.
Sadly, mosquito season can last over 230 days in Miami, so it's wise to always keep bug spray around. The one bit of good news at the high volume of beetles in Miami helps cut down on other pests.
Do You Need to Hire Movers?
Get free, zero-commitment quotes from pro contractors near you.
Summing It Up
Living in Miami is both a blessing and a curse, but the pros outweigh the cons. Housing prices are high, and that can make paying the bills tough for many. Luckily, the lack of state income tax and low tax rates besides that make up for it in spades.
Driving a car in Miami can cause a headache due to the at times jam-packed traffic on the roads. However, you don't need a car to live in Miami due to the 100 bus routes and convenient light rail system. Unfortunately, crime is rampant in Miami, but neighborhoods such as Coral Way are quite safe compared to Gladeview.
If you choose to move to Miami, be aware of the plague of bugs during the summertime. There is more good than bad in Miami, and that is exemplified by the beautiful scenery. You can live a great quality of life and Miami, and while it is expensive, it is worth it for many.
Related Articles

Nick Durante
Nick Durante is a professional writer with a primary focus on home improvement. When he is not writing about home improvement or taking on projects around the house, he likes to read and create art. He is always looking towards the newest trends in home improvement.
More by Nick Durante
Published January 1st, 2021 6:00 PM