49 Views
What Are The Pros and Cons Of Living In Irvine, CA?
August 3rd, 2021 12:14 PM
Share
We're committed to finding, researching, and recommending the best products. We earn commissions from purchases you make using links in our articles. Learn more here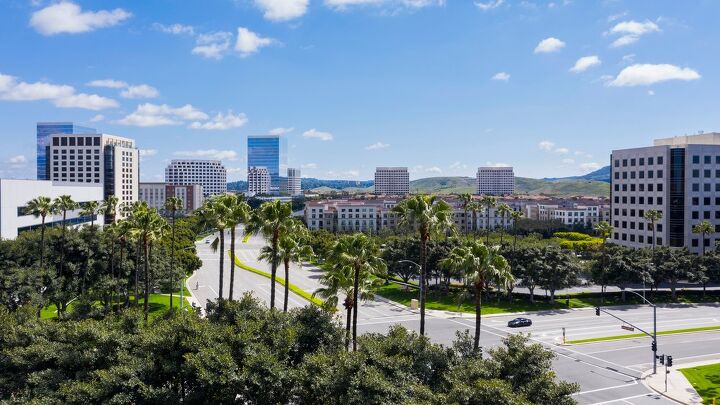 There are many things to love about Irvine, California, and it is many of those same things that make Irvine a great place to live. Before you pack your home and make moving plans though, it is always a good idea to look before you jump. While Irvine has much to offer, like every city, there are pros and cons to living there.
Living in Irvine has many pros like a well above average median income, excellent education programs, and fantastic weather year-round. Also, Irvine is less than ten minutes from the most popular beaches, like Newport and Laguna Beach. Additionally, it is known as a college town, with plenty of recreation and activities like water parks or hiking and camping. On the flip side, the cons include a high cost of living, transportation requirements, and a lack of seasons.
The California lifestyle in addition to its recognition and renown for being one of the safest cities in America makes it easy to sell living in Irvine. Along with that California lifestyle comes the perfect year-round climate, in addition to an abundance of work and career opportunities in this thriving city.
If Irvine is on your shortlist of places to live, then remember to look before you leap. Here is a quick summary of Irvine's pros and cons, so you know what you might be jumping into.
Do You Need to Hire Movers?
Get free, zero-commitment quotes from pro contractors near you.
What Are the Pros of Living in Irvine, California?
Living in a robust, safe, and happy city like Irvine could be the perfect move. Below is a look at some of the pros of living in Irvine and why Irvine could be the right city for you.
One of America's Safest Cities
Irvine, California isn't on the size scale of a metropolis but with more than a quarter-million residents, it isn't a small town either. While offering so many of the perks that come with big city living such as convenience, activities, and opportunity, Irvine also offers one more uncommon benefit.
Irvine has been continually named among the safest cities in the U.S., with a population of 100,000 or more according to FBI data. Renown for its reputation for safety while being a big city is no small feat, and it also makes Irvine a great place to call home.
Families in Irvine enjoy all the advantages and benefits of living in a modern and active city. Families also enjoy these perks without the typical concerns or crime-related fears often associated with cities. This is only one of many reasons why so many call Irvine home today.
Living in one of the safest cities in America also empowers and promotes the freedom to get out and about. Irvine, California also has amazing weather for being and getting out and about, and that leads us to another one of the pros of living in Irvine, California.
Perfect Climate and Conditions
Irvine is in California so the weather is going to be good, to say the least. Irvine, however, might offer the pinnacle of sunny California's best-weather cities. The weather in Irvine offers on an average year more than 280 days of sun. And humidity, forget about it, as the year-round average high is about 73 degrees while the average low is a comfortable 52 degrees.
Winter is another almost forgotten season here as annual snowfall amounts are virtually non-existent. What's more, for this sometimes dubbed one-season city, is all of those aforementioned activities designed to get people outside.
If the weather is something that is a big selling point and high on your priority list, then Irvine has an argument for the top spot. All of this wonderful weather also might mean the temptation to do more work outside. That leads us to our next benefit for living in Irvine, and the pros of the job market.
Find out how much a contractor can ask for upfront in California before you build a home in Irvine.
Strong Employment and Career Opportunities
One of the heaviest factors in weighing the decision to move or where to live must involve employment and career considerations. In this department, Irvine shines. With a considerable number of Fortune 500 companies, a robust economic state, and growth across the board, Irvine has much to offer.
Recent census data reveals that the city has a median household income of $101,667. Add that to statistics like employee numbers, the population, and property value that all show growth, and living in Irvine begins to feel even more inviting.
The jobs to population ratio in Irvine is also very high. That means that people who live in Irvine work, have jobs, and on average make a very comfortable living.
Excellent Educational System
Irvine is not only consistently ranked as having one of the best educational systems in the state, but in the country too. The students of the Irvine school systems traditionally score higher on tests such as the SAT in comparison to other students across the state and the country.
Those considering moving to Irvine with families and children will be proud to hear about the accolades given to Irvine's high schools. The Irvine high school system received the highest possible recognition for K-12 campus programs and has been distinguished as Blue Ribbon Schools.
Healthy Communities
Another pro for living in Irvine is one that may fly under the radar but hasn't gone unnoticed by those in the know. Irvine's communities, in fact, have been recognized on numerous occasions for being one of the healthiest communities in the state and across the country.
That is, no doubt, in large part due to factors such as the influence of Irvine's major college campus and the active lifestyle found in Irvine. In any event, Irvine is reputed for having healthy and vibrant communities across the city, adding one more reason to the list of pros of living in Irvine.
What Are the Cons of Living in Irvine, California?
It is foolish to think that there aren't pros and cons regardless of where you live, even if that is a beautiful place like Irvine. Here are the potential cons of living in Irvine.
Cost of Living
Despite the activities, the entertainment, the great educational and post-secondary educational systems, there is a price to pay for this lifestyle. The cost of living in Irvine is well above the national average, and that needs to be a serious consideration when moving to a new city or state.
Perhaps the good news here is that the annual median income does help to offset the inflated cost of living in Irvine. Those considering moving to Irvine, however, should take heed because, without a good income, Irvine may not be a good move. Fortunately, as it was previously discussed, there is plenty of employment and opportunity in this sunny city too.
Winter Blues
For anyone who is a fan of having a white Christmas- either don't move to Irvine or travel for the Christmas season. The label of Irvine being a one-season city is almost true. Although the vast majority of residents in Irvine come for the weather, and arguably the lack of seasonal change, there are still some people who miss it.
Another flip side to the weather in Irvine is the heat. Yes, the lack of humidity is wonderful, yet it doesn't mean that hot isn't hot. During the peak of the Summer season, don't be too surprised to find yourself sweating out a couple of hot days or staying inside in the air conditioning to avoid them.
It might be a good thing the weather is typically wonderful in Irvine though because sometimes getting from point A to point B can take some time. That leads to another con to living in Irvine.
Lack of Convenience
For what it's worth, getting around in Irvine isn't always necessarily convenient. While this big city often feels like a small town, when residents need to go to the store, fill up the tank, or go out to get something, they are reminded that Irvine is still a big city.
Unfortunately, getting virtually anywhere in Irvine (other than the neighbor's house) will likely require getting into your vehicle to drive there. The silver lining here is that Irvine is a beautiful city and the weather is always nice for a drive.
Do You Need to Hire Movers?
Get free, zero-commitment quotes from pro contractors near you.
---
Related Questions
What Is the Healthcare System Like in Irvine, California?
In a pleasant surprise, and despite its high cost of living, Irvine has very competitive healthcare costs. That is in addition to providing top-notch healthcare services, like most systems in America. Irvine outpaces most of the entire state when it comes to healthcare rankings.That is only another pleasant surprise for those who are considering moving to Irvine. Nobody wants to go to the doctor or to the hospital, but it is nice to know that you are getting the best care at the best rate when you do.
Does Irvine Offer a Good Nightlife?
With the combination of weather, the influence of the Cal Irvine campus, and the affluent lifestyle provided by Irvine, this thriving city stays up late. With many after-hours venues, coffee shops, bars, clubs, and other adult establishments, Irvine doesn't lack having a nightlife or something to do when the sun goes down.
Related Articles

Upgraded Home Team
We are a team of passionate homeowners, home improvement pros, and DIY enthusiasts who enjoy sharing home improvement, housekeeping, decorating, and more with other homeowners! Whether you're looking for a step-by-step guide on fixing an appliance or the cost of installing a fence, we've here to help.
More by Upgraded Home Team
Published June 24th, 2021 1:17 PM