2.1K Views
How Much Does Instacart Cost? (Membership, Fees, Tips & More)
January 13th, 2022 5:34 PM
Share
We're committed to finding, researching, and recommending the best products. We earn commissions from purchases you make using links in our articles. Learn more here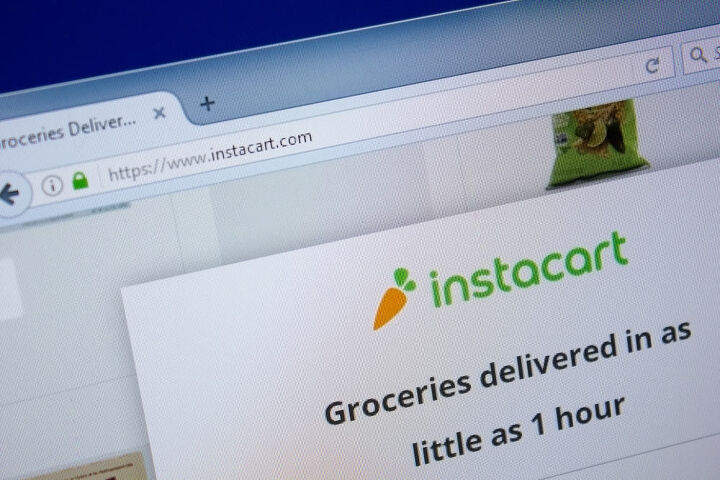 With COVID-19 scaring everyone and more people than ever working from home, it's not surprising that services like Instacart are hitting the forefront. Instacart allows you to get groceries delivered from the grocery store straight to your door. It's convenient, sure, but it's also notoriously pricey. How much does it really cost?
It costs $8.49 in delivery fees when you order through Instacart, on average. Instacart costs an average of 20% more than if you buy your groceries from the store. You are also subject to state and local sales tax and, while not required, an average 10% tip is encouraged for the service.
Instacart has a strong reputation for being overpriced. Whether or not it's appropriate for your budget is up to you to decide, so we decided to write a bit about it.
How Does Instacart Work?
With Instacart, you can shop from local grocery stores in your area online or through their app. After you make a purchase, Instacart sends a "personal shopper" to fulfill and then deliver your order to your location on the same day. Unlike alternative grocery delivery services, this company does not have fresh produce stocked in a warehouse. Instead, they partner with major grocery stores and will shop at these locations in your area.
Shoppers can order from more than 300 retailers, including Kroger, Costco, Walmart, Sam's Club, Target, and even Best Buy. You make your selections online or in their app at the store(s) of choice and then the order is sent to one of Instacart's part time employees. The personal shopper goes to the store, picks up all the items on your list, and then drives it to your home in their own vehicle. Instacart is essentially the Uber of grocery delivery!
Instacart Charges and Fees
The fees that you get with Instacart orders will change depending on your membership as well as when/where you order. Here's what most people will be able to expect:
Service Fee. Service fees are meant to help Instacart run the HR portion of their work, including background tests and insuring drivers.
Delivery Fee. This varies from being free to being fairly pricey depending on your current situation and the time you want your delivery.
The Food. This is usually above market value, despite the "coupons" available.
Tips. Instacart doesn't pay its drivers very well, so you are encouraged to give them at least a 5 percent tip.
Taxes. If you have special state-specific taxes, these will be added to your fees.
A Better Look At Instacart's Pricing
Instacart typically has a plethora of fees attached to every single price tag. It adds up pretty quickly, especially if you are a big tipper. We made a chart to explain what you should expect from a standard run.
| | |
| --- | --- |
| Fee | Price |
| Food From Store | Store Price + Up to 15% or More |
| Delivery Fee | $3.99 to $12.99, free for orders over $35 if you have an annual membership |
| Service Fee | 5% to 10% of Store Price |
| Tax | Equivalent of State Tax |
| Tip | 0% to 20% of Total |
When we say that the prices add up, we mean it. And what makes it more expensive is the fact that a tip is basically expected, even if you have a small order.
How Much Do You Tip Instacart Shoppers?
Instacart isn't exactly known for raking in the tips, especially when the general price for delivery already tends to have $10 or more slapped onto the base price. Unfortunately, this can spell financial calamity for the drivers. The bulk of drivers' fees are obtained from the tips they get, rather than the delivery fee or service fee.
Your Instacart driver keeps 100 percent of the tips they have. Since Instacart is more expensive than other services, there's a little bit of contention when it comes to tipping. Rather than the typical 15 to 20 percent you would tip for a restaurant meal, the general expectation for driver tips is only 5 percent of your bill.
With that said, drivers often feel shortchanged considering the labor they do. It's better to err on the more generous side.
Are Instacart Prices Higher Than In-Store?
We're not going to mince words: the short answer is yes. Instacart actually adds a special disclaimer to their ordering cart that states that the prices they post may be higher than what you find in store. Anecdotally, most of the wares they offer will be the same price or higher than what you'd get in person. It's one of the ways Instacart makes money, and it's an unapologetic part of their business model.
The markup changes depending on the area and the retailer. One study in 2016 showed that Instacart has a 23 percent markup on typical items, while others have seen markups as little as 3 percent per item. Either way, you should expect to pay more across the board for your Insta-food.
Are Instacart Prices Higher Than Other Providers?
It depends on your zoning and whether you're an Instacart member. For the most part, the markup that you can expect from Instacart is marginally higher than most others, including from Shipt. Amazon doesn't have a markup, but may have higher delivery fees. While Insta is slightly higher, almost every single grocery delivery service will have a similar pricing model.
Why Are Instacart Prices Higher?
For the most part, Instacart has not come forth with a reason for the "Instacard price gouging" debacle. Sometimes, it's assumed to be a way to help recover the high costs of running the service. Other times, it's ascribed to paying the shoppers (though that isn't entirely true), while even more times, it's just a matter of turning a higher profit.
The truth is that Instacart gouges their prices because they can. It's their service, and it's run under their terms. There is enough of a demand for it to remain profitable for them to do so. So, why wouldn't they?
Does Instacart Have Coupons?
Here's the interesting thing about Instacart: the service has platform-specific coupons from time to time. You can usually get them by going to the "sale" section of the store you're ordering from. The problem with the coupons is that they are rarely ever truly cost-effective. Most of the time, they reduce the price to a level similar to store pricing.
Though the coupons tend to suck, there is a silver lining. Many cashback apps like Ibotta will give you 1 percent cash back on all money you spend on groceries through the platform. This can help alleviate the high price of Instacart, though it won't eliminate it entirely.
Understanding Instacart's Membership
Instacart has an annual membership program that you can buy, and it's meant to help people save money on delivery fees. With that said, this is not a membership that is really worth it unless you do a lot of Instacarting. Let's get into it a little more, shall we?
How Much Does Instacart's Membership Cost?
How much you'll pay over the course of a year depends on how you pay for it. People who choose an annual flat-rate fee will only have to pay $99 per year, putting it on the same level as Instacart's competitor, Shipt. On the other hand, if you choose the monthly fee, you will have to pay $9.99 per month, bumping the fee total to $119.88 per year.
The biggest perk is that members are able to save money on delivery fees. Whenever you order a bunch of groceries over the price of $35, you get your delivery fees waived or greatly reduced. Delivery fees can add up pretty quickly, considering that the price of the delivery fee alone can be as much as $7.99 or more in select cities.
While getting the delivery fees waived can add up to major savings, Instacart still increases the price of groceries and a service fee still applies regardless of membership. So while the savings can add up, the truth is that most people will still feel serious pain in the wallet.
An Example Of How Much You'd Pay With Instacart Versus Going To The Store
In order to explain how much you should expect to pay, we're going to take a typical grocery load for each scenario, and then add up the basics in a chart. As you can see, you will notice a serious uptick in grocery bills if you use this service.
| | | |
| --- | --- | --- |
| Product/Fee Cost | Grocery Price | Instacart Price |
| Groceries valued at $35 | $35 | $43.05 (23 percent markup) |
| Delivery Fee | $0 | $5.99 (not a member) |
| Service Fee | $0 | $2.16 (5 percent of grocery total) |
| Tip | $0 | $2.16 (5 percent of grocery total) |
| Total | $35 | $53.36 |
What Is Instacart's Grocery Selection Like?
If you're like me, you happen to be very particular about which brands you are willing to buy. This is where a lot of Instacart buyers might find the service falling short. While Instacart has a slew of good groceries and offers many of the biggest brands on the market, they do not have the same selection as a standard grocery store would.
People who are fans of "indie" brands, or who have a very specific item they *need* in their bag might find themselves out of luck. This is particularly true when the item in question is an imported brand or if it's a very regional-specific item. (Looking at you, Moxie soda!)
What Are Instacart's Partner Stores?
Here's the cool thing about Instacart: they have a lot of partners on both a local and national level. Chances are that you have at least one or two partner stores near you. Some of the more popular partner stores that Instacart has includes:
Shoprite
Stop And Shop
CVS
Kroger
Costco
BJ's Wholesale
Sam's Club
Wegmans
Aldi
Why Doesn't Instacart Partner With Whole Foods?
Whole Foods is one of the most popular grocery stores in America right now, but that doesn't mean it's going to be a shoo-in for Instacart. In the past, Whole Foods used to be available on Instacart. However, Amazon (Whole Foods' parent company) recently began their own Prime grocery delivery service.
In order to decrease the competition from competitors, Amazon decided to sever the contracts they had with Whole Foods. If you want to get delivery from Whole Foods, you have to go exclusively through Amazon to do so.
Do You Need A Costco Membership To Order From Instacart?
You might've noticed that both Costco and BJ's allow people to order from their stores via Instacart. This is unusual, since both stores are known for being a paid membership type of deal. Though they are both traditionally members-only, if you order from them via Instacart, you can enjoy their wares without needing a membership.
With that said, there are some perks to ordering from Instacart with your BJ's or Costco membership. Members get the added advantage of having additional discounts and getting other members-only deals. Some items can only be bought from these stores if you have a membership, too.
Instacart Competitors To Consider
Instacart is pricey, but they aren't the only choice. There are similar options that you can pursue. Some of them might be marginally cheaper, others might be more expensive. This is a quick run-through of the basics:
Shipt. Shipt is most commonly known as the place you go to get stuff from Target delivered to your home. They also do a number of other stores like HEB and Costco, and are said to be slightly less expensive than Instacart.
Amazon. If you want to have Whole Foods for dinner, you will need to order from Amazon. Prices are the same as they are in store, which makes it far more affordable than most other grocery delivery services out there.
Postmates. Uber-owned Postmates is a slightly more "indie" brand, but don't let that fool you. They deliver groceries, pet supplies, and restaurant foods. This makes it a reliable one-stop-shop.
Store-Specific Services. Many groceries now offer their own brand of home grocery delivery, most often ordered via a website or app. It's best to inquire at the store to find out ahead of time.
How Much Does Instacart Pay?
How much an Instacart shopper makes all depends on where the shopper is and how much they work. Most statistics suggest that you can expect anywhere from $7 to $20 per hour, with $11 and $13 per hour being cited as the most common pay rates. Unlike rideshare apps like Uber, Instacart never really guarantees a set income for its drivers.
As far as income goes, Instacart is one of the shakier options. While there are no guarantees, many people use it as a side job as a way to ensure they make a little extra cash.
---
Related Questions
How do I waive my fee with Instacart?
Back in 2018, you were able to waive Instacart's 10% "Service Fee" by opting out of it online. However, this is no longer possible. Instacart now charges a 5% service fee, with a minimum of $2 and it cannot be waived.
How much does Instacart cost per month?
Without a membership, Instacart is free – albeit the charges and fees that they take on. The Instacart Express membership, however, is $9.99 per month for the monthly membership or $99 annual for their yearly membership. If you elect to pay the full annual price upfront, you'll save about $20 per year.

Ossiana Tepfenhart
Ossiana Tepfenhart is an expert writer, focusing on interior design and general home tips. Writing is her life, and it's what she does best. Her interests include art and real estate investments.
More by Ossiana Tepfenhart
Published March 9th, 2021 7:46 AM