234 Views
Predator Generator 3500 Review: Is It Really Powerful Enough?
January 24th, 2022 11:18 AM
Share
We're committed to finding, researching, and recommending the best products. We earn commissions from purchases you make using links in our articles. Learn more here
If you've ever needed to gain power from a generator, then you already know that the type of generator you get will make all the difference in the world. Predator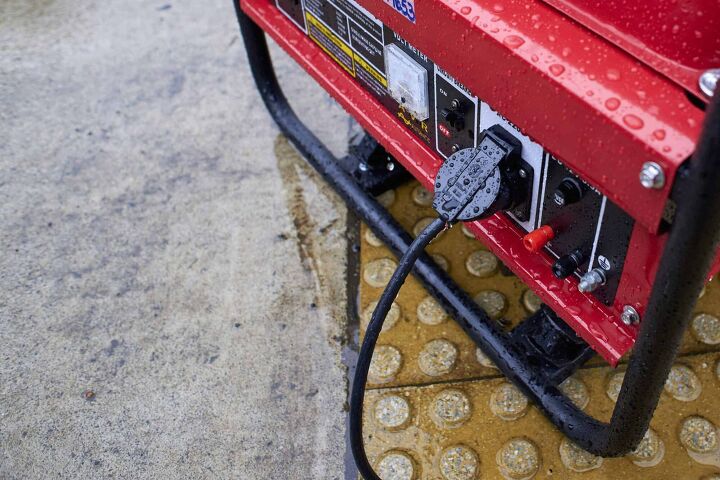 If you've ever needed to gain power from a generator, then you already know that the type of generator you get will make all the difference in the world.
Predator has been one of the most popular generator brands in recent years, and their 3500 model remains one of their top-selling choices to this day. Are you wondering whether the hubbub surrounding this generator is worth it?
The Predator 3500 is an inverter generator that is made to be super quiet. It's capable of lasting for as long as 11 hours and is touted as being the perfect choice for RVing, camping, outdoor concerts, as well as emergency setups. If you are looking for a quality generator, this is it.
Predator's name precedes itself. It's a brand that countless people feel safe relying on, and each model seems to have its own ideal uses. Let's talk about what this generator can do for you.
The Predator 3500: The Specs
212cc air-cooled OHV gas engine, hassle free electric start for quick and easy starting
11 hour run-time at 25% capacity
Digital LCD screen with low oil, overload and output light indicators
Integrated smooth-rolling casters for portability, electronic overload protection
(2) 120VAC grounded outlets, (1) 120VAC twist lock outlet, (1) dc-12v two Pin outlet
When buying a generator, you need to keep a close eye on the specifications. Otherwise, you will end up having a generator that doesn't provide enough power for the task that you want to accomplish. Here's what you need to know as far as the basic specs:
11 Hour Running Time. When completely fueled, you will get a maximum output of 11 hours at 25 percent load. If you go for maximum amps use, then you can expect around seven to eight hours of continuous use.
212 OHV Gas Engine. The engine is air-cooled to ensure that you don't have an overheated generator mid-task. This means you can expect to use 20 ounces of oil per run.
Two 120VAC Grounded Outlets, One 120VAC Twist Outlet,  1 DC 12-V Two Pin Outlet. This gives you a wide range of different outlets to choose from.
99.2 Pound Weight. This makes it relatively easy to push, since it has wheels on the bottom.
30 Amp RV Adapter. Most people use the Predator 3500 for their RV needs, and rightfully so.
ESC Throttle Switch. This gives you better fuel efficiency without the hassle.
3500 Starting Watts, 3000 Running Watts. This means you'll have ample power throughout the day.
Electric Start. Rather than deal with a pull-cord trigger, all you need to start this generator is push a button. It's just that simple!
How Much Energy Does The Predator 3500 Put Out?
The amount of energy that you get from the Predator 3500 will vary based on your oil use as well as the mode you put it on. A typical generator run will give you around 25 amps of power. This is enough to help run a 15,000 BTU RV air conditioner without any issue, so it's safe to say it packs a powerful punch.
What Kind Of Warranty Does The Predator 3500 Come With?
The Predator 3500 comes with two main guarantees. The company guarantees that its emissions controls will remain functional for two years. Their overall material and part workmanship guarantee, however, only lasts for 90 days.
Is The Predator 3500 Actually Quiet?
The Predator 3500 is meant to be an ultra-quiet model suitable for use at outdoor parties without raising the ire of partiers. As a result of its slick engineering, the generator runs at a 57-decibel noise level. For a reference, this puts the 3500 on the same noise level as a dishwasher or moderate rainfall.
Does The Predator 3500 Come With Any Safety Gear?
Though there's definitely an assumption that you should know what you're doing when operating a generator, Predator still makes a point of bringing in safety. The 3500 comes with the following safety features and perks:
Automatic Low Oil Shutoff.  This prevents your generator from overheating and burning out.
LCD Stats Screen. The screen makes your generator's current state clear as day. It is easy as pie to read and includes a low oil, overload, and output light.
Inverter Generator. Having an inverter will lead to cleaner energy, which means less smoke or gas inhalation.
How Much Does The Predator 3500 Cost?
Compared to other generators of its kind, the 3500 is definitely more on the expensive side. Depending on where you go, you can expect the Predator 3500 to be around $1225, though some retailers may sell them for around $900 to $1000. Most people agree that the Predator 3500 is well worth the price tag, simply because it's so rare to find a generator that is that quiet.
What Is The Predator 3500 Best Used For?
If you were hoping to use the Predator 3500 in a construction zone, you might want to rethink that. Though it can be used for minor projects, this is mostly a light to moderate use generator. This means that you can use this for:
Camping. Using it to fire up a grill or add some light to your camping area is great.
RVing/Tailgating. This is generally used as a travel generator and is a popular choice for RV owners as well as fans of tailgating parties.
Outdoor DJing. If you are looking to throw a party outside but won't have a way to get an extension cord to your home, then a generator will be mandatory. The Predator 3500 is quiet enough to avoid overpowering the music and still provides enough power.
Emergency Power. Worried about having a power outage? The Predator 3500 is approved as a tool for emergency power generation.
Is The Predator 3500 Worth It?
If you're looking for the gold standard of portable power generators, and need to find a generator that is ideal for trips and casual use, then the Predator 3500 is worth it. When compared to other generators of its kind, the Predator 3500 offers a level of efficiency, ease, and reliability that few others have.
This is the type of generator that can act as your "rock" when it comes to energy supplying. Needless to say, it is a great pick if you're looking for a generator that will last. No matter how you look at it, the Predator 3500 is a great purchase. That's why most who have one agree it's worth every penny.
---
Related Questions
Is it safe to run a portable generator inside a house?
Due to the fumes that generators create during their gas-burning process, it's not a good idea to use a portable generator inside a building. It can lead to carbon monoxide poisoning as well as smoke inhalation. To keep things safe, make sure to use your generator a minimum of 15 feet away from your home.
Can I just turn on a generator while the appliances are attached?
While it may seem like an easy task that won't cause harm, turning on a generator while appliances are plugged into it is a bad idea. This can lead to electrocution as well as appliance burnout. Always turn on the generator first, then plug in your appliances next. Your home safety, as well as the appliances that you own, will thank you.
Can I plug in my generator into an outlet?
This is a terrible idea, and it's actually illegal in most parts of the country. Plugging a generator into an outlet can cause short-circuits and turn your home into a major fire hazard. The biggest risk is the potential for back feeding a power line. If a utility worker has to repair a backed power line, they run the risk of getting killed by the electrical current.

Ossiana Tepfenhart
Ossiana Tepfenhart is an expert writer, focusing on interior design and general home tips. Writing is her life, and it's what she does best. Her interests include art and real estate investments.
More by Ossiana Tepfenhart
Published September 3rd, 2020 7:41 AM