718 Views
Menard's Truck Rental Cost (All the Rates + Competitor Pricing)
January 6th, 2022 4:37 PM
Share
We're committed to finding, researching, and recommending the best products. We earn commissions from purchases you make using links in our articles. Learn more here
Renting a truck is often a necessary part of completing projects or transporting materials. Menards is one of the most popular places to rent a truck, and $18.95 can get you one for 75 minutes. Whether it be how much time you rent it for or your mileage, let's take a look at how much it costs to rent a truck at Menards.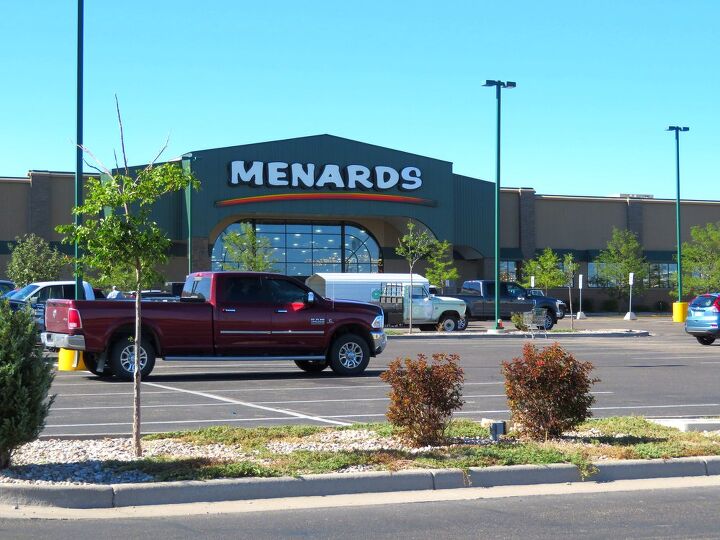 There are many reasons that people rent trucks from Menards. Sometimes, a truck is just what you need to haul a new purchase back home. At least, if you want to haul it home yourself at your own convenience.
Similar to Lowe's and Home Depot, Menards offers affordable truck rentals. While their Ford 150 pick-up truck won't be enough to move an entire 2-bedroom apartment, it's certainly ideal to bring home several large furniture or appliance purchases.
Renting a truck at Menards (8′ truck bed) will cost $18.95 for the first 75 minutes. After the initial 75 minutes, it'll cost you an additional $5 for every 15 minutes. Each mile that you put on the truck is an additional 40 cents. A daily rate is about $89.99, and a 7-day rental will cost about $649.99.
At some Menards locations, you can rent the truck for a full 24 hours for just $89.99. That is a great option if you have a project that takes all day, or if you have to move something long distance.
Let's take a look at how Menard's truck rental process works.
How Does It Work?
Renting a truck at Menards is easy. Whether you need the truck for a few hours or all day long, it is a great alternative to renting a big truck at Budget or Penske truck rentals.
The scale begins at $18.95 which covers the first 75 minutes of rental time. From there, you are charged another $5.00 for every 15 minutes after that. Gas mileage is a great deal as well and you are charged 30 cents per mile.
So long as you return it before the store hours end, there is no time limit. Unless of course, you do the $89.99 24 hour truck rental. Unlike similar services that require you to pay for the day, Menards does not impose a daily rental fee unless you choose it.
When you go to make the rental, Menards requires a $50 deposit. That is common with just about any rental service. So long as you return the rental truck in great shape, you will get that deposit upon returning it.
Menard's Truck Rental Rates
| | |
| --- | --- |
| Truck Size | 8' pickup |
| Base Price | $18.95 for 75 minutes |
| Daily Price | $89.99 |
| Additional Fees | $5 per additional 15 minutes after 75 minutes |
| Mileage Cost | $0.40 per mile |
Note: Truck rentals from Menard's requires a $50 refundable deposit upon pickup.
Much like renting anything, there are certain stipulations that Menards has before you can leave with a truck. You must be 21 years old to rent a truck at Menards.
Who Can Rent a Truck At Menards?
When you go to rent a truck you must show your I.D. If you are 21 and your I.D is current and valid, you must provide a credit card or debit card.
Perhaps more important than all is the proof of insurance you must show. Menards doesn't want you leaving the lot with their truck unless they know you have proper insurance. As long as you can present your policy number, the company, and any related dates, you qualify to rent a truck.
As you can see, the criteria for renting a truck at Menards is not quite limiting. In fact, Menards provides hand controls for customers that may need to use them to operate a vehicle. Not all rental services are able to provide that, and that makes Menards inclusive.
Many people rent trucks at Menards simply so that they can easily transport their purchases. Whether it be a grill or a new push mower, it can almost certainly fit in the 8' truck bed.Menard's Truck Rental Rates vs. Competitors
Menard's Truck Rental Rates vs. Competitors
| | | | | | |
| --- | --- | --- | --- | --- | --- |
| Store | Truck Type | Base Price | Daily Price | Fees | Mileage Cost |
| Menard's | 8' pickup | $18.95/75 min | $89.99 | $50 refundable deposit | $0.40/mile |
| Uhaul | 8' pickup | $19.95 flat rate | $19.95 | $11 collision coverage | $0.99/mile |
| Home Depot | 8' flatbed | $19/75 min | $129 | $150 deposit with card only | Unlimited |
| Lowes | 8' pickup | $19/90 min | $89 | None | Unlimited |
Note: Both Menards and Home Depot charge an additional $5 for every 15-minute window after their base price time windows. Menards rounds up to the nearest quarter-hour.
What Kind of a Truck Can I Expect?
Certain Menards stores carry different makes and models of trucks. Depending on the Menards that you go to, you may get one truck or another.
What stays the same, however, is the quality. Menards earned its reputation for providing high-quality rental vehicles such as trucks and vans. Typically speaking, their trucks come with an 8' bed.
An 8' bed is plenty of space to haul large objects and utilities, or a big load of many items. In fact, many people rent trucks from Menards for the purpose of moving.
That is a great idea considering the rate that they offer compared to renting a U-Haul. Depending on the size of the house or apartment, using a truck to help move can be more cost-effective.
Save Big with Menard's Truck Rental
Of course, the obvious reason to rent a truck from Menards is to haul home goods. After all, that is something that they advertise. However, many money-savvy movers realized it can save big on cutting out other moving costs.
Renting a truck from Menards for a small move is cheaper than renting a U-Haul or even a sprinter van. Not only that, but it is simpler. Considering that a Menards truck rental comes with 75 minutes and is relatively cheap after that, it is a great deal.
With that in mind, think about what you need the truck for and how much you are hauling. If the haul or move will take only a few hours, renting from Menards is a great option. In the event it is an all-day haul, it may be more effective to rent a U-Haul or other truck service.
There are a few options beyond the hour by hour rentals due back before closing time, such as:
$89.99 all-day rental
$649.99 weekly rental
$2,699.99 monthly rental
Each Menards location may vary in rental offerings. Check with your local Menards store to see about rates depending on how long you need the truck for. If you are only going around the corner to drop something off, you'll only spend less than $20.
Factors to Consider Before Renting a Truck
Before you go to Menards to rent a truck for your own purposes, there are a few things to consider.
How long do you need it? Consider how long you need the truck for. Depending on the amount of hours/days, it could be pricey or cheap. Also, not all Menards will allow rentals over 24 hours, so be sure to check in advance.
What do you need it for? Are you transporting equipment, helping a friend move or moving yourself? If you are making a small move, a few trips with a truck from Menards may do the trick. A few loads with a Menards truck can take a few hours and depending on mileage, could be low cost.
What are you going to haul? If you are hauling something from the store, your rate may not even go beyond 75 minutes. In that case, that is a cheap rental. The truck bed is typically 8' which is enough to haul big loads.
Keep those few points in mind. If you consider those factors, it can help determine how cost-effective a Menards truck rental is for you. Similar to renting a truck at Lowes, it varies from case to case.
Don't forget to return to truck in the shape you rented it in so you will get the deposit back. Determine your own uses for the truck and compare it to alternative like Budget or U-Haul. If it is more ideal for you than a costly, more cumbersome truck, you have found a great solution.
Is It Worth it to Rent a Truck at Menard's?
For many customers, renting a truck from Menards is worth it. You could spend anywhere from roughly $20 to $90 and get a few hours to a day of use. In the event of short trips, it is even more worth it because you won't have to extend the rental time much, if at all.
Whether you are moving apartments, bringing home gear, or helping a friend, Menards offers a cheap truck rental solution. Unless you need a bigger truck for bigger items, trucks offered by Menards usually do the trick due to the 8' bed.
If you don't have a trailer or truck of your own, the option of renting one cheaply and quickly is appealing. Don't forget to return it in great shape and get that $50 deposit back. Happy hauling.
Related Guides

Upgraded Home Team
We are a team of passionate homeowners, home improvement pros, and DIY enthusiasts who enjoy sharing home improvement, housekeeping, decorating, and more with other homeowners! Whether you're looking for a step-by-step guide on fixing an appliance or the cost of installing a fence, we've here to help.
More by Upgraded Home Team
Published June 22nd, 2020 5:31 PM