138 Views
How To Repair Peeling Stain On Wood Stained Kitchen Cabinets
August 24th, 2021 3:58 PM
Share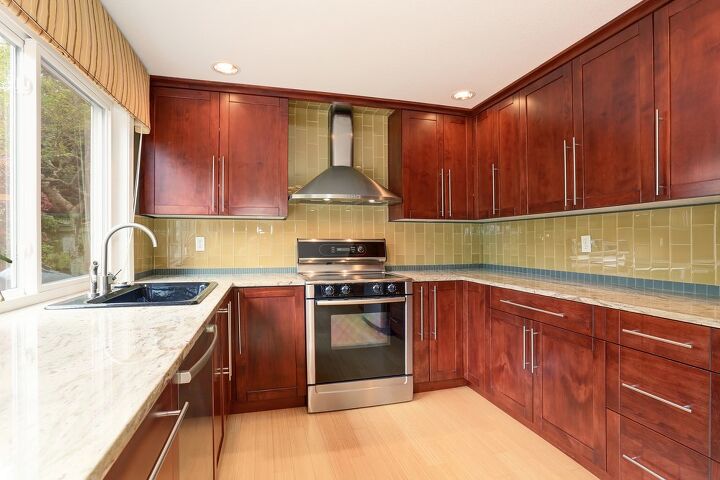 Wood stained cabinets are beautiful and popular in many kitchens. However, they can be damaged by many things such as harsh chemicals, water damage, and just common use. Also, it could be that they were not stained correctly in the first place. For example, using the wrong finish, improper preparation, or using a colored finish over the stain can all be culprits.
Repairing your wood stained kitchen cabinets can be done by spot repair or by stripping and refinishing. It depends on what type of finish was used in the first place, what type of wood you have, and where and what the damage is.
Whether you are an experienced painter, wood refinisher, or a DIYer looking for something to do, repairing your cabinets may be a simple job. It may take about an hour or it could be a major accomplishment that takes several days.
Do You Need to Hire a Cabinet Refinishing Contractor?
Get free, zero-commitment quotes from pro contractors near you.
Removing the Doors
Before you clean or do anything, you need to remove the doors, drawer fronts, and any type of hardware. All you need is a screwdriver. You may also need to remove whatever shelving you have in your cabinets if they need repairing as well.
Cleaning
The first step to repairing those cabinets after removing the doors and drawer fronts, is cleaning. Old cabinets can end up with a lot of grime, grease, and dirt over the years. Your new stain or paint will not adhere to greasy or dirty surfaces.
Many people suggest that you use trisodium phosphate mixed with water. However, others claim it is better to use mineral spirits. Once they are dry, you need to sand the cabinets again with fine sandpaper.
Use a soft rag to get rid of all the dust. Then apply a varnish with polyurethane tinted to whichever color you want. Just doing these steps may fix the problem with one coat.
The Easiest and Most Common Fix
Fixing your wood stained cabinets depends on what you are working with and how much you want to do. These are the most common steps to take for a spot job:
Find out what type of material you are working with
Wipe down all of the cabinets and doors with a damp cloth
Allow it to dry for several hours
Use 200-grit sandpaper to buff away any scratches, dings, or dents
Apply a cabinet stain marker to the small flaws
Fill in any larger dings and dents with wood putty
Sand with 200-grit sandpaper
Apply a new coat of stain to the surface
Cover it with a polyurethane coating
Preparation
Filling in the small dings, cracks, or holes with a good wood filler will help make your cabinets look smooth and new again. Whether you are just fixing one spot or the whole set of cabinets, you should fix whatever dings you can before starting.
First, sand the cabinets with fine sandpaper to get rid of the peeling. Then you should roughen up the stained exteriors. Doing this will provide a better surface for the paint or stain to stick to.
Primer or No Primer?
Apply primer to your cabinet doors and drawer fronts if you plan on painting them rather than using stain. Make sure you sand the cabinets again with the same fine sandpaper and be sure to wipe off any dust.
You do not have to apply any primer if you are using stain. But you should use a furniture marker to cover any of the areas that need it. If the peeling area is small enough, you may be able to just use the marker and then stain over it.
Small Areas
If you just have one or two small areas to fix, try using the above methods first to see if that works well enough. It may not be necessary to redo the entire cabinet door if there is just one area.
Sometimes, the problem with doing spot fixes or just redoing one door is the difference compared to the other cabinets. For example, if you fix an area with a marker and some stain, you may have to do the whole door.
And if you do one door, sometimes you have to do all of them. It depends on how small the spot is and how accurately you can get the stain color. If it sticks out like a sore thumb, restaining all of the cabinet fronts may be the only choice.
Restaining All of the Cabinet Fronts
If all of your cabinets have peeling spots or if the spot you fixed stands out, you will have to take all of the cabinet doors off and redo them.
Now is the time to choose whether you want to use paint or stain. If you are just doing the fronts, you should stick with whatever the rest of the cabinets look like. If not, you may as well just paint the whole cabinet system.
Painting Your Cabinets
The first thing to do is to remove as much of the old stain and finish as you can with paint stripper. Then, using a sharp paint scraper, remove any areas that still have spots of finish on them.
Choose a color that will improve your kitchen décor. It really just depends on what you have in your kitchen and what style you like. There are different colors for various styles.
Sage is a good color for a farmhouse style kitchen.
Glossy black is a more contemporary design.
Weathered white can give your kitchen a cottage-style look.
Red is a nice choice for a country kitchen
Yellow is bold and bright for a fun kitchen
Tan or gray are fine for a traditional kitchen
No matter what color you choose, try using one of the online paint visualizers so you can see what it is going to look like first. You will need two coats of paint and a protective coating like polyurethane.
Staining Your Cabinets
To bring out the natural wood look of your cabinets, try a protective all-in-one stain with an added polyurethane finish. Be sure to choose a color that goes well with your furniture and other items in the room, including the floor.
Make sure you brush the stain on in smooth and even strokes. Do not use too much stain at once or it will leave drip marks. Use two thin coats for the best results.
Thinking About Refacing?
Refacing is like giving the front of the cabinets and drawers a new skin. All you have to do is remove all the doors, drawer fronts, and hardware and adhere the skins to the wood.
Refacing is usually done with a natural wood veneer. However, sometimes it is done with rigid thermofoil, which is a product made with melamine. Most often, the front is done with veneer while the sides are done with laminate.
Do You Need to Hire a Cabinet Refinishing Contractor?
Get free, zero-commitment quotes from pro contractors near you.
Advantages and Disadvantages of Refacing
Whether your kitchen is a good choice for refacing depends on several things. Here are the advantages and disadvantages of refacing.
Advantages
It is much more affordable to reface your cabinets
Refacing takes much less time than stripping and restaining
There are many different styles to choose from
Veneering can be more difficult than staining or painting
The layout stays the same
Wood veneers may need staining and varnishing as well
Whatever you choose, always be sure to clean and prepare your cabinets first. Skipping the cleaning step can be a costly and time-consuming mistake. Take the extra few minutes to do a good cleaning job or you may end up having to redo the whole process.

Patricia Oelze
I am a DIYer who loves writing about anything home-related. When I am not writing, you can find me studying for my PhD in Psychology, photographing nature, and swimming at the lake with my grandkids.
More by Patricia Oelze
Published July 21st, 2020 6:37 PM