265 Views
How Much Does It Cost to Replace a Furnace Circuit Board?
August 25th, 2021 1:38 PM
Share
We're committed to finding, researching, and recommending the best products. We earn commissions from purchases you make using links in our articles. Learn more here
One of the top questions asked on house-improvement forums is how much furnace repair will cost. More precisely, how much would it cost to replace a furnace circuit board. The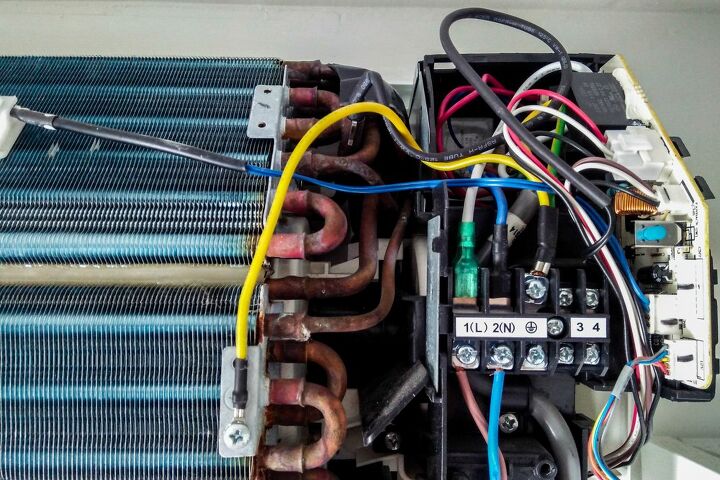 One of the top questions asked on house-improvement forums is how much furnace repair will cost. More precisely, how much would it cost to replace a furnace circuit board.
The average furnace circuit board replacement cost is $700. Homeowners can spend $50 on a circuit board, $80 on a furnace inspection, $25 per hour on HVAC technicians, and $500 in total labor costs. Tuning can cost another $120 if the circuit board isn't working properly but doesn't need to be replaced yet.
Do You Need Furnace or Heating System Repair?
Get free, zero-commitment quotes from pro contractors near you.
What is a Furnace Circuit Board?
What exactly is a furnace circuit board?
A furnace circuit board is similar to a computer's circuit board. It's the "brain" of the appliance. Therefore, it controls everything from the sequence functions are supposed to be performed with, to the most fundamental elements like what temperature the furnace is working at.
So think about how much your furnace was running during the past winter. When the circuit board was constantly performing tasks that required a lot of "brain activities," at some point, it would malfunction or even completely fail.
Reasons a Furnace Circuit Board Fails
There are many different reasons as to why the circuit board malfunctions or even fails.
The most common reason is having a dirty furnace. Debris and dust can cause blockage and clogging, and eventually lead to overheating. A dirty fuse can also lead to a breakdown.
Another reason could be that a fuse replaced before was not the right fit. As time went by, that would lead to a major breakdown in the board.
Signs Your Board Is Failing
Most control boards have warning lights. If the red light comes on, you know it's time to call a technician.
Another good sign is if your heater begins to float between temperatures. That kind of fluctuation and instability typically suggests that something is wrong with the brain of the machine.
Upfront Cost
The first and foremost cost associated with furnace circuit boards is the inspection.
A furnace inspection with default tune-up service typically costs $80 – $85, while a simple inspection without any calibration would be much cheaper.
If you have reached the point where the furnace's circuit board needs to be replaced, an inspection is most likely the time you will hear that confirmation from an HVAC technician.
Types Of Furnace Circuit Boards
If your circuit board does need to be replaced, then it's important to know the different types of options in the market. You can get boards anywhere, including Amazon. So the tricky part comes down to getting the right type of board.
In general, there are two types of furnace control boards for gas heaters.
Type A: Simple Ignition Control
These boards only have a simple control. They are often found in older units, and usually aren't energy efficient at all.
For that exact reason, simple ignition control boards usually only cost around $50.
Type B: Integrated Furnace Control
These control boards can understand and perform much more complicated tasks, such as heating sequences and programs.
Since they handle additional duties, the pricing for an integrated furnace control board can go up to as high as $600+.
How to Find the Right Circuit Board
How do you find out what type of furnace circuit board you need? The easiest way is to look up the make, model and year of your furnace.
Most major brands have extensive guides on what type of control board is used in each model. Meanwhile, you can always ask a technician during one of your regular furnace inspection sessions.
Finding the Right Technician: What to Look For
The second part of cost related to replacing a furnace circuit board comes from labor and skill. In other words, who you hire to do the job.
There are a few good things to look into before you hire a technician.
NATE certification
The North American Technician Excellence (NATE) certification is the largest and most recognized certification for HVAC technicians.
When you are looking for something as major as replacing the control board of your furnace, wouldn't you want to find the best person to do it?
OSHA-certified
Sometimes accidents happen, and you certainly wouldn't want to deal with that mess. Finding an OSHA-certified technician meaning finding an individual or a company that understands safety regulations and has gone through proper training.
Service Area
Some companies offer services to a wide area, however would upcharge for mileage if you are beyond a certain distance. It is always a good idea to look into those finer prints before making a decision.
Cost of HVAC Technicians
Most technicians charge by the hours and it usually falls between $20 per hour to $30 per hour. However, if you are hiring the technician from a company, you will be looking at a much higher hourly rate.
However, hiring from an official company means more insurance, less risk and better aftercare. So if you do have the funds, it's better to hire someone official, instead of some random person you ran across in the streets.
Time to Make a Decision
In conclusion, you are looking at an upfront inspection cost, without tuning, of somewhere around $120 if you haven't got one done already.
If the inspector tells you the furnace circuit board needs to be replaced, then your expense on purchasing the replacement is 100% decided by the make, model and year of your furnace.
Roughly, it can be as low as $50, or easily go $200 above on most newer models and brands, whereas a replacement circuit board for heavier-duty furnaces can go over $500.
On top of that, you are looking at a technician cost of $500 to start, and it may be as high as $900 depending on what service you are getting.
Do You Need Furnace or Heating System Repair?
Get free, zero-commitment quotes from pro contractors near you.
What Really Matters
Of course, there are always ways to save. At one point you may feel comfortable enough to complete the whole replacement by yourself even. However, there is one thing for sure:
When it comes to a key appliance such as your furnace, you want to make sure it is not only done right but done securely so you can enjoy a warm and safe winter without any concerns.

Xiao Faria Da Cunha
With a deep passion for content and creative writing, Xiao Faria da Cunha finds a strong sense of accomplishment in creating quality home guides that resonate with homeowners. When not writing, you can find Xiao creating art masterpieces.
More by Xiao Faria Da Cunha
Published June 26th, 2020 5:07 PM