346 Views
ReliaBilt Door Review: Possibly The Best Patio Sliding Doors?
August 24th, 2021 5:58 PM
Share
We're committed to finding, researching, and recommending the best products. We earn commissions from purchases you make using links in our articles. Learn more here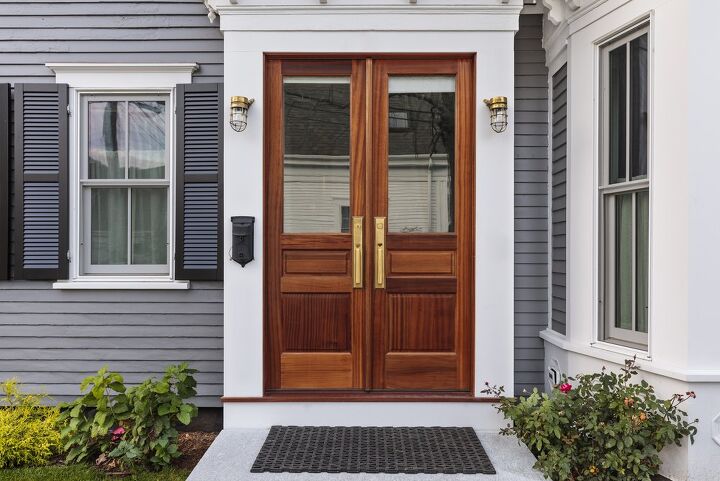 Choosing the right door for your home can be tough with all of the options out there. For many homeowners looking for a door that is cost-effective and sturdy can be a challenge. However, the ReliaBilt door provides sturdiness while being cost-effective, as well as many other benefits. With a wide selection available, you're sure to find something that fits your needs perfectly.
ReliaBilt Doors are sold exclusively through Lowe's, which accounts for their reasonable price. Two different manufacturers make the doors themselves: Jeld Wen and Masonite Inc. Both of these manufacturer's aim to maintain customer satisfaction by creating the doors from high-quality materials. This ensures the sturdiness of the doors at an affordable price.
This article will take you through the ins and outs of ReliaBilt Doors and all that they have to offer. That way, you learn about them before deciding whether or not you want to purchase one. We'll let you know if the ReliaBilt brand is all that it claims to be.
Do You Need Sliding Door Installation Services?
Get free, zero-commitment quotes from pro contractors near you.
ReliaBilt Doors: Quality At An Affordable Price
There is an endless variety of ReliaBilt Doors available. However, the interior doors produced by Masonite Inc make up the majority of the vast selection with hundreds of options. Many people choose ReliaBilt Doors because of the price, quality, and ease of installation. ReliaBilt Doors are ready to be installed right when you get one.
You can find a Reliabilt door to fit any interior, and they come in many styles and models, such as:
Sliding glass patio doors
Fiberglass entry doors
Steel entry doors
Bifold doors
If you are looking for a door leading from outside to inside your home, the Jeld Wen entry doors are what you need. Interior ReliaBilt Doors, however, are made by Masonite Inc. Both manufacturers maintain a high quality, and because of Lowe's distribution, they stay affordable.
Interior Doors
Doors make as much of a difference on the interior of your house as a paint job does. They are mostly just functional, but some of the ReliaBilt interior doors available are also stylish. You can find more than 5,000 interior ReliaBilt Doors. Look at the Reliabilt Hollow Interior Slab, for example. It adds a classic look to your interior with the old school six-panel design.
Hollow Interior Slab
The Hollow Interior Slab may only be $40, but it does not sacrifice quality for a reasonable price. In fact, it is exceptionally durable and designed to fend off shrinking, chipping, or bending. With 30" x 80" dimensions, it is also suitable for many doorways. Much like other ReliaBilt Doors, installation is easy as well. Besides getting and installing locks, the door itself is ready for installation as soon as you get it.
Santa Fe Primed Composite Door Slab
Another great interior offering from ReliaBilt is the Santa Fe Primed 2-Panel Round Top Plank Hollow Core Molded Composite Slab Door. The door's unique Santa Fe style design adds a distinct look to the interior of your house. The Santa Fe 2-panel door comes with a primed finish that can be painted over to match the room.
Entry Doors
ReliaBilt Doors also produces entry doors that are just as effective. The main difference between their entry and interior doors is that their entry doors are sturdier. Many of their entry doors are made of primed steel. Look at the Right-Hand Inswing Primed Steel Prehung Entry Door with Insulating Core, for example. The door is 36" x 80" and made of sturdy, primed steel. Because the door has an insulated core, it helps to keep the cold or heat out of your house.
Insulated Cores
Insulated cores can save you big on bills by not having to run the AC in the summer as much. That and the weatherstripping at the frame keep this door sealed, dependable, and dry. It comes ready for a lockset to be installed, and all of the ReliaBilt entry doors are ideal for extreme weather, seasonal changes, and humidity.
You can choose between right and left varieties for almost every one of their doors. Their Inswing Fiberglass Entry Door with Insulating Core is another durable entry door. Much like steel, fiberglass keeps outdoor noise out and protects your house from drafts coming in.
Decorative Entry Doors
The decorative entry doors that ReliaBilt offers are just as sturdy as their regular doors but with extra craftsmanship. ReliaBilt's Spotlights 1/4 Lite Textured Glass Right-Hand Primed Fiberglass Double Entry Door is a perfect example. The decorative double entry door measures 64"x80 and has an elegant, modern look. Its core is insulated with polyurethane foam that keeps noise and humidity out. Each side of the double doors has a vertical strip of textured glass that makes it unique.
Full Lite Selections
ReliaBilt Doors does not sacrifice style for quality with any of its decorative entry doors. They look elegant and add style to your home, but they are just as sturdy and insulated as any of their other doors. You can also brighten your home up naturally with some of ReliaBilt's decorative entry doors. Their Full Lite Grills Between The Glass Inswing Modern White Painted Fiberglass Prehung Entry Door lets the sun into your home.
The ReliaBilt Doors Full Lite selections are made out of strong fiberglass. You can save on energy by filling your house with natural light. There are light grills on the door itself as well as the sidelight installation.
RelaBilt Provides Endless Options
For homeowners looking for high-quality doors of all kinds that don't break the bank, ReliaBilt has an abundance to choose from. You can even get a ReliaBilt garage door produced by Amarr made of durable steel or wood. Whether it be a patio, French, interior, or exterior doors, each ReliaBilt door model comes with options. Additionally, most ReliaBilt doors come with the option for right or left-handed. That is a huge help and does not limit your options.
Inswing And Outswing Options
You can also choose between inswing and outswing doors. Options such as those are great because they give you more freedom for your own home. Considering how affordable ReliaBilt doors are, they are a great option when building a new home or renovating.
Save Money When You Choose ReliaBilt
Essentially, ReliaBilt Doors have something for everybody, given the variety of doors that they offer. Because they are energy efficient, ReliaBilt doors can save you more money than just the low cost of the door.
In fact, purchasing ReliaBilt doors can get you a 30% tax credit because they meet the EPA guidelines for energy efficiency. So long as you see Energy Star in the description for a ReliaBilt Door, it can even save you on taxes.
Where You Can Find Them
Finding ReliaBilt Doors is as easy as going to your local Lowe's. You can also easily find them on the Lowe's website and cycle through the countless varieties of doors. Whether the ReliaBilt door you are looking at was built by Amarr, Masonite Inc, or Jeld Wen, it will be durable and easy to get your hands on.
Why Should You Choose ReliaBilt?
ReliaBilt Doors are an excellent choice for many reasons:
They are energy efficient
You get a tax credit from the purchase
Wide variety of choices and selections
Affordability is obtainable without sacrificing quality
Insulated core
Several decorative options
Easy installation
Possibly the best thing about ReliaBilt doors is that they are incredibly durable. All of them are made of steel, fiberglass, or wood of the highest quality. Doors are not just a transition between rooms or in or out of your house; they should make you feel safe. Luckily, ReliaBilt Doors are so durable and insulated that they make the home feel more secure.
Cost Of ReliaBilt Doors
The prices of the different ReliaBilt doors, depending on the type and series you are purchasing. Left-handed special made doors tend to cost a bit more than the standard door; however, the price is still very low compared to others on the market. However, in any case, you can expect to pay anywhere between $50 and $225 for one of their doors.
---
Related Questions
Are ReliaBilt doors any good?
ReliaBilt doors are created with durable materials so that you can ensure you have a secure and sturdy door at an affordable price. This brand is excellent when it comes to low-cost and quality. You get excellent value for your money.
Where are Jeld Wen doors made?
JELD-WEN creates a white range of doors and windows. Their head office is located in Charlotte, North Carolina; however, they distribute their products to different Lowe's locations all over the USA.
Do You Need Sliding Door Installation Services?
Get free, zero-commitment quotes from pro contractors near you.
What Did We Learn?
ReliaBilt doors are affordable, high quality, energy-efficient, and easy to install. Even those who don't consider themselves handy can install a ReliaBilt door using the exact instructions each one comes with. With that said, some people may not be comfortable installing a ReliaBilt door on their own and will opt to hire someone.
Even with the installation cost, a ReliaBilt Door's overall cost is less than alternatives like Home Depot or Mastercraft. They are called Reliabilt Doors for a reason; you can count on them.

Upgraded Home Team
We are a team of passionate homeowners, home improvement pros, and DIY enthusiasts who enjoy sharing home improvement, housekeeping, decorating, and more with other homeowners! Whether you're looking for a step-by-step guide on fixing an appliance or the cost of installing a fence, we've here to help.
More by Upgraded Home Team
Published June 24th, 2020 4:30 PM