213 Views
Designer Tips To Create A Cohesive Home
October 6th, 2023 7:18 AM
Share
We're committed to finding, researching, and recommending the best products. We earn commissions from purchases you make using links in our articles. Learn more here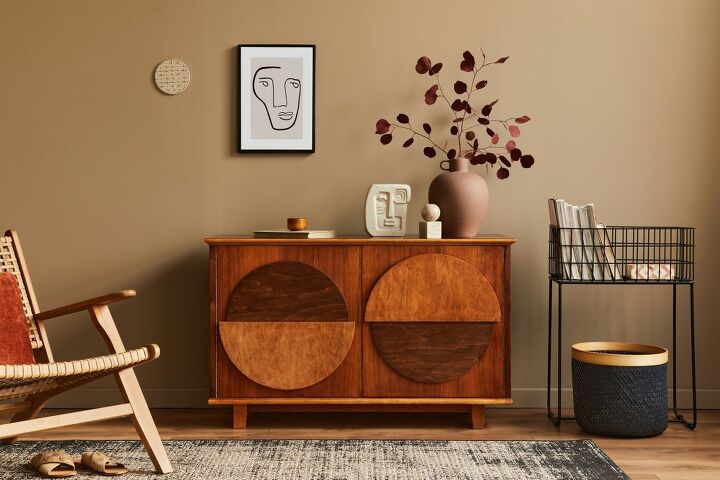 Have you ever walked into a house and immediately felt like you were in five different places at once? The kitchen has a completely different style than the living room. The bedrooms all have a unique theme, and the bathrooms seem stuck in another era. These are hallmarks of a disjointed design style, so what's the best way to make your home feel cohesive?
Using similar colors, patterns, and finishes throughout your home is an easy way to create a cohesive look. Keep trim, doors, doorknobs, electrical covers, and metallics the same in each room. Create a color story for your whole home instead of using different elements in each space. Know your style and let your design reflect it without making rooms overly themed.
Are you ready to bring your design style together under one roof? (Your roof.) It's time to get that cohesive look you've been dreaming of using these simple, effective tips.
Easy Ways To Make Your Home Feel Cohesive
Maybe you're trying to bring a more cohesive feel to your current home or you're designing a new space. Either way, these tips make it easy to achieve a look that flows beautifully from one room to the next, no matter what your current style situation.
1. Narrow Down Your Style
Before making any changes or designing your space, take time to get to know your style. Do you love the modern organic look or do you lean more toward Japandi? Does the rustic, farmhouse look make you cringe, or does all-white everything give you the chills?
It's essential to narrow down your style to know where your design needs to go. If you're unsure, gather inspiration and ideas from photographs, your closet, and friends' homes that you love. These are all ways to gather clues as to what your design style is.
2. Be Consistent With Colors
There's no need to paint every room the same color to create a cohesive home. However, it is vital to use a similar color story throughout the house. Therefore, you may use various shades and tints of one to three colors, depending on what your overall color scheme is.
And this concept doesn't just apply to choosing paint colors. It's also for the colors you use in furniture, flooring, decor, artwork, window treatments, and other accessories. The colors you use should repeat in each space in some way.
3. Paint All The Trim And Doors The Same
An easy way to bring a sense of cohesiveness to your home is to paint or stain all of your doors and trim work the same. An exception to this would be if you opt to paint trim the same color as your walls (a trick designers use to add height to a room and add visual space).
But, if you decide to do this, consider matching the trim to the walls in every room. Don't do it in one room, then paint it white in the bedroom, and stain it mahogany in the kitchen. Be consistent with what you do with your doors and trim.
4. Repeat Patterns Throughout The Home
Repetition is a great way to build cohesiveness, and you can do this easily with patterns. If there are a few patterns you love, repeat them in each space. For example, if you love stripes, you may use striped curtains in the family room, a striped runner in the kitchen, and striped wallpaper in the bedroom.
Or maybe the throw pillows on the sofa feature a polka-dot pattern and you use a fun polka-dot paint technique in the kid's playroom. The idea is to repeat similar patterns and concepts throughout each space to marry them instead of using a different pattern in every room.
5. Use Similar Metallics
Similar to repeating patterns, it's also important to be consistent with metallic finishes on hardware, light fixtures, and other areas. Mixing metals is okay when it's done with intention, but it's still best to keep it to two or three options, max.
But whatever metallics you choose, they should all show up in various spaces. In other words, don't put brushed nickel in the kitchen, black in the bathrooms, and rose gold in the home office. If these are the metallics you love, make sure they show up somehow in each space.
6. Avoid Themed Rooms
Themed rooms might work for nurseries and kids' rooms, but those are the only places they should be if your goal is a cohesive home. Even then, avoiding overly themed rooms is a better option if you're striving for more flow in your design.
Be careful with certain design styles that can teeter on the brink of turning into a themed space if you get too literal. For example, the coastal style is beautiful, but can easily get too beachy when you start adding seashells and sand everywhere. Or it can drift too nautical if you add ships' wheels and anchors.
7. Choose Accessories, Artwork, And Other Items Carefully
When choosing decor for your space, be intentional and curate pieces that make sense with pieces in other rooms. If you love to work with fresh greenery, don't add it in a couple of places then use fake flowers elsewhere.
Hanging family photos is a popular choice for many homeowners, but not if you only hang it in one spot and nowhere else. Do you have an original piece of art that you adore? Great! But if it's the only one in your whole house, it's time to source a few more pieces to display in other rooms.
8. Skip The Matched Furniture Sets
Buying a full, matched set of furniture off the showroom floor definitely guarantees the pieces go together. But it doesn't give you an opportunity to let your home's design reflect your style and personality. It also limits what you can do in the rest of your house.
Don't settle for all matching, mass-produced pieces. Instead, open the doors to a wider world of design possibilities. Mix and match various pieces from furniture stores, thrift shops, grandma's attic, etc.
9. Don't Add Things That Don't Fit Your Home's Design
Once you know your style, only use items in your design that support it. This means that sometimes you'll need to return a well-intentioned gift or hand-me-down.
It may mean Great Aunt Esther's tea service needs to go to another family member or find its way to a vintage boutique for someone else to enjoy. Don't force items into your home that don't fit the look (physically or aesthetically).
When you try and squeeze things in that don't work with the design, it shows. These things stand out like a bright red beacon.
You'll always feel like something isn't right. You try to fix it by adding other things, repainting, or rearranging furniture. But the problem is this out-of-place piece that simply doesn't belong.
10. Use The Same Doorknobs
A simple way to keep a cohesive design in the home is to use the same doorknobs. Choose knobs that work with your style and have similar finishes to other finishes you're using in the home. Then, place them on every door in the house, including closets.
11. Use The Same Color Outlet Covers And Switchplates
Go through your home and make sure you have the same style and color switchplates and outlet covers in every room. If you have a newly built home, the odds are good the builder used all the same plates. But pre-existing homes often have a smorgasbord of covers, from ivory to white to ones painted over to match the walls.
12. Keep Flooring The Same Throughout The House
Using the same flooring throughout your house is a popular way to make it feel more cohesive. If it isn't practical for you to do so, at least concentrate on using the same flooring in any rooms that connect to each other. (For example, a kitchen that flows directly into a dining area and great room.)
A Cohesive Home Looks And Feels Peaceful And Beautiful
If your home feels like it's missing something, it may just be a matter of mistaken identity. It's not sure what style it's supposed to be. Luckily, you don't need to move, you just need to make some changes to create a design that makes sense.
When your home features a cohesive design throughout, it looks and feels calm and beautiful. You'll get that designer look you crave, and it doesn't need to cost a ton of money or take you months to get there.
Be intentional with your design choices, make sure everything you choose fits your vision for your home, and stick to your style. The result is a home that looks and feels polished, sophisticated, and like it was made for you (because it was).
Related Guides:

Stacy Randall
Stacy Randall is a wife, mother, and freelance writer from NOLA that has always had a love for DIY projects, home organization, and making spaces beautiful. Together with her husband, she has been spending the last several years lovingly renovating her grandparent's former home, making it their own and learning a lot about life along the way.
More by Stacy Randall
Published October 6th, 2023 7:18 AM