2.1K Views
12' X 32' Lofted Barn Cabin Floor Plans
August 27th, 2021 5:30 PM
Share
We're committed to finding, researching, and recommending the best products. We earn commissions from purchases you make using links in our articles. Learn more here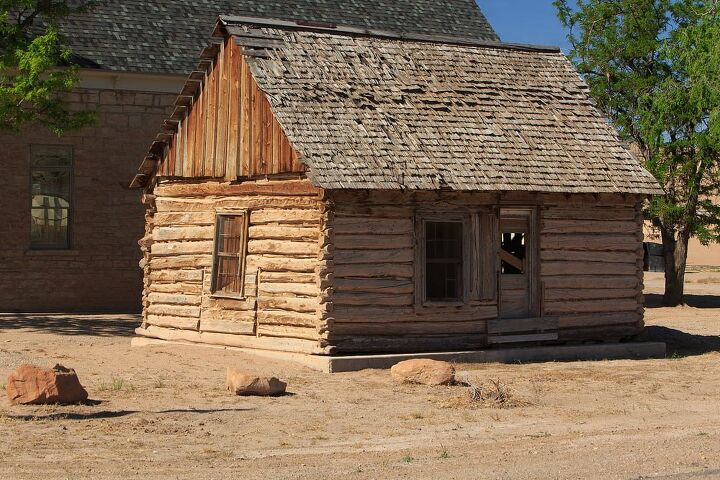 Whether in the mountains, on a picturesque lake, or in the woods, there's something undeniably magical about a cabin. It offers you a respite from the hustle and bustle of city life and a place to make lasting memories. The best thing about a cabin is it can be as simple or grand as you want to make it.
Cabin retreats that offer the perfect place for weekend getaways, family vacations, or just relaxing don't need to be huge. Some of the coziest and most creative cabins are less than 600 square feet. A 12' x 32' lofted barn cabin can provide you with between 500 and 600 sqft of living space.
When it comes to partaking in cabin life, you don't need a lot of interior space. After all, you have the entire great outdoors to explore and enjoy. But that doesn't mean you can't enjoy a few creature comforts while you're getting in touch with your inner nature-lover.
Do You Need to Hire an Architect or a Builder?
Get free, zero-commitment quotes from pro contractors near you.
What Is a Lofted Barn Cabin?
Barn-style cabins offer incredible, high ceilings that open up numerous possibilities for adding extra space. For example, you can place a loft across one half of the cabin or two smaller lofts on either side. You can even create corner lofts, double lofts (depending on your ceiling height), and wrap-around lofts.
Lofted barn cabins feature a gambrel roof, which is what gives the cabin its classic barn appearance. Typical roof heights for these kinds of cabins are 13 ½ feet. On the interior, the wall height is usually 6 ½ feet.
Remember, the height of the ceilings and the shape of the roof provide plenty of headroom despite this wall height. Of course, underneath the lofts, you would only have 6 ½ feet. However, there are also lofted barn cabins with 15-foot roofs and a wall height below the loft of 8 feet.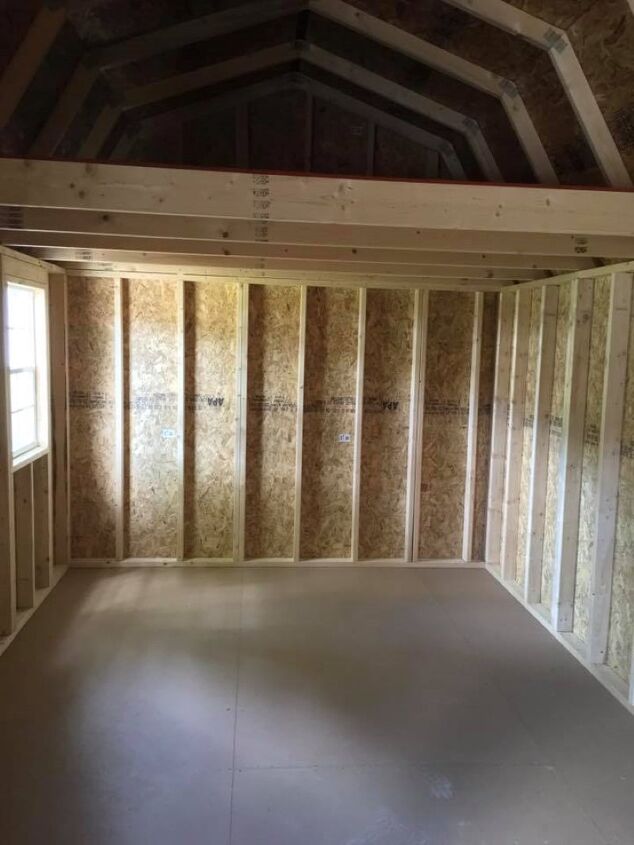 What Are the Essentials in a 12′ x 32′ Lofted Barn Cabin?
Determining what you need in your cabin all depends on how you plan to use it. For example, if it's a place for large family getaway reunions, you'll want plenty of places for people to sleep. On the other hand, if it's a retreat for you and your partner, you can create some bonus spaces.
However, no matter what you plan to use your cabin for, you'll need a few basics.
A Place to Sleep
With a 12' x 32' lofted barn cabin, you get more space than you might expect. You have just shy of 384 square feet on your lower level once you account for framing materials, etc. This is adequate space to fit a shared kitchen/dining/living area and a separate bedroom and bathroom.
Then, of course, you have the loft space, which you can use for additional sleeping areas if needed. Your loft space could add as little as an extra 45 square feet to more than 100 square feet.
If your cabin needs to sleep many people, you could even incorporate a sleeper sofa or futon into the living room. Bunk beds are another excellent option for doubling up your sleeping space. Additionally, a murphy bed can provide extra sleep space when needed, without taking up floor space when you don't.
A Place to Cook and Eat
Your kitchen and dining area can be as minimal or sophisticated as you want them to be. If you're not a cooking fan and only need to prepare simple meals, you could opt for a simpler kitchen. For you, having more space for a living area or adding a library nook might be more important.
However, if you're a gourmet cook and don't want to compromise meals when you're in the great outdoors, go big. You can put a full kitchen in your cabin and have a smaller living room area.
If you want an open floor plan and large kitchen, you can utilize the whole lower level for these spaces. Then, your loft spaces could become your bedrooms. The point is, you have lots of options, so choose what works the best for you.
Everything Else You Need in a 12′ x 32′ Lofted Barn Cabin
Base the rest of your cabin essentials on your preferences and lifestyle. For example, for you, a bathroom inside might be non-negotiable. But, for others they don't even have running water in their cabins and are content to use an outhouse.
If you don't want to go that rustic, a 12' x 32' space provides enough room to incorporate a small bathroom. If you plan on hosting multiple people, you might consider having one full bath and a half bath.
Storage is another must, but how much or little depends on the stuff you plan to keep in your cabin. Of course, the fewer things you try to cram into less than 600 square feet, the better.
Using multipurpose furniture and creative spaces, like hidden cubbies under the floor and cabinets, can maximize your storage efforts.
If you don't need a lot of sleeping space, you might opt for a shallower loft that's just for storage.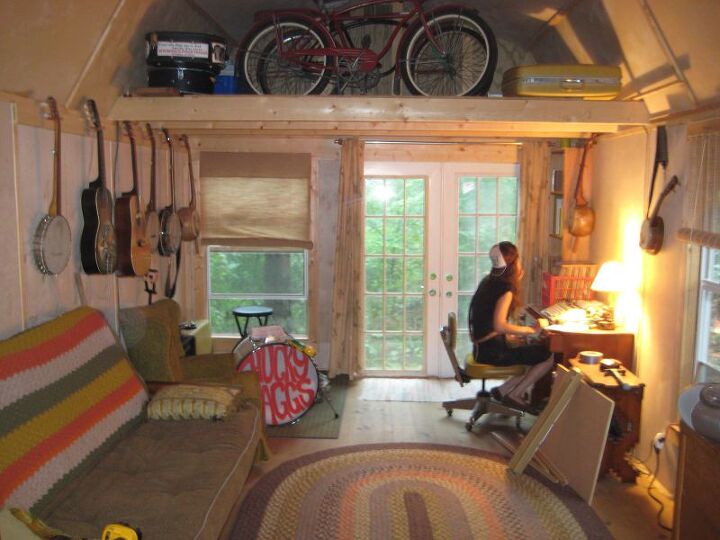 Another item on the list may or may not be a laundry area. Depending on the utilities available to you in your cabin's location, you might not even be able to have one. If you do, though, opt for taking up the smallest footprint possible with a stackable or all-in-one unit.
How Should You Plan Your Layout for a 12' x 32' Lofted Barn Cabin?
The layout of a 12' x 32' cabin will look vastly different from person to person. After all, people can use their cabins for multiple things. Therefore, the first step in planning your layout is to determine the primary use of your cabin.
For example, will it be a secluded writer's retreat? A place for family camping adventures? Or, perhaps a base camp for hunting and fishing excursions?
Once you know the answer to this all-important question, you can better plan an effective layout. You can also consider things like how many lofts you need and if you want a porch or two. Plus, think about what, if any, utility services are available to you.
Start with your non-negotiable items and work from there. That way, in the end, you know you have your absolute musts.
Possible Layouts for a 12′ x 32′ Cabin
You have quite a few layouts to play with in a 12' x 32' lofted barn cabin. The height of the space allows for a lot of creativity with lofts and adding extra square footage.
12' x 32' Cabin with Double Corner Lofts
This lofted barn cabin features double lofts that wrap around the corners. One loft sits over the porch and is for storage. The other loft serves as a bedroom and extra storage area.
In this plan, the builders use every bit of space, placing storage beneath the steps leading to the loft. In addition, a folding, portable table allows the living room to convert easily to a dining area.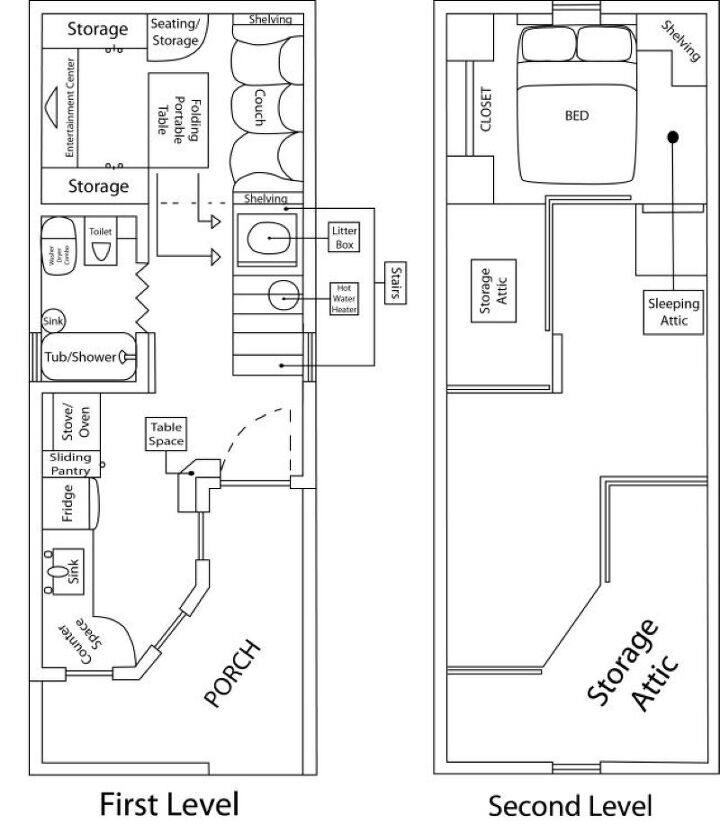 12' x 32' Lofted Barn Cabin with One Bedroom
If you'd prefer a lower-level bedroom (good for those with mobility issues), opt to use lofts for storage. Then, split your lower level between a bedroom and bathroom and your kitchen/living area.
Bathroom Beneath the Loft
Since you'll end up with limited headspace beneath a loft, consider placing the bathroom below. You don't often need to stand in the bathroom, nor do you spend too much time in there (hopefully). Plus, even when showering, you likely only do it once a day.
Therefore, positioning the bathroom under the loft frees up headroom in other areas.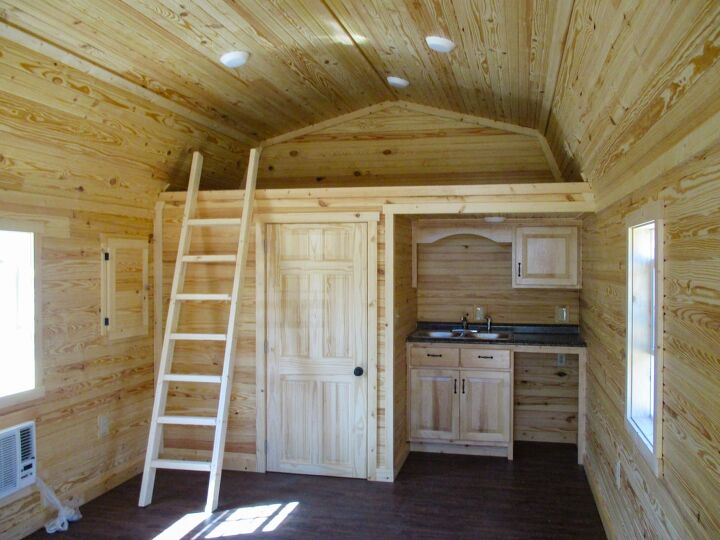 Do You Need to Hire an Architect or a Builder?
Get free, zero-commitment quotes from pro contractors near you.
---
Related Questions
Roughly how much does a 12′ x 32′ cabin cost?
A lot of factors come together to determine the price for a 12' x 32' cabin. First, where will you build it? Second, will you build it yourself or hire a company to do it?Companies like Graceland and The Backyard Beyond allow you to choose from several standard options to design your cabin. For example, you can select an exterior stain or paint color, roof color and style, and various windows and doors. You can also select multiple options like adding lofts or different sorts of porches. You can also opt for the companies to simply build the shell and arrange for delivery. Or you can pay more for them to add numerous finishing options. For just the bare shell, you could pay about $12,000. Once you start adding finishes and putting in trim, appliances, and other items, the number can begin to creep upward. When all is said and done, you could pay anywhere from $30,000 to over $100,000. Obviously, the more you add and the more high-end finishes you choose, the more you'll spend. In addition to the cost of the cabin, you also need to consider other costs. Things like preparing the land, moving the cabin, and setting up utility services all come at a price.
Are there special restrictions to consider when you build a cabin?
It all depends on where you're building. Often, if you're building a cabin out in a rural area, codes might not be as strict. In some cases, you might discover several counties that don't have building codes.However, the guidelines vary from state to state and even among various counties. So whether you're ordering a prefab cabin kit or building a custom cabin, you'll have some rules to follow. It's your responsibility to find out what the codes are where you're building. You'll also want to assess how you would need to set up things like water and electricity (if you want it). You won't have access to these utilities in some areas, depending on how rustic you plan to get.

Stacy Randall
Stacy Randall is a wife, mother, and freelance writer from NOLA that has always had a love for DIY projects, home organization, and making spaces beautiful. Together with her husband, she has been spending the last several years lovingly renovating her grandparent's former home, making it their own and learning a lot about life along the way.
More by Stacy Randall
Published June 16th, 2021 7:44 PM