45 Views
Interior Design Trends That Are In For 2023
January 31st, 2023 1:11 PM
Share
We're committed to finding, researching, and recommending the best products. We earn commissions from purchases you make using links in our articles. Learn more here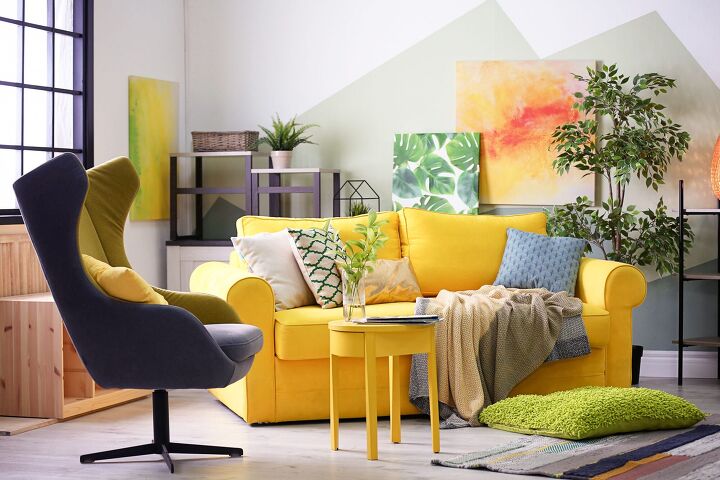 Interior design trends tend to come and go faster than a lousy boyfriend. Still, others stick around like faithful companions. Keeping up with the latest styles can be confusing, and many people opt to stick with tried-and-true classics. But if you want the newest ideas in your home, you're all about knowing what interior design trends are in for 2023.
Popular interior design trends for 2023 include bold color, using natural materials, adding black accents, and returning to closed floorplans. Other expected trends include statement lighting, influences from the 60s and 70s (hello wood paneling), and using mixed metals.
In 2023, you'll also see homeowners getting creative with ceilings, boosting outdoor living spaces, and designing their homes to work with their lives.
Like many trends, several of the interior design picks for 2023 are throwbacks to previous styles. Everything seems to come back around, whether in fashion or home decor. The best tip for designing your home's interior is to choose things you love that make your home function best for you.
But if you want to keep things on trend, here are the top 16 interior design trends we're seeing in 2023.
1. A Return To Bold Color
Don't be afraid to add some opportunities for bold color in your main living spaces. Although a solid bold, painted accent wall might be a thing of the past, that doesn't mean you should shy away from color entirely.
Use a colorful patterned wallpaper to create an accent wall (yes, they're still in for 2023), or have fun with a navy blue or emerald green sofa. If you prefer to stay neutral on your walls, consider more color for curtains, bedding, and other home accessories.
2. 1960's And 1970's Influences
No, we don't mean shag carpet, avocado green tile, and disco balls. But many of the 1960s and 1970s design choices coincide with 2023 trends, like natural materials and wood tones. Mid-tone woods, like walnut, are very popular and easy to incorporate through furniture pieces.
Also, many iconic furniture silhouettes from the era are classic and timeless, so expect to see more options reflecting these styles. You can also hit retro and vintage furniture and home shops to find an authentic piece or two.
3. Wood Paneling (Done Right)
Yep, wood paneling is coming back, whether you use it as an accent wall, paint it, or leave it natural. Light colors and interesting applications can give paneling a modern edge.
So, if you already have paneling in your home, you might want to rethink removing it. When used properly, paneling could even give your home's value a bit of a boost.
4. Closed Floorplans
For the longest time, large open-concept living areas were the "it" thing in interior design. However, people are starting to return to more closed floorplans. Primarily, this trend comes with the increase in remote work, homeschooling, and a heightened need for serenity.
People want to have some more private spaces where they can work, focus, and rest. However, that doesn't mean you need to chop up your home into a bunch of tiny rooms. Just make sure you have a few places where you can close things off or have some quiet.
5. Lighting That Makes A Statement
Light fixtures in 2023 are taking more focus than in the past, becoming more like additional works of art in your home. Instead of the long-popular simple, sleek pendant lights, look for oversized pieces made in various textures and materials.
6. Mixed Metals
You don't have to stick with one type of metal finish throughout your home. Mix it up! Think rose gold hardware on cabinets but a black metal light fixture. Or maybe you love chrome in your bathroom fixtures, but your kitchen cries for copper.
Mixing metals can lend a more contemporary vibe to your space and adds visual interest. It's also a nod to mid-century modern style if you're longing for a more retro vibe.
7. Sophisticated And Refined
In 2023, there's a shift toward more refined, luxe spaces. But that doesn't mean tons of sparkle, glam, and walls dripping with velvet. It means going for a timeless look, layering various textures, and creating a warm, inviting home.
8. Furniture With Streamlined Silhouettes
Overstuffed, oversized furniture is making way for more clean, streamlined silhouettes. These sleeker furniture pieces keep things crisp and modern and also inspire a timeless vibe that's very much in style.
9. Recreating A Retreat
Nowadays, it seems as if life is busier than ever and moving at a breakneck pace. People are responding to the hustle and bustle with a desire to create vacation-like retreats and relaxing spaces in their own homes.
You might have a cozy reading nook in your primary bedroom or turn a spare room into a Zen retreat. Luxurious spa-like bathrooms, plush home accents, and sumptuous fabrics are all ways to create a vacation vibe in your home sweet home.
10. Using Natural Stone Finishes
Natural stone countertops, floors, and backsplashes have been holding their own in interior design for a while. In 2023, they're sticking around, but you'll also find them in some unexpected places. Travertine, marble, granite, soapstone, and other natural finishes are all popular choices.
But don't limit your natural stone choices to sleek, smooth countertops or floors. Try out some stoneware dishes, pottery, and other home accents that have a more organic, unfinished vibe. In this case, imperfect becomes perfect.
11. Bring In Some Black
Adding black accents provides a bit of sophistication and drama to a space. This trend was around in 2022 and is carrying over into 2023. Some ways to add black are through light fixtures, black furniture, painted trim or doors, and various home accessories.
12. Choosing Natural Materials
This 2023 trend is another nod to mid-century modern style, but it's also one that's never really gone out of fashion. Using natural materials in your space keeps things cozy, interesting, and warm.
Seek out light or mid-tone wood furniture, textural rugs made with natural fibers, and of course, natural stone. When in doubt, steer clear of faux materials in favor of more organic options.
13. Stepping Away From Symmetry
Symmetry in design has always been a goal for many people, creating a perfect sense of balance. However, things don't always have to match or be exactly alike. In 2023, take a few steps toward asymmetry to create visual contrast and try something new.
14. Creative Ceilings
Accent walls are still a thing in 2023, but they aren't as necessary as they once seemed. Today, if you want to add a statement to a room, create an accent ceiling instead. More and more designers are painting ceilings and even putting wallpaper on the ceiling.
Of course, this is somewhat of a bigger commitment than creating a feature wall, but it doesn't have to be permanent. So, have some fun and let your personality shine through.
15. Outdoor Living Spaces
In 2023, you'll also continue to see a focus on developing outdoor living spaces. It's all about seeing these areas as extensions of the home. You'll find outdoor kitchens, fire pits, canopied seating areas, outdoor lighting, hammocks, you name it. There's also more focus on landscaping and gardens in backyards instead of just concentrating on curb appeal from the front.
Look at your outdoor areas as more potential to create extra space to do the things you love. It could be an entertaining space, another retreat, or an alternate place to enjoy a meal with friends.
16. Designing Your Home For You
Great interior design should look and feel right for the person who lives in the home. You can style your home to look like it should be on the cover of the most forward-thinking interior design magazine but that doesn't mean it will work for you.
Unless you're planning to sell your house in the next year, concentrate your design on what you need and love. If you never use a dining room, then you don't need one. That space might work much better for you as a swank home office or hideaway playroom.
It's time to reimagine your home and discover how it can function best for you.
Keeping Your Home On Trend In 2023
If you want to make a few changes to your home in 2023, start with your personal style and preferences first. After all, it's your house, so it needs to feel and function right for you. But if you want to keep things on trend, try out some bold colors or black accents.
Incorporate natural materials and stone finishes into your design, and don't be afraid to mix metals and be a bit daring. Some retro styles are making a comeback, like wood paneling, streamlined furniture, and other influences from the 1960s and 70s.
Thanks to more remote work, homeschooling, and a desire for places to retreat, homes are also seeing a shift back to more closed floorplans. Other highlights are using statement lighting, boosting your outdoor spaces, and bringing your design onto the ceiling. However, the biggest trend in 2023 is making sure you design your home for how you live and what you love.
Related Guides:

Stacy Randall
Stacy Randall is a wife, mother, and freelance writer from NOLA that has always had a love for DIY projects, home organization, and making spaces beautiful. Together with her husband, she has been spending the last several years lovingly renovating her grandparent's former home, making it their own and learning a lot about life along the way.
More by Stacy Randall
Published January 31st, 2023 1:11 PM