728 Views
Who Makes ICON Tools? (Find Out Now!)
January 11th, 2022 2:10 AM
Share
We're committed to finding, researching, and recommending the best products. We earn commissions from purchases you make using links in our articles. Learn more here
There are countless tool brands on the market, and one of the most affordable is ICON. Harbor Freight makes ICON tools, and that is part of why they are so easy to depend on. Whether it be their hand tools or automotive kits, let's take a close look at ICON tools.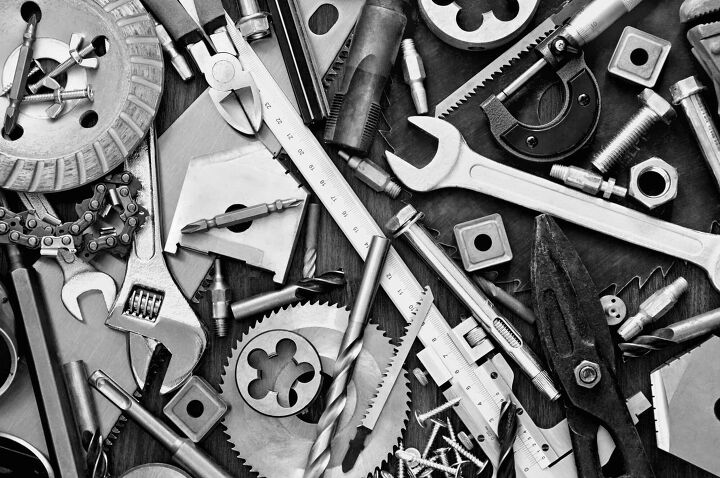 I remember when I was a kid and something in our house needed to be repaired. My dad would go out to the garage and get his little black toolbox that was filled with every sort of tool imaginable to get the job done right.
Whether you're an experienced professional mechanic or if you're just doing a few home improvement projects, having a good set of tools available and a place to store them is essential. Icon offers everything from high-quality tools to complete storage systems to handle all of your needs.
Harbor Freight manufactures and sells ICON tools across 48 states at all 1,000 store locations. The tools are created in Taiwan, where they are made with great quality products, which makes these tools both durable and affordable. Harbor Freight offers a lifetime guarantee on all ICON tools and offers free replacement, no hassle, and no questions asked!
ICON is a popular brand with many tool and tool storage options to choose from. Today, we will take a closer look at Harbor Freight's ICON tools, how much they cost, and if they're worth the money.
For more home improvement tools, check out 14 Types of Oscillating Tool Blades.
What Company Makes ICON Tools?
Harbor Freight and Salvage started as a small family-owned business in 1977. They began as a mail-order company specializing in liquidated and returned merchandise. As the business flourished, the name was later changed to Harbor Freight Tools.
Harbor Freight has more than 1000 stores in 48 states. They are committed to providing people with quality tools at affordable prices. They have a 100% satisfaction guarantee and offer a no-hassle return policy on their products.
Following the success of their ICON torque wrenches, Harbor Freight introduced the complete ICON tool line, sold in-stores and online, in 2019. Professional Mechanics now have an affordable option that rivals the quality of high-end tools and storage units.
What Are ICON Tools?
Harbor Freight's premium ICON tools and storage are marketed to mechanics who want high-quality, affordable tools. ICON tools are designed to stand up to professional shop use.
ICON has a full line of premium hand tools, storage, and automotive specialty tools. The ICON line includes screwdrivers, ratchets, sockets, and wrenches. The line also boasts a premium tool storage system to keep all of your tools in one place.
When Did ICON Tools Come Out?
In 2019, Harbor Freight Released new ICON Premium Tools and Storage. Two ICON torque wrenches were released in 2018 by Harbor Freight.
And later on, in 2019, they released an entirely new line of professional hand tools and tool cabinets under the ICON brand that was designed for the discerning master mechanic.
Where Are ICON Tools Made?
ICON tools are made in Taiwan. In general, Taiwanese products are of higher quality than Chinese products.
This is primarily due to the poor reputation of several Chinese-made products. However, where a thing is created is less essential than its usage, and ICON products perform admirably.
Does Snap-on Make Harbor Freight ICON Tools?
There have been disputes between the two companies, and Harbor Freight frequently uses marketing language that "compares" their tools to Snap-higher-priced on's items.
Unless someone can provide substantial evidence to the contrary, it's safe to assume that Harbor Freight does not manufacture Snap-on Tools.
How Much Do ICON Tools Cost?
The tools range from $19.99 for a six-piece socket set to $199.99 for a 12-piece ratcheting wrench set.
The ICON storage units start at $799.99 for the overhead cabinets.
ICON end cabinets begin at $1199.99.
The highest price unit is the ICON rolling cabinet, which is $3799.99.
Harbor Freight also offers free delivery on all ICON storage units.
A 20% off coupon on Harbor Freight's website is good on any storage unit. So, that lowers the cost quite a bit, making these systems affordable for even the novice mechanic.
If you cannot pay for the unit all at once, Harbor Freight also offers 0% interest financing on Icon storage systems. This is convenient because you can purchase the system you need now and pay over time.
Where Can ICON Tools be Purchased?
ICON tools are now available in Harbor Freight stores around the country as well as online. The ICON storage solutions are only available for purchase in-store, and there are 1000 Harbor Freight stores across 48 states.
Do ICON Tools Include a Warranty?
Harbor Freight offers a lifetime guarantee that provides a hassle-free, no-questions-asked replacement on all ICON tools. The products are guaranteed to be free from defects in material and workmanship for the product's life.
Are ICON Tools Right for Me?
It all depends on how you want to use the equipment and how much cash you have available. According to Harbor Freight's ICON line, the tools are for, "Mechanics who demand excellent quality."
If you're just getting started with mechanics, this might not be the toolset for you. The Pittsburgh Pro line outperforms ICON while costing a fraction of the price.
If you've been looking for a new set of hand tools for a while, ICON might be a good option. They are top-of-the-line tools at a reasonable price.
What Products Are Made by ICON Tools?
ICON Tools has everything a mechanic needs, from torque wrenches to screwdrivers to metric sockets. ICON Tools also creates housing units to keep all tools safe and organized.
Here are some specific tools that Icon makes so that you can better decide if this is the best tool line for you.
ICON Ratchets
A ratchet is a professional mechanic's go-to tool. ICON ratchets are designed to get into tight spaces and withstand a massive amount of torque.
ICON Sockets
ICON sockets are made of premium Chrome Vanadium steel. It is a high polished finished that looks good and wipes clean easily. The finish is also resistant to corrosion to keep them looking great year after year.
These tools have a 6-point design for maximum torque. The sets include a wide range of sizes and come with a storage tray to keep your tools organized.
ICON Torque Wrenches
ICON torque wrenches come pre-calibrated with a calibration certificate, packaged in a protected storage case.
ICON wrenches feature a 90-tooth gear mechanism for a smaller arc swing. They also come with easy-to-read markings and a straightforward click to prevent over-torquing.
ICON Wrenches
ICONwrenches are available in various lengths and styles, so it shouldn't be difficult to find one to suit your needs. These tools are resistant to corrosion and clean up easily.
ICON Storage Systems
The ICON storage system is designed for the professional mechanic at a fraction of the price of tool truck brands. The storage systems have a modular design for maximum flexibility.
Your system can grow as your needs do. ICON tool storage systems are available in four colors:
Are ICON Tools Worth the Money?
Compared to other brands marketed to professional mechanics, ICON tools and storage systems seem worth the money.
You will definitely be getting more for your money at a lower price point than the higher-end competitor brands. With the lifetime warranty, it seems like a good deal.
Online reviews consistently show that ICON tools live up to the hype. When Harbor Freight first came out with the ICON torque wrenches in 2018, there was talk of introducing a whole line.
With the launch of the ICON tool line, professional mechanics now have an affordable, high-quality solution to their tool and storage needs.
Are ICON Hand Tools Any Good?
ICON's hand tools are just as durable as those made by other companies. The ICON torque wrench, in particular, is a favorite among mechanics.
For both price and quality, ICON is considered professional-status tools. It's a good idea to go with ICON if you're a mechanic.
---
Related Questions
What is Included in Harbor Freight's Warranty for ICON tools?
If your ICON tools are not working properly, Harbor Freight Tools will replace any hand tool that during the lifetime of the original purchaser. If they don't have the original item available, they will substitute a similar item in its place.Harbor Freight also guarantees that ICON tools and storage systems will be free from defects during the product's life.
What are the Expansion Options for ICON Storage Units?
ICON's modular design is very flexible, making it easy to add to your unit. You can customize your unit to grow as your needs grow. Some expansion options are work centers, end lockers, end cabinets, overhead storage, and top chests.
How does ICON Measure up to Snap-On Storage?
First, Icon ICON Professional Triple Bank Roller Cabinet is over $10,000 less than its competitor. At just over $3,000, the Icon ICON Roller Cabinet gives you more bang for the buck than Snap-On's more expensive $14,000 version.Also, ICON's unit has more drawers and has a larger weight capacity than Snap-On's similar unit. It also offers adjustable force drawer latches and external power, features not available on the Snap-On version.
Related Articles

Upgraded Home Team
We are a team of passionate homeowners, home improvement pros, and DIY enthusiasts who enjoy sharing home improvement, housekeeping, decorating, and more with other homeowners! Whether you're looking for a step-by-step guide on fixing an appliance or the cost of installing a fence, we've here to help.
More by Upgraded Home Team
Published September 22nd, 2020 1:49 PM