409 Views
Who Makes Kobalt Air Compressors? (Find Out Now!)
August 8th, 2021 5:04 AM
Share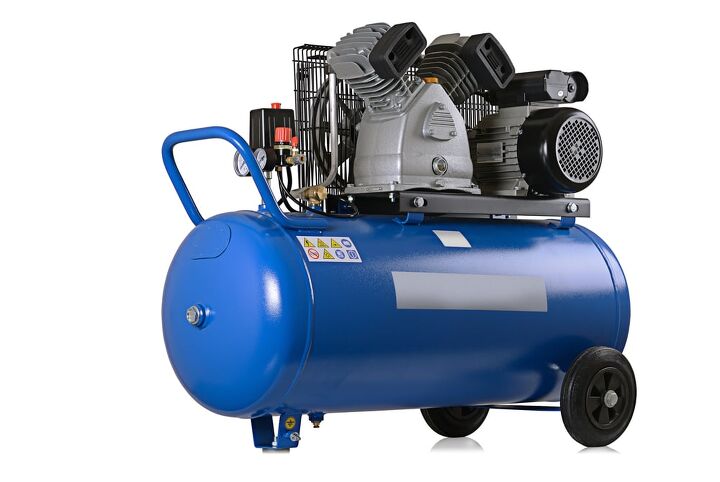 Finding a reliable tool is about more than a name. Still, name-brand recognition is important because it delivers a sense of trust. For that reason, it is no surprise that Kobalt is one of the most recognizable brands on the market currently.
For Kobalt's line of air compressors, there is a question as to who makes them. Kobalt air compressors are actually Lowe's house brand. The Kobalt line of tools, in general, are produced by Lowe's as their own brand.
Kobalt Air Compressors
It is becoming more commonplace for big box stores like Lowe's and Home Depot to supply their own brand of tools. Lowe's in-house brand is Kobalt. As such, Lowe's is behind the production of the Kobalt line of air compressors.
Their air compressors come in both fixed and portable styles. They also offer motors ranging from 1.5 HP all the way up to 5 HP. The motors offer a power range starting from small 3-gallon units up to 80-gallon tanks that are fixed and offer 5 HP.
The Quality of Kobalt Air Compressors
Similar to many other house brands, Kobalt is classified as being perfectly fine but not among the high-end brands. More accurately, Kobalt is considered to be a "mid-use" kind of compressor. If you are trying to use them in an industrial setting, they likely won't hold up that well.
For home and garage use, however, Kobalt compressors make for a great option. So long as the use of the compressor is incremental and not continuous. If you are looking for a compressor to work all day, every day, then something more professionally graded would be ideal.
The Pros of Using Kobalt Air Compressors
Despite its strict mid-use distinction, there are more than a few benefits to using Kobalt air compressors. So, if you have been searching for a home air compressor, here is why you may want to consider Lowe's home line.
Less noise. Kobalt air compressors are less noisy than some of the others out there. In a home garage setting, with neighbors to consider, keeping noise levels down a bit can wind up being important.
Cost-effective. Kobalt air compressors are also more affordable than even some of the mid-use compressors on the market. Those looking for an effective yet cost-responsible option need to look no further than Kobalt for compressors.
Great for limited use. Not everyone needs a full-time compressor. For home use, where it is incremental at best, Kobalt is more than able to meet the job.
Easily available. No matter where you live, there is a good chance that there is a Lowe's somewhere nearby. Wherever you can find a Lowe's, you can find Kobalt air compressors.
Wide selection. Kobalt offers a huge array of choices ranging from 1.5 HP all the way up to 5 HP. There are also standardized compressors, as well as couplers and electrical. You can also find them in both vertical and horizontal, and even in twin and hotdog shaping.
With or without oil. The Kobalt line of compressors also comes in two distinct options: with oil lubrication or without.
The Cons of Using Kobalt Compressors
For all of the pros experienced by using Kobalt compressors, there are downsides to be aware of. It is possible that you get a model that performs differently, but these are by and large the negatives to using Kobalt compressors.
No maintenance. Perhaps the biggest downside to getting a Kobalt compressor is that Lowe's does not provide maintenance. If something goes wrong, you will either have to take it to a third-party repair service or have it replaced entirely.
Not meant for heavy-duty use. If you are looking for a full-time compressor, Kobalt is not the answer. While they are great for incremental use, they do not make reliable full-time options.
Can't be used several times a week. Another major downside is that it is not advised to use Kobalt compressors multiple times a week. While it is certainly possible, there is a chance that the compressors can wear down far quicker.
Cheap build quality. While the cost is certainly ideal, the quality is not going to match the best on the market. Even as a mid-use compressor, they will break down over time and use. When going with a compressor that will be used more often, Kobalt shouldn't be one of the first options.
Replacement not guaranteed. Lowe's does not cover maintenance on these compressors. Moreover, if they break or stop working, their replacement is not guaranteed.
The Best Kobalt Air Compressor Models
With so many choices available, you may be wondering which options are the best for home use. Here are a few of the most popular options for Kobalt compressor models and how they stack up against the competition.
Kobalt 2-Gallon Portable Electric Twin Stack
This 2-gallon electric compressor features a quick coupler for smoother, easier use. It also has both a female and male quick plug, making it easy to use with extension cords. And the 25-foot recoil hose allows you to access just about anything nearby.
With a 125-psi working pressure, users get extended use out of just one fill. Moreover, there is a large regulator knob and an integrated control panel for increased ease of use. This compressor is a great choice for household tasks like inflation, staple guns, and other recreational jobs.
For household tasks, the Kobalt 2-gallon portable electric twin stack is a great option. It can help you with simple pin nailing, removing dust and debris from a small shop, and so much more.
Kobalt Quiet Tech 4.3 Gallon Portable Electric Twin-Stack
Right off the bat, there are two things to note about this compressor. The first is that it comes with a handle and wheels so that you can roll it from place to place with the greatest of ease. If you move your compressor from place to place, being able to do so easily is key.
The second notable feature is that it is quieter than other compressors. In a home shop environment, there are times where you need to be aware of neighbors. Having a quieter function means you can use it frequently without having to worry about upsetting the neighbors.
Monitor pressure. Another cool feature of this Kobalt compressor is that you can monitor pressure. Whether it be outlet pressure or tank pressure, you can watch both gauges to see where pressure is at any moment.
Better quality. This compressor is also made of steel, giving it a greater and more durable quality. Even better, the improved quality does not mean additional space. It stores more compact than some of the larger industrial models.
Kobalt Multi-Purpose Air Tank
The multi-purpose tank carries like a large duffel bag: a rounded design and a handle on the top. The unique design also gives it the ability to perform a bunch of unique functions.
High-pressured hose. This tank comes with a 4-foot, high pressured hose. It comes with a ball chuck that can be used for filling tires and can act as a reservoir between your compressor and some of your tools. That feature can extend the capacity of your compressor. And because of the handle, it is portable to be used with nailers and staplers.
Remove condensation. Another cool feature is that there is a drain valve to help remove condensation from within the tank. The built-in pressure relief and 165-PSI maximum are also some of the best Kobalt offers, making it versatile yet powerful.
---
Related Questions
Why Does Lowe's Have its Own Brand?
This has become a trend in recent years where big box stores of all kinds create their own brand. What is important to remember is that the companies do not physically produce that brand. They outsource the manufacturer and the manufacturer can change with time.The biggest question when buying a big store brand is "who do I go to for service?" For the most part, the best that you can do is return the item and get a new one. The big brands will not perform service to maintain the current model.

Ryan Womeldorf
Ryan Womeldorf has more than a decade of experience writing. He loves to blog about construction, plumbing, and other home topics. Ryan also loves hockey and a lifelong Buffalo sports fan.
More by Ryan Womeldorf
Published March 15th, 2021 8:02 AM