1.1K Views
Who Makes Hyper Tough Tools? (Find Out Now!)
November 23rd, 2021 2:41 PM
Share
We're committed to finding, researching, and recommending the best products. We earn commissions from purchases you make using links in our articles. Learn more here
Hyper Tough tools are a must have for any DIY repair man or woman looking to add value to their property. The Hyper Tough tool set is not hard to come by if you know where to look. From Dremel bits to cordless devices, Hyper Tough tools are reliable, so let's take a look at who produces them.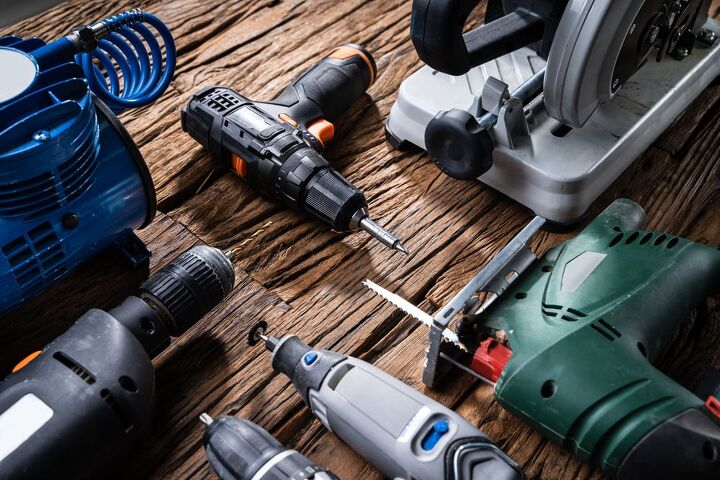 To say that there are a huge variety of tools out there is an understatement. Black & Decker, DeWalt, and Craftsman are all some of the most recognizable brands on the market today. They have built their reputation throughout the years and have since become favorites.
The Hyper Tough line of tools has been around a long time, too. But who is responsible for them? Walmart, the superstore chain known globally, has been producing their own line of power tools through the Hyper Tough name.
The Creators of Hyper Tough Tools
Hyper Tough is a brand of tools and power tool accessories. Walmart Inc. launched the brand in 1993; they have their own line of just about anything you can think of. The brand includes a wide array of power tools like grinders, saws, drills, and planers.
Hyper Tough also has a line of hand tools like screwdrivers, wrenches, files, and scrapers. Their accessories include cables, toolboxes, and other things.
Test Rite Tools. Walmart owns the Hyper Tough name but it is actually Taiwan-based tool company Test Rite Tools that manufactures the line of products and accessories. They have their North American headquarters located in New York as well as factories in China and Taiwan.
Who Sells Hyper Tough?
Walmart not only owns the Hyper Tough line of power tools but they are the main distributor as well. Since their stores are some of the biggest not only in the United States but the world at large, they have distribution chains like few others.
There is the chance that you will see Hyper Tough tools in some smaller shops, but for the most part, they can be found exclusively at Walmart.
Is Hyper Tough a Good Brand?
Generally speaking, the Hyper Tough brand is well-received by customers. Since it is a Walmart brand, it tends to be a more cost-effective counter to some of the more expensive brands out there. Let's take a deeper look.
Price. One of the most attractive aspects of Hyper Tough tools is that they are cost-effective. Compared to the more expensive brands, Hyper Tough is more affordable. That means being able to stock up on the necessary tools without having to break the bank.
Quality. This depends on who you ask. Some feel that the quality of the Hyper Tough tools can be lacking in time, especially compared to some of the other notable brands. Still, for the money that you spend, it can be more than enough quality to do the job.
Selection. Since Walmart owns the line, they control the selection available. Customers were thrilled with the number of choices they were given. When it comes to power tools, hand tools, and accessories, there are more than enough choices to be had.
The Hyper Tough Dremel Compatible Rotary Tool Kit
Perhaps one of the best values that the Hyper Tough brand offers is the 208-piece Dremel compatible rotary tool accessory kit. For just $10, customers can get a huge Dremel kit that is compatible with multiple Hyper Tough products.
Do Dremel Bits Fit Rotary Tools?
Dremel brand bits should work fine with other rotary tools for different brands. That is beneficial as you may want to go with Dremel bits for your Hyper Tough rotary tool. Moreover, the Dremel brand tends to have a little bit better reputation for durability and longevity.
In some of the Hyper Tough tool kits that you can purchase, there are rotary bits included that are specifically compatible with your rotary tool.
Are Hyper Tough Batteries Interchangeable?
If you've taken the time and spent the money to invest in a series of Hyper Tough tools, you may run into an issue with the batteries. From time to time, when a battery fails or isn't fully charged, you can be left with an important question: are batteries compatible?
Battery compatibility. The good news is that if you are using Hyper Tough brand tools, the batteries are compatible between tools. That can come in handy when you need to use a tool in a pinch and its battery has gone dead.
It is important to note that they are not interchangeable between brands. So, if you have a Hyper Tough drill but a DeWalt battery available, they will not work together.
Can You Use Drill Bits in a Hyper Tough Dremel?
A Dremel is an incredibly useful tool to have. When it comes to handheld tools, there are few quite as versatile as a Dremel. That makes the Dremel kit offered by Hyper Tough such a great value. For just $10, you get a 208-piece kit.
A Dremel tool is particularly good for both hobbyists as well as do-it-yourself types. That is because the Dremel is a lightweight tool that allows for greater precision with each use. A rechargeable Dremel with a multi-tool can become a favorite tool in no time.
Hyper Tough 18v Cordless Drill
The two most common choices for power drills through the Hyper Tough line are the 18v and the 20v options. The 18v was created with excellent service and ease of drilling in mind. It delivers just enough power and torque to handle most household jobs.
Speed settings. The Hyper Tough 18v comes with two speed settings for greater functionality. It also comes with a 20+1 torque clutch positioning system, giving you ample power for just about any do-it-yourself job that you can think of.
LED light. The drill also comes with a built-in LED light to allow for greater vision in tight and dark areas. Even when drilling in open spaces, it can be tough to see what you're doing. But not with this built-in LED light.
Ni-Cd battery. The nickel-cadmium battery delivers ample power and longevity for just about any do-it-yourself project. It also comes with a CEC charger to ensure that your drill is ready to go whenever you need it.
Weight. At just over 4 pounds, the Hyper Tough 18v drill is perfectly lightweight. Never feel restricted or held back by the weight of your drill, performing any tasks easily and effortlessly.
Pros and Cons of the Hyper Tough 18v Cordless Drill
It can go anywhere thanks to cordless capability
Lightweight and easy to use, capable of handling most DIY tasks
Built-in LED lighting to work in tight or dark spaces
Strong grip to avoid hand fatigue and slipping
Two-speed settings for variable use
General ease of use
Lower RPMs than some of the other comparable drills on the market
Single battery included
Slow charging rate
Hyper Tough 20v Cordless Drill Kit
The 20v kit offers a little bit more than the 18v drill in both power and accessories. It even includes a stronger lithium-ion battery for longer life and usage. The kit comes with over 70 pieces to make you a do-it-yourself master in no time.
Superior variety. The 20v cordless drill kit offers a huge array of accessories and tools. There are 49 different screw driving bits (with a magnetic holder), drilling bits, slip joint pliers, a ratcheting screwdriver, long nose pliers, measuring tape, and more.
16 torque settings. If you are looking for maximum torque, this is the drill for you. There are 16 different settings that allow for various uses and handling a variety of tasks. The 18v battery may not have the power to handle some tasks whereas the 20v can pretty much take on all comers.
Lithium-ion battery. One of the major improvements over the 18v battery is that it delivers in battery quality. The lithium-ion battery delivers a longer runtime and power so that you can handle a wider array of tasks.
Lightweight. Despite having more torque and a better battery, it is just 2 pounds heavier than the 18v. Being that lightweight means you will never fatigue from using it. Get all the tasks that you can imagine done in one go.
Pros and Cons of the Hyper Tough 20v Cordless Drill Kit
Huge tool kit with more tools than any beginner could need
Built-in LED light for improved visibility
Complete set of bits for various uses
Toolbag for easier transportation and storage
Sturdy, steel construction for improved durability
16 torque settings for greater power and versatility
Stronger, more durable lithium-ion battery
The only complaint from consumers is that it is a little heavier, making it difficult to carry and maneuver for long periods of time
---
Related Questions
Is Hyper Tough tools any good?
Hyper Tough tools are great because of their wide variety and fair price. Their repair kits, drills, chargers, leaf blowers, and more are all durable and well-reviewed through many online sellers. The fair price is primarily due to its manufacturer, Walmart, who generally keeps the prices low.
How Do You Charge a Hyper Tough Cordless Screwdriver?
Charging your Hyper Tough cordless screwdriver is easy enough. All you need to do is insert your charger plug into the charging socket and connect the charging unit into a nearby power socket. Just make certain that you don't charge more than 8 hours at a time as it can ultimately degrade the life of the battery.
For optimal charging, make sure that you leave yourself at least 5 or 6 hours to charge. It can take a while for the Hyper Tough cordless screwdriver to charge and the last thing you want is to have to wait for it to charge before you use it.
Related Guides

Ryan Womeldorf
Ryan Womeldorf has more than a decade of experience writing. He loves to blog about construction, plumbing, and other home topics. Ryan also loves hockey and a lifelong Buffalo sports fan.
More by Ryan Womeldorf
Published January 1st, 2021 6:00 PM