1.6K Views
What Is The Standard Bar Height? (Stool & Countertop Dimensions)
October 20th, 2021 2:46 PM
Share
We're committed to finding, researching, and recommending the best products. We earn commissions from purchases you make using links in our articles. Learn more here
Home bars can add value to any home and make it more fun for you and your guests. The standard bar height for a home bar is 42" tall, but it can vary based on personal taste. Whether it be the height, depth, or width, follow along as we explore standard bar dimensions.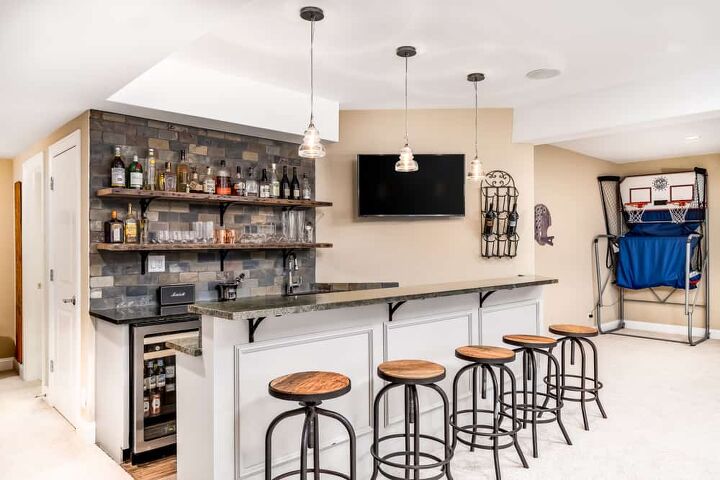 A bar can be a great place to spend time with family and friends. Whether eating, enjoying a drink, or just enjoying company, a bar can be a great place to do all of those things. The trick comes down to finding the right height for a bar.
The standard bar height is 42 inches tall, but you can customize a bar for a specific height. You can find bars that measure closer to 36 inches, and that is the standard height for a counter table. It is common to find bars that measure 40 inches tall, but 42 inches is the universal standard bar height.
Do You Need Handyman Services?
Get free, zero-commitment quotes from pro contractors near you.
What is the Standard Bar Height?
For the most part, you will find bar heights set at 42". Most standard conventions in construction will support the 42" height. That means that most backsplashes that have been pre-constructed are around 4-6" tall.
When you add that height to the standard countertop height, the backsplash can easily slip under the overhang for a bar top that has been finished. This will provide the smoothest most seamless transition possible.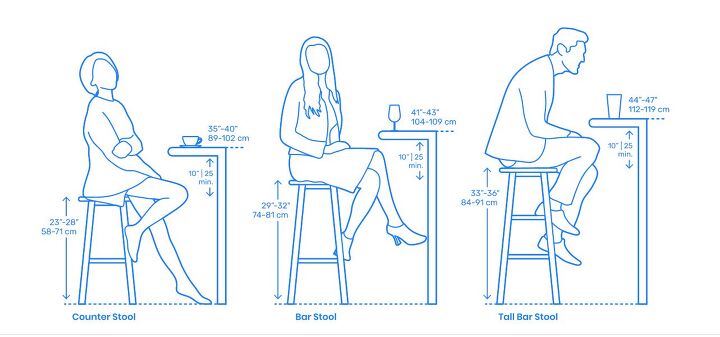 Comfort Considerations
The main reason that the standard bar height is 42" is due to comfort. The 42" height is not only the most optimal but the most ergonomic of heights that are meant to accommodate both standing and sitting users.
Moreover, it is a great height for people to lean up against. Most importantly, it is the right height and within easy reach of someone who is standing. This allows them to set their drinks or food down without the need to lean over.
Keep in mind. A bar is meant primarily for leisure activities. If you are looking for a good, seated work surface, a bar is probably too high to be comfortable. Consider moving your workspace elsewhere.
The Benefits of Using a Bar
There is an array of benefits to having a bar either in a business location or at home. Each of them applies to different situations that all serve a particular purpose.
Serving purposes. Bars are beneficial when there is one person (typically a bartender) serving on one side and another sitting (typically a customer) on the other. The person serving has a comfortable height where they can prepare drinks while on their feet. The customer has a comfortable height to eat and drink while either seated or standing.
Engagement. An underrated aspect of the bar height is from an engagement standpoint. Despite the fact that one person is standing and the other is sitting, they remain on a level field of vision. No need to look up or down when engaging the person on the other side of the bar.
Aesthetic. One of the biggest benefits of a bar is the aesthetic appeal. It can provide a divisive space, creating a transition from one area to the next. Moreover, it allows for simple storage where appliances and accessories can be kept out of the way.
What are the Standard Dimensions of a Bar?
When you are trying to figure out the length of a bar, figure that it is around 2' wide for every person or barstool when it comes to commercial applications. For home setups, you can add in a little more space for optimal comfort.
Bars that have a rail radius corner, which might not have the requisite space to seat the average person comfortably. Longer lengths of bar tend to cost far more than the typical size because they are considered custom.
The general dimensions for a bar are as follows: a drip edge of 0.5" x 1.25", a bar top of 0.75" x 16", a sub-top of 0.75" x 15.5625", an overhang of 8.5-10", and a glass rail of 0.75" x 6". Depending on your setup and budget, this can change according to your specifications. The more custom you get, the more expensive the setup will be. It is best to stay with the 42" height as well since this is what most standard barstools will tailor to.
Measuring Chairs and Stools for a Bar
There are different measurements when it comes to not only determining bar height but counter height and chair height as well. All of these play a role in the overall level of comfort to be enjoyed by those using the space.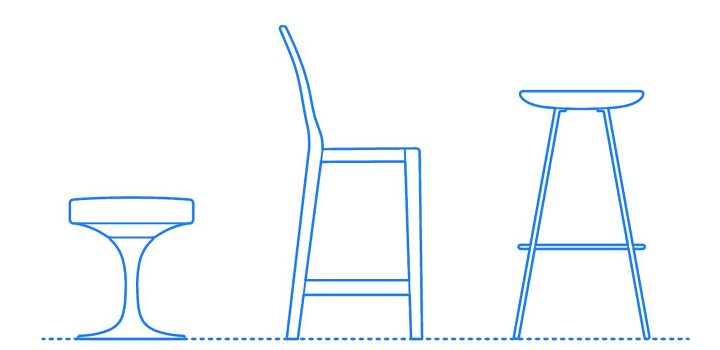 Finding the right chair or barstool can be particularly troublesome. After all, it is frustrating to have a bar or countertop height and get a chair or stool that does not accommodate. But there are different dimensions involved than simply the height of the chair.
| | |
| --- | --- |
| Type | Height |
| Table | 30" |
| Counter | 36" |
| Bar | 42" |
| Chair height at the seat | 16-23" |
| Counter height at the seat | 24-27" |
| Bar height at the seat | 28-33" |
Measure the height of the bar, countertop, or table. This is the best place to start. You will have an accurate height to start with so that you can get the proper measurements on the seating that you end up going with.
Chair heights. When you know the distance from floor to counter or bar top, you can then pick the right chair. The important dimensions include the overall height of the chair as well as the distance from the seat to the counter or bar top. Without that information, you are simply guessing and could wind up with the wrong choice.
Different Types of Chairs and Stools
When you start to look into the options for stools and chairs, you will find that there are not only a ton of different designs but heights as well. Knowing the standard heights for each style is important when ensuring that you have the right implementation.
The three options that you have to concern yourself with are standard height chairs, counter height chairs, and bar height chairs (or barstools, generally). Each has its own standard height that will play into the level of comfort that you experience with each type of seating arrangement.
1. Standard Height Chairs. You may also see these referred to as table height chairs. These are the easiest to choose from since they are made to fit standard table sizes of 28-30". Most café chairs will measure at about 16-23" in height and you can even find the seat in a plethora of different styles.
This style is great for lunchrooms or break rooms and can come in traditional styles. Best of all, they are easy to both move and transport, stacking away for greater convenience. They come in both upholstered and unupholstered options as well.
2. Counter Height Chairs. These are slightly taller than the standard height chair but still shorter than your average bar height chair. The average measurement for a counter height chair is somewhere between the 24" and 27" range.
These chairs/stools redesigned to reach up to counter heights, which fall in the 35-39" range. You may not see these at restaurants or bars, but it tends to be ideal for office breakrooms and residential settings. It provides greater options when it comes to seating and can be quite visually appealing, especially when used in traditional breakrooms.
3. Bar Height Stools/Chairs. These are the tallest of seating options, typically falling somewhere between 28" and 33" at the seat. The barstools/chairs are generally in for bar tops in the 41-43" range and are considered to be too tall for counters and tables.
The most common place that you see this type of chair or stool is in restaurants and bars. You may also see them in homemade bars as well.
How High are Raised and Extended Counters?
The bar counter height is generally about 6" taller than your standard counter height. When this happens, it is not uncommon for designers to raise part of the kitchen counter in order to accommodate that height.
Raised breakfast bar. When part of the kitchen countertop is raised to match the bar, this is known as a raised breakfast bar. This helps block the view of any cooking mess and food prep when implementing an open floor plan. A raised bar can also keep little kids from being able to touch any potentially hot items up on top.
Kitchen bars. Extended counters are generally another option when it comes to a kitchen bar. Instead of simply raising the counter height, the counter would remain at a standard height and would then have an overhang that allows for a small amount of seating. Then, there is a level surface for food preparation and any guests can be face-to-face with their host during the preparation.
Do You Need Handyman Services?
Get free, zero-commitment quotes from pro contractors near you.
What is the Height of a Wet Bar?
A bar may seem the same no matter what, but there are technical differences to be had. A wet bar, for instance, has a sink with running water. Having access to running water means being able to both create and serve drinks more easily when guests are nearby. Moreover, it means a quicker and easier cleanup experience.
Wet bars can be located in kitchens, but it is not uncommon for them to be found in a basement or living room, either. Like most regular bars, a wet bar has a standard height of 42" as well.
Storage. Wet bars are also an adequate place to store both food and drink items. There are cabinets that can hold beverages, bar snacks, and glassware as well. And, depending on the size of the bar, you can even keep plates, silverware, and products for cleaning nearby.
Fridge. Another thing that a lot of wet bars seem to have is a regular or mini-fridge used to keep beverages cold. For larger spaces, wet bars can have a U or L shape design; smaller spaces tend to just be flush to the wall.

Ryan Womeldorf
Ryan Womeldorf has more than a decade of experience writing. He loves to blog about construction, plumbing, and other home topics. Ryan also loves hockey and a lifelong Buffalo sports fan.
More by Ryan Womeldorf
Published December 29th, 2020 7:24 PM