347 Views
Who Makes Masterforce Tools? (Find Out Now!)
December 9th, 2021 12:04 PM
Share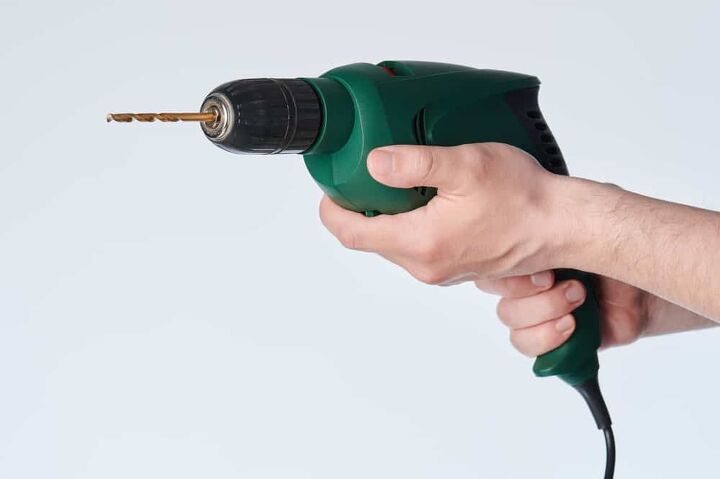 Masterforce features a variety of tools, tool storage options, and accessories, and their tools come with an unconditional lifelong warranty. Having good tools by your side when you embark on any DIY project is essential, so it's understandable that you want to know a bit more about the tools you use. One question that often pops up is who makes Masterforce tools? The answer isn't as simple as you would suspect.
Menards owns the Masterforce brand, but when it comes to who makes Masterforce tools, it could be different companies. Menards doesn't have its own facilities to make their tools, so they contract this job out to other companies. Therefore, Masterforce tools can be made by Stanley Black & Decker, Techtronic Industries (TTI), Apex Tool Group, and more.
When working on a DIY project, if your tools get damaged in the middle of the job it can pause your project and cost you extra time and money. That's why the importance of tools can't be understated. Read on to learn more about Menards and its line of impressive Masterforce power and hand tools.
What Is Menards?
Menards is hailed as the third biggest home improvement center in the United States of America. They come behind only two other industry giants: Lowe's and Home Depot. It was established by John Menard Jr. back in 1958.
Though Menards started constructing pole buildings initially, under the name 'Menard Cashway Lumber', they expanded quickly. As the business gained a reputation, it started providing diverse offerings and dropped the two titles 'Cashway' and 'Lumber' from its name. Eventually, the company became known simply as Menards.
Today, this home improvement company is operating successfully in about 14 states with above 300 stores.
Menards sells a diverse range of home improvement and lumber products, such as paint, hardware, and tools. The company is also involved in the property development business. It has countless subdivisions in progress and various mega-development projects underway in Illinois and Indiana.
Who Makes Masterforce Tools?
Masterforce is one of the major brands that Menards has to offer. Masterforce has been operating successfully all around the US (you can visit their website to see a wide range of product offerings). However, Menards doesn't actually make Masterforce tools.
Menards doesn't have its own facilities or the capability to physically make the tools. So, they contract this work out to other companies instead. Therefore, when you purchase a Masterforce tool, you might find one tool varies a bit from another. The reason for this is that both tools could have been manufactured by different companies.
Likewise, you might notice a strong resemblance between a Masteforce tool and another tool of a different brand. For example, many Masterforce tools resemble DeWalt products, except for the color.
It's not that anyone is copying someone else. It's simply because the same company is making both brands of tools.
Various Companies Make Masterforce Tools
Some of the companies that have featured most in the manufacturing of Masterforce tools are Stanley Black & Decker, Techtronic, and Apex Tool Company. Pratt-Read has also manufactured quite a bit of the hand tools, something Masterforce is especially known for.
Apex Tool Group also makes many of the Masterforce hand tools. Both Apex and Pratt-Read have US facilities where they manufacture their products, so many Masterforce hand tools are marked as "Made in the USA."
Since Menards uses different companies to make the Masterforce tools, who that company is can change at any time.
Since their inception, they've progressed and expanded rapidly. Today, Masterforce offers an enormous catalog of products, including hand tools, power tools, pneumatic tools, accessories, HVAC, and others.
A Closer Look At Masterforce Tools
Whether you're carrying out a DIY or a mega project, Masterforce includes all sorts of storage products and tools to help you complete the task successfully. It has a broad range of power and hand tools that can effortlessly do the job. Some of these powerful tools include but are not limited to:
Drills (don't confuse them with impact drivers)
Sanders
Saws
Grinders
Combo kits
Wrenches
Pliers
Tape measures
Cutters
Hammers
Here are a few handpicked Masterforce power and hand tools you can use (irrespective of the size of the project) to get things done:
Masterforce 20V Cordless Drill
This solid brushless drill by the Masterforce offers increased performance and unparalleled power. It has a unique motor technology based on the microprocessor control system; this decreases heat buildup and friction.
The motor provides 30 percent increased power, 1.5x extra running time, and 10-times more durability than several other motors. Plus, it includes a 2-speed gearbox that allows you to drill without a problem, even at high speeds.
It will enable you to alter clutch settings, and also allow you to select from different speeds, such as 0-450 and 0-1750 RPM and clutch settings. The speed changing trigger of this brushless drill helps maintain control.
One added advantage of this drill is that it comes with an LED light for added visibility and a touch of color.
Masterforce 8.5 Amp Belt Sander
This belt sander includes all the top premium features, and Masterforce is practically giving it away for nothing.
Its 8.5 amp high-efficiency motor can get you through any difficult sanding wood project, be it a small scale or a mega-project. Furthermore, it has different speed settings ranging from 790-1150 RPM to cater to any specific requirements.
It can be used on any wood without you needing to worry much as it provides increased flexibility and different kinds of belts. Furthermore, with most sanders, cleaning can be an issue.
However, the Masterforce 8.5 amp belt sander includes a unique dust extraction control system. It can extract the dust fast and easy, and save time.
Masterforce 15 Amp Circular Saw
Whether you want to cut hardwood or softwood for your project, look no further than this hypoid Masterforce circular saw.
It offers a high-end cutting experience at an industry-competitive price, while also maintaining a reputation for being exceedingly durable. Give this guide a read to know about some of the best saws present in the market.
Its exceptional safety and power features make it an essential power tool for contractors and DIY-ers alike. It has a 15-amp motor that can function at 4400 RPM. Therefore, you're free to cut almost any wood material at your desired speed without so much as a wince.
This Masterforce circular saw includes soft grab handles mainly designed to provide precision control and high comfort. Also, unlike other saws, you don't have to wait for minutes for blades to stop rotating. With this power tool, you can halt the blades' rotation in one-go as it contains electric brakes.
Masterforce 15 Amp Trigger Switch Grinder
This Masterforce trigger switch grinder comes with a 15-amp motor that can operate at 6500-RPM for high-stock removal during cutting and grinding. This power tool's 7 to 9-inch capacity makes it perfect for any cutting and grinding requirements you may have.
Moreover, The Masterforce 15 amp trigger switch grinder's keyless guard allows for rapid and simple guard adjustments, without any tools. In addition to that, you can easily change the wheels of this Masterforce switch grinder through the rapid-change SDS flange (rims).
Its side handle has two-position control, which means you can hold the grinder in a manner you deem fit. The anti-vibration technology in the handle assures a stable grind every time. The precision and control on offer with this tool are unmatched.
Masterforce Magnetic Tape Measure
This magnetic 1 -1/4 inch tape measure by Masterforce offers an incredible 12 ft. standout and 15 ft. reach.
The extended standout and reach of this tape will ensure that you can measure any lengths that your project requires. Another plus point is that with this Masterforce hand tool, you don't need another person to give you a hand.
Its nylon-coated force blade will make sure that corrosion and wear and tear are hard to come by. Additionally, the blade also includes double-sided print and a magnetic end-hook for precise marking, measurement, and line drawing.
Masterforce 12-Point Combination Wrench
Masterforce 12-point combination wrench is designed using the strongest, hardest steel alloy available. This provides an excellent turning mechanism, and its nickel-chrome plates offer a lifelong resistance to corrosion.
In short, this tool, like all other Masterforce hand tools, will last you very long. Its quick-grip finish affords an extraordinary slip-resistant feel that proves handy if you work in greasy or sweaty conditions. On top of that, the 15° handle of this wrench provides superior knuckle clearance.
Moreover, the chamfered opening provides quick and easy fitting on fasteners. Thus, you can exert maximum force on the high-torque wrench without rounding the fasteners.
Lastly, with this Masterforce hand tool, you can perform countless fastening, tightening, gripping, turning, and loosening operations. You can do it all without having a fear of wear, as it comes with a lifetime warranty.
Masterforce Imager Cable Camera Head
With the Masterforce imager cable camera head, you can get into tight spaces with resolution as high as 480p. You can use it easily with a Masterforce Wifi inspection video/camera and a cell-phone (Android, iOS, or windows).
The camera head is extremely small with a 9 ft. imager cable attached. This means, going into narrow and closed spaces such as plumping drains, pipes, air ducts, diesel fuel injectors, and inside walls won't be hard.
Its cable is exceedingly flexible and can smoothly bend around and monitor curves throughout the inspection. The LED lights on the Masterforce camera can lighten up even the darkest spaces to capture clear snaps and record videos.
In addition to that, the camera enjoys an IP67 rating, which means it is water and dustproof and can go 3 feet underwater, with relative ease.
Masterforce Bolt Cutter
If your project involves cutting padlocks, wire mesh, chains, or bolts, this Masterforce bolt cutter is a great option. It exceeds all other competitive cutters in portability, strength, and durability.
The cutter's drop-forged steel jaws carry immense strength and are resistant to all sorts of breakage or distortion. Plus, the blackening finish makes the steel rustproof.
Moreover, you can easily transport and store this Masterforce bolt cutter when needed due to the locking levers. The levers keep the arms locked and closed while folded. The handles on this bolt cutter are slip-resistant and provide maximum leverage.
---
Related Questions
Are Masterforce tools expensive?
The Masterforce tools, including hand and power tools, are comparatively low-cost. You will see them being used on construction sites and in home garages. Plus, it offers a lifetime warranty – an additional advantage that people can't ignore.
How will Menards replace Masterforce power and hand tools using the warranty?
Nearly all Masterforce hand and power tools provide an adequate manufacturer's warranty ranging from 1 to 3 years. An extended warranty is also available but can be availed only when agreed upon at buying.As Menards designs the tools, every warranty-related query is dealt with in-store. If you've got a warranty receipt and remaining period on it, Menards can replace the tool with a brand new tool.However, if the store doesn't have the required tool at the time, they will replace it with some other reasonably equivalent tool.

Ian Haynes
Ian Haynes is a digital marketing specialist and has successfully written hundreds of home improvement guides. Outside of his work, Ian likes fixing old bikes and exploring Brooklyn with his Labrador.
More by Ian Haynes
Published September 30th, 2020 2:12 PM