1K Views
Who Makes Hercules Power Tools? (Find Out Now!)
November 17th, 2021 12:13 AM
Share
We're committed to finding, researching, and recommending the best products. We earn commissions from purchases you make using links in our articles. Learn more here
Hercules power tools live up to their namesake when it comes to strength, and the wide selection only sweetens the pot. It is less obvious who makes Hercules power tools than a similar brand like Craftsman, but Harbor Freight is responsible for Hercules tools production. Follow along as we take a look at Harbor Freight's house brand Hercules.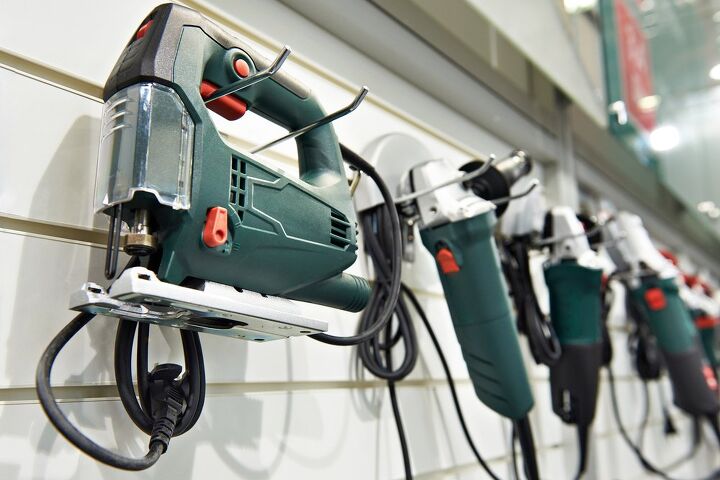 With the huge array of power tools out there, we sometimes see a brand and think nothing more. We just use the tools and the rest is arbitrary. But sometimes there is a brand that seems familiar but you can't quite put a finger on it.
Hercules tools are made by Harbor Freight, a company that sells high-quality tools at an affordable price with over 1,000 locations nationwide. Hercules Tools performance has been compared to other well-known, reputable brands such as DeWalt and Stanley. That way, you can get high-quality power tools without having to pay top dollar.
In this article, we will talk a bit more about Hercules tools, what they have to offer, and why they're a good brand! Let's get started.
Are Hercules Tools Any Good?
When it comes down to it, Hercules makes a quality, if simple, brand of drill. Its performance stacks up with some of the more well-known brands like DeWalt even if it doesn't quite deliver on the extra features.
For amateurs to the DIY life, Hercules makes for a great first choice. It brings a ton of power and torque, a few extras, and a simplicity that can be quite valuable when you are just starting to learn.
How Does Hercules Hold Up vs. DeWalt?
One of the main comparisons to Hercules is always DeWalt. Because Hercules is somewhat limited in their offerings – power drills – it only makes sense that they get compared to the DeWalt brand of drill. So, how does Hercules hold up?
Firstly, a quick overview. For one, Hercules drills are made in China whereas DeWalt is made in the United States. Hercules carries just a 90-day warranty whereas DeWalt carries a 3-year warranty. And finally, Hercules is a brushed drill; DeWalt is brushless. Now, let's get into a further breakdown between the two.
DeWalt
Without a doubt, DeWalt is the more well-established brand on the market. It has a history of reliability and consumers can trust what they are getting out of a DeWalt drill. Moreover, they have great customer service, helping to resolve issues when they do arise.
Hercules
On the other hand, Hercules may not be as established a brand but Harbor Freight is. Despite its new standing in the market, Hercules has the Harbor Freight name behind it. While there isn't quite the range that DeWalt has, they make some pretty great basic models.
The Choice
When it comes down to it, Hercules is quite comparable to DeWalt. It tends to be a little more on the basic side and may not be quite as compatible. Still, spec-for-spec, Hercules stacks up well with DeWalt.
What Drills Does Hercules Offer?
One of the biggest drawbacks to Hercules is that its offerings are somewhat limited. In total, there are three drill types that Hercules makes: impact driver, hammer drill, and a traditional cordless drill.
Traditional Cordless Drills – Hercules offers a 12v cordless drill. Even better, they offer kits that come with the drill, a charger, a battery, and a carrying bag for easier transportation.
Hammer Drill – Hercules offers a hammer drill kit as well. The kit comes with the drill, battery, charger, and the same carrying bag for ease of transportation.
Impact Driver – The final offering from Hercules is the impact driver. It too comes in the same kit that includes the driver, charger, battery, and carrying bag. Great option for newbies.
They may not offer as many models as other competitors, but their simplicity is great for beginners. If you are just getting started in the DIY world, Hercules drills may be a great option.
What Extra Features Does Hercules Offer?
Its simplicity is one of the selling points of Hercules drills. That said, they do offer a few extras that are particularly helpful for amateur DIYers. If you consider yourself to be a cut above amateur, some of the other brands may be a better choice.
Hercules Has Kits
The biggest extra that Hercules offers are the kits that accompany each of their drill types. The kits all come with a battery, charger, and carrying kit. Moreover, they have a bit set.
For the impact driver, there is an accompanying bit set that comes with 45 pieces. That is more than enough to see most amateur DIYers through the majority of projects that they need to tackle.
What Is The Best Traditional Hercules Drill?
The Hercules 20v lithium cordless drill is the best offering for traditional drills. It isn't fancy and won't come with an app like some of the other power tool brands, but it is built on reliability and will get most tasks out of the way.
Design
The design is pretty basic, but it is both comfortable and lightweight. At just over 8 pounds, that includes the battery, charger, and the carrying case as well. The comfortable grip and lighter weight mean not getting weighed down while using it.
Specs
Despite its simplicity, the Hercules 20v delivers power. At 2000 RPM and 576 in-lb of torque, it is actually comparable to some of the big-name brands on the market. For amateur DIYers, that means getting most of the jobs you need done handled with ease.
What Is The Best Hercules Impact Driver?
For impact drivers, the best Hercules offering is the 20v cordless ¼" hex compact impact driver kit. Hercules smartly offers a kit for each of their drill offerings, making it a highly appealing option for those just learning the DIY game.
Force. This impact driver brings enough force to get most jobs done thanks to 2800 RPM and up to 1500 in-lb of torque. That is comparable with most DeWalt impact drivers on the market today.
LED lighting. The Hercules impact driver also comes with an LED lighting system. With a slight delay after the trigger is pressed, it helps users work in conditions where lighting is less than ideal.
Lightweight. Despite including a battery, charger, and carrying bag, the entire thing weighs just under 9 pounds. That makes it easy to carry around without feeling burdened by the additional weight.
The Hercules 20V Impact Driver
One of the most notable products from the Hercules brand of tools is the 20V impact driver. The main selling point for the Hercules line (and Harbor Freight in general) is the low prices. If you are looking for something cost-effective, Harbor Freight can typically deliver.
The Hercules 20V impact driver is one of those tools. If you are looking for an impact driver under $100 that can match the quality of some of the better brands, this is it. Here are the good and the bad about the Hercules 20V impact driver.
The Pros
Superior speed under load at 565 RPM
High-quality fastening torque power of nearly 1500 in-lbs of torque
Delivers a ton of torque for breaking seized nuts
Lightweight and compact
Great value
The Cons
Gets hot quickly
Versatile battery packs that work with DeWalt
Fairly loud
What is the Best Hercules Hammer Drill?
The final offering for Hercules is hammer drills. The best choice there is the 20v cordless ½" compact hammer drill. It also comes with the aforementioned kit with two important additions: a pair of power bits and a masonry bit. For beginners, it is a great option.
Powerful. It has the 576 in-lbs of torque that the traditional 20v does but offers 0-10,200/0-34,000 BPM of power as well. That is a lot of power for beginners and puts it right on par with some of the best DeWalt offerings on the market.
2-speed motor. The Hercules hammer drill also comes with a 2-speed four-pole motor. That means you can switch between the hammer drill and the drill-only modes. That is greater versatility than a lot of amateur brands.
Related Guides

Ryan Womeldorf
Ryan Womeldorf has more than a decade of experience writing. He loves to blog about construction, plumbing, and other home topics. Ryan also loves hockey and a lifelong Buffalo sports fan.
More by Ryan Womeldorf
Published March 14th, 2021 8:47 PM