31 Views
When Do Roses Bloom? (Based On Variety And Zone)
February 2nd, 2022 12:33 AM
Share
We're committed to finding, researching, and recommending the best products. We earn commissions from purchases you make using links in our articles. Learn more here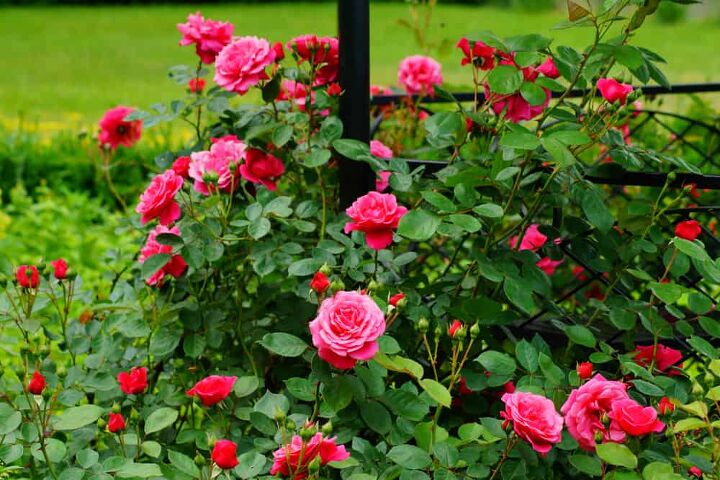 Roses are the oldest flower ever recorded with archaeologists finding a rose fossil from 35 million years ago. In fact, the oldest living rose is more than a thousand years old! There are over two thousand types of roses from short ground cover to large rose bushes and heirloom to wild. That makes answering the question of when roses bloom a difficult one.
All types of roses do not bloom in the same month and other factors like weather and your location can affect the bloom time as well. However, most roses will bloom in the spring but bushes and climbing roses typically bloom in the summer. If you live in a warm climate like Florida, your roses may bloom all year.
Also, keep in mind roses are great to plant along to fence line to increase your garden's appeal. Want to hide an ugly fence or add beauty? See what else is good to plant along the fence!
How to Determine Bloom Time?
The best way to get the answers to when roses bloom is to look at them from each species and type as well as the plant hardiness zone you live in. The plant hardiness zones range from 1a, which includes the northernmost area of the United States, to 13b, which is found in Puerto Rico.
Different Classifications of Roses
One way to look at the different classes of roses is their date of introduction. For example:
Heirloom or old-fashioned roses are those that have been around since 1867. They are typically very fragrant, lush, and include hundreds of varieties for both warm and cold areas. They only bloom once a year, typically in the summertime.
Hybrid or modern roses were introduced after 1867. They are more disease-resistant, hardy, sturdier, and bloom longer. They come in many different types such as English, Rambler, and Floribunda.
Wild or species roses have been growing on their own for thousands of years and adapted over the years. They bloom from spring to summer and have single blooms.
Different Types of Roses
The most popular types of roses include five different types.
Climbing Roses
Climbing roses are the most common variety and, as their name states, they grow up walls and trellises. They can range from micro-miniature blooms to extra-large blooms. These roses need a lot of care with pruning regularly, watering often, and being susceptible to many diseases.
The climbing rose typically blooms several times a year, which is what makes them so popular for gardeners. And they can grow up to 12 feet tall in some cases. They will bloom more often if you prune them in late winter or early spring depending on your zone.
You should also choose your climbing rose by the amount of sun they need versus the area you are planting them in, the hardiness of the blooms, and what type grows best in your area. The color and size of the blooms also should be taken into consideration as well.
Rose Bushes or Shrubs
These types are classed by their habit of sprawl, which vary from five to 15 feet in each direction. Bushes are very hardy and grow large clusters of blooms from spring until fall. They include six subdivisions, which are:
Shrub
English rose
Hybrid rugosa
Hybrid musk
Hybrid moyesii
Hybrid kordesii
Miniature and Miniflora Roses
The miniature rose is popular because they are novel and can be used in pots as well as in a garden. You can even grow these indoors, which means they can bloom more often. They grow from 10 to 24 inches in height and the blooms are less than one inch in most species.
The miniflora rose is a bit bigger, at about 2.5 to 4.5 feet tall. They are a class that is too large to be a miniature rose but too small to be considered a hybrid tea or floribunda rose. Both types of minis can bloom from spring until the end of summer.
Polyantha Roses and Floribunda Roses
Polyantha roses are smaller than floribundas with one-inch blooms, but they grow in large clusters. They are sturdy, hardy, and are excellent for hedges and edging. They bloom two to three times a year, depending on your zone.
Floribunda roses are one of the most popular types of roses because they bloom in large clusters with large blooms. They also bloom continuously if grown indoors or in a greenhouse. They are easy to care for and can handle wet weather better than the others.
Grandiflora Roses and Hybrid Tea Roses
The hybrid tea rose is the most popular type of rose in the United States. Their huge blooms can have anywhere from 30 to 50 petals grown singly on long stems. These are the ones you will often see in flower shops or sold in flower arrangements. This variety comes in thousands of species and can bloom as often as every six weeks.
The grandiflora was developed by crossbreeding the Floradora floribunda with a Charlotte Armstrong hybrid tea rose. This beautiful rose ranges from dawn pink to carmine rose and can grow up to eight feet high, blooming several times a year. The first named grandiflora was the Queen Elizabeth.
Different Roses for Different Zones
If you live in zones 2a through 4b, the best types of roses are winter hardy and resistant to mildew. These will only bloom in the summertime because of the cold temperatures during the rest of the year. Some of the best types include:
Canadian shrubs Simon Fraser, Frontenac, Champlain, John Franklin, Winnipeg Parks, Adelaide Hoodless and Morden Ruby, Amorette, Fireglow, and Blush.
Climber roses Louis Jolliet, John Davis, Henry Kelsey, William Baffin, and John Cabot
Rugosa shrubs Charles Albanel, David Thompson, Henry Hudson, Jens Munk, and Martin Frobisher.
Zones 5a through 11b vary from floribundas to shrubs as well as minis and climbers. For those who are in zones 9a through 11b, watch for aphids and be sure to soak roses during droughts. Pruning roses in February is recommended. Some of the best roses for these zones include:
Floribundas Betty Boop, Scentimental, Ainsley Dickson, Fragrant Wave, Europeana (zones 5a to 9b),
Shrubs Birthday Girl, Sally Holmes, Daydream, Ambridge Rose, Lady Elise May, Louise Clements, William Shakespeare (zones 4a to 10b), Jude the Obscure (zones 4a to 10b), Carefree Beauty (zones 4a to 10b), and Robusta (zones 3a to 9b).
Hybrid teas Elina, Midas Touch, Elle, and Royal Amethyst (zones 4a to 10b).
Climber Dixieland Linda
Miniature Sweet Charlot
Grandiflora About Face
Container Roses can bloom all year indoors. Most of these are miniature roses but may also include some mini climbers. Some of the best choices for container growing include:
Passionate Kisses
Marmalade Skies
Betty Boop
Angel Face
Starry Night
Mix n Match
Carefree Delight Melpotal
Flower Girl
Carefree Wonder
Knock Out
White Drift
Sun Sprinkles
Roses prefer a neutral pH range from 5.5 to 7.0. If you do not know the pH of your soil, you can get a test at any garden store or online. The best pH is about 6.5. You can raise your soil pH levels by adding lime and lower it with limestone or sulfur.
They also need soil that is rich in organic matter and well-drained. To get the best texture of soil for roses, you can add sand and compost for clay, gravel, and manure for silty soil, or humus and manure for sandy soil. You can also use nitrogen mixed with sawdust.
---
Related Questions
What Can I Do if My Roses Do Not Bloom?
If your roses are not blooming, there is something wrong. You should check your roses carefully, looking for signs of disease or pests. Some of these include:
Botrytis blight is a gray fungus that grows on the blooms, making them droop or turn brown.
Powdery mildew will cause the stems, buds, and leaves to have a white coating on them. This is caused by humid and hot weather and lack of pruning.
Black spot causes black spots on the leaves that eventually turn yellow. It can be caused by water on the leaves that encourages mold.
Aphids can be sprayed off the plants with cold water and you can keep them away by using insecticide soap every three days.
Japanese beetles like fragrant roses mostly. Pick them off one by one and put them in soapy water. Then use an organic spray to keep them off.
Spider mites can also be sprayed away with water and kept away with insecticide soap.
Stem borers can get into roses you just pruned. To prevent this, use non-toxic wood glue to seal the cuts.
Also, you may need to feed your roses more. Granular fertilizer once a month from April through July is preferred. Use about one cup for each rose bush. You can also use banana peels, which are excellent for phosphates, magnesium, sulfur, and calcium. You can chop them up or lay them at the base of the plants.
When is the Best Time to Plant Roses?
This depends on the zone you live in and the type of rose. Bare root rose needs to be planted outdoors while they are dormant. This is typically in the fall or spring, depending on what kind of rose you have.
A container rose can be planted in late fall or early spring. The worst time to plant roses is in the winter if you live in zones 7a and lower. No matter when you plant your roses, make sure you soak it for about four hours in a bucket of water first.

Patricia Oelze
I am a DIYer who loves writing about anything home-related. When I am not writing, you can find me studying for my PhD in Psychology, photographing nature, and swimming at the lake with my grandkids.
More by Patricia Oelze
Published October 10th, 2020 9:04 AM