32 Views
15+ Types of Shelves for TVs (Floating, Corner & More)
January 24th, 2022 11:38 AM
Share
We're committed to finding, researching, and recommending the best products. We earn commissions from purchases you make using links in our articles. Learn more here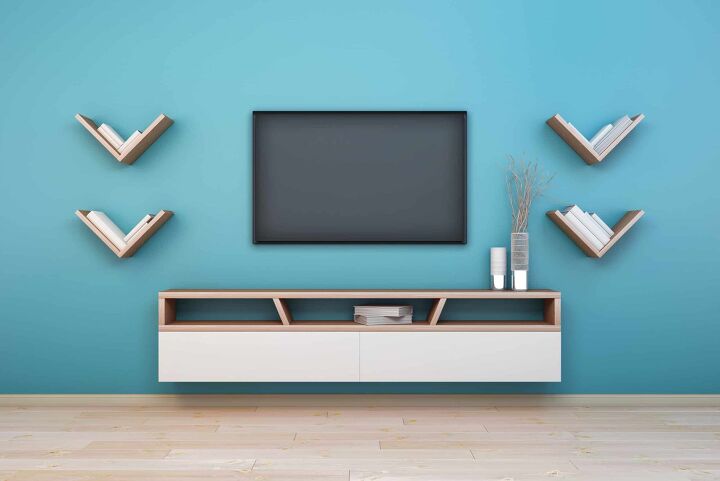 Keeping the floor around your TV free from chords and clutter is an excellent way to create the illusion of more space. More specifically, opting for a floating TV stand that is mounted onto the wall is a very effective method for achieving this. Though most floating TV stands are wall-mounted, to create that float-like effect, there are also floor models available.
When it comes to shelves for TVs, there are many different styles, types, and features to choose from. Regardless of the one you choose, floating TV stands look sleek and are often highly practical with extra storage, cable management, and LED lighting. Not to mention, these TV shelves can help make your entire entertainment setup stand out.
Whether you're looking for a modern, contemporary TV stand with a shiny finish or a rustic farmhouse-style entertainment unit, you'll be able to find something to help complete your desired look.
Types of TV Shelves
If you're looking to install shelves for your TV as a way to "float" it on your wall, your options can be broken down into two main types: a single floating shelf or an entire floating tv stand unit. A floating shelf is simply a type of shelf that has all of the wall fixings concealed within the board. There are no visible brackets and the shelf appears to "float" on your wall – hence the name.
Using these types of shelves underneath a wall-mounted TV is an effective way to keep your home looking organized and free up visual clutter in your living space. A durable single shelf is the ideal choice for small spaces. However, it's important to note that if you intend to put the TV on the shelf, instead of mounting it on the wall, the shelf must have a high enough weight limit. The same goes for if you want to position your TV on a floating TV stand.
Alternatively, if you have an open wall and ample space for your TV, you may want to opt for a floating TV stand. This will provide more space for storage and also make your TV appear like a much more prominent focal point in the room.
TV shelves come in a variety of shapes, sizes, and styles. The choice between them varies greatly from a thin floating shelf with minimal storage capacity to a bulky TV cabinet with multiple drawers and shelves. Whether you choose a strong single shelf or a floating tv stand to go underneath your TV, you'll save floor space and also make your living space appear much larger.
Features
A carefully chosen shelving unit for your entertainment center isn't only about style. The functionality must complement your individual needs. For example, if you have a lot of items in your current media center, you may be better off investing in a large wall system. TV shelving units come with a wide array of features, including some of the following:
1. Drawers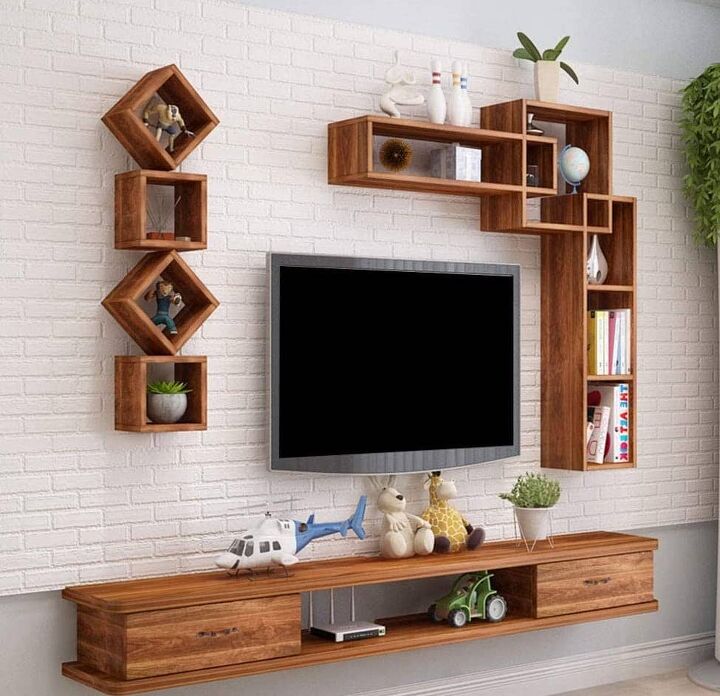 A floating tv stand with drawers is one option that will always look neat and tidy. The hidden storage makes it quick and easy to stash items out of sight, reducing overall clutter in your living space. Having drawers as a feature on your TV shelves offers the added benefit of always knowing exactly where your remote is.
The option above includes two drawers with a shelf in the center, offering some versatility. You can hide your small items away in the drawers, and display more decorative pieces in the center and on top. There are a number of other drawer options for floating shelves such as those that extend across the entire unit and the soft closing variety.
2. Exposed Storage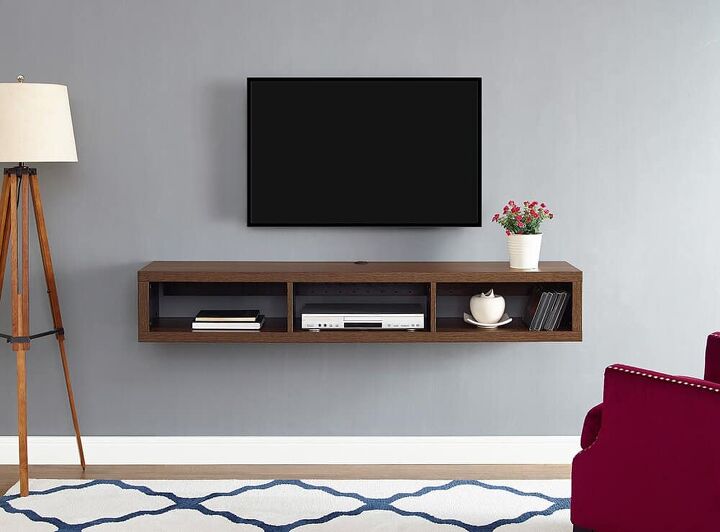 As opposed to just simply finding another piece of furniture to store your television remotes and various entertainment knick-knacks, why not opt for a shelving unit that features exposed storage. The cubby-like holes in this type of design can be filled and decorated according to your liking. Not only does this keep all of your essential TV and entertainment devices in one place and limit the clutter in your home, but it also makes it effortless to find exactly what you need when you need it.
Depending on the particular unit that you purchase, it may or may not have an open back. With that said, if you want to place anything electronic like a gaming system or DVD player into the open, exposed storage area, you may need to drill a hole in the back for the cables.
3. Cable Management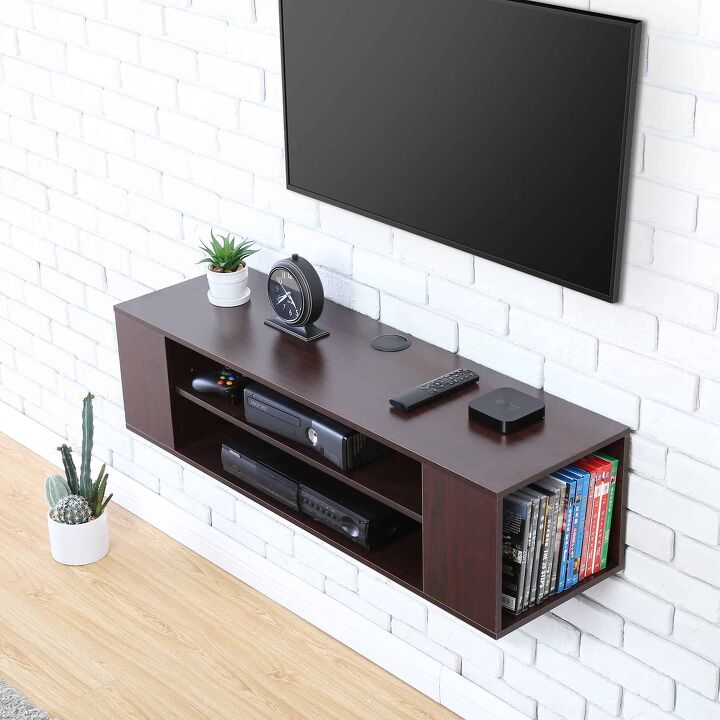 One of the benefits that comes with most shelves for TVs is cable management. There are few things more unsightly or annoying for a homeowner than a beautifully mounted TV that has cables strewn about. Not only is this unattractive, but it can also make it very difficult to focus on the entertainment with such a major eyesore.
Although many homeowners take such matters into their own hands by drilling holes into the wall or installing a cable concealer to stash the cables, this issue can be remedied with most floating tv stand designs. So long as you choose a unit that has wiring grommets, you can easily hook up all your devices, control the cables you have, and keep them out of sight.
4. Cabinets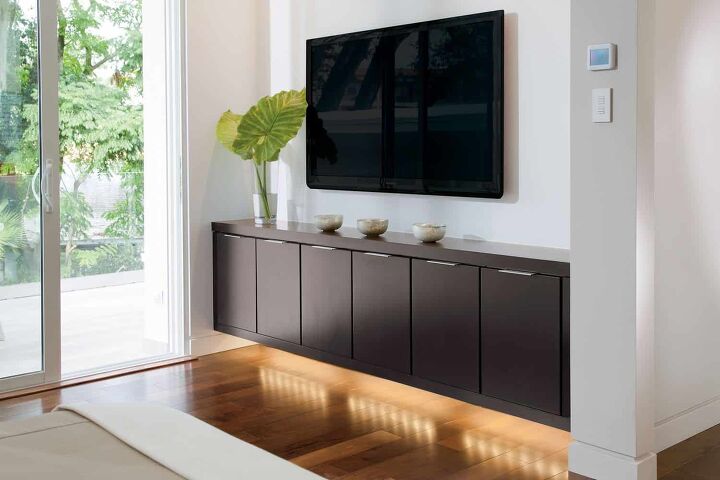 In addition to drawers, cabinets can be an excellent way to keep your living room tidy. You won't have to worry about stray remotes, chargers, and various small devices cluttering up the space. Simply shut the cabinet doors in your floating TV stand and the mess is contained.
Cabinets are also an ideal place to put your gaming and small entertainment systems. By keeping the cabinets closed, everything is hidden away and your area appears cleaner and more streamlined. For many, it's important that their living spaces are clutter-free and this can be easily accomplished when you purchase a floating TV stand that features cabinets.
TV Shelf Styles
Like features, there is a wide array of styles for TV shelves. Whether you're looking to achieve a sleek, contemporary appeal, a mid-century modern look, a combination of rustic and industrial, or something in between, there's a TV shelving unit available to complement your desired aesthetic. Let's take a look at some examples of the many styles you have to choose from when it comes to shelves for TVs.
1. Minimalistic Open Concrete Stand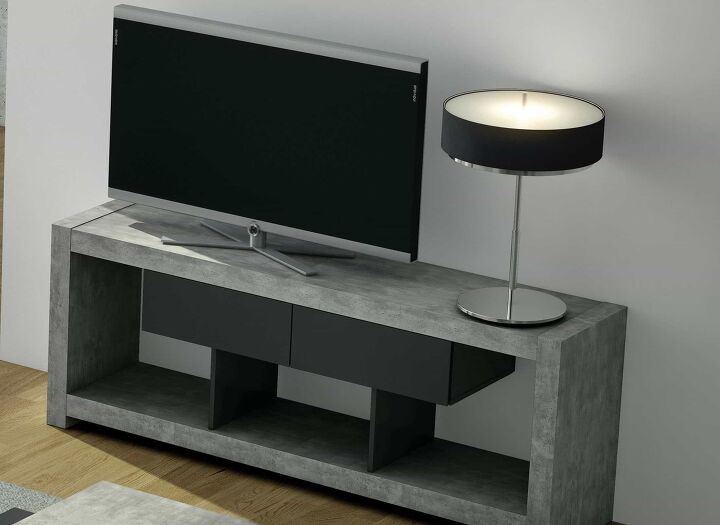 To keep your living room looking sleek and simple, consider a very minimalistic floating TV stand. Rather than featuring any visible shelving, cabinetry, or even knobs, this stand is essentially a long rectangular concrete box. Its' urban design is well-suited for everything from a luxury penthouse to a downtown bachelor pad.
As an added bonus, though this TV stand may seem like it's floating, it's actually freestanding. That means that you won't have to worry about any damage occurring to your walls – a fact that can be especially beneficial for renters.
2. Modern Floating TV Stand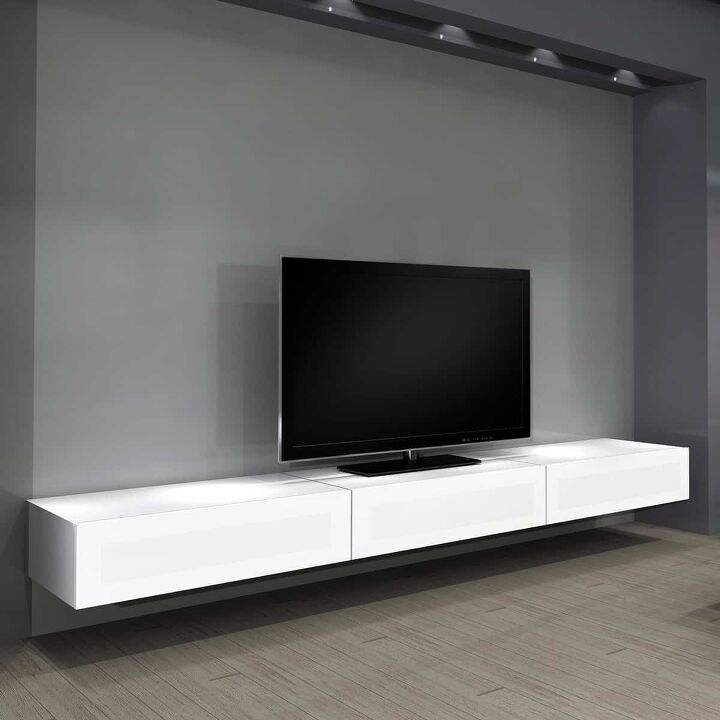 Sharp edges and the high-gloss finish of this floating TV stand give off an exceptional contemporary look, which will complement any homes that are also included in this design style. There are no knobs or handles on the unit, maintaining the focus on the high gloss design.
This type of floating TV stand is rich in both style and function. Alternatively, you can opt for a glossy black finish to accomplish a more dramatic look. Or, look for one that is made of wood for a naturalistic touch.
3. Farmhouse Entertainment Unit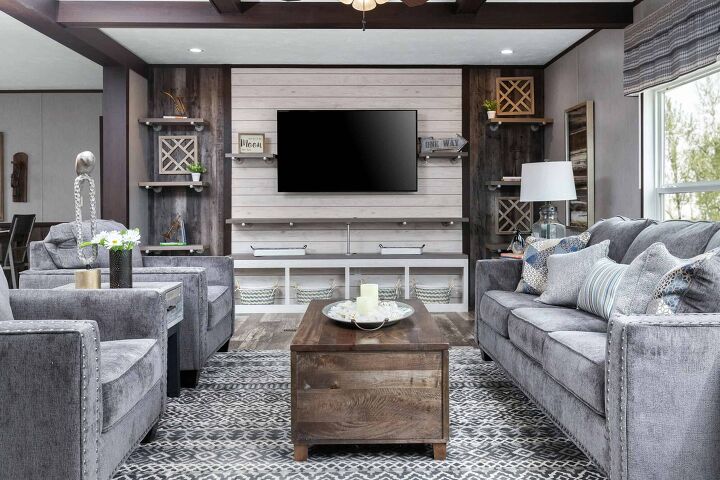 To instantly elevate your living space, choose an entire entertainment unit to display your TV and also provide storage. The option above features a paneled back and wood accents, making it ideal for blending into most homes that fall under the Farmhouse aesthetic. However, this style is very versatile and could even complement a more modern or contemporary home.
This is an excellent design whose users will benefit from multiple shelving built-in pot lights, cable management, and so much more.
4. Rustic Industrial Shelving Unit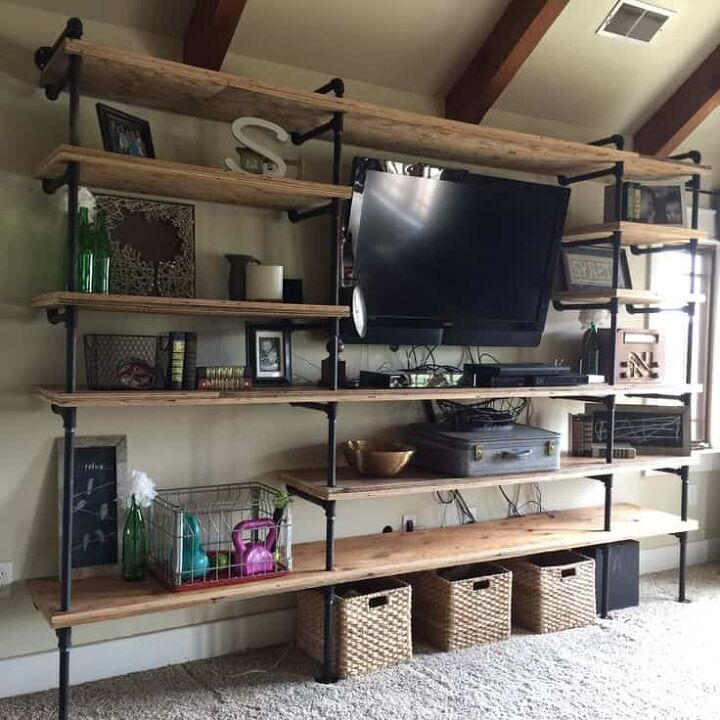 The industrial look is characterized by pipes or exposed metal and wood with a dark finish. If this is the style you're going for, you can certainly find a pre-built shelf or tv stand that includes exposed piping as an accent. However, in most cases, these metal accent pieces do not add structural stability to the unit.
On the other hand, the example above appears as if it was custom built and mounted to the wall and ceiling. The pipes are used to hold and secure the shelves, which is an excellent choice as steel metal pipes are incredibly sturdy. This can also be a fun and inexpensive DIY project. All you'll need is some pine boards and the piping.
5. Minimalistic Contemporary
For a contemporary look that will look good in most homes, choose a floating TV shelf that features intriguing angles and lines. This will add a lot of visual interest and dimension to your living space. It's not uncommon for many to use modern and contemporary interchangeably, however, modern will appear more futuristic – especially with floating TV shelves.
A contemporary TV shelf, on the other hand, is typically very minimal, made of solid wood, and is nothing more than simple interesting lines to draw the eye.
6. A Media Lovers Dream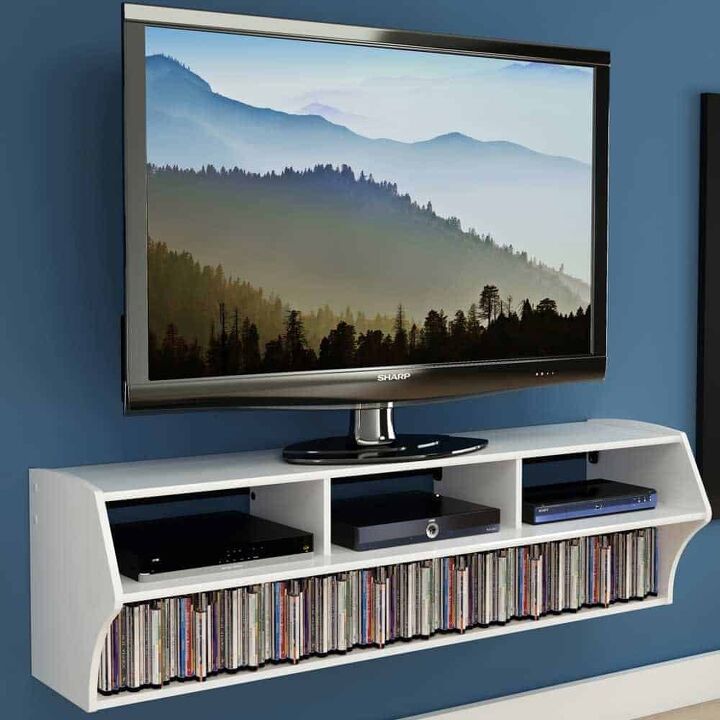 If you have a large collection of DVDs or are simply short on space, you may want to consider a floating shelf like this one. This triple-tier floating TV stand offers plenty of space to store all of your items in one unit. The lower shelf can be dedicated to media, while the middle shelves can house electronics and the top shelf supports the TV.
One major benefit to this type of design is that the weight limit of the stand is enough to withstand the weight of the TV. If you'd rather not mount the TV on your wall, a floating unit like this one may be your best bet!
7. Two-Tier Floating TV Shelf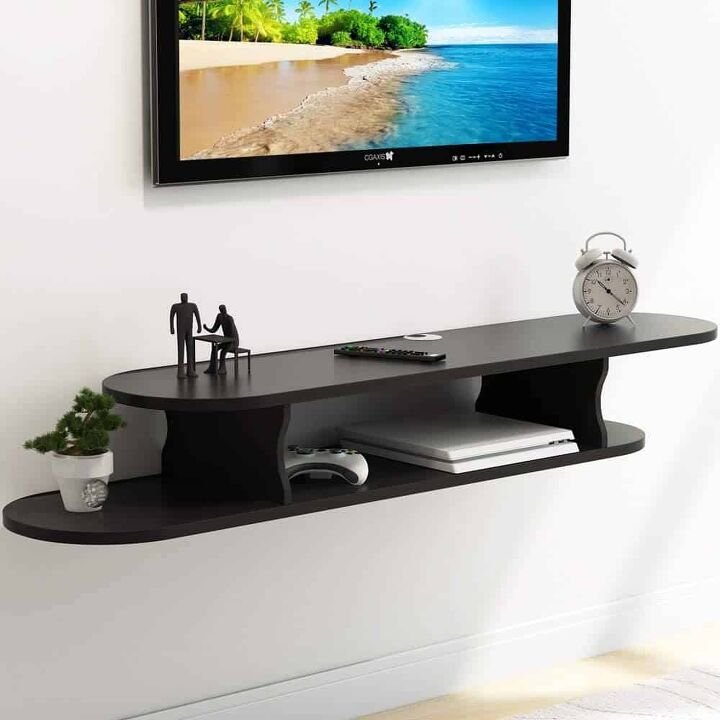 This TV shelf option helps to keep things both simple and cost-effective. If you have minimal space in your home or only need shelves to house a few items like a cable box, gaming system, or soundbar, this might be the style for you. Though it's relatively basic, this two-tiered design will keep all of your essential electronics organized and within reach.
The cable hole on the top is designed for concealed cable management and the round corners are great for those with kids. They help to effectively reduce the impact of collision and avoid injury you'd otherwise get from a TV stand with sharp edges.
8. Space Saving Corner Floating TV Stand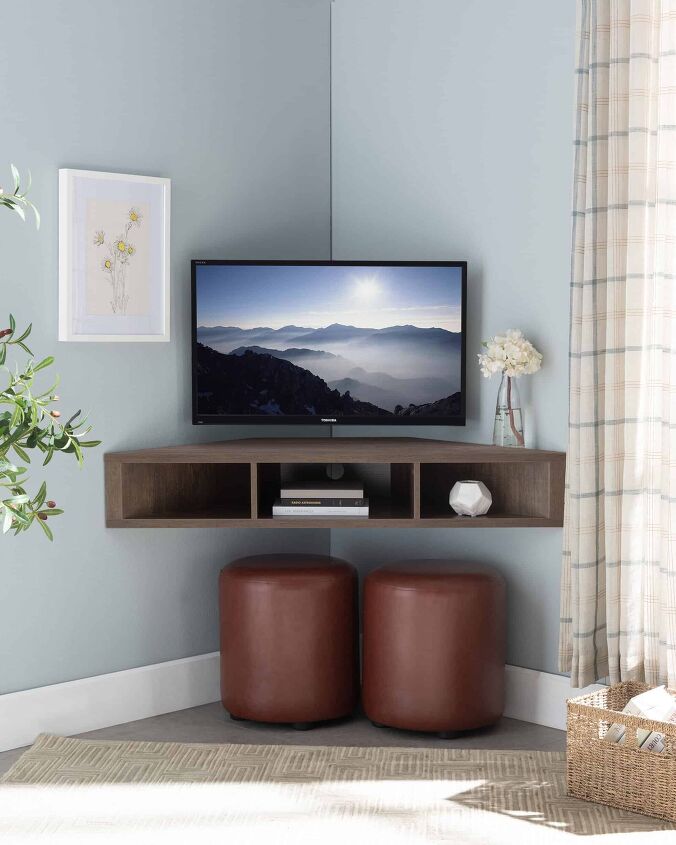 Ideal for a small condo or apartment, a floating TV stand in a corner orientation can make your living spaces feel more spacious than they actually are. This is a great spacing saving TV shelf option that allows you to make the most out of your rooms. Simply take advantage of an unused corner in your living room and mount both a floating shelf and your TV.
Also, with this option, you can still make use of the floor space in the corner to store things like storage baskets, small ottomans, or nesting end tables – the options are endless! A design like this also has a weight capacity of up to 50 pounds, offering the option to place your TV on the shelf itself.
9. Long Floating TV Shelf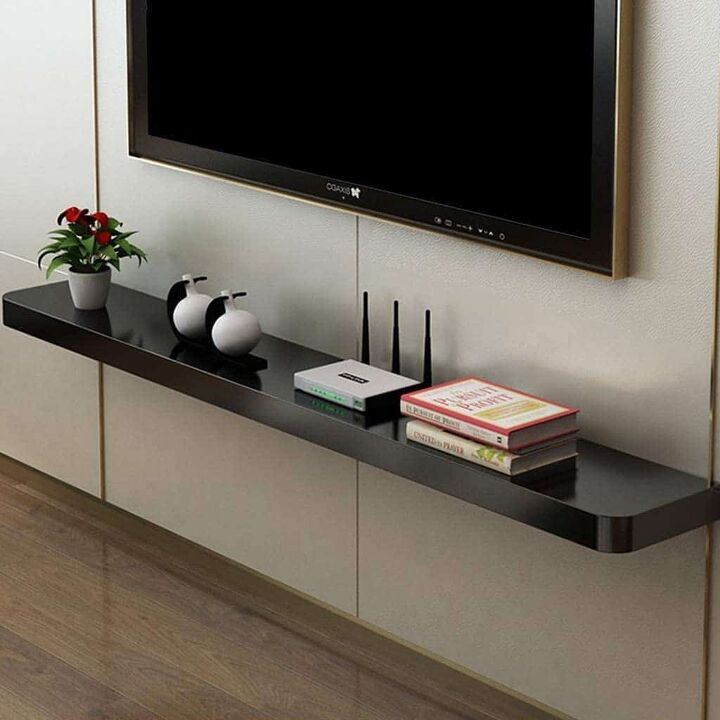 Another option you have is to install a single, long shelf underneath your TV. A long floating TV shelf is also a very minimal option with a thin profile. This elegant design will free up floor space and enhance the overall aesthetic of your entertainment system. Though it is a simple design, it offers just enough storage to place all of the essentials such as a cable box, gaming console, speakers, and various decorative elements.
This particular shelf is also designed with a cable hole to keep all wires neatly organized, but still within reach. As an added bonus, this example also features the safety feature of round corners to protect children from getting hurt and ensuring the safety of the family.
10. TV Mount with Built-In Shelves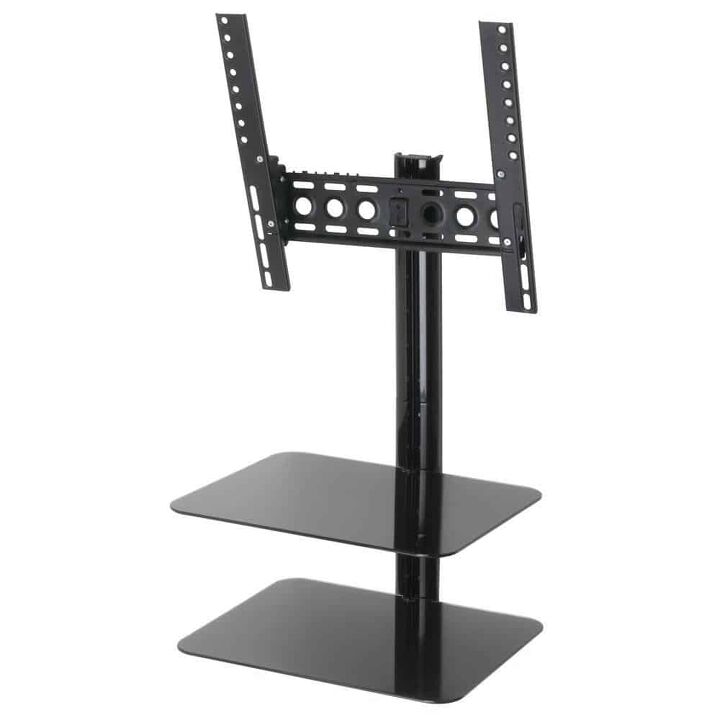 This example is a much smaller, but effective, option for installing shelving underneath your TV. It is also an affordable choice that kills two birds with one stone: mounts your TV and provides shelving for storage of your electronic devices. Put simply, this TV shelf is essentially a mount with built-in shelves.
The shelves are also height adjustable to accommodate various size consoles. Additional features include the ability to swivel the TV on the mount, a cable management system, and all the hardware you need to achieve an easy installation.
11. Top Shelf TV Stand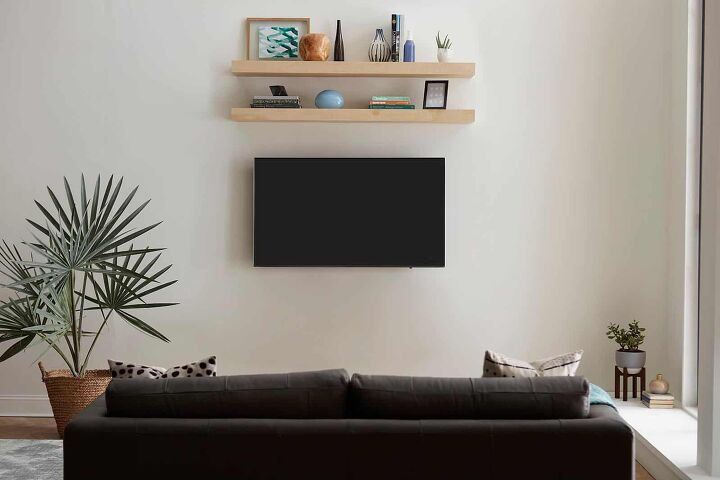 Another minimal TV shelf option, this example is very different from the rest in that the shelves are above the TV instead of below it. This style is primarily more decorative than it is functional. Though, if you prefer, you could use this shelf above the TV to store your cable box, gaming systems, and other electronics. However, this detracts from the convenience of having all your essential devices within reach at all times.
With that said, the design of a top shelf TV stand considerably clears up the space around the floor and draws the eye upward, making your living room appear larger. In this example, the homeowner simply used two single floating shelves to create their desired look. This style is also affordable, as floating shelves are readily available, and easy to install.
12. Floating TV Stand with Electric Fireplace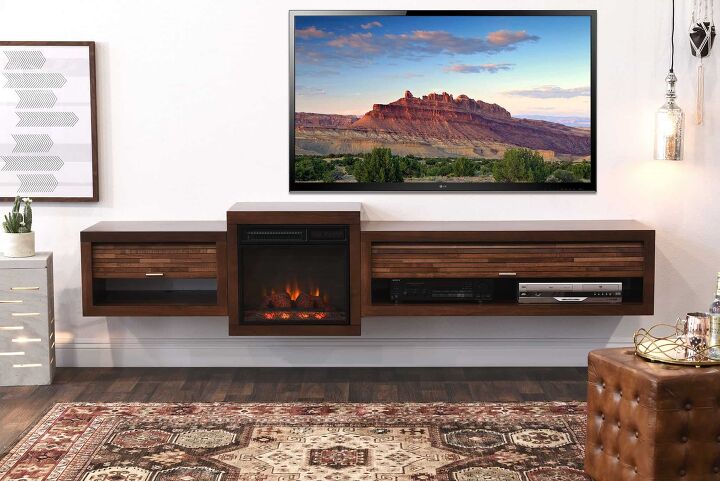 If you want your TV shelves to be a real talking piece and also serve as a source of comfort, consider this option. Everything from an expansive cottage to a tiny apartment can benefit from the dynamic appearance and versatility of a floating TV stand with an electric fireplace.
With this particular example, the units are all handcrafted, made of durable materials, and offer a considerable amount of storage space. A floating TV stand with a built-in electric fireplace is a really beautiful design choice that will certainly have all your guests talking.
13. Textured Geometry
This floating TV shelf is made out of wood and covered in a metal sheet that includes a protective coating. It is a very unique style, consisting of a post-modern geometric relief pattern on all sides. This TV stand contains two cabinets for ample storage space for all of your electronic devices. The shelves inside can also be adjusted to your liking. Everything can be easily hidden and stored away inside these two compartments, creating a very streamlined look for your living space.
Like the aforementioned example, this TV stand is sure to attract a lot of attention from your guests. It is more than just a piece of well-functioning furniture, the heavy textured design is very much like a piece of modern art. Choosing a TV shelf like this one will create a focal point and add visual interest to your living room.

Jessica Stone
Jessica considers herself a home improvement and design enthusiast. She grew up surrounded by constant home improvement projects and owes most of what she knows to helping her dad renovate her childhood home. Being a Los Angeles resident, Jessica spends a lot of her time looking for her next DIY project and sharing her love for home design.
More by Jessica Stone
Published February 5th, 2021 6:01 PM