317 Views
How To Update A 1970's Stone Fireplace
February 12th, 2022 11:21 AM
Share
We're committed to finding, researching, and recommending the best products. We earn commissions from purchases you make using links in our articles. Learn more here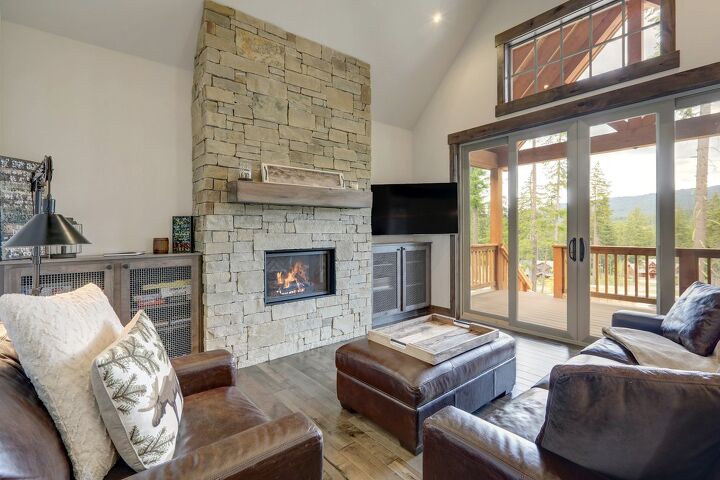 The '70s were a decade of seriously fascinating style—pony cars, peasant tops, disco platform shoes…and bulky stone fireplaces. Back in the day, having a stone fireplace that took up a third of your wall was a way of adding rustic glamour. These days, having a '70s stone fireplace is a great way to add a remarkably dated look that is more of an eyesore than anything else.
There are many ways you can update a 1970s stone fireplace. The method you choose depends on your personal taste. Here are a few ideas:
Use wooden paneling to frame it and make it look more traditional
Add concrete to the stone
Apply stone veneer
Add color by using tile
Paint the stone a different color
It's no secret that a lot of homes still have these fireplaces and that most families still want to enjoy the warmth of a fresh fire. Most people, though, don't enjoy seeing the large, bulky stones that make up a typical fireplace from this era. So, what's a person to do? These options below can help you make a more modern look out of your old fireplace.
Do You Need Brick or Stone Fireplace Repair?
Get free, zero-commitment quotes from pro contractors near you.
Ideas for Updating a 70s Fireplace
Fireplaces are not like other home furnishings. They can pose a fire risk if they are not installed, maintained, or updated correctly. We strongly suggest that you don't attempt any updating project without looking up local fire codes and getting a qualified professional to help you out.
If you decide to go the DIY route, then please make sure to get your upgrading instructions from a reputable site—and don't skip any steps. Keeping things safe should be your number one priority!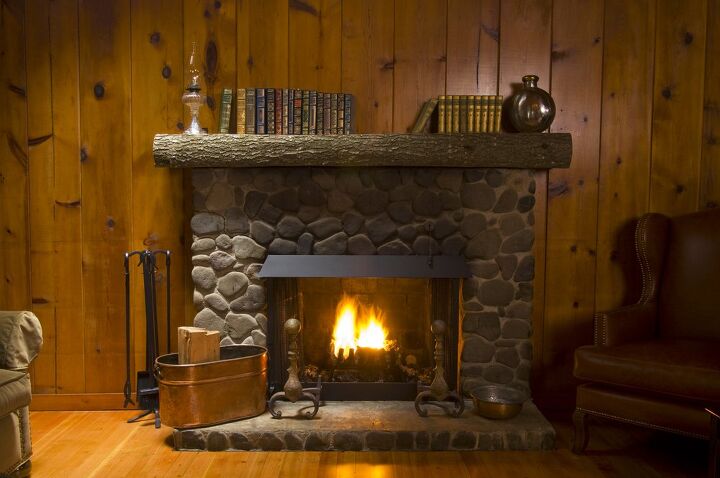 The Various Methods For Updating Your 1970s Stone Fireplace
Depending on your final goal and the look you want to achieve, there are many different things that you can do in order to update your stone fireplace from the '70s. The methods include:
Adding concrete to your stone
Using paneling made from wood to create a more traditional look
use a stone veneer instead
Use tile to add some color
Paint the stone
Another thing you could do is couple one of these methods with another. For instance, you could add some tile for color while using some wood panel to create a distinctive look. Whatever you choose really depends on what you prefer. So, we'll explain these a little bit more to help you decide what course of action you're going to take.
Add Concrete To The Stone Facade
Stones add a lot of heft to your home, which can lead to a lot of "business" that most homes generally don't need. Concrete (or stucco) can be applied directly to the stone masonry to fill in all the gaps and cover up the appearance of the stone. This will help to give it a nice smooth look.
There are several significant perks to going this route, including:
You can color the cement. Cement doesn't have to be grey if you don't want it to be. A little coloring can give you a reddish hue, a blue twist, or a nice creamy adobe look.
It's a smooth, crisp look. This is a favorite updating method for people who want to turn a 70s stone fireplace into a modern household centerpiece.
It's easy. This is one of the easiest ways to give your fireplace a new look.
Use Wooden Paneling For A Traditional Look
Love the idea of switching the retro look of a '70s stone fireplace for a more traditional look? Grab some wood paneling! Wood paneling has the perk of having that stately appearance that never goes out of style. This way, you can keep your fireplace's rustic look without keeping the elements you want to get rid of.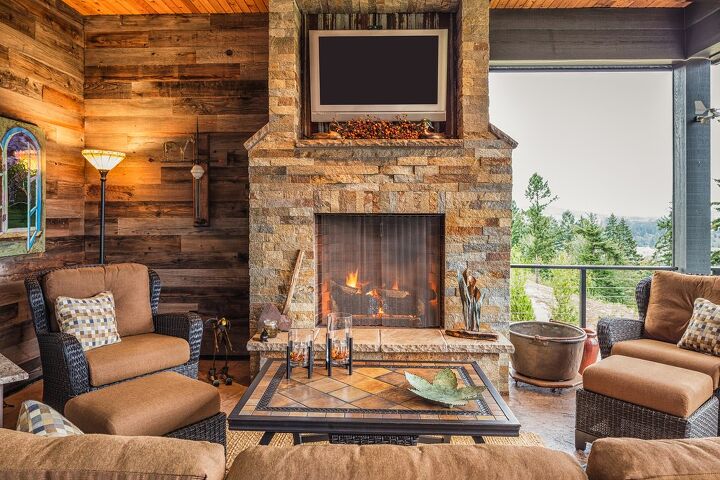 Here are some of the better perks of using wood paneling to get your fireplace updated:
There are a lot of ways to dress up wood paneling. Want an old Cape Cod look? Go for mahogany or a rich cherry finish on your paneling. Want to go for a farmhouse look? White painted wooden panels are a good option.
It's a quick way to get rid of any evidence of the stone. Stucco and concrete can take a while to actually dry and model. Wood paneling can be a quicker fix depending on the method you use.
You can also hang up artwork on it easily. It's a lot easier to nail a painting to a wooden panel that has drywall behind it than it is to nail something to concrete. Trust me on that. If you decide to get a wooden surround, you can turn your modernization project into a shelving unit too!
Use Tile To Get Some Color In Your Life
Tile is one of those materials that most people don't think of when they are trying to upgrade a fireplace, but should. It's a traditional resurfacing material that can pack a powerful punch. Tiling it up is a quick and basic way to make things work. Not to mention, you can choose from a variety of colors to incorporate into your fireplace. How cool is that!?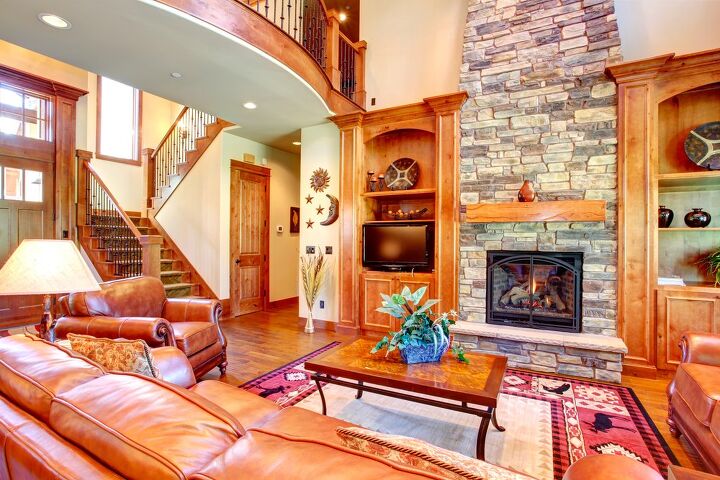 Want to know the perks here? Here they are…
You can get the tile in almost any color. Getting an elegant mural tile or just going for larger neutral stones is always doable. If you're looking for flexibility in terms of your aesthetic, tile is most likely going to be your best bet.
Colored grouting is a thing, too. If you want to add even more customization, it's worth pointing out that the grouting you'd use to keep the tile in place is also going to be available in colored versions.
Most people find this to be an easier fix than most others. Since there has been so much work with tiling in the past, it's an easier job that you can expect to last for years to come.
Speaking of tile, it is easier to clean than stone. If you are worried about getting your hands dirty with a lot of cleaning problems, then this is going to be a breath of fresh air. Tile is a cinch to maintain.
Framing an Old Stone Fireplace
If you want to give an old stone fireplace a thorough facelift, you should consider framing it. While the thought may seem overwhelming, the process is easy.
Step 1: Speak With a Professional
You're going to have to replace the stone, the hearth, the surround, and the gas insert, among other things. It may appear hard, but as we said, it's pretty simple. If you break down the procedure into individual phases, you'll find that renovating a stone fireplace this way is something you can do without hiring an expert!
However, before beginning any renovation work, we recommend talking with professionals. The expert must inspect the fireplace and guarantee that it is in good functioning order. You never know what might happen with an old fireplace. For example, yours may require cleaning, particularly if it hasn't been maintained in a long time.
Step 2: Create the Framing
Second, now that all of the preliminary work has been completed and the fireplace is ready to be renovated, you may begin creating the framing.
It's considerably easier to build a frame over an old stone fireplace than it is to remove the stone and create a new level surface. This is why, when it comes to fireplace upgrades, this option is still one of the most popular.
Step 3: Build a Chase
If you're going to have a TV over the fireplace, you'll need to build a chase for the cables after the frame is ready and placed.
If not, skip this step and move on to the substrate installation. These are the layers of material beneath other layers of material. Usually, it's the tile's cement backer board.
Step 4: Apply the Cladding
When you're done with it, you'll need to cover the entire structure with cladding. If you want to give your fireplace a crisp and modern design, shiplap will be the best choice. Furthermore, because this material is easily painted, you can choose any color that would complement your fireplace room.
Step 5: Add the Final Touches
If you want to put tile over your fireplace once it's been renovated, the next step is to put it up. Then paint the hearth and add a few finishing touches. Pay attention to details such as as painting the gas insert with heat-resistant paint to renew it or wrapping the fireplace in a wooden wrap to provide more color, especially if you used chilly paint colors.
Even an old 1970s fireplace will seem modern and revitalized with that kind of makeover, and will easily fit into any current interior design!
Removing a Stone Fireplace Facade
Of course, this is a radical approach to a 1970s fireplace makeover, but many people still use it when they want to update the design of their fireplace.
Naturally, you should keep in mind that this procedure requires a significant amount of time and work, as well as is extremely unclean due to the large amount of dust generated during the process.
Drape a drop cloth over the fireplace to collect dust and bricks and mortar fragments. To keep yourself safe from debris and dust, remember to wear eye protection and a dust mask.
Remove the wooden mantelpiece if your fireplace has one. Place a chisel at the point where the wood and brick meet and pound it hard with the hammer.
Examine the region beneath the mantle to see if the stones are held in place by mortar. Then, immediately behind the stone, set the chisel on the mortar and hammer it with the mallet. Continue doing so until it cracks.
Continue working the mortar in this manner until it becomes loose around the stone. Then pry the stone out with as much mortar as you can get your hands on. Finally, you'll have to remove all of the mortar and stone.
Do You Need Brick or Stone Fireplace Repair?
Get free, zero-commitment quotes from pro contractors near you.
The Verdict
If you are looking to update your '70s stone fireplace, you have a lot of options to consider. What you choose to do is all about your budget, your DIY ethic (if you go that route!), and the aesthetic you want to accomplish. Having that bulky fireplace look doesn't have to wreck your home's appearance anymore. As long as you make a point of researching your options, putting together a budget, and having a plan for your room's appearance, you should be good to go.
Make sure that you always remember safety is vital. So before you begin, you need to look up your local fire codes. In addition, it wouldn't hurt to hire a professional for a consultation appointment. Consultations usually come with a small fee, but they can let you know if there are any potential dangers with how you are trying to update your fireplace.
Related Guides

Upgraded Home Team
We are a team of passionate homeowners, home improvement pros, and DIY enthusiasts who enjoy sharing home improvement, housekeeping, decorating, and more with other homeowners! Whether you're looking for a step-by-step guide on fixing an appliance or the cost of installing a fence, we've here to help.
More by Upgraded Home Team
Published June 19th, 2020 1:30 PM