83 Views
Should I Show My Roofing Contractor The Insurance Estimate?
July 21st, 2021 3:23 PM
Share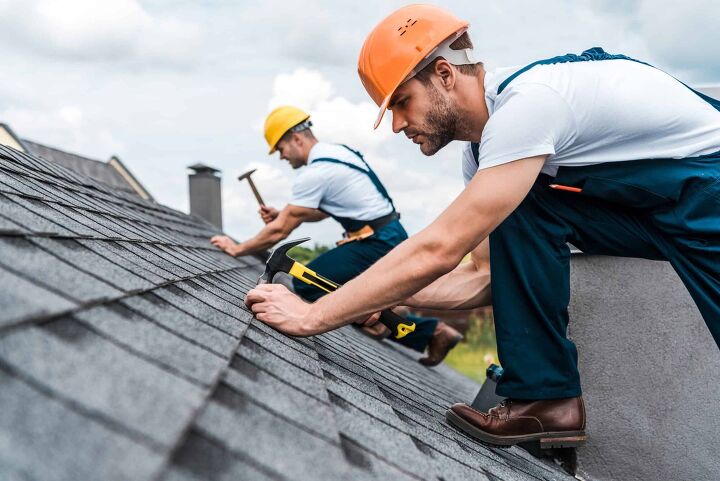 Recently, a major storm hit my area. The storm's winds were so high, trees literally flew sideways and landed on peoples' roofs, devastating them. A ton of insurance claims have been made, and roofers are currently out in spades so that the holes in those roofs can be fixed. This leads to a question most homeowners should ask: should you show your contractors the insurance estimates you received?
Yes, you should show roofing contractors the estimate that your insurance provided to you. This will help your contractor bill the insurer for the correct amount, and establish a line of communication with your insurer. Showing the estimate also decreases your chances of becoming an unfortunate victim of insurance fraud.
Most people think about home insurance (or renter's insurance) as a bit of a nuisance, but it's not. Even the estimates you receive are meant to help you out in one way or another. Here's what you need to know.
Do You Need Roofing, Siding, or Gutter Installers?
Get free, zero-commitment quotes from pro contractors near you.
What Should I Do If My Roof Was Damaged During A Storm?
If your roof was damaged due to a storm, the first thing you should do is call your homeowner's insurance. From there, they will get the details of the damage. You will most likely be asked to take photos of the damage and send them to your insurer. You can do this from your cellphone.
Once they get the full details, they will send an estimation detailing the damage to you. Depending on who your insurance is from, you might also get a list of suggested contractors to contact for a price.
What Does An Insurer's Estimate Contain?
This all depends on the insurer that you have, but most estimates will contain the following information:
Itemized Details Of Damages. This is mostly done for the contractor's benefits, but it also can help you understand what's going on and how your insurer categorizes it.
Information About Your Coverage. Your policy might not cover all the damages done to your roof. Some damage might be considered cosmetic, which won't be covered. Other policies will only cover a portion of the cash value of the repairs, while others will have specific instructions.
Deductibles. Your insurer will not cover the deductible. This would be covered by you.
Cost Estimates Of Repairs. Your insurance agency will also give you a ballpark guideline of what you should expect to pay when you get your roof fixed.
Do All Insurers Issue Out Estimates?
If your roof got damaged as a result of a storm, act of God, or accident, your insurance company is legally obligated to send out an estimate of damages. It's part of insurance protocol and helps give people a better understanding of what their coverage was able to help alleviate. So yes, you should get an estimate.
Do You Need To Work With Suggested Contractors?
Though insurance companies often will have contractors they suggest working with, you are usually not legally obligated to work with them if you don't want to. As long as the insurer doesn't have a clause saying that you need to work with approved vendors, you should be able to work with almost any contractor you choose.
Why Do Roofers Ask To See Your Insurance Estimate?
There are many reasons why roofers might want to see an insurance estimate, but almost all of them run back to keeping their hides legally protected. Here are the biggest reasons why it makes sense to show your roofers your insurance estimate:
It makes sure that the insurance company won't miss out on any repairs or building codes. If your roofer notices something that isn't according to code, they can alert the company to give you a better estimate. This can help save everyone tons of money and save you a major headache.
The estimate will also show how much of the repairs will be covered. Contractors often won't want to work with people who would have a hard time paying for the repairs. They will do what they can to try to work around your budget.
Showing your estimate also helps them avoid doing acts of insurance fraud. If you have a Replacement Cost Value policy, you might be tempted to pay out of pocket to avoid your deductible. Showing your roofer the estimate helps ensure that they aren't partaking in insurance fraud.
Showing a roofer a claim also means that they can help you get the money you need from your insurance. This is a good move for people who might have policies from sluggish insurers. Both you and your contractors can ask for supplements to the initial payout outline.
Should You Show Roofers The Estimate Before They Give You An Estimate Of Their Own?
Here's where the big snag hits. Showing the estimate too soon might actually just get your contractors to be lazy and just go along with the estimate. Some might even try to overcharge you based on how much your insurer pays. To make sure that you get the fairest possible outcome, you should show the estimate after they have inspected the damage and given you their own estimate.
Moreover, you should make a point of only working with licensed, bonded, and insured contractors who have a good reputation. Not doing so will often yield bad results in both the quality of work and the finances involved. If the contractor refuses to go out to inspect your home without an estimate, it's best to try to find a new contractor.
Are You Legally Required To Show Your Insurance Estimate To Contractors?
If you've been told this lie, immediately slam the phone on that contractor and don't bother calling them back. There is no state in the nation that legally requires you to show an insurance estimate to a contractor. If you really don't want to show them the estimate or the payout that you have, then you don't need to show it to them.
Some unethical contractors will try to strongarm homeowners into revealing the estimate as a way to maximize their profits or upcharge. Don't fall for it. If you're being strongarmed, then just ask them not to call you back.
Do You Need Roofing, Siding, or Gutter Installers?
Get free, zero-commitment quotes from pro contractors near you.
---
Related Questions
Why does my home insurance go up every year?
Your home insurance premiums will increase every year as a result of the increase in building materials and labor costs. Since the price of repairs (and the number of claims) goes up year after year, there's not much that can be done to prevent the rise in insurance premiums.
How much does homeowners' insurance cost?
The premiums that you will pay in order to obtain homeowner's insurance will vary from state to state. Nationwide, the average homeowner will have to pay $1,200 per year in order to keep their home properly insured. Some states will have less than that, while others will have more.
Should a roofer meet with your claims adjuster?
If you are contracting out with a reputable roofer, he or she will probably ask to meet with a claims adjuster at the scene of the damage. This is actually done as a way to ensure that you get the proper amount of money for the claim that you have, and is a sign that you're working with an honest roofer.Your roofer is there to help double-check the work of the adjuster and ensure that they don't miss any extra damage that could have been caused by the event. Adjusters might also choose to ask roofers' opinions on the damage from time to time.
Should I call my insurance agent or a roofer first?
Tempting as it might be to call the roofer first, your best bet is to call your insurance company before anything else happens. Claims take a while to process, and that means time is a factor. The sooner your insurance agent is able to see the damage, the sooner you can get your claim pushed through.You should, at the very least, ask your agent what is covered in your policy. Once you call your insurance agent and find out whether your repairs will be covered, the next person you should call is a roofer.

Ossiana Tepfenhart
Ossiana Tepfenhart is an expert writer, focusing on interior design and general home tips. Writing is her life, and it's what she does best. Her interests include art and real estate investments.
More by Ossiana Tepfenhart
Published September 22nd, 2020 4:01 PM