701 Views
The Safest Neighborhoods In Chicago: 2022's Ultimate List
June 3rd, 2022 11:27 AM
Share
We're committed to finding, researching, and recommending the best products. We earn commissions from purchases you make using links in our articles. Learn more here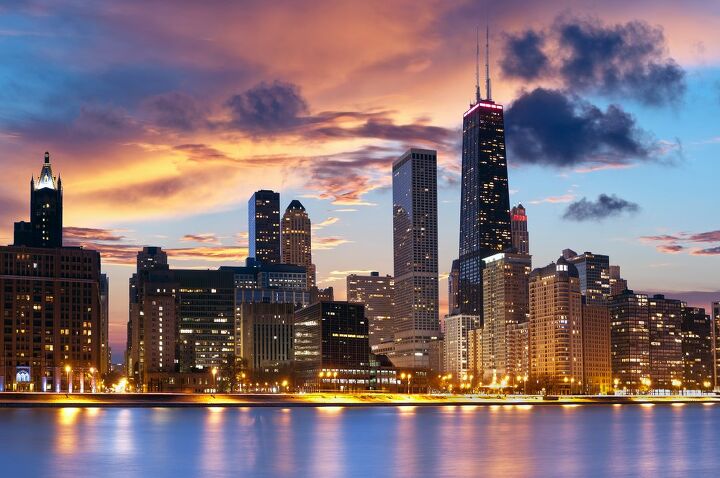 With 26 miles of scenic lakefront, a booming music scene, iconic skyscrapers, deep-dish pizza, abundant green areas, and breathtaking architecture, Chicago is the perfect blend of big-city lifestyle and Midwestern charm. It's no surprise that the Windy City has been dubbed the Best Large City in America by visitors, three years in a row.
Located in northeastern Illinois, Chicago is home to nearly 3 million people, with almost 10 million residents in the greater Chicagoland area. It is the third-largest city in the nation and is truly a melting pot. You'll find people from all over the world and all walks of life in this beautiful city.
Chicago is designed like a grid, making navigation simple for both locals and tourists. The notorious L commuter train is your access to each of the city's burghs. Chicago offers something for everyone in the city's unique 77 neighborhoods. Whether you're relocating to the city from across town or across the country, finding the perfect place to call home can be a task.
Regardless of where or why you're moving, everyone wants a neighborhood that is clean, family-friendly, and above all, safe. Unfortunately, Chicago has been considered a dangerous city, in many respects, since the 1960s. Public safety continues to be a concern among Chicagoans. However, that's not to say that there aren't safe neighborhoods in Chicago.
Do You Need to Hire Movers?
Get free, zero-commitment quotes from pro contractors near you.
What Are The Safest Neighborhoods in Chicago?
Undeniably, the entire city of Chicago has been struggling with high crime for years. When you start analyzing by neighborhood though, you need to pull in all the necessary data. According to documented crime statistics, the violent crime in Chicago is exceptionally concentrated to a fairly small number of communities, most of which suffer from high poverty rates.
For renters and potential buyers, finding a neighborhood that is safe for you and your family is always top priority. While you can certainly ask residents which communities are the safest, the most accurate answer comes from the raw data. So, in terms of safety and crime statistics, what are the best areas to live in Chicago?
In order to determine the safest neighborhoods in Chicago, we researched FBI crime reports. More specifically, violent crime, property crime, and total crimes per capita. Those with the lowest average rankings made our list of the 10 safest neighborhoods in the city of Chicago.
Edison Park
Forest Glen
Norwood Park
Mount Greenwood
O'hare
Clearing
Dunning
Jefferson Park
North Center
Beverly
Let's explore each of these neighborhoods in detail, their characteristics, crime rates, and livability.
1. Edison Park
Violent Crimes Per 100k: 217
Property Crime Per 100k: 781
Population: 11,128
So, what part of Chicago is the safest? Formerly known as Canfield, Edison Park is one of 77 communities in Chicago. The neighborhood was once a freestanding village until it was annexed by Chicago a century ago, though it still feels like an independent community. It is located on the North Side of the city and was given its name in 1890 after Thomas Edison.
Edison Park has one of the largest populations of Irish ancestry in Chicago, as they make up three-fourths of the neighborhood's residents. The community features a Metra stop, great public and private elementary schools, a quaint downtown area whose restaurants could be considered a much smaller Little Italy, and a sports and recreation hub at Olympia Park. Residential streets in Edison Park offer an assortment of American four-square, bungalow, and colonial-style homes.
According to the most up-to-date FBI crime data, that factors in everything from robberies and thefts to murders and assaults, Edison Park is the safest neighborhood in Chicago. The violent crime per 100K people is 217, with property crime per capital coming in at 781 for 2020.
2. Forest Glen
Violent Crimes Per 100k: 196
Property Crime Per 100k: 1,048
Population: 18,298
Located 10 miles northwest of the Loop, Forest Glen is arguably the most stereotypically suburban Chicago neighborhood. This well-maintained community also consists of the prominent Sauganash and Edgebrook neighborhoods, areas that are home to many lawyers, politicians, city administrators, upper-echelon police and fire officials, and judges.
Instead of the notorious flatness of Chicago plains, Forest Glen's terrain features gently rolling hills and heavily forested areas. The southern boundary of the community is formed by the North Branch of the Chicago River. All thanks to the meandering river, this community's uniqueness is further enriched by complex street patterns.
Forest Glen comes in at number two for the safest neighborhoods in Chicago. The violent crime per capita in the area is 196, while the property crime per 100K people is 1,048 for 2020.
3. Norwood Park
Violent Crimes Per 100K: 254
Property Crime Per 100K: 967
Population: 37,477
Norwood Park consists of the smaller communities Oriole Park Norwood Park East, Norwood Park West, Old Norwood Park, Big, Oaks, and Union Ridge. Originally named Norwood for a New England town in a Henry Ward Beecher novel, the village was renamed to Norwood Park when it was revealed that another Norwood was already established in the state. The village of Norwood Park was first incorporated in 1874 and then annexed to the city of Chicago in 1893.
It was originally designed to be a park-like residential suburb with wide streets, sophisticated single-family homes, and large lots. The curved street pattern is one of the many unique distinguishing features of Norwood Park. In a 1907 real estate advertisement, Norwood Park was described as a place with "proper living conditions, fresh air and sunshine, good surroundings, a healthy religious activity…"
Today, Norwood Park is still a quaint, picturesque community that lives up to the visions of early settlers who saw it as an "ideal suburb." Norwood Park takes the third slot among the safest neighborhoods in Chicago. The violent crime per 100K residents is 254 and the property crime per capita sits at 967 for 2020.
4. Mount Greenwood
Violent Crimes Per 100K: 246
Property Crime Per 100K: 1,114
Population: 18,990
The 74th numbered area, 14 miles southwest of the Loop, Mount Greenwood is known to be the home of many of Chicago's police officers, firefighters, and union workers. Tracing back to the 1970s, the history in this community is heavily characterized by racial tension. In 2016, Mount Greenwood saw a class between both the Black Lives Matter and Blue Lives Matter movements. Though, it still remains one of the safest neighborhoods in Chicago.
Though it is a considerable distance from Chicago's downtown, Mount Greenwood does not lack the typical character of a city suburb. The area is comprised of mostly single-family homes, many of which were built between the years 1940 and 1970. It offers the perfect blend of city living and suburban charm with trademark architecture and renowned cuisine on one hand, and numerous green spaces and a relaxed pace on the other.
Mount Greenwood is home to a significant number of cemeteries, and in the past earned the nickname the "Seven Holy Tombs." With no trains running through the area, public transportation is dominated by buses. This community is considered the fourth safest neighborhood in Chicago. The violent crime per 100K comes in at 246, while the property crime sits at 1,114 for 2020.
5. O'hare
Violent Crimes Per 100K: 319
Property Crime Per 100K: 1,035
Population: 12,706
Located on the far north side of Chicago, O'Hare is one of the city's 77 neighborhoods. Its most prominent feature is the O'Hare International Airport, positioned within the limits of the community area. This area is a hub for transportation containing not only the airport, but also a number of major roadways including Interstate 90, Interstate 294, Interstate 190, Illinois Route 171, Illinois Route 72, U.S. Route 45, and U.S. Route 12.
O'Hare also consists of a residential area that is east of the dividing forest preserve. Housing is rather affordable in this neighborhood, offering unmatched access to the airport for those who fly frequently. While much of this community's culture centers around the O'Hare Airport, its corporate office parks and residential areas have contributed to a unique identity.
Surprisingly, O'Hare is a great place for outdoor enthusiasts. Both Schiller Woods and Catherine Chevalier Woods offer extensive stretches of forest for hiking and vast open fields for Sunday picnics. O'Hare takes the fifth spot among the safest neighborhoods in Chicago. The area's violent crime per 100K people sits at 319 and the property crime is 1,035 for 2020.
6. Clearing
Violent Crimes Per 100K: 311
Property Crime Per 100K: 1,188
Population: 24,934
Situated on the southwest side of the city, Clearing features the southern portion of Chicago Midway International Airport within its community boundaries. Its name comes from the fact that farm goods in the area were "cleared" (delivered) via the railroad yards and airport. As a part of the Township of Stickney, Clearing was first incorporated as a town in 1912.
Then, in 1915 it became a part of Chicago due to its growing population and the need for services provided by the city. Nowadays, farmlands are no more in this community. Instead, Clearing is home to a slew of families and commuters.
Clearing is the sixth safest neighborhood in Chicago. Violent crimes per 100K people in the area is 311, while the property crime per capita comes in at 1,188 for 2020.
7. Dunning
Violent Crimes Per 100K: 358
Property Crime Per 100K: 1,163
Population: 43,244
Dunning is a neighborhood that is located on the Northwest side of Chicago. The community is home to Wilbur Wright College, Zion Gardens Cemetery, Eli's Cheesecake Factory, and Mount Olive Cemetery. What was once a remote prairie location is now a peaceful retreat from the bustling city center. According to the Chicago Tribune, the neighborhood is "so calm, cool and collects, not even Starbucks knows it's there."
Neighboring the massive Schiller Woods, Dunning is a big neighborhood that is comprised of many small businesses, middle-class families, and a number of city workers including firefighters and police officers. Much of the residents of Dunning are heavily involved in the culture of the local Wilbur Wright College. They attend fine arts exhibits, follow the Wright Rams, and enjoy productions at the Stage Wright Theater.
On our list, Dunning is the seventh safest neighborhood in Chicago. The violent crime rating per 100K is 358, while the property crime per capita sits at 1,163 for 2020.
8. Jefferson Park
Violent Crimes Per 100K: 338
Property Crime Per 100K: 1,342
Population: 26,594
Positioned 10 miles northwest of the Loop, Jefferson Park lives up to its nickname as the "Gateway to Chicago." The community is a long-standing transportation link and hub to the city. Named after President Thomas Jefferson, Jefferson Township was formed in 1850. By 1884, an estimated 500 people called Jefferson Township home and after this time it became known as Jefferson Park.
Jefferson Park is home to the historic former Gateway Theatre Movie Palace, now only a portion of the Copernicus Center. The neighborhood hosts two large annual festivals: Jeff Fest in June and Taste of Polonia over Labor Day weekend.
The community is dominated by middle-class individuals from a wide variety of diverse backgrounds. Jefferson Park's residents consist of a large number of resident city and county workers including Chicago Public School teachers and staff, Chicago Fire Department, Chicago Police Department, in addition to Cook County Sheriff officers and staff.
This community takes the eighth spot on our list of the safest neighborhoods in Chicago. The violent crime per 100K sits at 338, and property crime is 1,342 for 2020.
9. North Center
Violent Crimes Per 100K: 235
Property Crime Per 100K: 1,631
Population: 34,931
North Center, one of Chicago's 77 neighborhoods, is located on the city's North Side. It includes the communities of North Center, Hamlin Park, St. Ben's, and Roscoe Village. Settled by Germans in the latter part of the 19th century and early 20th century, North Center residents worked in the industrial corridor along Ravenswood Avenue, and the large industrial plants to the west.
Truck farmers in the area continued work until the first decade of the twentieth century. The introduction of new street railway lines in the 1890s resulted in affordable homes and more transportation to allow commuters in North Center to easy access to other areas of the city.
The history of North Center is deeply rooted in European culture, which is evident in homes and buildings dating back to the 19th and early 20th centuries. Today, North Center continues to grow and become more culturally diverse. The community features three city parks, bowling alleys, a nearby movie theater complex, a unique town square, and so much more.
By our calculations, North Center is considered the ninth safest neighborhood in Chicago. Violent crime in the area sits at 235 and property crime per capita is 1,631 for 2020.
10. Beverly
Violent Crimes Per 100K: 284
Property Crime Per 100K: 1,614
Population: 20,831
Located on the far Southwest Side of Chicago, Beverly is defined by amazing architecture and Irish heritage. On Western Avenue in Beverly, you'll find more Irish bars than anywhere else in Chicago. It is also home to Chicago's South Side Irish Parade, a family-friendly celebration that has taken place on St. Patrick's Day for more than 40 years.
In regards to architecture, Beverly Unitarian Church is one of the community's most renowned buildings. Situated on a picturesque green hill, the structure strikingly resembles a Dublin medieval castle. Beverly is also heavily influenced by Frank Lloyd Wright and is home to one of the largest historic districts in the nation.
Beverly rounds out our list by ranking number ten among the safest neighborhoods in Chicago. The violent crime in Beverly is 284 per 100K people, while the property crime per capita sits at 1,614 for 2020.
Safest Neighborhoods in Chicago for 2022
| | | | | |
| --- | --- | --- | --- | --- |
| Rank | Neighborhood | Population | Violent Crime (per 100K) | Property Crime (per 100K) |
| 1 | Edison Park | 11,128 | 217 | 781 |
| 2 | Forest Glen | 18,298 | 196 | 1,048 |
| 3 | Norwood Park | 37,477 | 254 | 967 |
| 4 | Mount Greenwood | 18,990 | 246 | 1,114 |
| 5 | O'hare | 12,706 | 319 | 1,035 |
| 6 | Clearing | 24,934 | 311 | 1,188 |
| 7 | Dunning | 43,244 | 358 | 1,163 |
| 8 | Jefferson Park | 26,594 | 338 | 1,342 |
| 9 | North Center | 34,931 | 235 | 1,631 |
| 10 | Beverly | 20,831 | 284 | 1,614 |
Choosing a Chicago Neighborhood – Which Chicago Suburb Should I Live in?
Although this list is one way to find the perfect neighborhood to live in Chicago, you want to ensure that your selection fits both your preferences and personality. If you're having trouble deciding among the 77 Chicago neighborhoods, begin by asking yourself what you value most out of your community. Do you value…
The ability to commute to work downtown on foot
Affordability and low cost of living
Access to large parks or green spaces
Good public and/or private school system
Quiet, tree-lined streets
Close proximity to public transportation
Living near a bicycle or running path – most notably the Lakefront
Other family-friendly qualities
Once you've determined your preferred criteria, you can more easily narrow down your choices.
How Dangerous is Chicago?
Chicago's crime rate, especially its violent crime rate, is considerably higher than the national average. The reason for such high numbers in Chicago remains unclear, but is likely due to the fact that the city is home to over 117,000 gang members belonging to a staggering 55 major gangs.
The city first saw a major increase in crime back in the late 1960s and the murder rate peaked in 1974. While Chicago saw a decline in crime in the 2000s, murders rose again in 2016. Murder, rape, and robbery are common violent crimes throughout the city. So, as of 2020, how dangerous is Chicago?
Unfortunately, systemic problems like lack of housing, food security, and joblessness has plagued minority communities in Chicago for decades. With the COVID-19 outbreak in 2020 and racial unrest, these already heightened issues were made exponentially worse. On May 31, 2020, in the wake of George Floyd's murder 18 people were murdered, resulting in the single most violent day in Chicago in sixty years.
The following table analyzes the year to date crime complaints in the city of Chicago, reported by the Chicago Police Department. For perspective, the 2019 statistics are also displayed. Keep in mind that this data was recorded before the end of 2020.
| | | |
| --- | --- | --- |
| Crime | 2020 YTD | 2019 YTD |
| Murder | 596 | 397 |
| Criminal Sexual Assault | 1240 | 1612 |
| Robbery | 5885 | 5979 |
| Aggravated Battery | 5179 | 4883 |
| Burglary | 7025 | 7294 |
| Theft | 8159 | 11170 |
| Motor Vehicle Theft | 7254 | 6887 |
| Total | 35338 | 38222 |
Note: The 2020 data is as of October 2020.
Where Should I Avoid in Chicago?
Whether you're moving to Chicago or simply visiting the city, it's important to understand which areas should be avoided. For visitors, you should generally stick to the city center (the Loop or Near Northside) and consider a day trip to Hyde Park. Although crime rates are high in Chicago, the entire city isn't a lawless, crime-infested wasteland as many assume.
Instead, the crime exists in pockets and when you know where these pockets are, they can be easy to avoid. Though, with a whopping 77 neighborhoods in Chicago, it can seem daunting to weed out the unsafe options. So, here's our list of the 10 most dangerous neighborhoods in Chicago based on crime statistics for 2022:
West Garfield Park – violent crimes are 769% higher than the national average.
North Lawndale – violent crimes are 626% higher than the national average.
East Garfield Park – violent crimes are 644% higher than the national average.
Washington Park – violent crimes are 695% higher than the national average.
West Englewood – violent crimes are 570% higher than the national average.
Englewood – violent crimes are 632% higher than the national average.
Grand Crossing – violent crimes are 591% higher than the national average.
Chatham – violent crimes are 407% higher than the national average.
South Shore – violent crimes are 493% higher than the national average.
Burnside – violent crimes are 404% higher than the national average.
---
Related Questions
Where do the wealthy live in Chicago?
According to the latest census data, the richest neighborhood in Chicago is Forest Glen. This designation was awarded based on the highest median income of all the 77 communities in the city. The median income in Forest Glen is a staggering $112,032. Lincoln Park, North Center, Beverly, Edison Park, the Loop, Near North Side, and Mount Greenwood follow close behind Forest Glen on the list of richest neighborhoods in Chicago (many of which are on our list of the safest neighborhoods in the city).
What is the cost of living in Chicago?
When compared to cities like Los Angeles, New York City, and San Francisco, many consider Chicago to be relatively affordable. However, there are some that find the cost of living high – especially when it comes to transportation and housing costs. On the plus side, Chicago offers a number of free or low-cost entertainment options including outdoor recreation, the Lincoln Park Zoo, low-cost theater productions, and an extensive public library system.The following table analyzes the average cost of living in the city of Chicago:
| | |
| --- | --- |
| Rent for Studio Apartment | $927 |
| Rent for 1-Bedroom Apartment | $1,076 |
| Rent for 2-Bedroom Apartment | $1,265 |
| Rent for 3-Bedroom Apartment | $1,618 |
| Median Price for Single-Family Home | $243,300 |
| Transportation – Chicago Transit Authority Monthly Pass | $105 |
| Utilities (heating, water, electricity, garbage, internet) | $130.97 |
Do You Need to Hire Movers?
Get free, zero-commitment quotes from pro contractors near you.
Wrapping It Up
Chicago has been considered one of the most dangerous cities in America for decades, with a violent crime rate significantly higher than the national average. While this remains true, the city's crime should not deter you from visiting or considering a relocation to Chicago. Although public safety is still a concern among Chicagoans and potential future residents, there are safe neighborhoods in the city limits. In fact, the violent crime that you hear about on the news is largely concentrated in small communities and can be easily avoided. These pockets of crime are considerably far from the tourist spots and most visited areas of the city.
If you're planning on moving to Chicago, do your research, familiarize yourself with the city, and, when in doubt, choose one of the ten safest neighborhoods from our list to call home.

Jessica Stone
Jessica considers herself a home improvement and design enthusiast. She grew up surrounded by constant home improvement projects and owes most of what she knows to helping her dad renovate her childhood home. Being a Los Angeles resident, Jessica spends a lot of her time looking for her next DIY project and sharing her love for home design.
More by Jessica Stone
Published October 12th, 2020 11:12 AM