8 Views
How Much Does A Pool Heater Cost?
December 22nd, 2021 4:12 PM
Share
We're committed to finding, researching, and recommending the best products. We earn commissions from purchases you make using links in our articles. Learn more here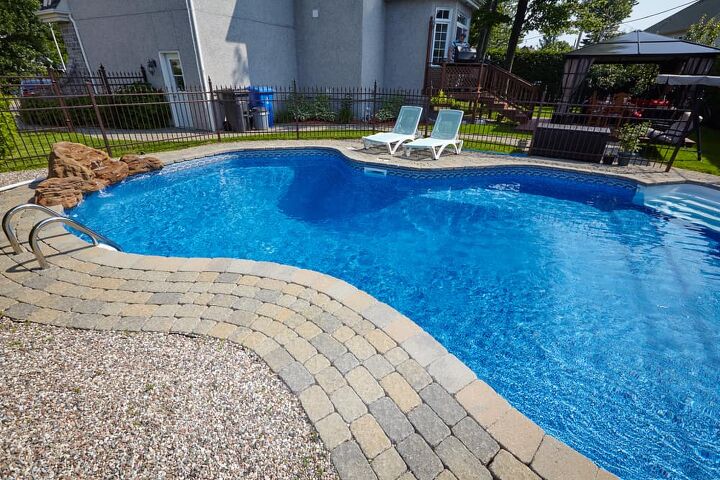 A swimming pool adds value, character, and a wealth of fun opportunities to any home. A heated pool takes it even further by allowing you to enjoy the pool and swim when it's cool out. Naturally, many builder-owners set their eyes on a pool heater, but how much does one cost?
It costs an average of $3,800 to install a pool heater between the heater and labor. You can expect to spend $875 on labor due to extensive electrical wiring work. Gas pool heaters are the most expensive to install at $5,000 and it costs an additional $265 per month to run.
The biggest cost of pool heaters is that they consume energy and increase your bills significantly. You could spend well over $3,000 each year in bills with a propane heater, and that is why many choose solar heaters to save thousands. Let's take a look at how much a pool heater costs.
Do You a Need Pool, Spa, or Hot Tub Contractor?
Get free, zero-commitment quotes from pro contractors near you.
How Much Does A Pool Heater Cost?
Pool heaters themselves only cost between $1,500 and $5,000 often, but that excludes installation. If you find an inexpensive heater unit and pay for installation, it will come out to $1,600-$6,000 or more in many cases.
The final price is determined by several factors, such as type of heater and labor costs. You should always keep in mind that you'll spend between $100 and $10,000 running your heater each year.
Choosing one type of pool heater over another could save you hundreds, and even thousands of dollars. Knowing the difference between them and their costs can tell you what to expect.
Types Of Pool Heaters
There are 4 main kinds of pool heaters, and they are all great options, such as:
Heat Pump
Solar
Gas
Electric Resistance
Propane
Propane and gas pool heaters run on fossil fuels, of course, and it is reflected in their monthly bills. The most common pool heaters are electric resistance and electric heat pump due to their mid-range cost and bills.
| | | |
| --- | --- | --- |
| Pool Heater Type | Cost | Monthly Cost |
| Electric Heat Pump | $1,500-$6,000+ | $100-$200 |
| Solar | $200 | $5-$10 |
| Gas | $1,600-$5,000 | $180-$350+ |
| Electric Resistance | $1,500-$3,500+ | $200-$550 |
You can find inexpensive gas pool heaters, but it is hard to justify when it could cost $2,160-$4,200 each year to run. Electric resistance is also quite costly due to the electrical demands and could cost between $2,400 and $6,600 yearly.
Pool Heater Installation Cost
There is no ironclad answer to how much it costs to install a pool heater, and it varies by type. Some types of pool heaters, such as electric heat pump heaters, take longer to install, so it costs more.
Electric Heat Pump Pool Heater Installation
Electric heat pump heaters are one of the most popular choices for builder-owners, and with good reason. They are somewhat expensive to run per month and can cost up to $200 in monthly bills, but installation is easy.
Installation and labor costs usually come out to $750-$1,000 for electric heat pump pool heaters. The biggest difficulty in installing pool heaters is doing the circuitry and hookup.
If you are simply replacing an old heat pump heater and circuitry is there, you could save hundreds in labor. Once your electric heat pump pool heater is installed, the only limitation is that it can't run if it's below 55 degrees Fahrenheit.
Solar Pool Heater Installation
You are somewhat limited when it comes to solar pool heaters, and that is due to how they run. As the name implies, solar pool heaters require a lot of sun to run. Solar heaters are the cheapest that you can find, but the installation is a little bit pricey.
Some solar heaters can cost $5,000 or more, but you can find simple setups for $150-$300. However, if you want a great solar heater, you'll have to spend between $500 and $1,500 for installation. The wide range in costs is based on a variety of setups and optional solar boosters.
You can consider solar pool heaters an investment because they last up to 20 years. The high installation cost is worth the monthly savings, and you'll spend $10 or less each month.
Gas Pool Heater Installation
Everything about gas pool heaters is expensive, and that includes the installation. You can spend up to $1,500 or more installing a gas pool heater. If there already is a hookup for gas, you are in luck and it could cost closer to $1,000 to install.
Propane is less common but is another option that costs the same as gas and is installed the same way. The only difference is that propane costs closer to between $350 and $650 each month, nearly double gas. Otherwise, installation and labor costs for either gas or propane can cost as little as $650 for an easy hookup.
Electric Resistance Heater Installation
Electric resistance heaters and electric heat pump heaters are similar in operation and cost. Just like electric heat pumps, resistance heaters cost between $750 and $1,000 to install, generally.
If the area that it is being installed is not equipped for circuitry and work needs to be done, it could cost more. Conversely, if you are converting an old heat pump to a resistance heater, or replacing an old one, you could save $200-$300 in labor.
Electrical work is expensive and can be tricky, so any existing circuitry can save you big. You must be patient with electric resistance heaters, and they take their time to heat up the pool. However, it is worth it when you keep your pool open just a little bit longer.
Cost To Repair Pool Heater
Pool heaters can run into trouble, and when they do, they need to be fixed. Luckily, you can hire a professional pool technician to fix your pool heater and spend $600 or less. Of course, it costs closer to $600 if the repairs are serious but expect to spend $300-$400 for minor repairs.
The only way to minimize the risk of damage and make the heater last long is to have it serviced yearly. It generally costs $100 to have the pool heater inspected and serviced once a year.
---
Related Questions
What is the most cost-effective pool heater?
Solar pool heaters are the most cost-effective option out there, and many homeowners agree. You can save between $580 and $9,800 each year with a solar pool heater. To purchase and install a solar pool heater only costs up to $1,500, including labor, and that is the main cost of owning a solar heater.
Should I run a pool heater overnight?
That depends on what temperature you want the pool to be the following day, and how much you want to spend on bills. For example, it takes a full day to raise pool temperature by 20 degrees with many heaters. If you need the pool increased by a large number, roughly 15-20 degrees, in a short time, then you should run it overnight.
How long do pool heaters last?
Most pool heaters last between 7 and 12 years, but solar heaters can last up to 20 years. If you have a gas heater, for example, you could run into trouble earlier than that if there are gas line problems. The same can be said for electrical conduit and circuitry work, which can fail in 3-5 years sometimes.
What should I set my pool heater to?
It is common for homeowners to set their pool heater to roughly 80 degrees Fahrenheit in cooler weather. However, if it is still summer and the pool gets a lot of sun, set it to 76-78 degrees Fahrenheit so that the pool isn't hot. If you run your pool heater too hot and too often, it can raise your monthly bills quite a bit.
Do You a Need Pool, Spa, or Hot Tub Contractor?
Get free, zero-commitment quotes from pro contractors near you.
Summing It Up
It costs between $1,600 and $6,000 to install a pool heater. The biggest cost of pool heaters doesn't come from installation, but from monthly bills. You can spend as little as $5 a month, and as much as $550 a month to run a pool heater.
You can avoid the high monthly bills by choosing a solar pool heater. Otherwise, consider an electric heat pump pool heater to keep the costs low. You should have a pool technician check up on and service your pool heater once every year.
If you want your pool heater to last 12 or more years, get it serviced, use it responsibly, and rarely leave it on overnight. Pool heaters are a luxury and extend your use of the pool for that season. Enjoy picking out and reaping the benefits of your pool heater!
Related Guide

Nick Durante
Nick Durante is a professional writer with a primary focus on home improvement. When he is not writing about home improvement or taking on projects around the house, he likes to read and create art. He is always looking towards the newest trends in home improvement.
More by Nick Durante
Published October 1st, 2020 8:14 AM