21 Views
How Much Does It Cost To Install A Saltwater Pool?
October 20th, 2022 2:43 PM
Share
We're committed to finding, researching, and recommending the best products. We earn commissions from purchases you make using links in our articles. Learn more here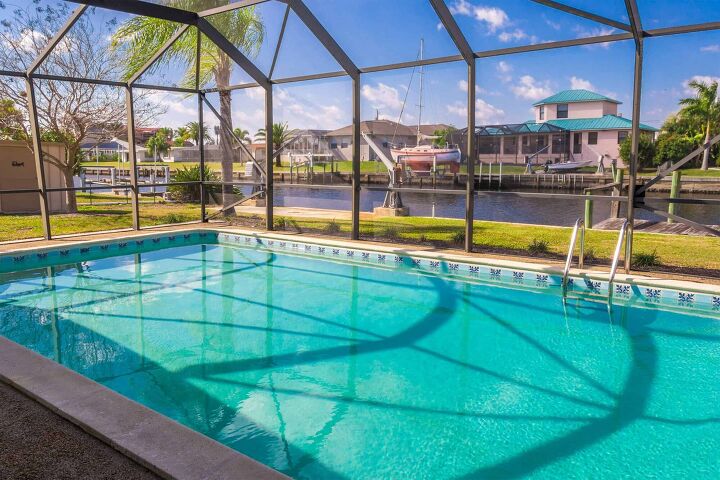 Pools are great for when you want to cool off during the summer. They're also excellent for those who love low-impact exercises. However, many people are not fond of the amount of chlorine that goes into regular swimming pools. To bypass the potential health effects of exposure to chlorine, people choose to install a saltwater pool, but at what cost?
The average cost to install a saltwater pool is $50,000. It costs an average of $26,500 to install an inground saltwater pool and $5,000 to install an above-ground saltwater pool. Homeowners spend an average of $1,150 in upfront costs to install a generator for the pool, and another $500 in labor costs.
This cost guide will explain all you need to know about the price of installing a saltwater pool. We will explain each factor in depth so that you can estimate your costs accurately.
Do You a Need Pool, Spa, or Hot Tub Contractor?
Get free, zero-commitment quotes from pro contractors near you.
Saltwater Pool Cost
A saltwater pool is terrific for those individuals who prefer to immerse themselves in water with lower amounts of chlorine. Not to mention, the maintenance for once of these pools is very minimal. They're better than chlorine pools regarding those factors, yet remarkably similar to build. However, they require a salt-chlorine generator and a few different types of materials.
To install a saltwater pool, you can expect to pay anywhere between $25,000 to $100,000. However, the national average cost is $50,000. You will most likely fall within the $40,000 to $60,000 range.
Saltwater Pool Installation Costs

Cost Range

Price

Minimum

$25,000

Average Range

$40,000 – $60,000

National Average

$50,000

Maximum

$100,000
Salt Water Pool Cost By Type
One factor that will affect a saltwater pool's cost is the type you want to build. There are several different types from which you can choose. In this section, we will take you through the cost break down of the following types:
Above Ground
Indoor
Heated
Lap Pool
Infinity Pool
Each of these types varies in price due to the materials and the layout of the pool. Some of them require significant amounts of landscaping, while others don't need much preparation work.
Saltwater Pool Cost By Type

Type

Price

Above Ground

$3,000 – $7,500

Inground

$23,000 – $30,000

Indoor

$156,000 – $200,000

Heated

$450 – $9,500

Lap Pool

$5,000 – $75,000

Infinity Pool

$50,000 – $140,000
Above Ground Saltwater Pool Cost
If you choose to go with this type of salt pool, you can expect to pay between $3,000 to $7,500 for a 12 by 20-foot pool. The price will ultimately depend on the materials you use as well. Although, this price, overall, is significantly lower than the national average.
Inground Saltwater Pool Cost
Inground saltwater pools are usually quite expensive in comparison to an above ground pool. The price difference is due to the amount of preparation that goes into installing an inground pool.
An inground saltwater pool's cost falls between $23,000 and $30,000 for a 12 by 20-foot pool. The price is drastically different from the above ground pool because it includes the preparation work value.
Indoor Saltwater Pool Cost
An indoor arrangement is a bit different as far as pricing is concerned. There are two separate factors in figuring the cost:
While an indoor saltwater pool is exceptionally beneficial, the price can cause several issues. To install the pool itself it costs the same as any other pool. Depending on materials and layout, you can expect to pay between $16,000 and $60,000 for an indoor pool.
Except in it's indoors, you will need a dehumidification system. The enclosure, dehumidification system, and pool will reach a total between $156,000 and $200,000 for a 12 by 20-foot pool.
Saltwater Lap Pool Cost
People who swim for exercise, or training, love the idea of a lap pool. The price will depend on whether you want to install it above or inground.
For the above-ground saltwater lap pool, you can expect to pay between $5,000 and $30,000. On the other hand, an inground saltwater lap pool will cost you about $50,000 to $75,000.
For this price range, you can expect a pool of about 5 ½ to 6 feet deep. Your pool will also be about 82 feet long, which is the average length of a lap pool.
Saltwater Infinity Pool Cost
On average, homeowners will pay about $70,000 to install an infinity pool. However, that price can fall between $50,000 and $140,000. If you do not yet have the infinity landscaping done, your cost will be near the higher end.
Heated Saltwater Pool
Having a heated pool is a great idea, especially for those who live in areas where the weather changes significantly from season to season. Even if it's 40 degrees out, you can still hop in for a swim without worrying about hypothermia.
There are several ways that you can heat your saltwater pool. Each method has a different cost associated with it. The various forms include:
Tankless water heater
Gas-powered heater
Electric pool heater
Solar-powered pool heater
Cost For Heating Salt Water Pool
Saltwater Pool Heating Methods And Costs

Method

Cost

Tankless Water Heater

$450 – $600

Gas-powered Heater

$750 – $2,450

Electric Pool heater

$1,200 – $3,000

Solar Powered Heater

$2,500 – $9,500
The best heating method for you will depend on the size of your pool, as well as the area you live in. For instance, a tankless water heater would be ideal for a smaller pool. While a solar-powered heater would be great for a place where you have a lot of sunshine.
Keep in mind that if your heater is electric-powered, your electric bill will increase by $50 to $200 per month.
Saltwater Pool Cost By Size
Choosing a saltwater pool can help you save money on maintenance costs. It can also save you on the amount of time you spend maintaining the pool. However, you will pay more to install one.
The larger your pool is, the more materials it requires. Therefore, the price increases when the size increases. Of course, other cost factors include materials, as well as the type of pool you choose. Most people choose to install an inground saltwater pool.
Saltwater Pool Cost By Size

Size Of Pool

Price

10 x 16 ft

$15,000 – $25,000

12 x 24 ft

$21,500 – $33,000

10 x 30 ft

$27,000 – $38,000

14 x 28 ft

$35,000 – $51,000

15 x 30 ft

$41,000 – $58,000

16 x 32 ft

$45,000 – $67,000

20 x 40 ft

$71,000 – $103,000

25 x 45 ft

$101,000 – $145,000
Cost To Convert Pool To Saltwater
If you already have a chlorine pool, you can convert it to a saltwater pool. Plus, doing it this way will save you tens of thousands of dollars. Many homeowners prefer saltwater over chlorine because the salt is less irritating and easier to maintain.
The beauty of conversion is that any pool can convert. Also, all pool liners such as vinyl and shotcrete can convert to saltwater as well. There are only a few steps you need to take:
Remove the chlorine by balancing the water
Add required amount of salt
Wait for 24 hours
Install and wire the chlorinator
Chlorine To Saltwater Conversion Cost

Type of Pool

Salt Water Conversion Cost

Above Ground

$400 – $1,000

Inground

$800 – $2,500
If you wish, you can always purchase a saltwater conversion kit for pools. Although, the chlorine to saltwater pool conversion cost is the same with or without a kit. The cost factor will also depend on whether or not your pool is inground or above ground.
Converting Inground Pool To Saltwater Cost
Since the plumbing is under the ground on an inground pool, it requires just a little more effort to convert to saltwater. The cost to do this is between $800 and $2,500.
Converting Above Ground Pool To Saltwater Cost
If your pool is above ground, it's a lot easier to convert than an inground pool. However, you might want to change your metal pool parts to resin. That way, you can avoid rusting issues that happen to the metal in saltwater pools. The cost to convert your above ground pool into a saltwater pool is between $400 and $1,000.
DIY Salt Water Pool Conversion Cost
You can save yourself the cost of labor by converting your pool on your own. However, you might want to hire someone to install and wire the chlorinator. This particular part of the project takes someone who is experienced in plumbing and electric.
The rest of the project is fine to do on your own. The cost will be on the lower end, somewhere between $400 and $800. That's including the price of labor for someone to install and wire the chlorinator.
Saltwater Pool Costs By Material
Aside from the type and size, the other contributing factor for your saltwater pool is the material used to create it. There are several different materials that saltwater pools are made from, including:
Vinyl
Fiberglass
Concrete
Shotcrete
Gunite
Each has its advantages and disadvantages. You would need to weigh the pros and cons of your particular preferences to figure out the best material for your pool.
Materials Cost, Pros and Cons

Material
Price
Pros
Cons
Vinyl
$35,000 – $65,000
Installation is easyInexpensiveQuick installationFormed into any shape
Less durableSome wall types are not compatibleLiner needs frequent replacement
Fiberglass
$10,000 – $25,000
Quick and easy installationMaintains ColorLower electricity cost
Limited shape and sizeSlipperyRisk of bulging
Concrete
$49,500 – $100,000
VersatileHigh durabilityLong life expectancy
ExpensiveComplicated InstallationHigher electricity bill
Shotcrete
$50,000 – $100,000
AestheticVersatileFast installation
ExpensiveProne to cracksLess durable
Gunite
$50,000 – $120,000
VersatileAestheticLasts longer than concrete
Highly expensiveRough underfootMay crack
Saltwater Vinyl Pool Cost
For a vinyl saltwater pool, you can expect to pay about $35,000 to $65,000. The best thing about a vinyl pool is that they're quick and easy to install. You can also choose different shapes, colors, and sizes! Although the downside is that you will need to replace the liner more often. Vinyl liners are not as durable as others.
Fiberglass Saltwater Pool Cost
A fiberglass saltwater pool will cost you between $10,000 and $25,000. Since the shell is premade, the installation process is swift. Also, fiberglass pools are more resistant to algae formation.
Although homeowners don't like the fact that you have less choice when it comes to shape or size. Also, the bottom is more slippery, so you would need to be careful when walking in the shallow end. But, the low-level maintenance usually makes up for the disadvantages.
Saltwater Concrete Pool Cost
If you choose a concrete saltwater pool, this will run you between $49,500 and $100,000. They're one of the most expensive, although they last a very long time with the right care.
They are popular because they are aesthetically pleasing. Except one disadvantage is that it costs more money to operate. Although most people don't care since concrete pools have a long life expectancy.
Saltwater Shotcrete Pool Cost
The saltwater shotcrete pool is among the most expensive, costing between $50,000 and $100,00. They offer many different designs, and the installation is a lot quicker than that of a concrete or gunite pool.
However, the material is not nearly as durable as others. If you live in an area where it gets cold in the winter, shotcrete isn't for you. If you live in an area where earthquakes are common, you may want to choose another material. Shotcrete is prone to cracks.
Gunite Saltwater Pool Cost
While people use gunite, shotcrete, and concrete interchangeably, they're quite different. Gunite is created from finer particles, while concrete is made from larger particles. You can expect gunite saltwater pools to run from $50,000 to about $125,000.
They typically last longer than shotcrete or concrete, but they are more prone to cracking. Therefore, it's not a good idea to have a gunite pool if you live in deep-freezing areas or areas with frequent earthquakes.
Labor Cost To Install Saltwater Pool
The installation process with a saltwater pool is the same as one for a chlorinated pool. The only difference is that you need a salt-chlorine generator added to your pool.
If you were to install a fiberglass pool, the process also involves excavating and removing dirt and debris from the yard. Not to mention the leveling, sloping, and landscaping required. (This would include many more labor hours for infinity landscaping.)
The labor cost depends on many different other factors as well, such as retaining walls and septic tank relocation. The cost of labor will depend highly upon the work you need to be done.
Saltwater Pool Installation

Labor Costs and Factors

Factors

Prices

Land Preparation

$110 – $245 per hour

Tree Removal

$300 – $700 per tree

Retaining Walls

$4,500 to $6,000

Septic Tank Relocation

$2,000 to $4,500

Land Clearing

$110 – $245 per hour
Land Preparation
If your property is mostly level and there isn't any debris or trees to remove, it will cost you around $1,500 for land preparation. To prepare the land for an above ground pool, the labor costs are about $110 to $245 per hour. Of course, this depends on the company that you go through.
Tree Removal
Sometimes there are trees or roots in the way of where your pool is supposed to go. The costs to remove the trees come in at the hefty price of $300 to $700 per tree. If you only have one to remove, this isn't too awful. Although, if you have several, this can bring our bill up considerably.
Retaining Walls
If you have a sloping backyard, chances are you will need a retaining wall. The retaining wall is designed to hold the soil in place so that it doesn't release the weight against your pool. For a retaining wall, you are looking at an additional cost of about $4,500 to $6,000.
Septic Tank Relocation
Of course, your septic tank may be in the way. If it's within 15 feet of where your pool is, you will need to have your septic tank relocated. This will cost about $2,000 to $4,500.
Land Clearing
If you have a property that has a lot of large rocks or has clay soil, your labor costs will be more. People have paid upwards of $5,000 for land clearing. However, this depends on your circumstance.
If your property doesn't have many rocks and has softer soil, you are looking at about $1,000. The average cost to clear land is the same as land preparation; $110 to $245 per hour.
Additional Labor Costs
Another factor that will affect your labor costs is the type of pool you purchase. For instance, gunite and shotcrete are applied on site. The fiberglass pool comes in a shell that is created offsite for which you pay a flat fee. Vinyl offers a choice between offsite or onsite creation.
If you choose an onsite material, you will pay by the hour for labor fees. For the amount of time it takes to create your pool, you will pay the hourly rate. However, this does not include drying time unless they offer a finishing that allows it to dry quicker.
How Long Does It Take To Install A Saltwater Pool?
After the preparation work is finished, then your pool is installed. Aside from the creation of the pool, the installation includes:
Stairs
Filters
Pumps
Salt Chlorine Generator
Decking
After all of these components are in place, the pool is then filled with water, salt, and other necessary chemicals. The entire process takes about two weeks before your pool is ready to swim in.
Saltwater Pool Electricity Cost
While you will save money on the cost of chemicals, your electricity cost will increase a bit. You are more likely to pay around $40 to $60 more annually than you do with a chlorine pool.
You can also choose to purchase a solar pool blanket for $50 to $200. Also, turn the temperature down on the heater when you aren't going to swim in it for several days. Trimming any trees that cover the water will also help keep your pool warm, and it will cut back on the amount of electricity you need.
Pool Salt Price
The prices for salt changes with your needs. If you need 200 pounds of pool salt, you can buy five 40-pound bags at $15 each. This will cost a total of around $70 before tax.
How Much Salt For A 10,000 Gallon Pool?
For a 10,000-gallon pool, you will want about 200 pounds of salt. This is the recommended amount to achieve the initial salt level. After that, you won't need as much maintenance. The best measurement is 200 pounds of salt per 10,000 gallons of water.
Saltwater Pool Salt By Size
The amount of salt you need for your saltwater pool depends on the pool's size. It doesn't matter whether you are filling it for the first time or converting it—you will need to maintain the same amount of salt.
How Much Pool Salt Do I Need?
Pool Salt By Size

Amount to reach 3200 ppm

Size

Salt Amount

Estimated Price

8,000 gal

213 lb

$80

10,000 gal

267 lb

$101

12,000 gal

320 lb

$120

14,000 gal

373 lb

$139

16,000 gal

427 lb

$161
If you check your chlorinator, there should be a chart that shows the amounts you need to add. This way, you can guarantee the proper measurements given your particular circumstances. A brand new saltwater pool will need about 200 pounds of salt per 10,000 gallons.
If you are only adding salt to an already prepared saltwater pool, you will need to check the levels before adding. The levels should measure at 2700 to 3400 parts per million.
Filling A Saltwater Pool For The First Time
A pool is not complete without water. After the building is finished, you have two different options to fill the pool:
Fill it yourself
Water delivery
If you choose to fill the pool yourself, it will take several days and cost about $65. If you hire a company to deliver, this may cost you around $1,250. Although the price depends on how much water you need and how far it needs to travel.
Saltwater Pool Equipment Cost
Similar to a chlorine pool, a saltwater pool will require specific equipment for proper function and maintenance. Since you will need to replace these elements once in a while, it's good to know the cost associate with that.
Saltwater Pool Filter Cost
A saltwater pool filter system uses sand to clean the water. It makes your water gleam and sparkle in the sun. The saltwater pool filter system will cost about $200 to $300 for an above ground pool. For an inground pool, you can expect to pay $450 to $1,500.
Salt Water Pool Pump Cost
The beauty of a saltwater pool pump is some of them have capabilities to help you. For instance, some of them can:
Let you know when the salt level is low
Read temperatures
Notify you when the temperature is low
Self-clean
Monitor water flow
For an above ground pool, the prices for a pump start at $475. For an inground pool, you will pay about $700 to $900.
Cost of Salt Chlorine Generator
Although the name of these pools are called "salt water" and require quite a bit of salt to operate, this does not mean that the pool doesn't need any chlorine. Instead, a salt chlorine generator is installed to convert the salt into chlorine, causing the levels of salt in the pool to be around 3,000 parts per million (ppm) of dissolved salt.
For an inground pool, a salt chlorine generator costs from $500 to $2,500. It converts the salt to chlorine, thus, filtering the pool. Though, you still need to test the water and use pool chemicals but the maintenance is less because the generator takes care of most of it.
Saltwater Pool Maintenance Cost
The total cost to maintain and keep a saltwater pool clean is around $40 a month, or $480 a year. It costs about $75 to $125 a month, or $900 to $1,500 a year for professional assistance.
Saltwater pools are easier to maintain than chlorine pools; they can self-maintain better, which means you don't need as many chemicals. Also, there is less algae and scale as well.
You will spend around $100 for chemicals and salt each season for a saltwater pool. For a chlorine pool, you usually spend $300 or so for supplies per season. However, if you want to hire a professional to clean your pool, that's about $500 for the whole season.
Weekly Maintenance
Each week you will need to check for water bugs in your saltwater pool, as well as any other insects or debris. The saltwater pool products and chemicals you purchased should help with the insects. But the waste needs to be fished out.
Monthly Maintenance Testing
Each month, pool owners need to test the PH levels of their pools. Also, the pools should be checked for:
Salinity
Alkalinity
Calcium Hardness
Total Dissolved Solids
Copper
Iron
Manganese
Copper iron and manganese should not be present in your pool.
Yearly Maintenance
If the weekly and monthly maintenance has been done, then the annual maintenance will be easier. Pool owners need to check for calcium build up in the chlorinator. The salt cells should last about 4-6 years if this is done.
The salt cell will cost around $500 to $800 to replace. If the cell is not replaced, then your salt will not be converted into chlorine. Therefore, your pool will be unsafe to swim in. Keeping the salt cell from building up will extend the salt cell's life and the pool water.
Saltwater Pool Cleaning
Cleaning a saltwater pool includes more than just keeping the chemicals balanced. Pool owners will need to skim for leaves, bugs, and other debris. They will also need to remove the debris from the skimmer, the pump baskets, and the automatic cleaner.
The walls will need to be scrubbed and vacuumed. The filter will also require backwashing. The salt cells will need to be cleaned routinely to avoid any issues.
Saltwater Pool vs. Chlorine Pool Cost
There are not many differences between a chlorine and saltwater pool as far as the construction goes. However, there are differences such as:
Pool maintenance
Cost to run
The number of chemicals you need to use
The feeling of the water
Annual Cost Of Pool maintenance

Saltwater

$100 – $400

Chlorine

$275 – $975
For a chlorine pool, the annual cost for chlorine costs about $275 to $975. The chemical is notorious for irritating the skin and the mucus membranes of the body. It can also change the color of someone's hair.
Saltwater pools use a chlorinator to turn your salt into chlorine. Every few years, the salt cells will need to be replaced at the cost of $500 to $800. Other than that, you will only need to add salt, which will cost about $100 to $400 a year.
Enhancement And Improvement Costs
Improvements and Enhancements

Addition

Price

Self-Cleaning Chlorinator

$500 – $2,000

Pool Deck

$7,000

Enclosure or Fence

$1,200 – $22,000

Lighting

$150 – $300 per light

Pool Cover

$75 – $15,000

$70 – $400

Water Features

$50 – $25,000

Landscape Rocks

$85 – $200

Lift

$3,000
Self-Cleaning Salt Water Chlorinator
Investing in a self-cleaning system will significantly cut down the amount of maintenance your pool needs. A self-cleaning chlorinator will utilize reverse polarity to change the negatively charged electrodes to a positive charge. That way, the calcium does not build up as quickly in your pool. On average, these will cost you between $500 and $2,000.
Saltwater Pool Decking
Most pool owners opt for a pool deck. Decks usually cost an additional $7,000. Although, if you hire a professional, this may be included in the total cost.
Pool Enclosure Or Fence
Most homeowner's insurance will require some fence or enclosure around your pool. This is to keep children and pets out and prevents accidents.
The enclosure or fence will cost anywhere from $1,200 to $22,000. Of course, this depends on the type and size. Or instance, is it a fence around an above ground pool? Or is it an enclosure for an indoor pool?
Pool Lighting
Pool lighting is excellent if you want to take a nighttime swim. You can install lights into the side of your pool for about $150 to $300 per light. Also, you can install lights on your deck for the same cost.
Salt Water Pool Cover
If you plan to stop using your pool at the end of the season, you might want a pool cover. For a traditional cover, it is about $75. Or, if you want to be fancy, an automatic pool cover is around $15,000.
You can also purchase a solar blanket pool cover. This helps contain 99% of water evaporation and keep the balance of the water level. You can find top-quality solar blankets for around $50 to $200.
Ladders And Diving Boards
You need ladders for your pool if you do not have stairs on both sides of your pool. Most of the time, the ladders are included in your total pool price. However, if they're not, they cost about $70 to $200 each.
Diving boards are not recommended for fiberglass pools as these types of pools are not usually deep enough. If you want to add a diving board, they cost around $400.
Water Features
If you want to spiff up your pool area, you can add some water features. Here is a list of some water features and their associated prices:
Waterfalls ($450 to $15,000)
Fire ($100 to $1,000)
Bubbler Fountain ($50 to $300)
Hot Tub ($10,000 to $25,000)
Grottos ($5,000 to $10,000)
Landscaping Rocks
You can place landscaping rocks to add to the environment of your pool. You can purchase hollow rocks for around $85 for a 21″ x 21″ size.
Pool Lift
If a pool needs to be ADA friendly, an accessible lift needs to be installed. To install a pool lift, it will cost about $3,000.
Winterize A Saltwater Pool
When you own a saltwater pool, you will need to prepare it for the winter. The harsh temperatures will cause your pipes to crack and freeze. Also, concrete and fiberglass will most likely crack during cold weather.
To winterize your pool, it will cost you between $150 to $300.
Do Saltwater Pools Freeze?
Saltwater pools freeze, which is why it's so important to winterize them before the weather gets too cold. That way, pipes don't need to be replaced. Also, if the water freezes, it can and will crack fiberglass and concrete. This will result in paying tens of thousands of dollars to fix.
Convert Hot Tub From Chlorine To Salt
If you opt for a saltwater pool, why not convert your hot tub to saltwater too? The benefits are the same, but the cost is around $500 to $5,000. However, the salt levels may not maintain an effectively sanitized environment. You may need to purchase additional chemicals to keep things sanitary.
Additional Considerations
Some communities ban saltwater pools due to the toll they take on soil nutrients. Always check locally before you begin installation to make sure you can have a saltwater pool.
In warmer weather, your generator will work harder to keep the water clean. This means that it will draw more electricity. You may need to repair it frequently, which means the lower maintenance cost. It will then cost the same as it does to maintain a chlorine pool.
You might need water added due to evaporation. This will increase your water bill by $5 to $18 a month. However, a solar blanket for your pool will offset this cost.
Are Saltwater Pools Worth It?
Ultimately, the answer to this question comes down to personal preference. Though, examining the advantages and disadvantages of these pools can help you make an informed decision about whether or on this type of pool is the right choice for your home.
Advantages of Saltwater Pools
Gentler on the skin and eyes. The salt chlorine generator uses electrolysis to convert salt to chlorine. Since on store-bought chlorine products are used, there is a reduced number of chloramines in the water. This also helps prevent undesirable side effects and also the unpleasant chemical odor that is commonly associated with conventional chlorine pools.
Requires less maintenance. With a saltwater pool, the salt chlorine generator takes care of most of the maintenance. While you still have to do some testing to monitor levels and add in salt as needed, there is considerably less ongoing chemical-related maintenance tasks than with non-saltwater pools.
No need to store dangerous chlorine. Since you don't have to keep harmful chemicals like chlorine, stabilizer, bromine, and clarifier on hand to maintain the chemical balance of the pool, there is a reduced risk for people, animals, and plants.
Feels softer than conventional pool water. The softer feeling that comes with these pools is usually associated with the lower level of chlorine and total dissolved solids.
Disadvantages of Saltwater Pools
More expensive than chlorine pools. While saltwater pools have a number of advantages, they come at a price. Overall, saltwater pools are more expensive to install than chlorine pools, but generally cost less to operate.
Need expert technicians for repairs. With chlorine pools, most homeowners can handle repairs, test the water and add the necessary chemicals themselves. However, with saltwater pools, the average person doesn't have the expertise to do repairs on their own due to the complexity of salt chlorine generators.
Salt can cause damage. Although saltwater pools may be gentler on skin, eyes, and hair, salt is still a corrosive substance that can damage a variety of metal components, such as ladders, heaters, and more. Over time, the salt will degrade the metal, causing rusting and weakening ladders and brackets.
---
Related Questions
Is a saltwater pool better?
A saltwater pool is friendlier to the skin and mucus membranes. They also cost less to maintain. To some people, yes, a saltwater pool is better than a chlorine pool.
Is a saltwater pool more expensive to build?
Saltwater pools tend to be a bit more expensive than a chlorine pool. However, they cost less to operate, and they're a lot easier to maintain.
How much does it cost to convert to a saltwater pool?
On average, it costs around $2,500 to convert your pool to a saltwater pool. This price depends on the size and type of pool.
Is a saltwater pool easier to maintain?
A saltwater pool is typically easier to maintain as it requires fewer chemicals and less cleaning time. The chlorine pool takes a significant amount of time and money to balance the chemicals for maintenance. 
Do You a Need Pool, Spa, or Hot Tub Contractor?
Get free, zero-commitment quotes from pro contractors near you.
In Summary
Many factors go into how much saltwater pools cost. The prices vary depending on what you include for landscaping, the size, and the materials you use. By doing some of the preparation and building work yourself, you can save thousands of dollars. If you're not comfortable with this arrangement, that's okay too! Do what's best for you.

Heather Robbins
Heather is a passionate writer who loves anything DIY. Growing up, she learned everything from home repairs to design, and wants to share her tips with you. When she's not writing, she's usually hiking or searching for her next DIY project.
More by Heather Robbins
Published September 12th, 2020 11:02 AM