133 Views
Are You Making These Design Mistakes In Your Kitchen?
October 19th, 2023 7:50 AM
Share
We're committed to finding, researching, and recommending the best products. We earn commissions from purchases you make using links in our articles. Learn more here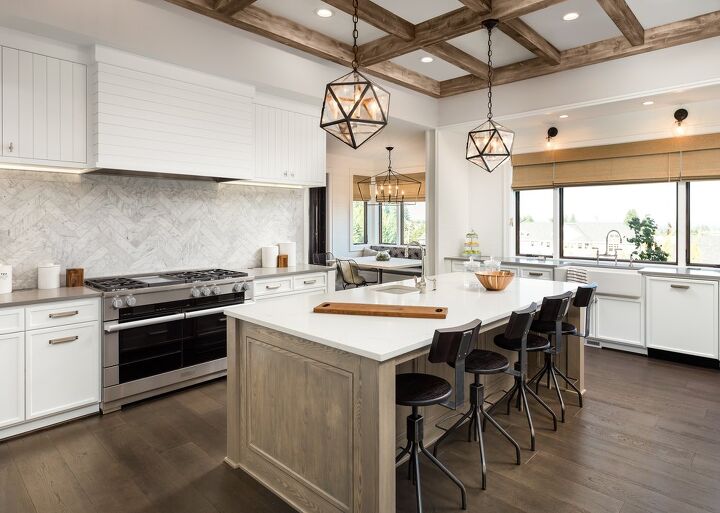 Is your kitchen a place you enjoy spending time or do you avoid it at all costs? Even if you're not much of a cook, a kitchen is so much more than where you prepare meals. It's where family and friends connect and create lasting memories. But when you look back on those experiences, you don't want these kitchen design mistakes getting in the way.
Trying to recreate a kitchen in a magazine instead of for your life is a big mistake. Kitchens need to function well and reflect your style to achieve good design. Cluttered counters, poor lighting, inadequate storage, and confusing transitions are also common kitchen design mistakes. Don't force things that won't fit, like an island, or settle for a too-small sink.
When designing your kitchen, you want it to look good, match your style, and also function well. Form and function are the classic ingredients for great design. These factors are especially vital in rooms you're in a lot, and people spend a lot of time in kitchens.
Common Design Mistakes You Might Have In Your Kitchen
If you recognize some of these design mistakes, you're not alone. These mishaps pop up in lots of kitchens. Some you inherit when you buy your house and others simply get overlooked during the design process.
But the good news is that many of these kitchen taboos are easy to fix with a few simple tweaks. Others, like bringing back upper cabinets or redoing lighting, might take a bit more time and money but are well worth the effort.
Check out this list of common kitchen design mistakes to see if you're making them in your home.
1. Forgetting It's Your Kitchen
It's tempting to design your kitchen to look like it's straight out of the latest design magazine. But that's not the most practical way to go about doing things.
Often, the kitchens you see in publications and on social media are styled for photographs and wouldn't hold up well against everyday living. Make sure your kitchen reflects your style. Likewise, set it up so that it functions well and makes your life easier and more efficient.
2. Countertop Clutter
Letting things pile up on your kitchen counters is a big no-no. Clutter doesn't look good, plus it makes it more difficult to use your kitchen in the way you need.
Therefore, having too much stuff on top of your counters decreases your kitchen's form and function. In other words, clutter is a double-whammy when it comes to kitchen design mistakes.
Aim to keep counters at least 75% clear. If you don't use a small appliance daily, put it inside of a cabinet or the pantry or tuck it away elsewhere. Maximize your counter space by streamlining your utensils and inventory and utilizing other storage options. Tidy up for a few minutes at the end of each day to help keep the clutter in check.
3. Ignoring Seating
Kitchens tend to be gathering places for more than just eating meals. People hang out and visit in kitchens, catch up on their day, do homework, and even play games. Adding some seating options in your kitchen is a way to make these moments more comfortable and the space more inviting.
You may already have an eat-in kitchen with a table and chairs, but perhaps you can add a couple of stools by your island or peninsula. No island? Maybe a pair of stools in the corner or a couple of extra chairs you can easily pull up to the table would suffice. However, whatever seating you add, ensure it fits well in your kitchen, both in terms of look and size.
4. Insufficient Lighting
Bad lighting in a kitchen is the worst. You do a lot of tasks in this room, so the lighting needs to be on point. Include a mix of lighting that features overhead sources, task lighting, and ambient lighting.
Under-cabinet lighting is a popular option or even in-cabinet lighting if you have glass fronts. A popular design trend is to add a small lamp to the kitchen counter or island (if space allows). It adds a stylish touch and provides task lighting for reading recipes or writing out the bills. Choose fixtures that complement your design, show off your style, and provide varied lighting options for your kitchen.
5. Not Optimizing Storage
Remember, your countertops are not a storage option, so another big mistake people make in their kitchens is not maximizing storage. Take advantage of any space you have to store stuff. Add shelving to utilize the vertical space in your pantry, organize under the kitchen sink, and use pull-out shelves and drawers in deep cabinets.
6. A Sink That's Too Small
If you have a sink that's too small, then you know all too well the frustrations this kitchen design mistake causes. Constant splash-back and water everywhere lead to constant wipe-downs. And it always looks like you have a massive pile of dirty dishes, even if there are just a few items in the sink.
If you can't get a larger sink, consider getting one that's a little deeper than your existing one. A couple of extra inches in depth will make a drastic difference.
7. An Island That Doesn't Fit
Pretty much every designer kitchen you see features an expansive island in the center. Others showcase trendy islands transformed from dressers or antique vanities. They look gorgeous, but the problem is when people try to force an island into a kitchen that simply doesn't have the space for one.
You don't have to have an island. If you have a small kitchen, forcing an island is worse than not having one. If you need extra surface space or storage, consider a portable bar cart that you can use as needed. Or, incorporate a peninsula if the layout of your kitchen is suitable for it.
8. Weird Transitions
Pay attention to the various materials in your kitchen and how they flow from one to the next. Often, people have weird transitions between the backsplash and the wall or from one surface to another.
For example, your tile backsplash ends a couple of feet from the ceiling in the area above your sink. So you have a random patch of bare wall in this space. Instead, why not bring the tile all the way up to the ceiling to eliminate this unnecessary transition?
9. Ignoring The Details
Did you focus so much on the big things when you designed your kitchen that the details fell through the cracks? Choosing the perfect countertops, cabinets, and fixtures is important. But don't ignore the details, like hardware, lighting options, a touchless faucet, and storage.
It's also crucial to remember to incorporate elements that reflect you. Hang artwork, display your grandmother's teapot collection on a shelf, or anything else that points to your style.
10. Getting Rid Of All Your Upper Cabinets
Yes, open shelving happens a lot in kitchen designs, but it's quickly becoming a trend of the past. After ripping out all of the upper cabinets, many people soon realized not having any wasn't the most practical choice.
Too many open shelves means dusting and organizing a lot more. Not to mention, you have to pay more attention to what you put on those shelves. Keep your upper cabinets, at least most of them, to maintain the storage and reduce the need to meticulously organize all of your dishware.
Time To Right Your Kitchen's Wrongs And Get Cooking!
These kitchen design mistakes aren't impossible to overcome. For most of them, it's quite the opposite, and you can fix them in no time. Choose pieces that fit well in your kitchen and help it function at its best.
Don't forget to showcase your style and design your kitchen for your life. When you carefully consider your design choices and quit trying to mimic a magazine spread, you'll soon start to see a kitchen that makes sense for you. It's time to learn from your mistakes and make your kitchen sizzle instead of fizzle.
Related Guides:

Stacy Randall
Stacy Randall is a wife, mother, and freelance writer from NOLA that has always had a love for DIY projects, home organization, and making spaces beautiful. Together with her husband, she has been spending the last several years lovingly renovating her grandparent's former home, making it their own and learning a lot about life along the way.
More by Stacy Randall
Published October 19th, 2023 7:50 AM