51 Views
What Is The Best App To Design A Kitchen?
December 29th, 2021 12:00 PM
Share
We're committed to finding, researching, and recommending the best products. We earn commissions from purchases you make using links in our articles. Learn more here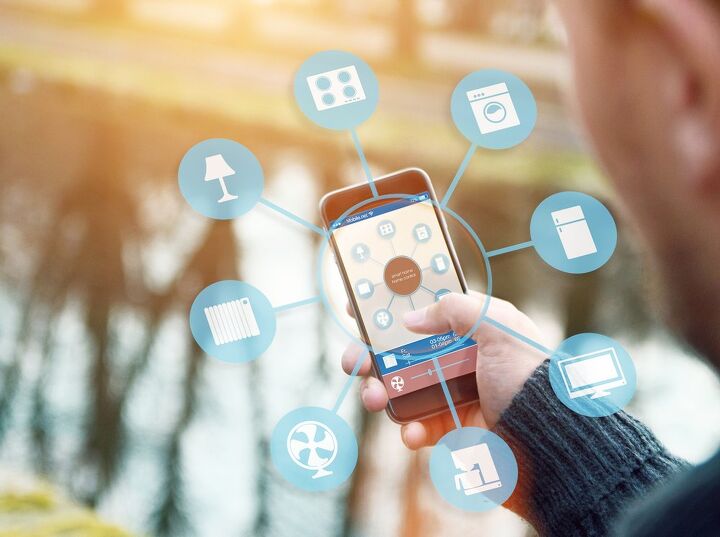 Designing a kitchen is hard work that needs a serious amount of visualization to work well. In the past, the lack of a visual guide usually meant that everyone had a hard time, even those who were professionals. This led to design gaffes that took ages to fix. (60s kitchens, anyone?) Thankfully, technology has made it easier to get design advice through the use of your mobile phone so you can use the best app to design your kitchen.
The best apps to help you design your kitchen are HomeDesign 3D, Houzz, and Homify. You can also get great design advice from apps such as MagicPlan and Room Sketcher. Ikea also provides a free room design application online that lets you plan your new kitchen. And, if you need a little more inspiration, Modsy provides some of the best suggestions.
If you're a tech geek who loves to use apps to design your home, then hold on. This article will give you the scoop on each major kitchen design app, including the perks and pitfalls. Let's get started.
Do You Need an Addition or Remodel Contractor?
Get free, zero-commitment quotes from pro contractors near you.
Why Choose A Kitchen Design App?
Kitchen design apps are excellent tools if you need to have a good visual idea of what your kitchens will look like if you complete them according to plan. They also can help you connect to suppliers who have just the right thing for your home's new look, and even give you new ideas you never thought of. These apps below are easy to use and are made with serious interior design in mind.
Quick Look At Our List Of Best Apps To Design A Kitchen
Here is a quick list of our best apps to design your kitchen.
Home Design 3D- Best overall
Homify- Best design choices
Houzz- Best navigation
MagicPlan- Best element control
IKEA Place- Best product based 
Room Sketcher- Best customized
Modsy- Best suggestions
HomeDesign 3D Is Our Overall Best App To Design A Kitchen
HomeDesign 3D is a professional-grade designing app that's open for everyone to use. You get to choose the room, decorate it, build it, and even choose the specifications of your space. Since this designing app lets you choose the sizes of your room, you get a hyperrealistic look at what your project will look like once it's done.
This designing app doesn't have a link to a store or a marketplace, which happens to be its biggest drawback. So if you are looking to shop around, then you may need a different app. Even so, it's still handy.
Price: $9.49 for the biggest package
Homify
If you're still at the point of searching for cool design ideas, then you might want to give Homify a chance. Homify focuses on cool design concepts, trends, as well as dishing out cool tips and tricks. You get to leaf through tons of beautiful home design pictures, save your favorites, and also get schooled on design concepts. What's not to love?
Admittedly, Homify is a lot like Pinterest that's exclusively geared towards interior design and remodeling. So, if you like Pinterest, you're going to enjoy this. If you're not in the mood for extra inspo, you may feel a little underserved from Homify's app.
Houzz
You might recognize this name as the major home improvement site that links you with builders, and you'd be right. What most people don't know is that their hit website also has a pretty slick home improvement app. Like Homify, this app has over 15,000 photos to leaf through and a "quick save" feature. It also has a My Room feature to let you create your own room and a massive shopping market.
Because of how many features Houzz's app has, it's hard to ignore when you're trying to work on a brand new kitchen or bathroom. It's easy to navigate, doesn't require knowledge of floor plans to work, and also happens to be pretty bug-free. We strongly suggest it for any remodeling project.
MagicPlan
Most of the apps on this collection are geared towards casual users who are just getting used to the idea of making their own home design. MagicPlan is very different, primarily because it gives you complete control over every element in your home remodel. By using professional-grade CAD software, you get to enjoy doing everything from a professional viewpoint.
You can make floorplans, mockups, photos, and even add notes for your architect. It's impressive software that might just work out well in a home designer's pro toolbox. In fact, there are quite a few planners that actually use this stuff for their professional work! The big drawback? Its price…
Price: $9.99/month for Basic, up to $89.99/month for its Estimate level.
IKEA Place/IKEA Store
Leave it to the DIY home furnishing juggernaut to get techy with their advertising, right? IKEA is already highly regarded for its room design services, but in recent years, they decided to offer an online version. IKEA Place lets you create your own place using a complete array of IKEA products. Meanwhile, IKEA Store lets you buy the things you used in their sister app.
If you're a fan of IKEA (I know I am!) then this is a great app to download. It cuts your shopping time in half and usually also helps you avoid a trip into the maze-like world that is IKEA. Otherwise, you might just want to use it to lay out certain concepts before you try it.
Room Sketcher
Do you love the idea of just being able to sketch out plans and show them to other people? Do you want an app that has specific features for each room? Room Sketcher is a good app to look into for those reasons. This app lets you make 2D, 3D layouts as well as realistic photos of the finished product. You even get full 3D walkthroughs of the homes that you want to create.
Along with regular room layout sketches, the app is known for being able to draw up reliable floor plans. Once you've sketched things out, you can actually order real floor plans that are made according to your specifications. You can even get panoramic 3D renders through this app. So, it's safe to say it's a good planning tool.
Price: VIP starts at $49.
Modsy
Are you part of the Mod Squad? Modsy is one of the newer home design apps to hit the market, and it might just be one of the most impressive. This app works amazingly simple, and is ideal for people who get stumped by interior design. All you have to do is take a picture of your place, upload it, take a style quiz, and let professional interior designers do the rest.
If you like the look, you can shop the stuff you need to get it looking the way you want. The price is prohibitive, but the results speak for themselves.
Price: $159 for starters.
Pros And Cons Of Using A Kitchen Designer App
As with every type of app, there are pros and cons of using a kitchen designer app as well. By understanding these, it will allow you to choose whether these planning apps are best for your situation or circumstance. Or, if you should just hire an interior designer instead.
Advantages
You can test before you choose. There's nothing better than being able to blend colors and products together to see exactly how it would look if it was to be placed in a kitchen. This is important as some people get halfway through a renovation job only to find out they don't like their look.
Gives you ideas you might otherwise not have thought about. If you're not a super creative person, having an app to design your kitchen can give you ideas and help job your brain on what you want to do to create your space.
Saves you money for hiring a designer. Why hire an interior designer if you can envision certain colors and products together?
Disadvantages
Narrow selection of choices. You might not find the exact color of the product that you're looking for. So depending on the app you choose, you may find yourself settling for a color or product you don't want. Unless you use the IKEA app.
You might end up hiring an interior designer anyway. If you're choosing from a limited selection then you still might hire an interior decorator to see what they say about similar products.
Do You Need an Addition or Remodel Contractor?
Get free, zero-commitment quotes from pro contractors near you.
Our Final Take
There has never been a better time to try your hand at interior design. Thanks to the rise of home design apps, finding the right look and the right stuff is easier than ever before. Whether it's a fresh dose of inspiration, finding just the right couch for your place, or even trying to plan out a full home layout, there are apps out there that can make it happen.
You can get amazing results by using an app, several, or the whole bunch. It's up to you to choose which ones you feel you'll click with, and which ones will work with your current goal. With that said, it's safe to feel confident that there will be at least one or two that will fit your personal style like a glove.
---
Related Questions
What steps should I follow to design my own kitchen?
using a kitchen design app is great to help you try out ideas, but you still need to start with a good plan. Start with a wishlist for your kitchen — if you could have anything what would it be. Then, create a realistic budget for your kitchen, figuring in an extra 10% to 15% contingency for the unexpected (that you should always expect).Carefully consider how you will actually use your space. Think about how you cook, when, how often, what, etc. Will you eat in the kitchen as a family or just pull up stools to an island or have a breakfast nook? Will you use the kitchen as your home's command center or for entertaining?Take careful measurements of everything and start to plan your layout (this is where those design apps start to come in handy). Start making thoughtful design choices for cabinets, countertops, flooring, appliances, paint colors, and other finishes. Consider the size, scale, storage needs, and function of your kitchen and decide on special features like an island, pot filler, etc.You also need to focus on lighting, not only overhead lighting but task lighting. Always have a strong plan in place before you start doing any actual work so you don't end up doing something you really don't want to do.
What are some tips for creating the best kitchen layout?
A kitchen is the most hardworking room in a home, so the layout needs to be high-functioning. When designing your space, make sure the layout covers these points:
Put important workpieces close together so you don't have to run all over the place to prepare a meal.
Have clear open pathways throughout the kitchen.
If you use an island, don't place it too far or too close to the countertops.
Put the stove on an exterior wall to save costs when it comes to installing a ventilation system.
Maximize storage by going vertical.
Test out your layout in 3D using a kitchen design app before making final decisions.

Ossiana Tepfenhart
Ossiana Tepfenhart is an expert writer, focusing on interior design and general home tips. Writing is her life, and it's what she does best. Her interests include art and real estate investments.
More by Ossiana Tepfenhart
Published August 10th, 2020 12:48 AM