304 Views
20+ Kitchen Cabinet Alternatives (with Photos)
December 22nd, 2021 10:39 AM
Share
We're committed to finding, researching, and recommending the best products. We earn commissions from purchases you make using links in our articles. Learn more here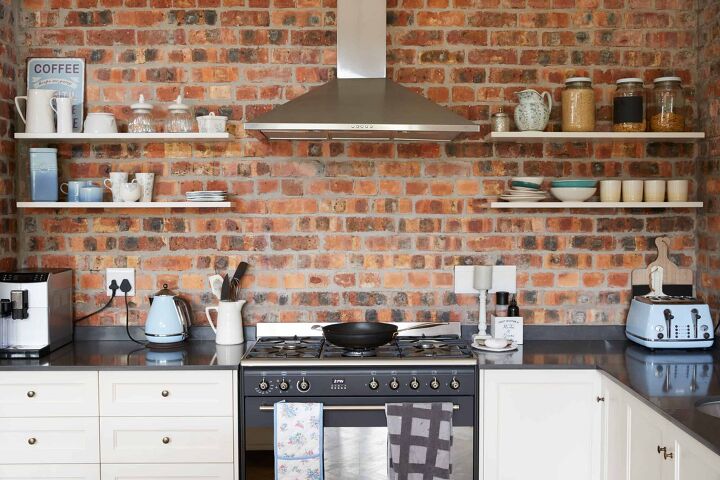 Open concept kitchens are becoming incredibly trendy, especially in small, minimalistic homes. Many of them achieve this by forgoing the traditional upper kitchen cabinetry that can appear bulky and takes up a considerable amount of the visual and physical space. No upper cabinets in your kitchen also means that you can install more windows, which makes for a much lighter and fresher vibe.
Despite the draw of this design trend, kitchen storage space is still an absolute necessity. Fortunately, your kitchen can look stylish and be functional at the same time when you opt for a kitchen cabinet alternative.
Upon first inspection, you might assume that the only alternative to kitchen cabinets is no cabinets at all. However, there are numerous options to choose from that can provide some much-needed storage space for your open concept kitchen.
Or, if you simply want a more creative storage method for your kitchen, we have the inspiration for you. Short of simply storing things on your countertops, there are many imaginative ways that you can ditch the old cabinets and make the most out of your kitchen space – including floating shelves, crates, racks, cubbies, countertop shelves, metal lockers, and so much more.
20 Top Kitchen Cabinet Alternatives
Continue reading for our comprehensive guide on the various kitchen cabinet alternatives you can choose from to spice up your kitchen design.
1. Floating Shelves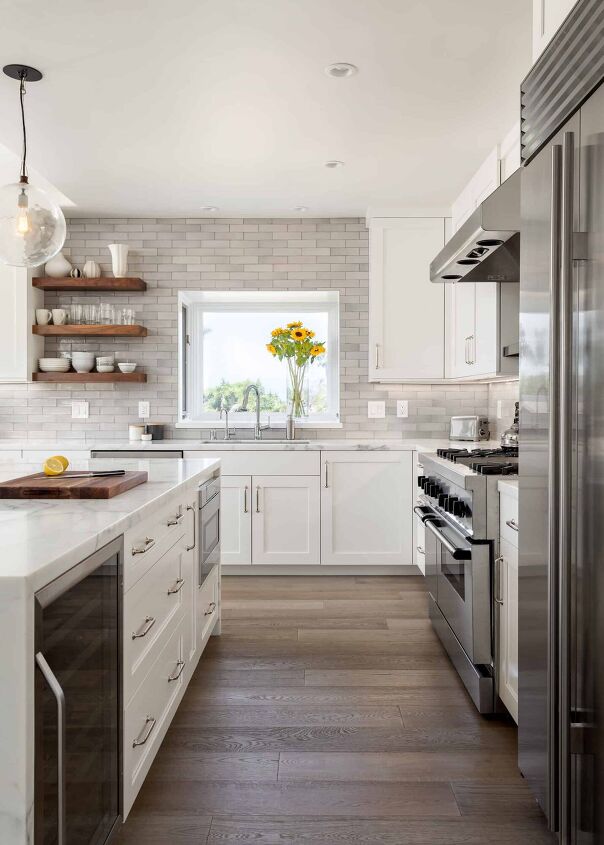 Floating shelves are the ideal choice for kitchen designs that are open and airy, or those that have little or no upper cabinets. In fact, opting for open shelving in your kitchen is a great way to display your collection of dishes. Generally speaking, this option tends to be much less expensive than going with traditional upper cabinets in your kitchen.
If you do plan to store dishes or heavy items on your floating shelves, it's important that use appropriate anchors or they are mounted securely to wall studs. This alternative to kitchen cabinets makes cooking incredibly convenient, as everything is easily accessible.
Of course, if you live in an area that is prone to earthquakes, this may not be the best option for you. You'll also need to clean and dust on a regular basis since the dishes will be fully exposed.
2. Shelves with Brackets
If you want to have open shelving in your kitchen, you aren't limited to just floating shelves. Alternatively, you can choose shelving with brackets to enhance support and also offer a different look in your kitchen.
When it comes to shelves, the styles, materials, colors, and finish that you have to choose from are virtually endless.
3. Metal Lockers
Using old vintage metal lockers, like the ones you used in high school, can offer a unique, industrial look to your kitchen. Vertically oriented, these kitchen cabinet alternatives are excellent for storing snacks, alcohol, or any other items that you don't want your children to have access to. The major benefit to choosing metal lockers in place of your kitchen cabinets is the ability to lock them.
Metal lockers are also very easy to clean, so you won't have to worry about them getting stained or damaged when they come into contact with food. Of course, it's worth mentioning that it can be difficult and expensive to obtain vintage lockers for your kitchen. Therefore, this may not be the best option for those who are on a tight budget.
Also, depending on their appearance when you purchase them, they may require a bit of prep and maintenance to get them back to good working order – as is the case with any sort of antique furniture item.
4. Suspended Shelves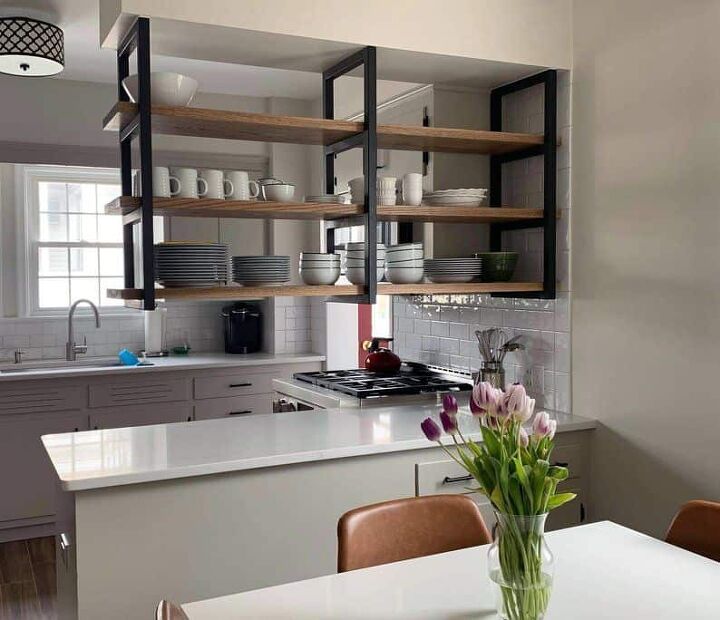 Suspending shelves from your ceiling to serve as storage space in your kitchen can create a great focal point in the space. It's also a choice that allows you to show off your unique style, taste, and creativity when it comes to home design.
Suspended shelves are great since they don't require being anchored into the wall, which can be a major advantage for those who have walls that are made out of plaster.
This kitchen alternative is not recommended if you are inexperienced regarding your ceiling construction. However, you can always enlist the help of an expert to install the suspension shelving for you.
Like other open shelving options, suspended shelves will accumulate dust, grease, and fingerprints more easily. It may be difficult to keep your dishes clean if you store them on suspended shelves.
5. Sideboard or Buffet
A buffet table or a sideboard can provide excellent opportunities for additional storage in a shorter space. They are a popular choice for traditional-style rooms or homes since these pieces serve as convenient alternatives to traditional upper and lower kitchen cabinets. Though, there are some main differences between sideboards and buffets – particularly relating to size.
Sideboards are usually dresser-sized and feature shelves that can be used for casual storage or for display. Whereas, buffets are typically the size of a dining table and usually have a large cabinet door.
6. Hutch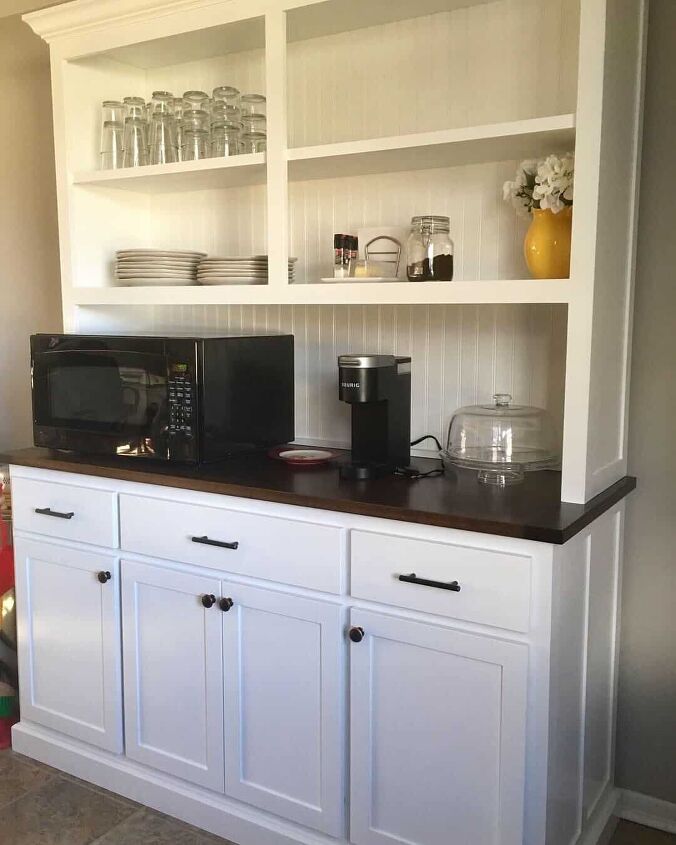 In recent years, old hutches have gained popularity as a storage alternative in kitchens. Hutches are incredibly versatile pieces of furniture, especially when used in the kitchen.
They offer ample storage, that can either be visual or hidden away in the cabinets. This kitchen cabinet alternative can also create a very unique look in your kitchen, whether you choose something antique or more modern.
Generally speaking, antique hutches will complement the natural patterns and textures of the space, while modern hutches will offer an edgier appeal. Of course, hutches won't work for all situations, especially if you are limited on floor space. They tend to take up quite a bit of floor space and, since they're bulky and heavy, can be difficult to move.
7. Repurposed Crates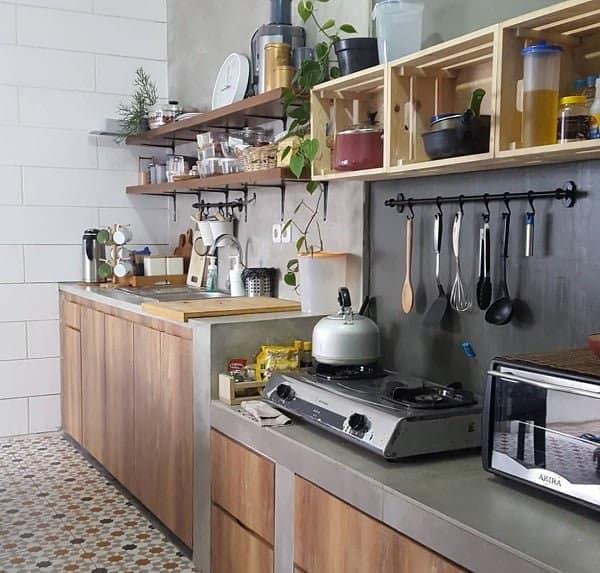 An easy solution to save money on your lower kitchen cabinets is to stack repurposed apple crates. This option allows you to enjoy the look and feel of open shelving, without having to spend a bunch of money on shelves. Fortunately, it's often very easy to find good quality crates or boxes, made out of a variety of materials.
By placing the base of the crate flush against the wall and stacking several on top of each other, you can easily create a bunch of convenient storage cubbies.
You can also mount the crates on your wall to create an eclectic opening shelving display and serve as an alternative to your upper kitchen cabinets. This option allows some creativity, as you can rearrange your kitchen items however you desire. They are also typically wider than the average kitchen coverage and you won't be restricted by the wooden slats that run vertically between closed cabinet doors.
8. Industrial Racks
Kitchen cabinets are simply not necessary when you use a wire rack shelving unit, like those found in commercial kitchens. In fact, these racks have been used for many years as kitchen cabinet alternatives. They offer an opportunity to be very imaginative with the way your dishes, pots, pans, and other kitchen utensils are stored.
Like open shelving, racks also make it easy to find items in your kitchen, while also adding a little bit of decoration to the space. These racks are also notoriously sturdy and some even come with canisters for convenient portability.
However, these may not work for all kitchens and could look out of place. Choose a rack shelving unit if you want to bring an industrial, commercial look to your kitchen.
9. Cubbies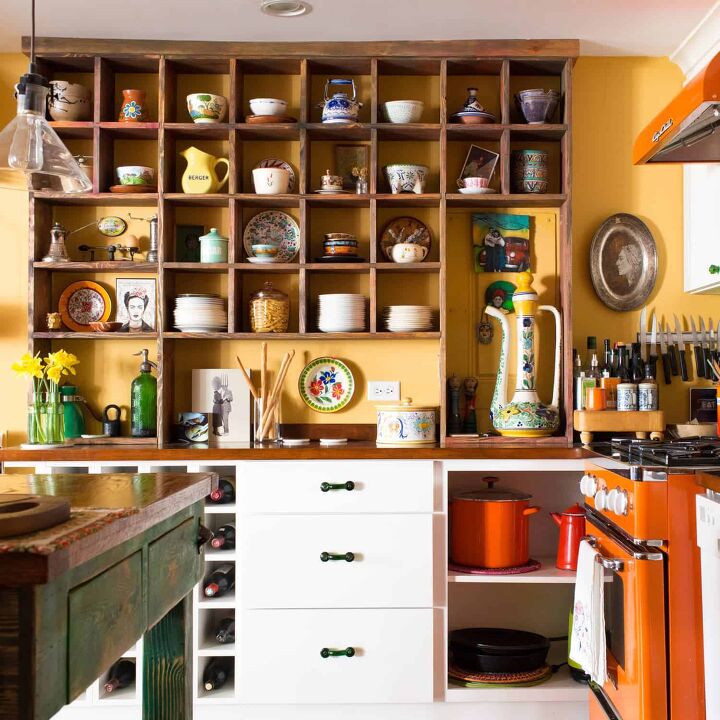 Similar to repurposed crates, cubbies are highly customizable and an excellent space-saving tool for your kitchen. They can either be used for storing or displaying items for decoration, depending on your needs and wants. To build these mini cages, you will need wooden boards to nail together the form of the structure.
Cubbies are a useful alternative to traditional kitchen cabinets that doubles as both decoration and a storage option. Though, the main drawback to this option is that you'll have to put some effort into ensuring that the displayed items are organized and visually appealing. Otherwise, your kitchen can start to look very cluttered, very fast.
10. Countertop Shelves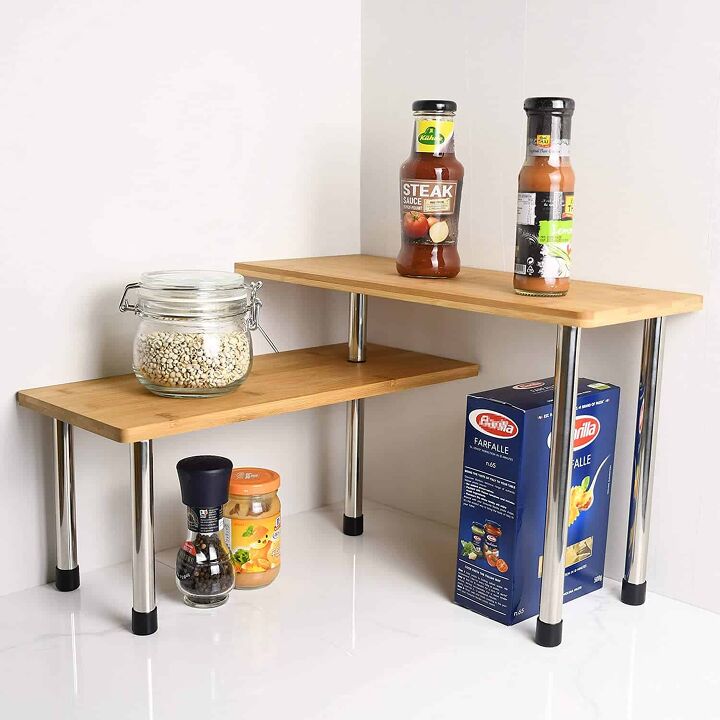 Countertop shelves are essentially an organizational tool that takes advantage of the free counter space. Depending on the type of countertop shelving unit you choose, they can be incredibly useful in awkward corners that go otherwise unused. Alternatively, you can place a Lazy Susan in the corner of your countertops to add convenience and functionality.
Like all other open shelving options, you'll want to ensure that the displayed items are organized in a visually appealing way. You'll also need to put forth some extra effort to keep this type of solution clean and tidy at all times.
11. Frosted Glass Doors
Frosted glass doors allow you to still enjoy the benefits of upper kitchen cabinets while offering an alternative to traditional doors. As such, this solution provides a sleek, open, and airier look for your kitchen.
While frosted glass doors do offer a unique alternative to traditional cabinets, they still come with all the disadvantages of kitchen cabinets – including the bulkiness and the fact that they take up a substantial amount of space in your kitchen.
However, if you aren't ready to fully commit to having to maintain visually appealing and organized open shelves, you can opt for frosted glass sliding doors.
This gives you the opportunity to display some of your kitchen items artfully, while still having some clutter. Simply slide the doors to conceal the areas that you want hidden, while other sections can be on display.
12. Shelves with Baskets
When you use shelves with baskets, you can easily pull out a basket to find the exact item that you need without having to dig through a bunch of unorganized items on a shelf. Baskets are appealing and can be switched out whenever you want to update the appearance of your kitchen.
Changing the look is easy, without having to commit to repainting your walls, choosing a new countertop, or ripping out the backsplash.
Depending on the type of basket material that you choose you may have to rinse or wash it regularly to keep it from getting stained or dirty. When they're not cleaned on a regular basis, baskets tend to collect dirt and bacteria. Also, over time, the baskets will need to be replaced which can add to the overall cost of your kitchen storage.
13. Hanging Baskets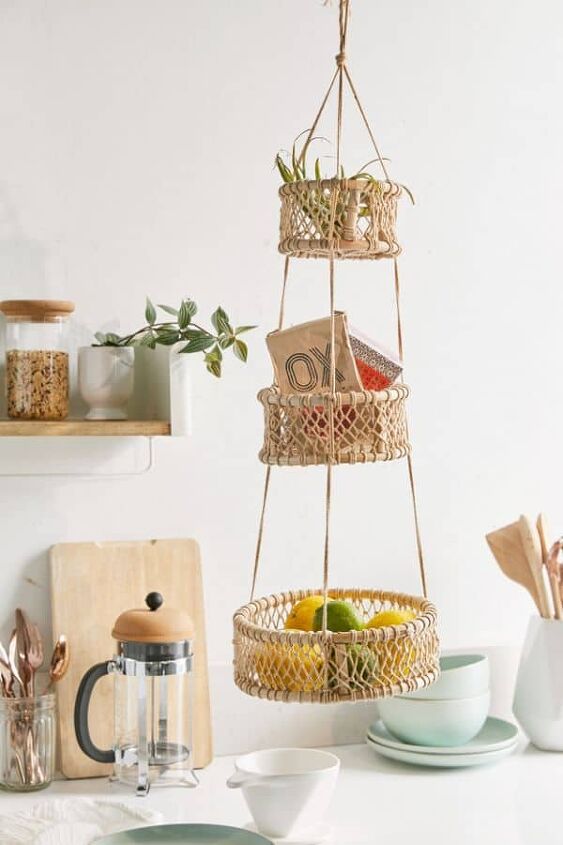 To achieve the ultimate cottage-core style in your kitchen, you can use hanging baskets to replace your upper kitchen cabinets. Mount multiple hanging baskets at various levels to offer an eclectic look.
When you choose this solution, it's recommended to place items that see less use in the higher basket, and your more frequently used items in the lower baskets.
Hanging baskets are also great for storing fruit and other produce that doesn't need to be refrigerated. Although hanging baskets alone isn't going to provide a ton of storage space, it may be just enough for your needs.
14. Kitchen Rails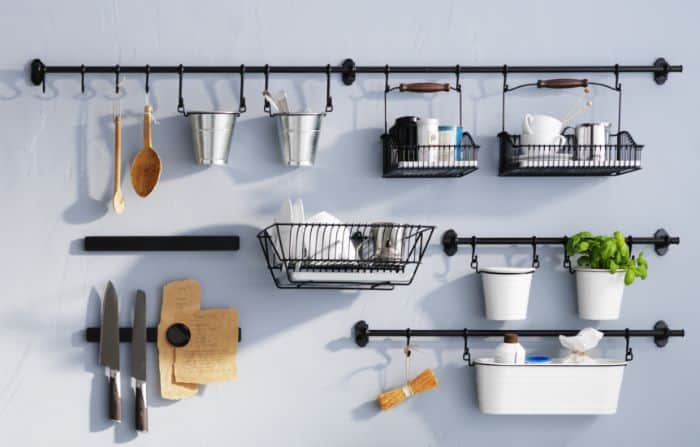 A rail, when used in the kitchen, typically features a set of hooks that are all mounted to the wall to create an easy, inexpensive storage solution.
They are commonly used on the back of doors for hanging clothing but are also a convenient option for kitchen storage. Though, a kitchen rail is best suited for items that can be hung, like various cookware and kitchenware.
Bowls, glasses, plates, and other items that require a flat surface will need a shelf or another storage space in your kitchen. Also, the space on these rails is relatively small when compared to traditional kitchen cabinets. Though, you can hang baskets from the hooks on the rod to add some additional storage.
15. Wooden Racks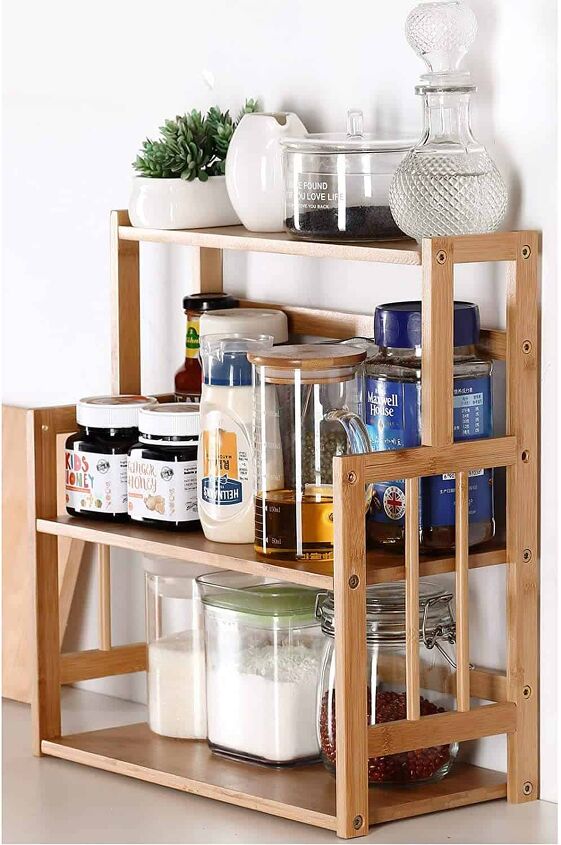 Another option when it comes to racks is one that is made out of wood. Wooden racks offer a warm, organic look to your kitchen while also providing additional storage space. You can find tall wooden racks that can be placed on the floor, similar to a bookcase, and shorter ones that can be placed directly on your countertop.
Use wooden racks for storing your plates, bowls, and dishes, or for storing spices and dry goods that you want within arm's reach while you cook.
16. Dresser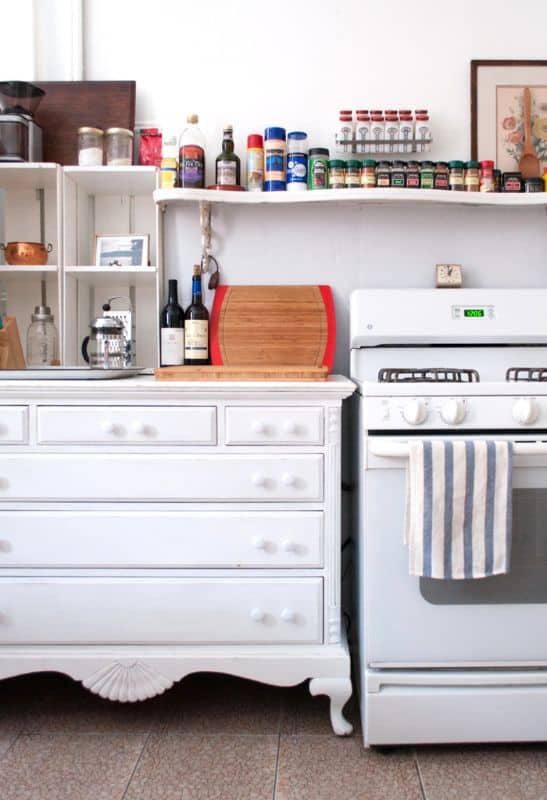 Dressers, whether they are repurposed or bought new, can be a great choice in a smaller kitchen since it can serve as your countertop, workspace, and provide additional storage space inside. Fortunately, it's very easy to find an affordable dresser that fits your budget – more so than cabinets.
You can also paint and stain the dresser to achieve your desired look, as using one in place of traditional cabinets could look out of place in your kitchen. You can also swap out the hardware for something that will complement the style you're going for.
18. Bookcase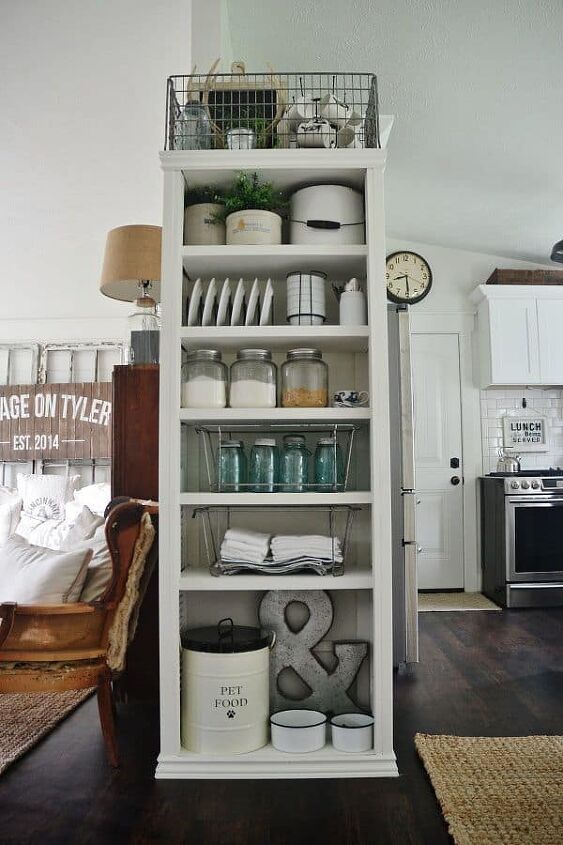 Like wooden racks and industrial racks, a bookcase can be repurposed as an alternative to traditional kitchen cabinets. Using a bookcase that is tall and wide can create an excellent makeshift open pantry or closet. Using a bookcase as a kitchen cabinet alternative is a great choice for those who are on a tight budget, as it's very easy to find bookcases in a wide array of prices. Since bookcases come in a range of sizes, you'll also have no trouble finding out that fits your kitchen space.
They are incredibly versatile pieces of furniture, as you can use a combination of open shelving, buckets, and baskets. Place baskets or organizing bins on the shelves for holding lightweight items, or anything that you want to keep contained. Bookcases also make it very easy to switch up the look when you want, as you can stain them or give them a fresh coat of paint.
Make sure that you anchor your bookcase to the wall to reduce the risk of it tipping over. For smaller kitchens, a bookcase may not be the best solution as it might be difficult to justify giving up crucial floor space.
19. Kitchen Islands and Carts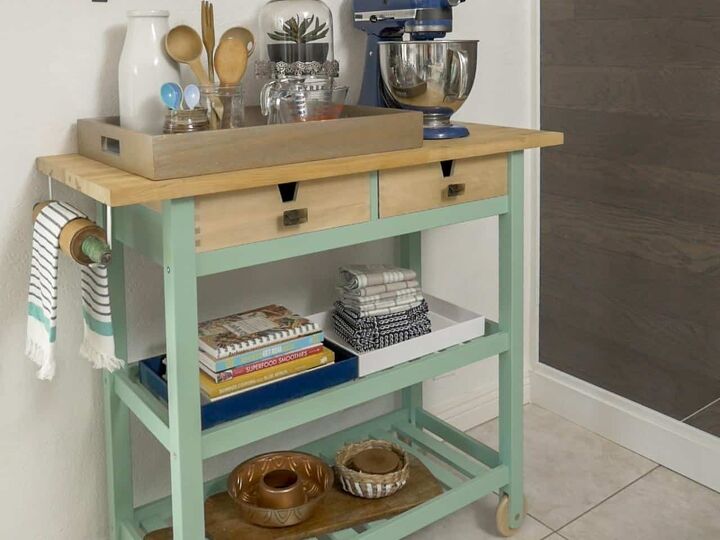 Choosing a kitchen island or cart can add both counter space and storage space to your kitchen while giving the space a fresh, new look. They come in a wide array of styles to suit your storage needs – from shelves and drawers, to cabinets and cupboards. Some may even come outfitted with drop leaves for extra counter space, towel racks, breadboards, and caster wheels.
A kitchen island or cart is a great alternative to traditional kitchen cabinets. Though, this solution only works if you have the necessary floor space in your kitchen to accommodate. If you have a small kitchen or you aren't willing to give up valuable space, choose a different alternative.
20. Pull Out Pantry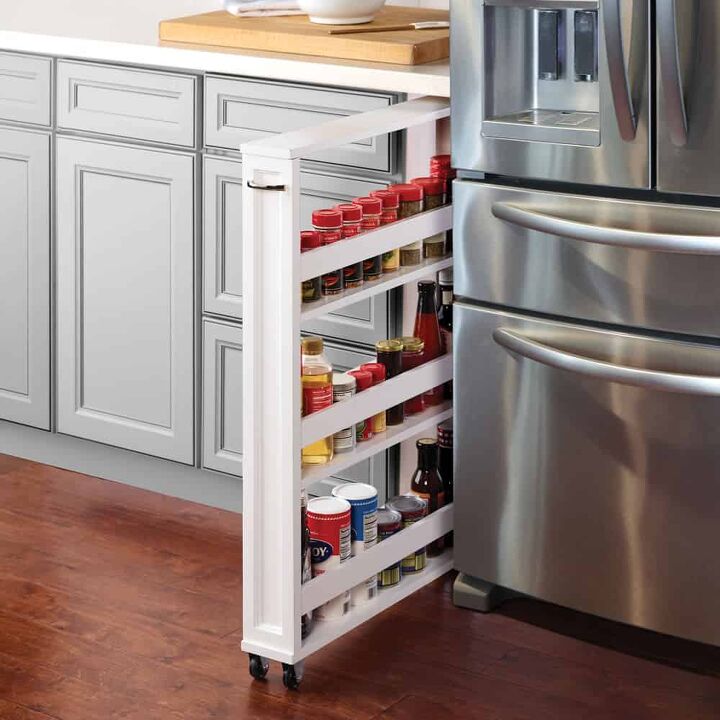 A thin organizing cart on wheels, also called a pull-out pantry, can be incredibly useful for small kitchens. They can be slid into narrow spaces, such as the free spaces between your cabinets and your appliances.
The pull-out pantry is great for storing cans of food, spices, and various kitchen accessories. You can purchase these products from a retailer or DIY one yourself to fit perfectly in the open spaces in your kitchen.
How Can I Make My Kitchen Cabinets Look New?
This list is for you if you want to reface, restore, or refresh your kitchen cabinets without doing a complete overhaul.
We've compiled a list of ten methods you may do it using common tools, simple installations, pre-made kits, and more.
Construct A Butcher Block Island
If you want your kitchen to feel more domestic and warm, avoid the built-in cabinet-base island and replace it with a furniture-like table with a butcher-block surface.
These thick wood-slab tops are stronger than wood laid flat because their edge or end grain is exposed. That means they are more resistant to warping and nicks than laminate and nearly as good as stone.
Butcher-block islands that resemble 19th-century worktables are ideal for softening the harshness of stone counters and metal appliances in modern kitchens.
You may achieve this look in your kitchen by building a prep island out of readily accessible materials or selecting one of the dozens of types available from stores and furniture makers.
Kitchen Cabinet Refacing
That sweet elderly lady from whom you purchased your property is genuinely wonderful—indeed, she is—especially in the manner she distributed handmade cookies during the holidays. However, the kitchen where she baked them is filthy. That grease-caked, kid-scratched cabinet has to go.
We're not advising you to demolish and rebuild. Instead of investing $5,000 on new cabinets, save money by refacing the ones you already have for less than $1,000. It's surprising what a little veneer and new doors can do to spruce up a tired space.
Both are available from woodworking businesses, and some even offer peel-and-stick veneer to make the job easier. Just keep in mind that you should measure twice and cut once. Work slowly and methodically, and your kitchen will appear brand new in no time.
Kitchen Cabinets Can Be Painted
Because the black cabinetry have sucked all the light out of the room, your kitchen feels like a cave. However, a brighter makeover does not always imply replacing the dingy boxes with brand new ones.
As long as the frames and doors are physically intact, you can clean them up and apply a fresh coat of paint to transform the kitchen from drab to bright in a weekend.
Install A Cabinet Shelf That Pulls Out
Install a pull-out shelf in one—or all—of your base cabinets to make the most of your kitchen's current storage space.
The shelf is designed to look like a shallow drawer that slides out to provide quick access to objects placed in the cabinet's rear.
Install Lighting Under The Cabinets
Most American kitchens are lacking something, and it's not a $7,500 stove or a 4-acre refrigerator. It's not because of the lighting; it's because of the lighting. The undercabinet work lighting units, which are very easy to retrofit behind upper wall cabinets, flood the tabletop in bright white light, making everything from chopping vegetables to reading recipes a breeze.
When the fixtures are connected to a dimmer switch, you may create dramatic accent lighting or a night light for late-night snackers. Don't be concerned if you're nervous about dealing with electricity. As long as you cut the power at the breaker box first, this installation is quick and painless.
Our shelf was designed to fit a normal 24-inch-deep by 33-inch-wide base cabinet, but its design may be adapted to fit almost any cabinet size. The frame is made of 1×4 pine, while the bottom is made of 34-inch birch plywood.
If you're only making one or two shelves, go to a home center or lumberyard that sells quarter or half sheets of plywood to save money. They'll even cut the plywood to your specifications in most cases.

Jessica Stone
Jessica considers herself a home improvement and design enthusiast. She grew up surrounded by constant home improvement projects and owes most of what she knows to helping her dad renovate her childhood home. Being a Los Angeles resident, Jessica spends a lot of her time looking for her next DIY project and sharing her love for home design.
More by Jessica Stone
Published April 6th, 2021 4:02 PM