632 Views
Standard Futon Dimensions: All Sizes & Types (with Photos)
December 21st, 2021 2:38 PM
Share
We're committed to finding, researching, and recommending the best products. We earn commissions from purchases you make using links in our articles. Learn more here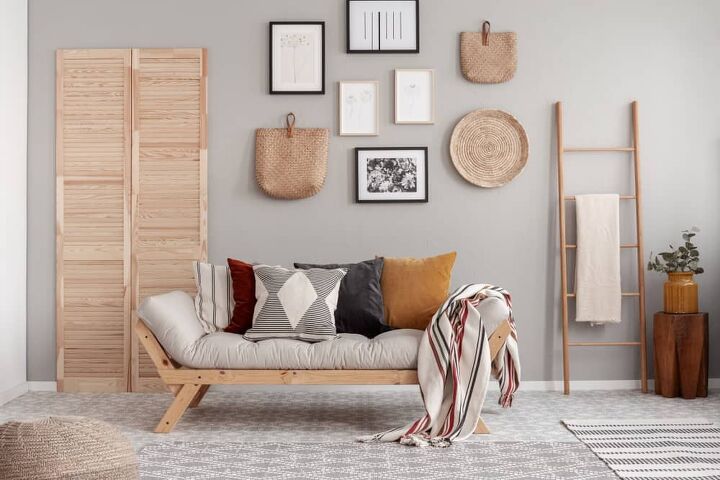 A futon can be an excellent addition to any home. It is a versatile furniture item, providing you with extra seating wherever you choose to place it. A futon can even double as a guest bed if you're having lots of people over!
The dimensions for a standard futon are 54″ x 75″. However, if it's an extra-long full futon that you own or are purchasing, then the length would gain an extra 5 inches, making it 80″ long. A standard futon is considered a full, or double futon. So anything larger can measure 67″ to 92″ depending.
What Should You Consider When Buying A Futon
If you're looking to add extra seating and sleeping area to your home, a futon is a perfect way to do both! However, it's essential to consider whether you have the necessary space before you purchase a futon. Then you can determine which type of futon you'd like for your home.
Do You Have The Space For A Futon?
Do you have any empty area in one of the rooms of your home? If so, measure that space before making a trip to Ikea. There needs to be enough space for a closed and open futon.
You may have no problem fitting a closed futon in your house. A closed futon is very similar to a couch, with a width not usually more than 42 inches. However, when it is open, a futon can be anywhere from 54 to 75 inches in width.
It is also important to make sure there is adequate walking room around the futon. Could you reasonably move about comfortably with a 75 inch wide open futon in the room? If not, you will want to opt for a smaller version or a simple couch instead.
Consider The Other Furniture In The Room
If you're placing a futon in your living room, make a note of other furniture in the room. A couch (in this case, a futon) should be about 16 inches from a coffee table. Could you open a queen-size futon in your living room without having to rearrange all of the furniture? If not, opt for something smaller.
A futon can be an excellent substitute for a bed in a guest bedroom. Just be sure that you have enough wall and floor space to accommodate your desired size. Queen and full-size futons can sleep two and twin and cot-size fit one. If your guests come in pairs, keep this in mind when purchasing a futon. A twin-size will make quite a tight squeeze!
If you want to maximize the futon's seating space, opt for a full or queen-size if there's space. If you require more seating but have a smaller space, go for a split model or tri-fold futon.
What Type Of Futon Do You Need?
Once you know how much space you have, it's time to determine which type of futon is right for you. There are several futon varieties to choose from so you can find the perfect fit for your home. There are bi-fold and tri-fold frames, as well as chair and loveseat varieties.
Bi-fold Frame
Bi-fold frames are the most popular, as they tend to hold full and queen mattresses. These sizes of futon give you the most width and length.
A full-size futon can be between 75 and 87 inches in length and 54 inches from the wall when open. A queen-size futon can be 80 to 92 inches in length and 60 inches from the wall when open. When closed, both sizes of futon will be about 36 to 42 inches deep (from the wall).
Tri-fold Frame
A tri-fold frame folds in three places to create the seat, the back, and the lower portion. This frame works with twin, full, and queen-size mattresses and uses more floor space than a bi-fold. Most mattresses for tri-fold frames are thinner since they will likely have to fold or hang over the back.
Twin-size futon mattresses are usually around 75 inches long and 39 inches wide when opened. A full-size mattress has the same length along the wall but is slightly wider at 54 inches when open. Queen-size mattresses are the largest at 80 inches long and 60 inches wide when open.
Chair and Loveseat Futons
Chair and loveseat futons are also known as a split mattress format of a futon. A footstool or ottoman piece usually accompanies these futons.
When added to the open futon, this additional piece adds more width. It even adds a place to set your feet when the futon is acting as seating!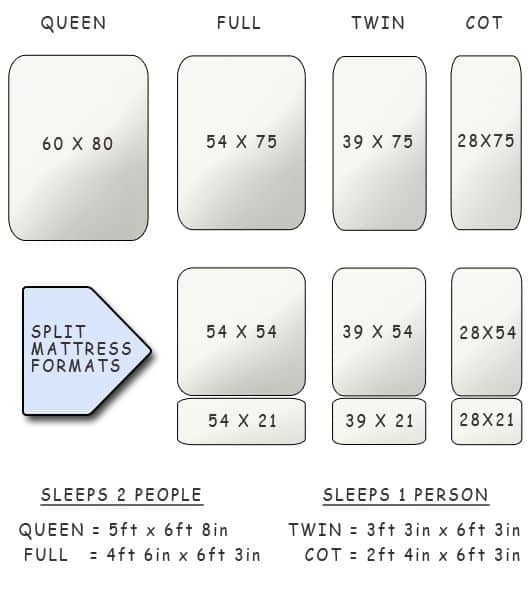 A Closer Look at Chair Futons
Chair futons are limited to twin or cot-size mattresses, meaning they only provide space to sit and sleep for one. Cot-size varieties are about 28 inches long and 75 inches from the wall to the ottoman when open. Twin-size types are about 39 inches long and 75 inches from the wall to the ottoman when open.
The excessive length from the wall to the ottoman when open is how placing a chair-style futon can become tricky. This type of futon sticks out farther from the wall than other types of futons.
Therefore, consider putting it in a corner instead of flush against a wall. You can also frame it with other furniture pieces to make the whole design work well.
A Closer Look at Loveseat Futons
Loveseat futons are also accompanied by an ottoman to make up for the missing mattress. A loveseat futon is usually the size of a full mattress.
It measures about 54 inches long and 75 inches from the wall to the ottoman. Like chair-style futons, loveseat futons will stick out farther from the wall than other varieties of a futon.
Other Varieties of Sleeper Sofas
Some furniture pieces offer both sleeping and seating space but don't necessarily fall into the futon category. Futons often have frames with arms, but some new varieties of sleeper sofa are sleeker.
IKEA is known for its clean, modern furniture. Some of its sleeper sofas resemble futons but lack the arms and sometimes bulky frame. The Balkarp Sleeper Sofa is one such example.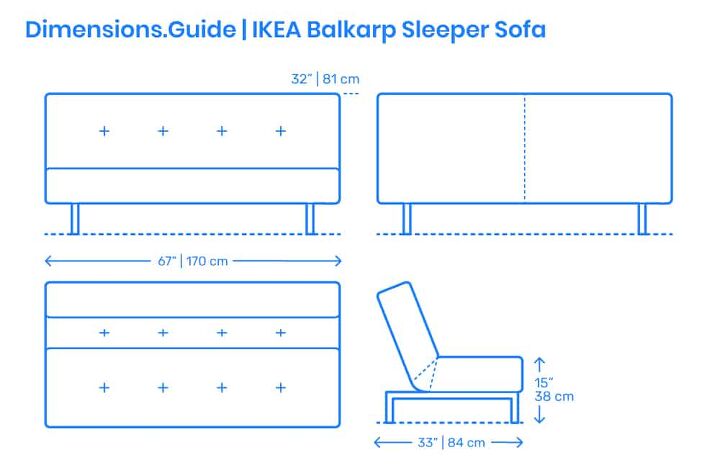 This sleeper sofa has an adjustable back that offers a variety of positions. You can sit, sleep, and even recline!
It also has relatively standard futon dimensions. It measures 33 inches from the wall to its front when closed and is 67 inches in length. When opened, the mattress is 39 inches from the wall to its front. This size provides enough space for one person to sleep comfortably.

A Sleeker Sleeper
Another variety of sleeper sofa is the Twilight Sleeper Sofa by Fleming Busk. This still manages to resemble a futon by offering sleeping and seating options. However, it also lacks the bulky frame that usually accompanies a futon, which makes it ideal for smaller spaces.
Another element that sets this type of sleeper sofa apart is its adjustable bolster pillow. This long, cylindrical pillow typically rests on top of the cushion but can be raised for more back support.
When in sofa mode, the Twilight Sleeper Sofa is 79 inches long and 34 3/14 inch deep. Because of its length, it can seat about three people.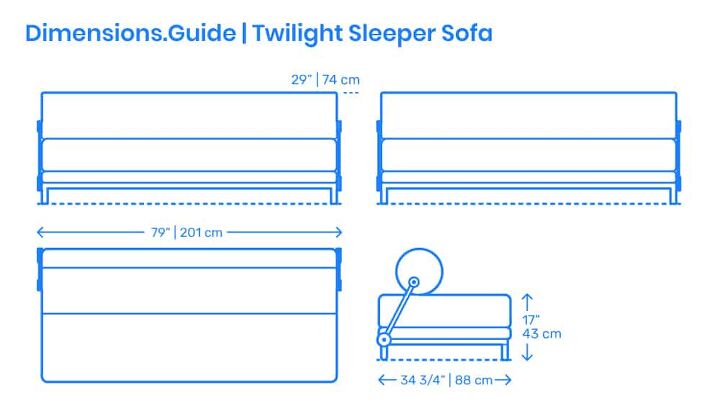 To convert this to a sleeper, you remove the top cushion and place it in front of the sofa. Then, you raise the bolster pillow to provide a space for other pillows to lean against.
Once converted, the couch is 69 ½-inch length from the wall to the front. This size makes it about as large as a queen-size futon.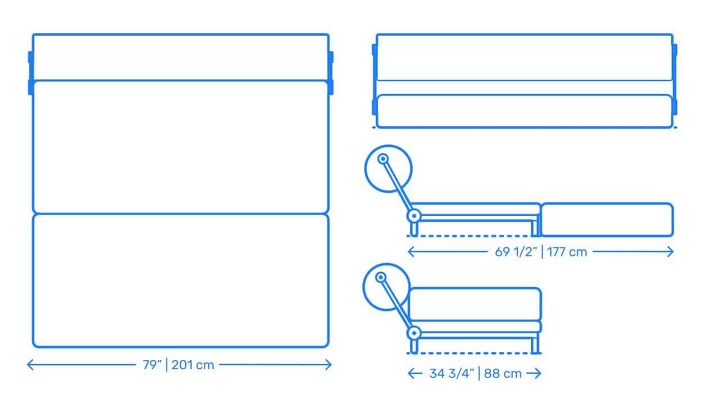 ---
Related Questions
What is the difference between a sofa bed and a futon?
While both offer a place to sit and sleep, a sofa bed and futon are not the same. One of the most significant differences is the placement of the mattress. In most typical pull-out sofa beds, the mattress is hidden under the frame when in couch form.Alternatively, the mattress of a futon doubles as the seat cushions when in couch form. Also, to convert a futon into a sleeping position, you typically put the back of it down. With a standard sofa bed, you generally remove the cushions and pull the bed out of the frame. Still, a sofa bed is technically any piece of furniture that resembles a couch and converts into a place to sleep. In this sense, you could consider a futon as one type of sofa bed.
Do they make king-size futons?
While king-size futons do exist, they are much less popular than full and queen-size futons. A king-size bed is usually 76×80 inches. A king-size futon takes up about 80 inches of wall space and has a depth of 76 inches when open. Because of its sheer size alone, a king-size futon can be more difficult to convert into a bed. This large futon also takes up a significant amount of floor and wall space. However, a king-size futon will provide more space for sleeping and sitting. These are important things to consider before purchasing a futon, especially if you're torn between a queen and king futon. 
Want To Exchange Your Futon For A Murphy Bed?
A lot of people choose to sleep on a futon instead of a bed because of the space that it saves. However, you can only do this for so long until you crave an actual bed. Visit our Murphy Bed Dimensions Guide to learn more about how much space a Full, Queen, and King bed take up.
Related Guide

Stacy Randall
Stacy Randall is a wife, mother, and freelance writer from NOLA that has always had a love for DIY projects, home organization, and making spaces beautiful. Together with her husband, she has been spending the last several years lovingly renovating her grandparent's former home, making it their own and learning a lot about life along the way.
More by Stacy Randall
Published October 27th, 2020 10:40 AM