263 Views
Standard Full-Size Quilt Dimensions (with Photos)
December 6th, 2021 4:09 PM
Share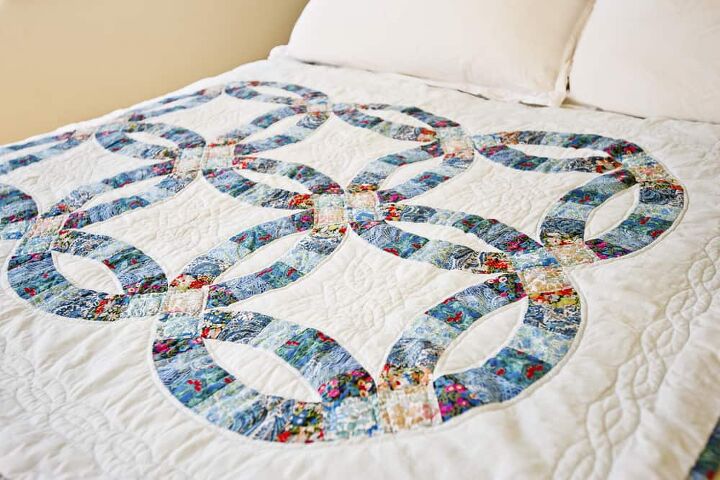 Quilts are charming, cozy, and an excellent addition to many bedrooms. If your bedroom's style is shabby chic, rustic, cottage, vintage, or farmhouse, then a quilt makes an especially bold statement. You can purchase these beautiful bedspreads in a store, from a local crafter, or even sew one yourself.
The full quilt size dimensions are 78" by 87" for a 12-inch drop, and queen-sized quilts measure 90" by 108". A crib quilt is the smallest and the standard measurement is 40" by 60". The largest quilt size is the king and the standard is 108" by 108".
If you have a deep mattress and desire a large drop, you might need a quilt that measures 96 by 106 inches.
The overall, finished size of your quilt depends on multiple elements, so it's all about knowing your numbers. Once you decide on the style you're going for, you can figure out the exact size quilt you will need.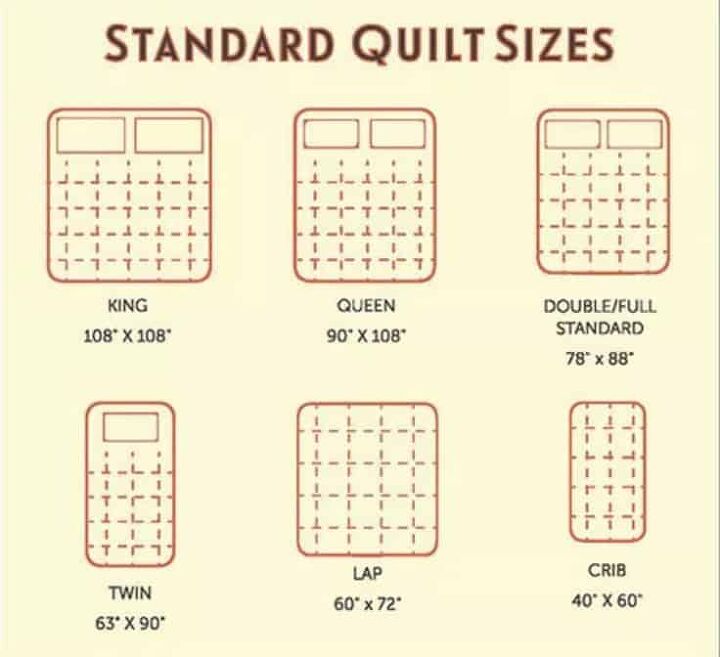 Determining the Size of Your Full-Size Quilt
Before you do anything, you need to start with the bed that will feature your new quilt. Mattresses come in various depths, and the depth of your mattress plays a large role in your finished quilt size. If you intend to use your quilt on a specific bed, you'll need to know some or all of the following information:
Mattress dimensions: More specifically, the width and the length of your mattress. We've outlined the standard U.S. mattress dimensions down below. However, you should always measure to verify the size of your specific mattress.
Mattress depth: Standard and older mattresses tend be between eight and 12 inches deep, whereas, newer pillow top mattresses are usually between 14 and 18 inches thick, or sometimes even more.
Box spring depth: If your mattress is on a platform instead of a box spring, this measurement will not be necessary.
Height: In other words, the height from the top of your mattress to the floor below.
When you place a quilt on your bed, ideally it should hang down around three sides of the bed. However, how much you want it to hang down depends on your personal preference. The length that the quilt hangs down over the sides of the bed is known as the drop.
What Size Drop Do You Need for a Full-Size Quilt?
While the drop for your quilt is often a matter of personal preference, you want to ensure your quilt covers everything. Therefore, first, place all the sheets and blankets on the bed. You want to ensure that the quilt drop you choose will hang over any exposed blankets or sheets. Aside from this, there are several factors that can impact how much drop you need:
Does your bed have a bed skirt or dust ruffle? A coverlet should drop roughly three inches below the bottom of the mattress to cover the top of the dust ruffle.
Will the quilt drop to the floor? If so, you need to know the height of your bed. A full-length quilt should drop within ½-inch of your floor.
Should the quilt cover both the mattress and the box spring? If so, you need to know the mattress depth plus the box spring depth plus a couple inches for insurance.
Is your bed a daybed? If so, you may only need to calculate the drop on one side.
Does your bed have a footboard? You may only need to calculate the drop on the front edge.
If you plan to tuck your sheets and blankets, then your quilt only needs to hide the mattress. Once you find the minimum drop needed to hide your mattress, it becomes a matter of personal aesthetic.
Typical Drop Lengths
The shortest drop is typically 12 inches, which is standard for a comforter. However, if you desire a longer drop, this number can increase to 16 inches as with a coverlet. Furthermore, a bedspread has the longest drop at 21 inches.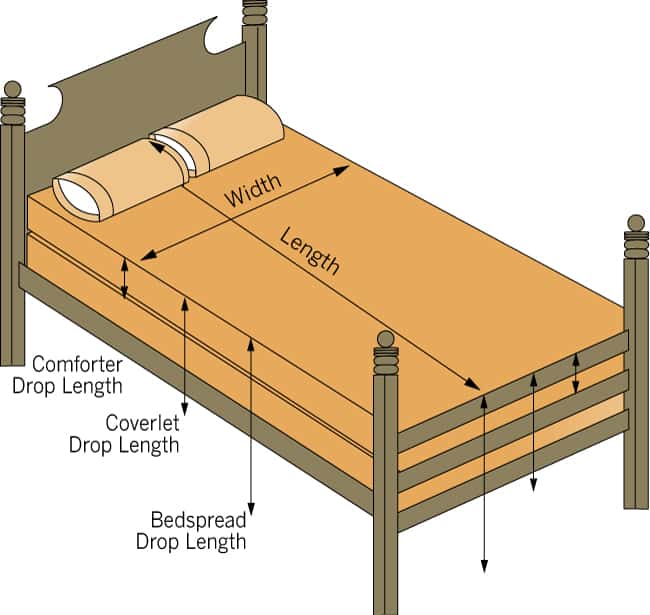 A standard full-size mattress is 54 inches by 75 inches. Typically, standard mattresses have a depth of 7 to 9 inches. Deep mattresses feature a depth of 10 to 15 inches, while extra deep mattresses can reach up to 22 inches.
Note: Mattresses that are 20 inches or more in thickness are not very common. Therefore, if your mattress is this size, ensure you adjust your quilt dimensions accordingly. The typical largest drop is 21 inches.
Basically, if you have a deep mattress that is 14 inches tall, then you would want a drop of at least 16 inches. Alternatively, if your mattress is only 9 inches tall, then a 12-inch drop would suffice.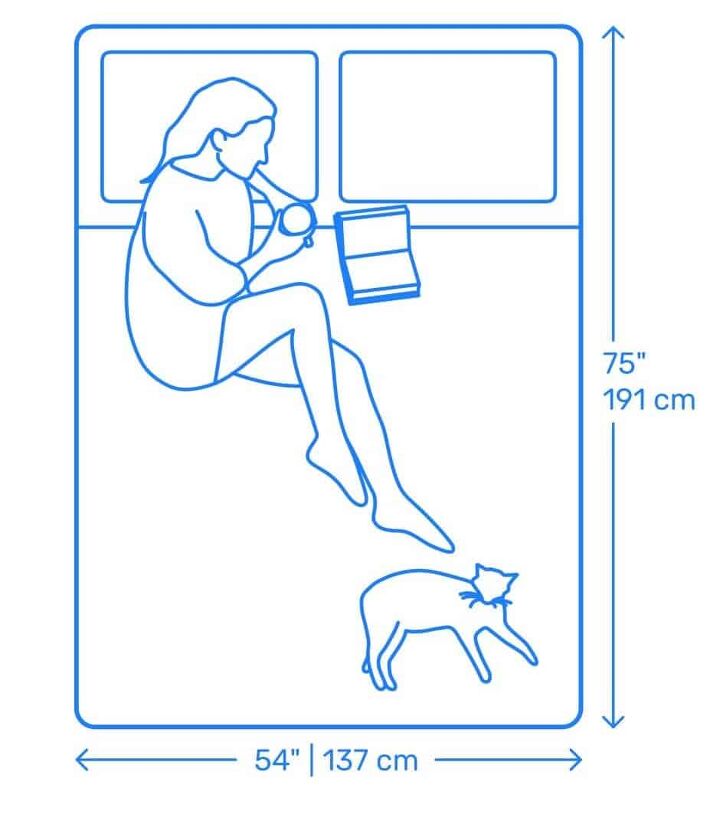 Suggested Quilt Sizes Based on Bed Size and Drop
Here is a quick look at the best quilt sizes for your bed based on the desired drop. However, these figures don't include a pillow tuck.
Consequently, the quilt comes to the mattress edge and sets under the pillows. Therefore, if you plan to pull your quilt over your pillows and tuck it, you'll need a larger quilt.
| | | | | |
| --- | --- | --- | --- | --- |
| Bed Size | Standard Mattress Size | 12-Inch Drop | 16-Inch Drop | 21-Inch Drop |
| Twin | 39" x 75" | 63" x 87" | 71" x 91" | 81" x 96" |
| Twin XL | 39" x 80" | 63" x 92" | 71" x 96" | 81" x 101" |
| Full/Double | 54" x 75" | 78" x 87" | 86" x 91" | 96" x 96" |
| Queen | 60" x 80" | 84" x 92" | 92" x 96" | 102" x 101" |
| King | 78" x 80" | 102" x 92" | 110" x 96" | 120" x 101" |
| California King | 72" x 84" | 96" x 96" | 104" x 100" | 114" x 105" |
If you would rather determine the best size quilt for your bed on your own, you can use this formula:
(width of mattress) + 2x (depth of mattress) = (overall quilt width)
(length of mattress) + (depth of mattress) = (overall quilt length)
How a Pillow Tuck Affects the Dimensions of a Full-Size Quilt
If you decide to tuck your quilt under your pillows, you will need to add extra length to your quilt. How much length you add depends on how much of a pillow tuck you plan to use.
Typically, a shallow pillow tuck is about 10 inches. Therefore, you would need to add 10 inches to your overall quilt length. A full-size quilt with a 16-inch drop and 10-inch pillow tuck would need to be 86" wide by 101" long.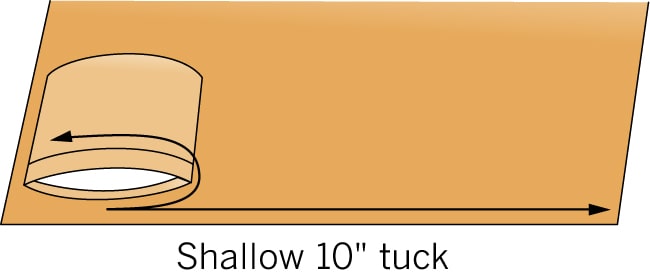 If you prefer a deeper tuck, add 20 inches to your overall quilt length. Therefore, a full-size quilt with a 16-inch drop and a 20-inch pillow tuck would need to be 86" wide by 111" long.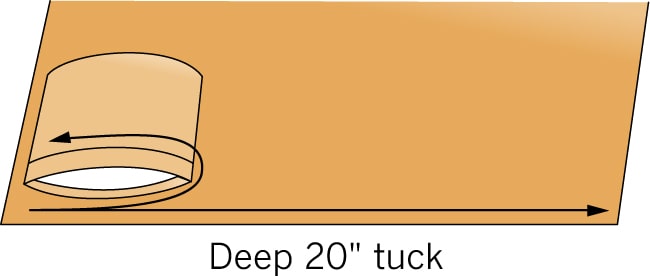 Based on the largest drop and deepest pillow tuck, the largest full-size quilt would be approximately 96 by 116 inches.
Here's a quick glance at different quilt sizes for a full-size quilt, considering drop and pillow tuck.
| | | | |
| --- | --- | --- | --- |
| Pillow Tuck | 12-Inch Drop | 16-Inch Drop | 21-Inch Drop |
| No Tuck | 78" x 87" | 86″ x 91″ | 96″ x 96″ |
| 10-Inch Tuck | 78″ x 97″ | 86" x 101" | 96″ x 106″ |
| 20-Inch Tuck | 78″ x 107″ | 86" x 111" | 96" x 116" |
Extra Considerations If Making a Full-Size Quilt
If you plan to make your own full-size quilt, there are a few extra dimensions you need to consider. Mainly, the batting, fabric backing, density of the quilting, and your quilt blocks and squares.
Batting for a Quilt
The batting is the layer that is inside a quilt that gives a quilt it's weight, warmth, and structure. You can purchase batting by the yard or in pre-cut sheets or squares. Typically, a standard full-size sheet of batting is 81 by 96 inches.
This pre-cut sheet could work for a small full-size quilt used on a standard mattress with no pillow tuck. However, for larger quilts, you likely need to either purchase batting by the yard or assemble batting squares.
Either way, to determine how much batting you need, simply add 6 inches to each side for your batting. Therefore, if you have an 86 by 101-inch quilt, you will need about 98 by 113 inches of batting.
Backing Fabric for a Quilt
To determine how much fabric you need for your quilt's backing, add 8 inches to each side of your finished quilt dimensions. So, for the 86 by 101-inch quilt above, you'd need 102 by 117 inches of material for your backing.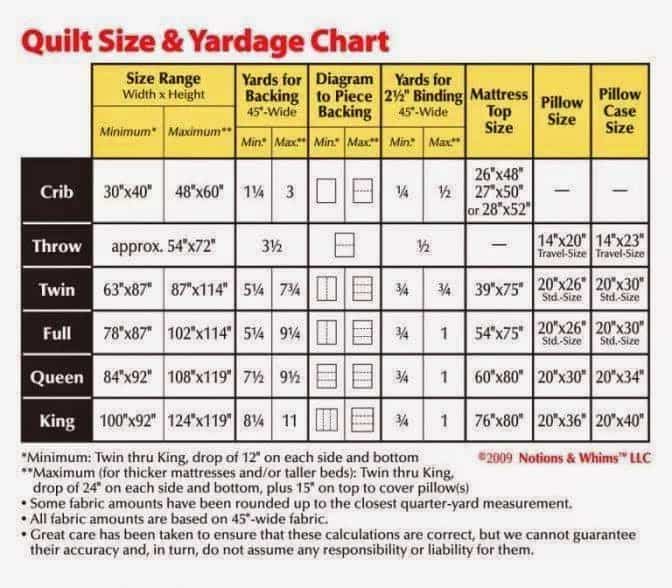 Density of Quilting
How dense is your quilting? The denser the quilting is, the more the finished quilt will have a tendency to "draw up" or shrink. For dense quilting, be sure to factor in an additional 5% to your drop calculations to compensate for the shrinkage.
Quilt Blocks and Quilt Squares
Quilt squares usually come pre-cut in various sizes, and you can also cut fabric to any size square you need. You combine these small quilt squares to create your quilt blocks. When sewing quilt squares, you typically need to allow for a ¼" seam allowance around the square.
This means a quilt square cut 5 ½ inches will be a finished 5 inches. If you wanted to use 5-inch quilt squares to create a 15-inch block, you would need 9 squares. This would equate to 3 squares across and 3 squares down in the block.
Time for Some Quilt Math
To decide how many blocks you need for your quilt, it depends on your desired quilt size. You'll have to do a little math. First, determine how much area your quilt blocks will take up. If you plan to use a border then this area will be smaller than your overall quilt.
So, if your quilt is 96 by 96 inches with a 6-inch border, your blocks will fill 90 square inches. If using 10-inch blocks, you would need 9 blocks across and 9 going down, for a total of 81 blocks.
If each 10-inch block consisted of 5-inch quilt squares, you would need 4 squares per block. Therefore, for this example, you would need 324 squares to complete your quilt.
---
Related Questions
Do I have to put a border on my quilt?
You don't have to use a border on your quilt, but most quilts do feature borders that vary in size and detail. Additionally, a border helps give a quilt a finished look and can really add to the overall design. The larger your quilt, the larger the border it can handle.For example, a full-size quilt can handle an 8 to 10-inch border very well. Alternatively, a king-sized quilt could handle a 12 to 14-inch border. Sometimes, you can use two separate borders to create the overall border. Borders usually feature squared or mitered corners at 45-degree angles. If adding a border to your quilt, account for the border's size when determining how many quilt blocks you need. 
How much does a full-size quilt cost?
Quilts vary greatly in price depending on the level of detail, how it is made, and where you purchase it. For example, a store-bought, factory-made quilt can cost as little as $75 to $115. However, a handmade quilt can cost anywhere from $350 to over $1,000. Ultimately, the quilt you select needs to reflect your personal taste and go well with the style of the room. If you pay attention to basic measurements and dimensions, you can ensure your quilt will fit perfectly on your bed. When you find a beautiful, cozy quilt for your space it is "sew" rewarding.

Stacy Randall
Stacy Randall is a wife, mother, and freelance writer from NOLA that has always had a love for DIY projects, home organization, and making spaces beautiful. Together with her husband, she has been spending the last several years lovingly renovating her grandparent's former home, making it their own and learning a lot about life along the way.
More by Stacy Randall
Published November 9th, 2020 5:18 PM