35 Views
Does Your Living Room Need To Have A Coffee Table?
June 26th, 2022 6:11 PM
Share
We're committed to finding, researching, and recommending the best products. We earn commissions from purchases you make using links in our articles. Learn more here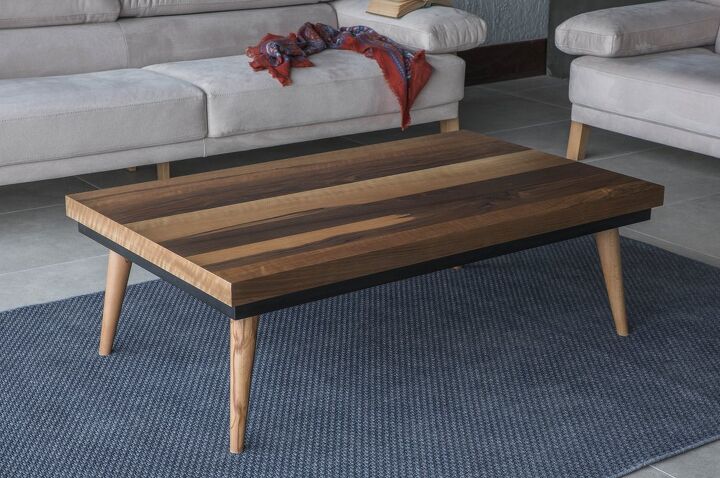 Your home should make you happy and comfortable, which means it should function well. Designing your living room is a big deal since you likely spend a lot of time there. It's also typically one of the first rooms your guests see when they arrive, but does your living room need to have a coffee table?
A coffee table is a significant part of your living room's furniture, providing function and style. It provides a place to keep items within arm's reach while lounging on the couch. You can opt for an alternative, like a storage trunk or large ottoman. But nothing in front of the sofa can make your living room feel like it's missing something.
Of course, you don't have to put a coffee table in your living room; it's your house after all. But not placing anything in front of your sofa or main seating area can look strange in some spaces. Plus, it can lead to a lack of function within your space.
Are Coffee Tables Out Of Style In 2022?
Coffee tables continue to be very much on trend for 2022. They provide an essential role in a conversation area, offering a place to keep drinks and snacks nearby. Coffee tables are also handy visual anchors for your living room design, helping define a gathering spot and fill in an otherwise blank space.
Life gets busy, and design today is all about looking good while staying practical. Coffee tables provide storage, a display space, and a serving area.
And let's admit it– even a place to rest your feet when you want to kick back and watch TV. (Although you probably want to refrain from putting your feet on someone else's coffee table.)
In 2022, you'll find lots of coffee tables that showcase sleek lines and a minimalist vibe. But there are also plenty that cater to many other styles, including rustic, traditional, and vintage charm. So if you're redoing your living room, don't forget to include a coffee table in your plans, or at least consider some alternatives.
9 Coffee Table Alternatives For Your Living Room
Are you looking for something to take the place of a coffee table in front of the couch? Or maybe you don't want to put anything in front of the sofa. Either way, you'll need some sort of surface in your living room to place various items.
Here are a few alternatives to a traditional coffee table.
Cocktail Table
So, the term cocktail table refers to a few different furniture items these days. You might think of a high-top table you find at cocktail parties or a pub. But, here, we're talking about the low-to-the-ground square or rectangular tables.
They were popular in the 1920s and 1930s for serving, you guessed it, cocktails at parties. Generally, people now often use the term interchangeably with a coffee table. But, it's worth knowing about so you can widen your search for the perfect furniture item in front of your couch.
Plush Ottoman
Storage Trunk
For a more vintage look in your space, find a charming trunk or chest and place it in front of your couch. Just make sure it sits a couple of inches below the font of your sofa (like a coffee table would).
A table that's too high makes it uncomfortable to put your feet up. Plus, when you put things on top, it increases the odds that you'll obstruct your view of the TV.
Multiple Stools With A Tray
A collection of stools can also work in front of your couch. They can be footstools when you need them to be or even double as seating. But you can also bring them together and put a large tray on top. You get an instant convertible table of sorts.
A Pair Of Poufs
Get some fun and stylish poufs and spread them around the space. You can place trays on each one to hold items or remove the trays and use them as extra seating. Poufs are typically lightweight, so people can move them around easily to accommodate various setups.
Several Side Tables
If you don't want anything in front of your couch, opt for a collection of complementary side tables. Place a table on either end of the sofa and near each chair. If space is limited, consider nesting tables to reduce your furniture's footprint.
Vintage Suitcases
Using vintage suitcases as a table is a fun and quirky way to add storage to your space. It works well in vintage or retro designs. You can stack several to create a coffee table or use smaller cases to make a side table.
A Stack of Books
Don't have anywhere to put all those beautiful books you love so much? Make them work for you by stacking up several hardbacks and making instant end tables.
A Bench
Here's a great way to add a coffee table and extra seating to a space; let a bench double as a coffee table. You can place things on it as necessary or use it to add seating when you host a large gathering. You can find tons of styles too, from contemporary to glam to rustic benches.
What If You Have A Small Living Room With No Coffee Table?
It's understandable if you have a small space, you don't want to cram it with furniture. If your living room is tiny, you might not have enough room for a coffee table, even a small one. Trying to squeeze one in could disrupt the flow and make maneuvering in the room difficult.
But you still need a place to put your tea, book, or the remote. You could consider a petite ottoman or footstool.
Keep a tray on it when you want it to act as a coffee table. And remove the tray when you want to prop up your feet.
Another option is a set of nesting tables. They can serve as an end table most of the time. But you can pull out one of the smaller ones whenever you need an extra surface and position it anywhere.
Does A Coffee Table Have To Be Centered?
Depending on the size and shape of your living room, it can make sense to center your coffee table in the room. Centering the table this way provides a good sense of balance and symmetry to your space.
However, centering your coffee table in the room isn't a requirement. In fact, sometimes, trying to do so can make your room seem a bit off balance. For example, in a long narrow living room, it might make sense to break the space into multiple zones.
When you zone a space, one area might be for dining, one for sitting, and so on. Therefore, centering your coffee table within the seating area makes more sense, typically basing its position on the sofa's location.
A good rule of thumb is to place your coffee table between 14 and 18 inches from the front of the couch. (The average distance is 16 inches.) Then, take the midpoint of your coffee table and place it even with the sofa's center.
Can You Use Two Coffee Tables In Your Living Room?
You can do anything you want when it comes to designing your space, but it doesn't mean it will work well. Yes, you can use two coffee tables, but make sure the scale of both together works with your other furniture's placement.
It's also wise to find two tables that go together and don't overpower the space. Some coffee tables are sold in sets of two, making it an easy choice. You could also opt for two small square tables side by side or with a little space between them for added flow.
If you decide to use two coffee tables, note the overall measurement of each piece and the space between them. The final number should be similar to the size you would choose for a single coffee table in the room.
What Else Can You Use A Coffee Table For?
Typically, a coffee table goes in front of the sofa or loveseat. It tends to serve as an anchor or center point for a seating area. But this doesn't mean it's the only place you can use it or it only has one purpose.
Depending on the size, you could use a smaller coffee table as a side table. You could also add a cushion to the top to add instant extra seating for a party.
Toss a fun tablecloth over your coffee table to host a chic indoor picnic lunch. You can also use it to display your favorite photos in an unusual way. Simply arrange your pictures and place a glass tabletop cut to fit on top.
It's Up To You If Your Living Room Needs A Coffee Table
You don't have to put a coffee table in your living room. But not using one could make your design seem slightly off.
Coffee tables tend to provide an important anchor and sense of balance within a seating area. They also are functional, providing valuable surface space for drinks, snacks, or tired feet.
But, you can accomplish these functions with coffee table alternatives, like a side table, ottoman, or a storage trunk. If your space is small, using an alternative could be a better bet for you. However, coffee tables are very much in style in 2022, and you can find many options to match your design preferences.
Centering your coffee table in your room isn't as crucial as centering it within your seating area. The easiest way to do this is to base your coffee table's placement off your couch. The sofa's center should line up with your coffee table's midpoint.
Then, make sure your coffee table is 14 to 18 inches from the front of the couch to maintain a comfortable flow. At the end of the day, using a coffee table in your living room is up to you and your overall design.

Stacy Randall
Stacy Randall is a wife, mother, and freelance writer from NOLA that has always had a love for DIY projects, home organization, and making spaces beautiful. Together with her husband, she has been spending the last several years lovingly renovating her grandparent's former home, making it their own and learning a lot about life along the way.
More by Stacy Randall
Published June 26th, 2022 6:11 PM