156 Views
How Much Does It Cost To Install Wrought Iron Railings?
December 28th, 2021 11:02 PM
Share
We're committed to finding, researching, and recommending the best products. We earn commissions from purchases you make using links in our articles. Learn more here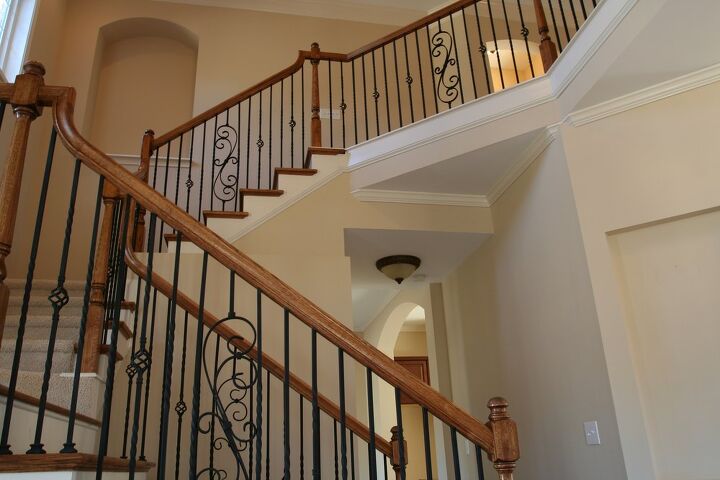 After finishing the construction of your new staircase, you may suddenly find that it's missing something. Without a railing, a staircase can look unsafe to use especially if you have children or elderly people in your household. You can take that opportunity to create something special and make the staircase railing out of wrought iron.
Wrought iron is a material lauded for its strength and you want that quality imbued in your staircase railing. Furthermore, the distinctive appearance of wrought iron can be a huge plus if you're going for a more traditional design. So, how much should you expect to pay if you want to build a stair railing out of wrought iron?
The wrought iron required for your new stair railing costs $85 per linear foot. Wrought iron will be used to make the bottom rails, handrails, balusters, and newel posts that complete the railing. Those elements will cost $2,000 in total. You will also have to pay an additional $650 if you want the wrought iron railing professionally installed.
Pair your finished staircase with a new wrought iron railing and make your home safer and more stylish in the process. Learn how much your new wrought iron railing will cost by continuing with this article.
Don't want to do it yourself?
Get free, zero-commitment quotes from pro contractors near you.
Cost of Wrought Iron
| | |
| --- | --- |
| Estimate Type | Cost Per Linear Foot |
| Low-End Estimate | $60 |
| Mid-Range Estimate | $85 |
| High-End Estimate | $120 |
The final price tag for your new stair railing will be determined in large part by the material you chose. In this case, we're going with wrought iron. You'll have to pay $85 per linear foot of wrought iron you need for this particular project.
Wrought iron is not your only material option for your stair railing, but it may pair best with your style sensibilities. As we noted earlier, the appearance of wrought iron has a traditional quality to it. When molded in certain ways, wrought iron develops a refined appearance that becomes very appealing.
You can also use wrought iron indoors or outdoors without worrying too much about its stability. The wrought iron railing will remain strong for years to come. Wrought iron also excels at staving off the effects of wear and tear.
Note that using wrought iron for your stair railing also has downsides. For one, wrought iron can rust over so using it outside carries some risk. Wrought iron must also be sealed regularly if you wish to maintain its appearance.
If you're fine with those downsides, then feel free to use wrought iron for your stair railing. You can start thinking about acquiring the key elements of your wrought iron stair railing.
Cost of Wrought Iron Stair Railing Elements
| | |
| --- | --- |
| Stair Railing Elements | Cost |
| Balusters | $900 |
| Bottom Rails | $500 |
| Handrails | $450 |
| Newel Posts | $150 |
Four important elements are required to complete the wrought iron stair railing. Those elements include the bottom rails, handrails, balusters, and the newel posts. You can expect to pay $2,000 for all those elements of your new wrought iron stair railing.
Let's break down the pricing for those wrought iron stair railing elements even further. While we're at it, we can also talk about how those elements work together to finish this particular fixture.
Balusters
First off, we have the parts of the stair railing known as the balusters. If you're unfamiliar with the term baluster, you may know it better as a banister or spindle. No matter what you decide to call them, those elements of the stair railing cost $900.
The balusters are important because they guard the open side of your staircase. They can save people from falling off the staircase.
You also need the balusters because they help support the handrails. The balusters reinforce the handrails so people can grab on to them firmly as they move up and down the staircase.
Bottom Rails
Next up, let's talk about the bottom rails. The bottom rails required for a wrought iron stair railing usually cost $500.
The bottom rails serve as support for the rest of the railing. Usually, the balusters go into the bottom rails and are strengthened by that design.
However, you do not always have to include bottom rails. If you decide to build the balusters into the staircase, you can remove the bottom rails altogether. That's one way to save money on this project.
Still, many homeowners end up installing bottom rails anyway. They like the bottom rails because they frame the railing better. You can also remove the stair railing without damaging the steps too much if you used bottom rails.
Handrails
The handrails are also common elements of stair railings. Homeowners getting handrails made from wrought iron will be on the hook for $450.
More often than not, the handrails are installed on the open side of the staircase. The handrails are installed for safety purposes, but they can also introduce a new element of design.
The handrails can be mounted in two different ways. They can be mounted directly to walls if there are any nearby. Alternatively, the handrails can be connected to two posts.
As we mentioned earlier, the balusters are also used to reinforce the handrails. Installing the handrails that way prevents them from getting wobbly over time.
Newel Posts
To complete your wrought iron stair railing, you will need the newel posts. Each newel post costs $75, but since you'll need two, the total is $150.
The newel posts are tasked with further strengthening the stair railings. You'll also often see the bottom rails and handrails attached directly to the newel posts. Those pieces are connected that way so they all become stronger.
$75 is the average price for a wrought iron newel post, but pieces that feature more elaborate designs are more expensive. Some intricately designed wrought iron newel posts cost well over $500.
Labor Cost to Install Wrought Iron Stair Railing
| | |
| --- | --- |
| Estimate Type | Cost |
| Low-End Estimate | $350 |
| Mid-Range Estimate | $650 |
| High-End Estimate | $1,000 |
Acquiring the elements required for the wrought iron stair railing is just half the battle. Now, you have to put those pieces together and install the stair railing. You can hire professionals to take on that job for you and they will charge $650.
The installation of a wrought iron stair railing is not the type of job you want to tackle solo. It's a complicated task and something is likely to go wrong if you lack experience.
For instance, the elements to be installed often have to be customized a bit so they fit your staircase properly. That means working with the wrought iron to change it slightly. If anything goes wrong during that alteration process, the piece may end up ruined.
Professional installers can also ensure that the stair railing will be secured properly. The importance of that cannot be overstated given what the stair railing is supposed to do.
Cost Factors for Installing a Wrought Iron Stair Railing
By now, you should have a pretty good idea of how much your new wrought iron stair railing cost. You should still avoid finalizing your expenses at this point because there are still supplemental cost factors to keep in mind.
These cost factors can significantly change the final price tag for this specific installation. You can check out those cost factors below.
Accessibility of the Staircase
Where is the staircase located on your property? Is it in an open area or is it located within a somewhat small room like a basement?
Those are important questions to ask because the answers will affect the final bill for this project. Installers will charge more if you're asking them to work within a tight space.
Disability Ramps
Along with the railing, you may also have to add a disability ramp to the new staircase. You may need the disability ramp to comfortably accommodate some members of your family or some of your friends. If you're building a new staircase for your store, then the disability ramp may very well be required.
A new disability ramp will cost $1,500. You should also install two handrails at the sides of the ramp so it is easier to use.
Permits
Before installing the new railing, you should check if securing a building permit is required for it. That is the case in some areas.
Thankfully, building permits for this kind of project are relatively cheap. They only cost $60 each.
Don't want to do it yourself?
Get free, zero-commitment quotes from pro contractors near you.
---
Related Questions
Can I Replace Wood Spindles with Wrought Iron?
Yes, replacing wood spindles or balusters with wrought iron is possible. It's even regarded as a fairly common home improvement project. You can also replace the wood balusters without replacing any of the other components such as the bottom rails and handrails.
How Do You Cut Wrought Iron Spindles?
Cutting the wrought iron balusters may be necessary so they fit underneath the handrails. You can use a chop saw equipped with metal cutting blades to trim the wrought iron balusters.
How Do You Clean Wrought Iron Railings?
Cleaning your wrought iron railing is easy enough. You can start by using a vacuum with a brush attachment to remove debris from the surface of the railing.After that, you can mix some dish soap and water in a small bowl. Grab a different brush and dip that into the soapy mixture. You can then use the soapy mixture to clean the wrought iron.To finish up, you need to rinse the wrought iron railing. Douse the railing with some water then wipe it down with a clean cloth. From there, you can just let the wrought iron railing dry.
Related Guide

Gary Evans
Gary Evans is passionate about home improvement. He loves finding out how to make improvements in the easiest, most practical, and most affordable ways. Upgrading his home kitchen is one of his ongoing hobbies. Gary is also a long-time content creator and enjoys spending his free time tending to his hydroponic vegetable garden.
More by Gary Evans
Published October 26th, 2021 6:18 PM