14 Views
How Much Does It Cost to Install a Bathroom Sink?
December 24th, 2021 9:08 AM
Share
We're committed to finding, researching, and recommending the best products. We earn commissions from purchases you make using links in our articles. Learn more here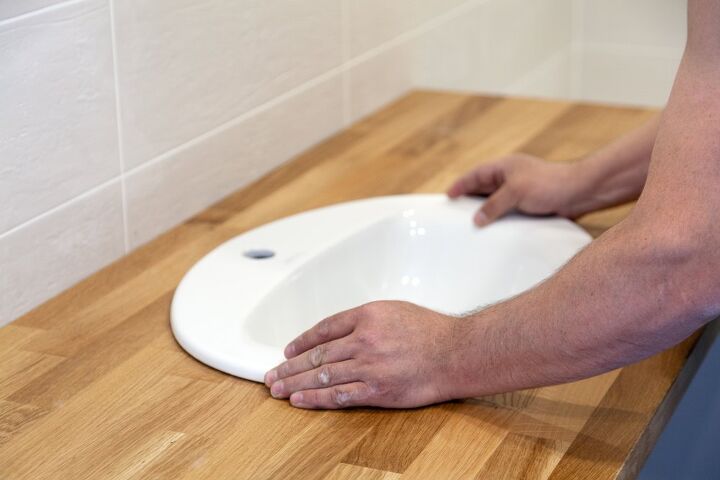 Accidents happen, and your bathroom suffers some damage. Or you notice the bathroom sink looks old and dated. The next step is to find a new bathroom sink and have it installed. Finding and purchasing a sink is only half the job. Installing the sink is the other half. How much does it cost to install a bathroom sink?
Nationally, the average cost to pay a professional to install a bathroom sink is $399. The cost can vary across the country from $215 to $592. However, special installations could cost $1,000 or more depending on the circumstances. Most homeowners have the plumber install a new faucet as well. A faucet installation could raise the price from $440 to $660.
Do You Need to Hire Sink Installers?
Get free, zero-commitment quotes from pro contractors near you.
| | | |
| --- | --- | --- |
| Cost to Install a Bathroom Sink | Lower Range | Upper Range |
| National Average | $399 | $399 |
| What Most Homeowners Pay | $215 | $592 |
| The Range of Costs | $100 | $1,259 |
Getting the Sink Installed
Once you have your new bathroom sink selected, the next challenge is to get the sink installed. There are several factors to consider that can affect the cost of the installation. Among those factors are:
Does the new sink fit into the same space in the countertop or vanity? If you change a bathroom sink's size, shape, or style, you may also face replacing your countertop.
It is always a good idea to change the drain plumbing. You should install a new P-trap and the pipes connecting the sink drain to the waste pipe.
Don't forget the faucet. If your sink was old and dated, your faucet is probably in the same condition. Installing a new faucet is almost always part of getting a new bathroom sink.
Get an estimate from your plumber once you have your new sink and faucet on hand. The estimate should include all the labor and parts to do a complete installation.
What is Involved in Having a Bathroom Sink Installed?
Installing a new bathroom sink isn't quite as simple as it might appear. Watching a professional remove an old bathroom sink and install a new one often gives the impression that the job is easy. You must remember that a professional may have done this same job hundreds or thousands of times. They also have the specialized tools to make the job easier.
In general, the breakdown on the costs of having a professional install a new bathroom sink breaks down like this.
| | | |
| --- | --- | --- |
| Job Component | Low End | High End |
| Remove existing sink | $20 | $300 |
| Haul off and disposal fees | $20 | $300 |
| Basic Labor Costs | $200 | $400 |
| Parts and supplies | $30 | $50 |
These figures don't include the price of your new bathroom sink or a new faucet. The parts and supplies generally include the installation of a new P-trap and waste connection. When you get an estimate from your plumber, make sure that all the costs are itemized on the bid.
How Much Are New Bathroom Sinks?
You can spend anywhere from $40 to well over $2,000 for a bathroom sink. The type of material, the design, and the manufacturer contribute to the cost of a new sink. In general, the sink material is the biggest contributor to cost. These are some of the most popular choices and the average costs to purchase.
| | | | |
| --- | --- | --- | --- |
| Sink Size | Construction Material | Type of Installation | Average Price Range |
| 10.25 x 16.5 inches | Porcelain | Drop-in | $40 – $150 |
| 19.25 x 16.25 inches | Vitreous China | Undermount | $85 – $250 |
| 15 x 19 inches | Vitreous Chine | Pedestal | $160 – $300 |
| 6.125 inches diameter | White Glass | Vessel | $215 – $525 |
| 22.5 x 16 inches | Composite | Undermount | $200 – $500 |
| 17.5 x 17.5 inches | Cast Iron | Drop-in | $390 – $650 |
| 27.85 x 16.188 inches | Glass | Drop-in | $1,500 – $2,500 |
Standard drop-in or undermount bathroom sinks are relatively modest in price. Designer-style sinks using exotic, or specialty materials can raise the price rapidly. Suppose you decide to change styles or sizes of your bathroom sink. In that case, you can expect additional costs for new countertops or bathroom vanities.
How Much Will It Cost to Buy a New Faucet?
Bathroom faucet prices have a wide range. You can spend as little as $50 for a budget plastic bathroom faucet on the low end. We wouldn't recommend installing these low-end bathroom faucets in your home.
At the other end of the scale, you can spend almost as much as you like for a designer bathroom faucet. On average, the cost of a better bathroom faucet averages $80 to $150. If you want to make a statement in your bathroom, the upper tier of designer bathroom faucets can run as much as $800.
I Need a New Counter-Top. How Much Will That Cost?
Like any other remodeling project, replacing a countertop has many variables. Among the different things that can affect the cost are the material, the size, and the complexity of the shape. In general, bathroom vanity countertops cost between $15 and $300 per square foot.
| | | |
| --- | --- | --- |
| Countertop Material | Low-End Cost | Upper-End Cost |
| Laminate | $15 per square foot | $90 per square foot |
| Tile | $25 per square foot | $150 per square foot |
| Solid Surface | $75 per square foot | $150 per square foot |
| Granite | $75 per square foot | $300 per square foot |
| Manufactured Quartz | $110 per square foot | $250 per square foot |
Typically, these costs include the following services.
Measuring and pre-production planning
Manufacturing of the vanity countertop
Delivery
Installation
Haul of the old countertop
These prices do not include sink installation, or any plumbing required.
I Want to Replace the Entire Vanity. How much will I Spend?
You may find that your bathroom vanity needs replacement as well as the sink and countertop. Once you start removing the old sink or countertop, you may find damage that can't be easily repaired. Installing a new vanity is the obvious solution. You can expect to spend between $300 and $3,000.
The most economical option is to purchase a pre-built and finished bathroom vanity from your local home improvement store. Often these come as kits that include the vanity base, the countertop, and the bathroom sink.
At the top of the cost range is a custom-built and finished bathroom vanity. Custom cabinetry can be very expensive. However, getting exactly the design you want with the features, materials, and finish is important to some homeowners.
| | | |
| --- | --- | --- |
| Type of Bathroom Vanity | Lower Cost Options | Higher Cost Options |
| Pre-Built bathroom vanity without countertop or sink | $100 | $300 |
| Pre-built bathroom vanity with countertop and no sink | $250 | $500 |
| Pre-built bathroom vanity with countertop and integral bathroom sink | $350 | $750 |
| Custom-built bathroom vanity | $500 | $2,500 |
If you choose a pre-built vanity, the cost doesn't include installation and probably not delivery. These are additional costs that must be added to the overall budget for your bathroom renovation. Custom-built cabinets usually include delivery and installation. Be sure that you are clear on what is included when you place the order for your new bathroom vanity.
What is a Composite Sink, and Are They Any Good?
Composite sinks are manufactured using various crushed stone and epoxy resins that harden to a glossy, easy-to-maintain finish. Composite sinks have several advantages that make them popular with homeowners. Composite sinks can cost between $300 and $600.
Durability – Composite bathroom sinks are extremely durable. The material used to manufacture composite sinks resists chipping and cracking.
No Rust Problems – Cast iron sinks and steel sinks tend to eventually rust. Since there is no metal involved, Composite sinks will never rust.
A Wide Range of Styles – Composite sinks are available in a wide range of styles. You can select round, square, oval, surface mount, vessel style, drop-in and undermount styles.
Scratch and Chip Resistant – Composite sinks are scratch and chip resistant. However, should your composite sink chip or scratch, it will barely be noticeable since the color and pattern of the sink runs the thickness of the material. Some minor scratches can be buffed away to restore the like-new glossy surface.
An Array of Colors and Patterns – The variety of colors and patterns available makes purchasing a composite sink to fit into your décor easy. Some composite sink manufacturers will, for an additional cost, custom blend color and pattern to fit your needs.
Composite sinks are very popular. Most homeowners that have installed composite bathroom sinks are pleased with their choice.
I Want a Pedestal Sink Instead of a Vanity
You can opt to install a pedestal sink instead of the usual vanity and countertop. Pedestal sinks take up less room but also offer no storage below the countertop and sink. In general, pedestal sinks cost between $200 and $500. However, there are other costs to consider if you are changing from a vanity-style bathroom sink to a pedestal sink.
Removal and Disposal of the Old Vanity – Before anything else, the old vanity, you must remove and dispose of the old vanity, countertop, and sink. If you hire someone to perform this task, you can expect the cost to run between $150 and $400. If you perform the removal yourself, the costs of disposal alone can range from $75 to $150.
Remodeling and Finishing – There is a good chance that the wall behind your old bathroom vanity is not finished to match the rest of your bathroom. In a worst-case scenario, the tile backsplash must be replaced. Refinishing the wall should run between $150 – $1,000.
Flooring – You can expect the flooring in your bathroom to need replacement if you remove a bathroom vanity to install a pedestal sink. Often tile does not extend under the vanity. Matching and replacing old tile is next to impossible. Expect the cost to replace your bathroom floor to vary with the type of flooring you choose. Costs can range between $31 and $300 per square foot.
Pedestal sinks are popular, especially in half-baths where space is limited. Many homeowners opt to install a pedestal sink as part of a total bathroom remodel in powder rooms or half-baths.
Can I Replace a Bathroom Sink Myself?
If you have the skills and the tools, replacing a bathroom sink is well within the scope of a homeowner do-it-yourselfer. There are some things to remember and consider if you chose to take on the job of replacing your bathroom sink.
First, you should ensure that your city doesn't require a permit to install a new sink. Most building codes don't consider a sink replacement as a job that requires a permit. However, it pays to make sure. Consult with your local building inspection department to find out the requirements.
In some cases, replacing a bathroom sink requires removing and reinstalling the bathroom sink faucet. This may require special tools to reach the water line fittings on the faucet.
You must remove and reinstall the P-trap and drain line on your old bathroom sink. While standard wrenches may work, some installations may require new plastic pipe fittings requiring solvents to make the connections.
Undermount sinks take some skill to install correctly. This usually involved putting clips or brackets under the countertop to hold the sink or using industrial-grade adhesives. Be very sure you understand the requirements and the proper methods of installing an undermount sink.
If you change the sizes or shapes of a bathroom sink, you may need to adjust the opening in the countertop. Depending on the material of the countertop, this can take special tools. Granite countertops and some manmade materials can be hard to reshape for a homeowner.
If you undertake to replace your bathroom sink yourself, be sure that you understand everything involved. Read all the requirements set forth by the manufacturer and have the proper tools and supplies to complete the job successfully.
Do You Need to Hire Sink Installers?
Get free, zero-commitment quotes from pro contractors near you.
Upgrading your Bathroom for A New Look and Feel
Installing a new bathroom sink can make all the difference in the world to a dated bathroom décor. A gleaming new bathroom sink can become the focal point of the bathroom. In general, installing a new bathroom sink doesn't necessarily cost a huge amount. Most homeowners repair and remodel budgets easily adapt to installing a new bathroom sink.
Related Guide

Dennis Howard
Dennis is a retired firefighter with an extensive background in construction, home improvement, and remodeling. He worked in the trades part-time while serving as an active firefighter. On his retirement, he started a remodeling and home repair business, which he ran for several years.
More by Dennis Howard
Published September 15th, 2021 12:03 PM