1.9K Views
Wolf Vs. Viking Vs. Thermador Ranges (Who's Better?)
February 18th, 2022 6:58 PM
Share
We're committed to finding, researching, and recommending the best products. We earn commissions from purchases you make using links in our articles. Learn more here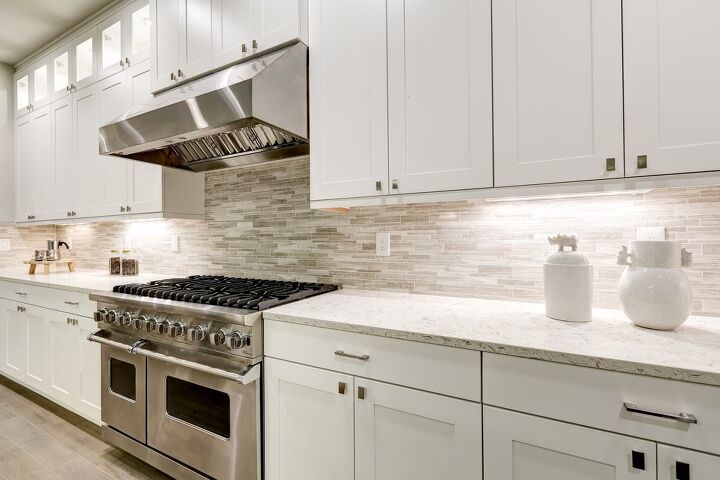 Every gourmet kitchen needs high-end appliances, and the oven is the centerpiece of your cooking and baking. Wolf, Viking, and Thermador are three of the top names in cooking appliances. Knowing how these brands compare helps you choose the best one for your kitchen.
Wolf, Viking, and Thermador offer high-quality, professional-grade, reliable ranges. Wolf offers the best warranty, a cast iron frame, and a French top. Viking has the most affordable range and historically has led the stovetop market. Thermador offers standard and commercial depths and a unique star-shaped burner design.
Comparing the key features of each brand helps you decide which range best suits your cooking and baking. Let's take a closer at Wolf, Viking, and Thermador ranges.
Do You Need Gas Appliance Services?
Get free, zero-commitment quotes from pro contractors near you.
Expertise
Wolf, Viking, and Thermador each have made a name for themselves among home and professional chefs. However, how did they get their start?
Wolf cooking appliances were introduced in 2000 by Sub-Zero, a company that was started in the 1930s designing refrigeration products. Today, the Wolf brand offers homeowners 50 styles of professional-grade ranges, built-in ovens, cooktops, module cooktops, and range tops. Wolf appliances are used in many of the finest restaurants in the world.
Viking kitchen products have received more than 50 awards, and the brand is known for innovation, excellent performance, and ease of use. Located in Greenwood, Mississippi, Viking offers four model lines for their free-standing ranges – Tuscany, 7 Series, 5 Series, and 3 Series.
From as early as 1916, Thermador has revolutionized home cooking. The company was the first to introduce wall ovens, steam cooking, and convection ovens in the United States. Thermador ranges are available in four widths and two depths.
Dimensions
The size of your high-end oven not only affects how much you can cook but also the configuration of your kitchen. Wolf, Viking, and Thermador offer models in 30", 36", 48", and 60" widths.
Viking offers the largest stovetop of these three brands. You can purchase a Viking stovetop with a 66" width.
Thermador is the only brand that offers two depths – standard and commercial for their 36", 48", and 60" models.
Cooking Options
For your gourmet kitchen, you can choose between dual fuel, gas, and convection cooking. Wolf, Viking, and Thermador offer dual fuel and gas. However, if you prefer induction you can choose between a Wolf and Viking range. As an extra perk, Thermador offers a model with a steam oven and warming drawer.
Burner and Oven Configurations
Wolf, Viking, and Thermador ranges come with one or two ovens. Wolf offers models with 4, 6, or 8 burners. Viking offers models with 5, 6, or 8 burners. Thermador offers models with 4, 5, or 6 burners. Also, Thermador ranges have a unique star-shaped burner design that provides more jets for stovetop cooking.
Cleaning Features
Wolf, Viking, and Thermador each offer self-cleaning options. Wolf ranges come with a self-cleaning option on the dual fuel and induction ranges. However, the gas models do not have self-cleaning. Viking offers self-cleaning for the 3 Series. Thermador ranges are designed with a QuickClean Base® which prevents spills from sticking.
Optional Cooking Configurations
Some models of Wolf ranges have stovetop infrared charbroilers, French tops, and infrared griddles. Ranges with stovetop griddles and grills are available from Viking, as well as infrared broilers inside the oven. Thermador offers models with stovetop griddles and grills.
Standard Features
Wolf and Thermador ranges have some special features that help you with your daily cooking. Wolf ranges have slow-closing doors on the ovens. Thermador ranges have telescoping racks in the ovens, and some models connect through WiFi.
Warranty
Wolf offers a slightly better warranty on their high-end ranges. There is a two-year full warranty and a five-year limited warranty on Wolf ranges. Viking and Thermador offer a two-year limited warranty on their ranges.
Price
Expect to pay $7,850 for the smallest 30" Wolf range and $20,800 for the largest 60" range. This Wolf brand may be the priciest of the three, however, it offers the most heavy-duty of these 3 brands. Many say it is worth the price!
Thermador ranges cost between $5,000 and just over $20,000. Viking comes in with the cheapest price range. You can buy a Viking for as low as $4,000 up to $20,000.
Special Features
Wolf, Viking, and Thermador stovetop ranges have many similarities, however, each brand also has special features that set it apart from the other brands. Let's look at some of the highlights for each brand individually.
Wolf Ranges' Best Features
Wolf offers the most styles of ranges, but only in four widths and one depth. The ranges are available with dual fuel, gas, and induction. Models come with one or two ovens; four, six, or eight burners; and optional infrared charbroilers, French tops, and infrared griddles. Wolf ranges have a self-cleaning option. Wolf offers the best warranty coverage. The ranges have slow-closing doors.
Let's take a closer look at some of our favorite features on Wolf ranges.
Iconic red knobs: The Wolf brand's red knobs are a status symbol in cooking circles. This bit of color announces to others that your kitchen is the proud owner of a high-quality brand.
Cast iron frame: Wolf is known as being a workhorse brand. Just try to move one, and you will quickly see how solid this piece of equipment is. Its cast-iron frame gives the Wolf range the durability to withstand years of intense cooking.
French top: The Wolf brand is the only range with a French top. This French top is a flat plate mounted over a gas flame. However, you don't want to cook directly on this top! Instead, it is for cooks who want to cook using several pots at the same time and need more burner space.
Viking Ranges' Best Features
Viking ranges come in 30", 36", 48", 60", and 66" widths, and the best variety of fuel options – dual-fuel, gas, induction, and electric. The ranges come with one or two ovens, as well as five, six, or eight burners. Optional features for Viking ranges include griddles, grills, and infrared broilers. The ranges come with a limited two-year warranty. Viking offers the most affordable range at $4,000 for a basic model.
Here are some of Viking's standout features.
A Splash of color: If you want to add a signature color to your kitchen, the Viking stovetop offers a wide range of colors you can choose from. Mint Julep, Irridescent Blue, Lemonade, and Apple Red are just a few of the possibilities on the list. You can certainly make a statement with a Viking stove.
Slim option for small kitchens: Viking realizes that not every home chef has a dream-sized kitchen. So, this brand offers its customers a slim 24-inch range to fit even small kitchen spaces.
Electric cooking: Not all cooks are fans of cooking with gas. Some prefer to use flameless electric cooking in their kitchens. Viking offers electric cooking as an option.
Thermador Ranges' Best Features
Thermador ranges come in 30", 36", 48", and 60" widths, and all but the 30" are available with standard or commercial depths. These ranges have dual fuel or gas operation, and Thermador also has models with steam ovens and warming drawers. You can choose from one or two ovens and four, five, or six burners. Additionally, the ranges have a special coating for easy cleaning. Thermador ranges come with limited two-year warranties and range prices are between $5,000 and $20,000.
Some of our favorite features of the Thermador are its star-shaped burners, Wi-Fi-enabled induction cooktop, and telescopic oven racks.
Star-shaped burner: Thermador's star-shaped burner adds flair to the design, however, it isn't just for looks! This flame pattern also serves a practical purpose. The star-shaped burner gives 56 percent more heat for a better distribution of heat and more evenly cooked food.
WiFi-enabled induction cooktop: In addition to gas and electric cooktops, Thermador also offers WiFi-enabled induction cooktops. This type of cooking is considered safer than either gas or electric. It has also proven to be more efficient and more precise.
Telescopic oven racks: Thermador's telescopic oven racks allow you to pull your turkey out of the oven without sloshing the juice (or tipping the turkey!) This rack uses ball-bearing rack glides to smoothly extend the oven rack.
Common Problems
While Wolf, Viking, and Thermador offer top-notch, workhouse ranges, even good brands can be subject to issues. Here are some of the most common problems with these ranges and how to fix them.
Electric Igniter Clicking After Flame is Lit
If your electric igniter keeps clicking after the flame is lit, you will need to have your igniter checked. Contact a certified technician for your brand of range to have the module replaced.
Electric Igniter Clicking and Flame Won't Light
When the electric igniter is clicking, but the flame won't light on your range, the issue is with the gas jets. First, try cleaning the jets to eliminate any build-up. If the problem persists, contact a certified technician to have the jets replaced.
Igniter Won't Spark
If your igniter won't spark, first, try cleaning the igniter tip. After cleaning, if the igniter still doesn't spark, have it replaced by a certified technician.
Ovens Slow to Heat
Slow-heating is a rare issue with Thermador ovens and could be a defect in the model. So, if you notice your range is slow to warm up, schedule a service appointment with a certified Thermador technician.
Poor Temperature Control
Poor temperature control is a rare issue that has been identified with Thermador ranges. So, if you have problems with temperature control, schedule a service appointment with a certified technician. The technician may decide that the circuit that controls the oven temperature needs to be replaced.
Stovetop Range Buyers' Guide
How many burners do I need?
The number of burners that you need depends on your cooking style. For example, if you have four burners and juggle pots and pans on the stovetop, adding burners (or a French top) is a good idea. However, if you choose to go with fewer burners, keep in mind that this decision can also affect the oven size. If you run out of room with a single oven, choose a high-end range with two ovens, as well as additional burners.
What is the best type of oven for baking?
If you enjoy baking, an electric oven may be your best choice. An electric oven maintains an even temperature throughout the cooking time. Also, they tend to be drier inside than gas ovens, and this helps with baking crispy foods. With an electric oven, food is less likely to burn on the underside.
What are dual fuel ranges … and do I need one?
Dual fuel ranges use gas cooktops and electric ovens. This combination gives you the gas range for instant heat and precise temperature control. Then, the electric oven heats slowly and steadily with an even distribution of heat. A dual fuel range can give you the best of both worlds.
Should I get a WiFi-enabled range?
With a WiFi-enabled range, you can go about your day without constantly checking and adjusting your stovetop and oven. This WiFi option allows you to adjust your range's preheat settings, temperatures, setting timers, and alerts for oven temperatures. You can even turn off the oven from your smartphone.
Some WiFi ranges integrate with voice control for your home assistant, such as Amazon Alexa or Google Home. Smart ranges also learn about your cooking habits and may send alerts to your device when it has been on longer than normal. This is great for busy cooks who may forget to turn off the oven or leave a pot on the stove.
Do You Need Gas Appliance Services?
Get free, zero-commitment quotes from pro contractors near you.
Summary
Wolf, Viking, and Thermador all produce high-quality, reliable ranges. When you are deciding on one brand over another, look for the specifications that best fit your cooking and baking needs.
If you're looking for workhorse durability, you may choose to go with Wolf. For a spark of color in your kitchen, Viking has an array of color swabs. Then there is Thermador which can offer you evenly cooked food straight off its star-shaped burner.
So, follow your wish list and choose the best high-quality range to serve your cooking needs. With these top three brands, it is hard to go wrong!
Related Guide

Jennifer Eggerton
Jennifer L. Eggerton loves being hands-on, whether it's with a home DIY project, making repairs, re-decorating a room, or keeping life organized. She enjoys helping people by sharing her knowledge, insights, and experiences, as well as her lessons learned. In addition to her work as a writer, Jennifer is a Jeep® overlander, self-published author, and nature photographer who loves being outdoors.
More by Jennifer Eggerton
Published October 7th, 2021 5:05 PM